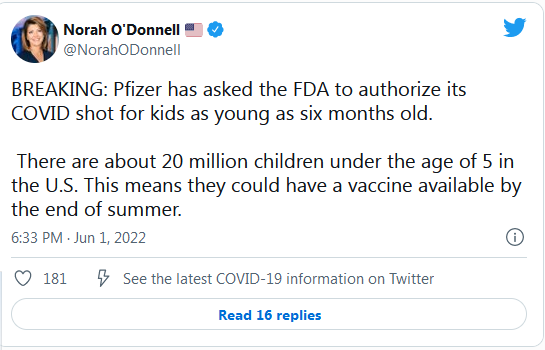 Pfizer seeks authorization of a coronavirus shot for children under 5 https://t.co/g3t7hMbISe

— The Washington Post (@washingtonpost) June 1, 2022
Part of the problem, I suspect, is that so many parents aren't vaxxing their older children. Per the Washington Post:
Pfizer and its German partner, BioNTech, on Wednesday finished submitting an application for regulatory authorization of a coronavirus vaccine for children younger than 5.

The development marked another important step toward providing vaccination for the last segment of the U.S. population that does not have access to shots.

The news comes a week after Pfizer-BioNTech announced that three shots of its low-dose pediatric vaccine triggered a robust immune response in young children and was safe. The partners began sending data to the Food and Drug Administration in February…

FDA advisers are scheduled to meet June 15 to discuss the three-shot Pfizer-BioNTech pediatric vaccine and a two-shot regimen from the biotechnology company Moderna. The agency is expected to act quickly, meaning young children could get their first shots this month.

Data on both vaccines has been available only in news releases so far. The FDA review of the details and the all-day session on June 15 with outside experts digging into the data will be critical in showing what is known about how well the vaccines work and any differences between the two regimens…

If the FDA deems both vaccines safe and effective, it is expected to act quickly. Advisers to the Centers for Disease Control and Prevention would then debate how the vaccines should be used, and CDC Director Rochelle Walensky would make a recommendation.

About two-thirds of children between 5 and 11 are not vaccinated, according to the CDC. While a vocal segment of parents has been demanding that the FDA move faster to get shots to the youngest children, other parents are expected to move more slowly to get their children vaccinated, or to refuse shots altogether.
U.S. COVID update:

– New cases: 263,603
– Average: 103,307 (+8,746)
– States reporting: 45/50
– In hospital: 27,562 (+1,247)
– In ICU: 2,951 (+18)
– New deaths: 665
– Average: 309 (+5)

More data: https://t.co/ohnVKtNdM3 pic.twitter.com/8BJ2w66JzW

— BNN|Medriva Newsroom (@medrivaUS) June 2, 2022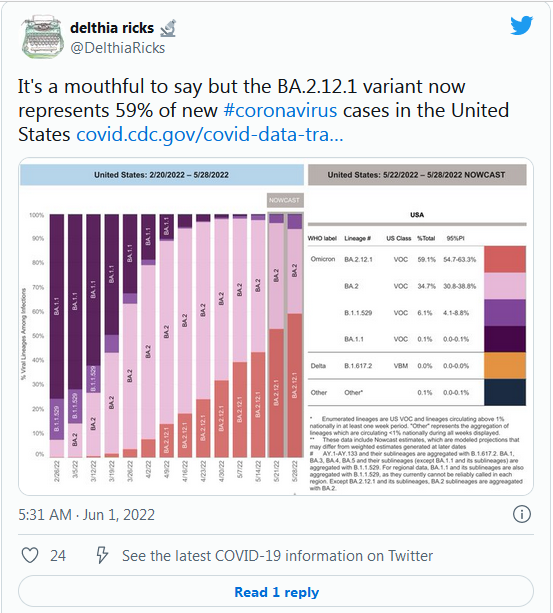 ======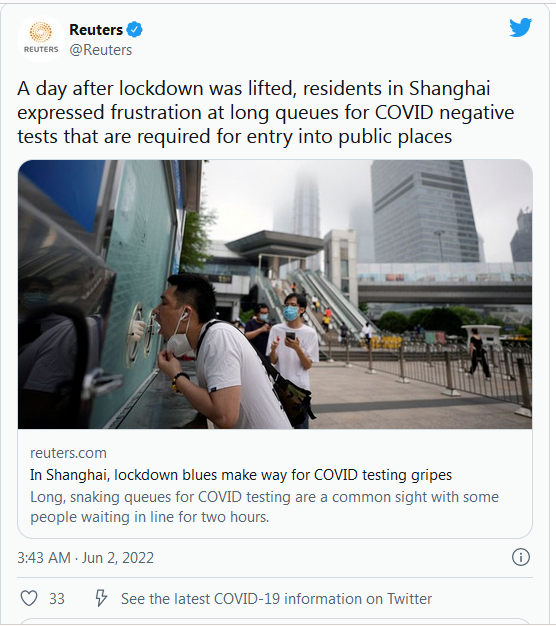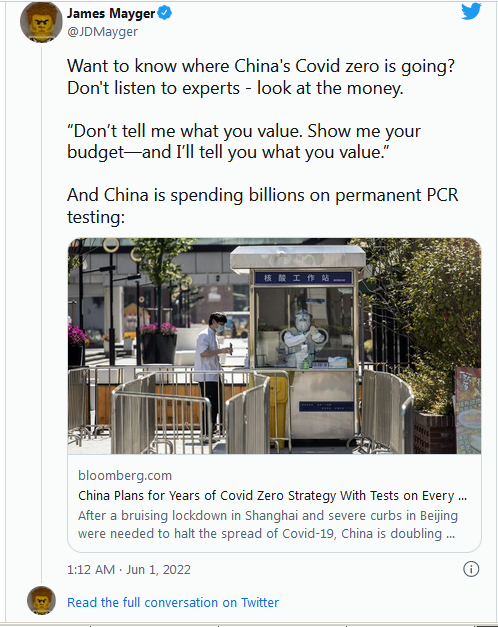 … A network of tens of thousands of lab testing booths are being set up across the country's largest and most economically vital cities, with the goal of having residents always just a 15 minute walk away from a swabbing point. The infrastructure will allow cities like Beijing, Shanghai, tech hub Shenzhen and e-commerce heartland Hangzhou to require tests as often as every 48 hours, with negative results needed to get on the subway or even enter a store.

Researchers at China's prestigious Tsinghua University designed robots to automate the swabbing process. Companies are dangling monthly salaries exceeding 10,000 yuan ($1,487) to recruit staff for the white, modular buildings that feature either sliding windows reminiscent of an amusement park entry point or two circular holes, chest-high, that allow workers to slip out gloved hands for swabbing purposes.

The investment underscores China's commitment to Covid Zero, an approach that's made it the only country in the world to contain the highly transmissible omicron variant that emerged last year. It required unrelenting effort, including business restrictions and personal sacrifices from millions of people. Other countries subsequently abandoned the policy that is becoming more entrenched in China, even as it upends the economy.

The testing plan shows the extent of China's divergence from the world where Covid infections, while potentially deadly, are now commonplace. The next iteration relies on taking faster action based on test results to prevent the virus from seeding within a community, as it did in Shanghai…

The booths, solid though quickly made, will be ubiquitous in urban centers with at least 10 million residents, part of a seamless process designed to feed test results into popular smartphone apps such as Tencent Holdings Ltd.'s WeChat or Alipay, the payment app from Ant Group Co, in just a few hours. Some 420 million people live in cities and towns that have committed to routine Covid tests, according to data compiled by Soochow Securities Co.

The intent is to root out silent chains of transmission before the virus has a chance to spread widely in the community. But it will also make testing an inescapable part of everyday life for hundreds of millions of Chinese city dwellers…

China's top health official, Ma Xiaowei, urged authorities in provincial capitals and large cities in mid-May to set up regular testing sites to detect the spread of omicron. The country will also establish "permanent" Covid hospitals, Ma said in an article published in the Communist Party's Qiushi magazine…

The hope is that China will recoup the money by discovering infections earlier and avoiding economically devastating lockdowns like the one Shanghai is now inching out of. Analysts at Soochow Securities said the current restrictions could knock 1.1 percentage points off China's domestic growth for the year. Routine testing could cut the financial impact in half by averting the need for some lockdowns…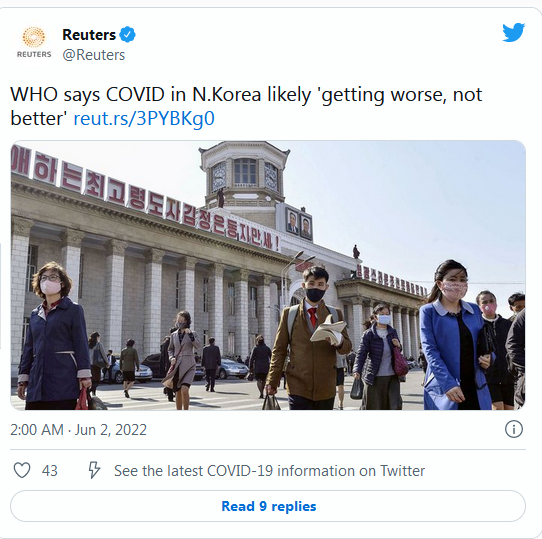 The mystery of North Korea's Covid outbreak https://t.co/4L0KJm7fjz

— BBC News (World) (@BBCWorld) June 2, 2022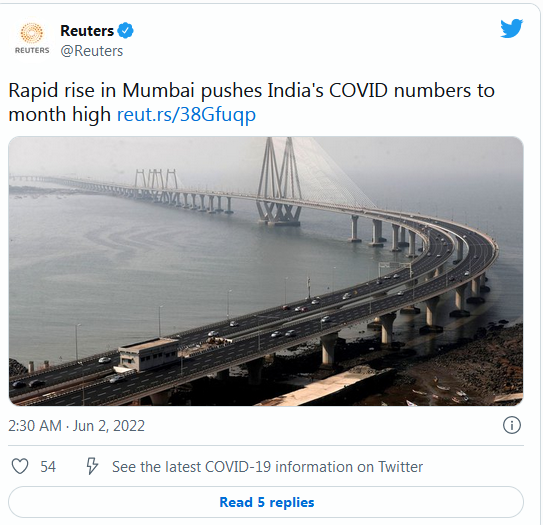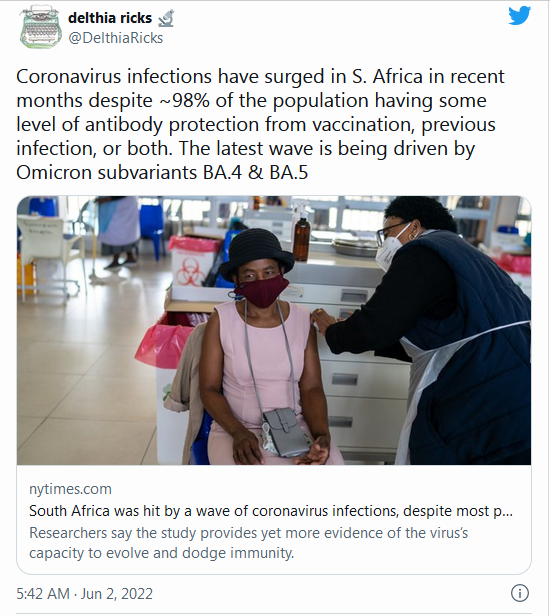 ======
A new real-world effectiveness report of Paxlovid during the Omicron wave: in people age 65+ an 81% reduction in death and 67% reduction in hospitalizationshttps://t.co/ZNohKWmTK6@ArbelRonen @ClalitHealth and colleagues pic.twitter.com/MbakbgkbAJ

— Eric Topol (@EricTopol) June 1, 2022