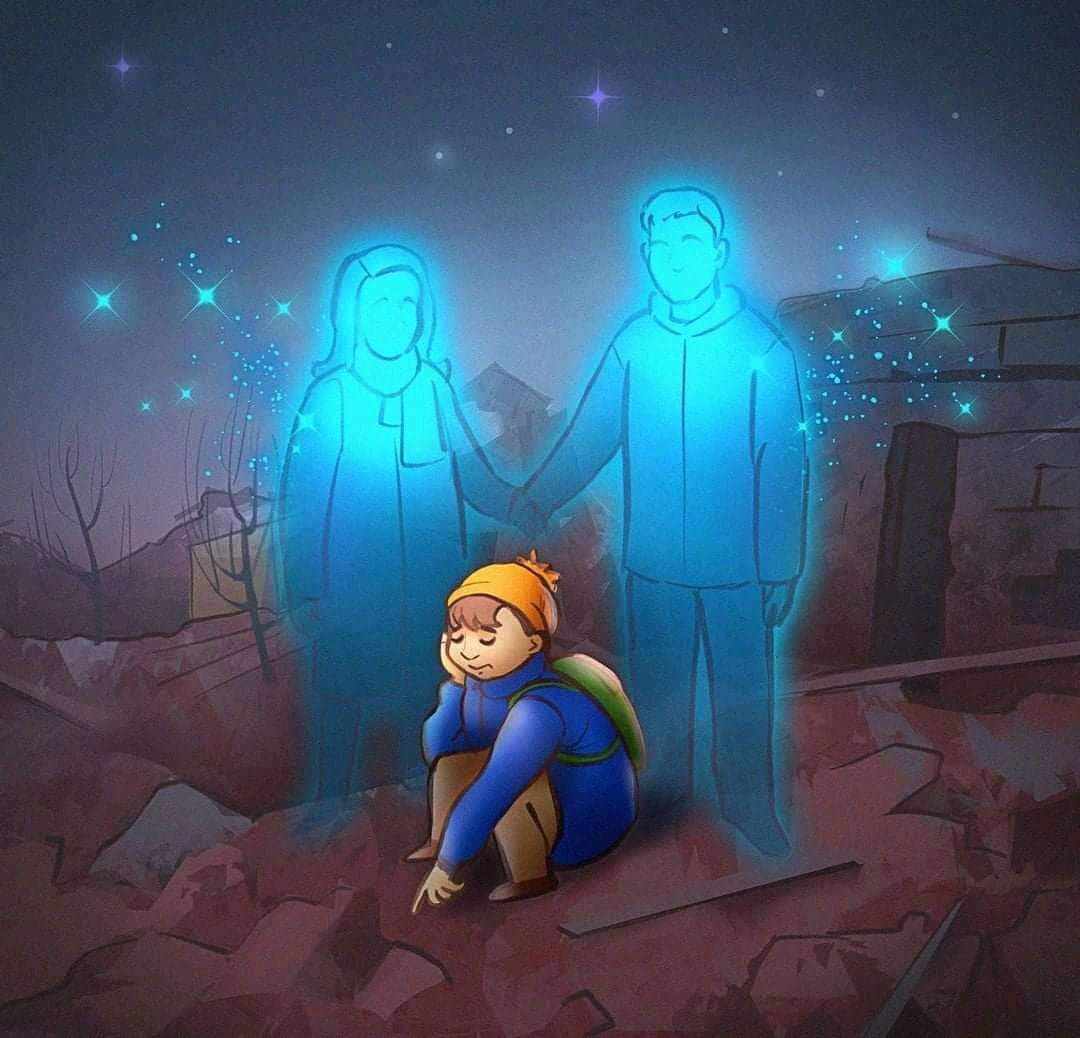 Lets start tonight with President Zelenskyy's nightly address. Video with subtitles below, transcript after the jump:
Ukrainians!

Our defenders!

We have three important pieces of news. First, the European Union is gradually moving towards the implementation of the sixth sanctions package. Frankly, achieving this is very difficult. Because this sanctions package is primarily about oil.

Finally, the world is giving up Russian oil. Moreover, other countries, which produce much better and lighter oil, are preparing to replace Russian supplies. Therefore, huge revenues are lost for the aggressor state in this sphere.

Of course, Russia is constantly trying to counter this. It has long enjoyed the flow of petrodollars and does not want to be weaned off it. But it has to. It has to get used to the fact that a very painful reduction in income is an inevitable consequence of the war for its culprit, for the Russian state.

The second piece of news is that the United States has confirmed at various levels that modern HIMARS are being sent to our country. These weapons will really help save the lives of our people and protect our land.

I am grateful to President Biden, all our American friends, and the people of the United States for their support. We are looking forward to it.

We also expect good news about the supply of weapons from other partners. For example, today we have a new package of defense aid from Sweden. I am very grateful to the leadership of this state.

We are working to bring the supply of modern combat systems to a much higher level.

Third, more and more embassies resume their full-fledged activities in Kyiv. As of today, there are already 50 of them. This is very important not only in practice – for the work of diplomats, but also on a symbolic level. Every new embassy that returns to our capital is a testament to the faith in our victory. Faith that Ukraine will be able to defend its statehood in this war unleashed on our land by the Russian Federation.

A new and, I think, very important and beautiful tradition was launched today. From now on, the ceremony of presenting credentials by ambassadors of foreign countries who start their mission in Ukraine will take place not just in Kyiv, but on the territory of our St. Sophia Cathedral.

And the first ambassadors that presented credentials today in such a new ceremony were the ambassadors of Moldova, India and the United States.

Why there? Why in Sophia? Because it is the sacred, historical and statehood center of our people. Receiving the credentials of the ambassadors there, we demonstrate who the Ukrainians are, what we are and what is behind us. We hereby express our highest respect to the representatives of other nations. We open up to them. And at the same time we show that we expect from them the same respect, the same sincerity to the Ukrainian people, to our interests and to our history.

Immediately after the ceremony, I spoke with the new ambassadors. Impressions are good. I hope for productive work.

Today there were two important addresses: to the Luxembourg Parliament and to the participants of the Security Forum in Bratislava, which was attended by President of Slovakia Zuzana Čaputová, President of the European Commission Ursula von der Leyen and other friends and partners of our country.

Of course, the key task is still to accumulate maximum support for Ukraine. First of all defensive, financial and, of course, political. Almost every address leads to increased assistance to our state.

It is very important that now – in a few weeks – we are waiting for the answer of the European Union on the issue of candidate status for Ukraine. We are very much looking forward to it.

And I am grateful to all those who have already spoken in support of our state, in support of the candidacy. In particular, in response to my requests in appeals to the parliaments of different countries, forums, student and expert communities, people in the squares of various European cities who rallied in support of Ukraine, in support of our people.

We must understand that Russia has now mobilized all its forces to thwart Ukraine's European movement. And every tool – especially public debates and appeals – must be fully used.

The situation in Donbas has not changed significantly in a day. We had some success in the battles in Severodonetsk. But it's too early to tell. The situation there is the hardest now. Just as in the cities and communities nearby – Lysychansk, Bakhmut and others. Many cities are facing a powerful Russian attack.

The Russian army uses all its armed capabilities and does not count people at all. It is especially cynical that in the first line of the offensive the occupiers very often use those people who were recruited into their army in the previously occupied territory of the Donetsk and Luhansk regions. Russian soldiers often simply hide behind these so-called mobilized.

The longer the war lasts, the more vile, shameful and cynical things Russia inscribes in its history forever.

Absolutely senseless shelling of our border northern regions, in particular Chernihiv, continues from the Russian territory. Mykolaiv, Kharkiv, the Kharkiv region were shelled. The entire temporarily occupied territory of our state is now a zone of total catastrophe, for which Russia is fully responsible.

We have already started working on new sanctions packages against Russia. Step by step, we will deprive the Russian state of all the elements of the modern economy. The occupiers will pay the full price for destroying the lives of neighbors. And no lobby in any country will help Russia.

Today I signed a new decree on awarding our defenders, our heroes. 223 combatants were awarded state awards, 72 of them posthumously.

Eternal memory to all who gave lives for Ukraine!

Eternal glory to each of our heroes!

Glory to Ukraine!
President Zelenskyy also spoke at the GLOBSEC International Security Forum in Bratislava today. Here's the transcript:
Good afternoon!

Thank you very much for this opportunity!

Mrs. President Čaputová!

Mrs. President von der Leyen!

Mr. Prime Minister Heger!

Ladies and Gentlemen!

Dear friends!

Thank you for the honor of speaking to you today.

This year, for the first time in its history, the Bratislava Forum is organized in such a way that its panels will be held not only on land, but also on water. On a ship on the Danube.

And it seems to me that this image is important. Because today discussing the challenges to European security and stability, the threats to all humanity in a comprehensive way is simply impossible without taking into account everything that is happening on water.

One of the most important targets for the Russian army in Ukraine today is bridges across rivers. There are occasions when the Russian army strikes missiles three times at the same bridge to completely destroy it.

It is impossible to overestimate the threat that Russian aggression has created for the water potential of our entire part of Europe – the center and east, the Black Sea basin.

The nature of the fighting of the Russian army is frankly barbaric. They just destroy absolutely everything. Both residential buildings and industrial enterprises are being brutally bombed. In particular, environmentally hazardous chemical plants, metallurgical plants, etc.

Fighting in Donbas has created a threat of groundwater pollution since 2014. If the flooding of coal mines in Donbas continues – among them, for example, the Yunkom mine, where an underground nuclear explosion took place in 1979 – poison and even radioactive contamination can get not only into the rivers of Ukraine, but also into the Black Sea and the Sea of Azov.

Of course, speaking about the security challenges associated with our waters – the waters of rivers, the waters of the seas, it is impossible to avoid the blockade of Ukrainian ports by the Russian Federation. Because of this act of aggression by the Russian state, the world is on the brink of a food crisis.

And it's not just a food problem. This is a shortage in the market. This is a catastrophic rise in prices for basic products. This is a threat of hunger for tens of millions of people in different countries. If this is not prevented, we will get the problem of political chaos in some countries in Africa and Asia. Consequently, the migrant crisis in Europe, when people from countries suffering from hunger will seek salvation.

Also, the food crisis will inevitably lead to large-scale protests in European countries. Many governments will have to explain to protesters on the streets of various European cities why our continent has been taken hostage by one state – Russia – and one person – in Moscow – who ordered the naval blockade of Ukraine.

And now I have mentioned only a few consequences and only in one area of many in which we have extreme threats. Extraordinary challenges. How should we respond to all this?

Ladies and Gentlemen!

Let's remember the Danube River again. It equally enriches different nations and different cities. Bratislava, Vienna, Budapest, Linz, Regensburg, Belgrade, Izmail and others. Slovakia, Austria, Germany, Romania, Serbia, Hungary, Moldova and Ukraine.

For the Danube to remain clean and safe, for its economic potential, including transport, to work in full, the cooperation of all countries to which nature has given this river is needed. Therefore, unity is needed. Mutual understanding is needed. We need the ability to speak and negotiate for the common good. And these, by the way, are the key things for a peaceful and free life in Europe. This is what Slovakia can do. This is what Ukraine can do. This is what other partner states can do. And this is what Russia deliberately ignores.

Does it try to hear someone? Understand? No.

Does Russia recognize common interests? No. It sees only its own, and treats them quite specifically. Not as the interests of the entire Russian people, but as the selfish desires of a handful of state owners.

And how does Russia perceive the very concept of unity? Only as an attempt to subdue others, to make them dependent on it, to destroy their identity. This is how they interpret unity – when the other and any diversity is simply destroyed.

And this is exactly what they are doing on the territory of Ukraine. They are trying not just to kill people, but to erase the very fact that there is our state, that there is Ukraine. And that Ukraine seeks to be a full-fledged part of a united Europe.

This is an openly anti-European policy of Russia. And such a policy obliges Europe to react, to react in a principled manner.

First, to support Ukraine even more actively. With weapons, finances, politically. We are grateful for the help we already receive. To everyone who helps us. But arms supplies need to be increased. Because it is on the battlefield in Ukraine that it is decided whether freedom in Europe will be preserved for all nations without exception.

And right now on the battlefield in Ukraine is a situation that could provide a turning point in the confrontation. Right now, these days, when Russia will lose the war against Ukraine, the freedom of Europeans will win for decades to come.

Secondly, these are sanctions. The main purpose of the European Union's sanctions packages is not just to harm Russia, but to make Europe independent of Russia, to sever all critical ties between Russia and European countries that Moscow uses as a weapon, including the energy one.

That is why I consider it unacceptable when so much time is spent discussing the sanctions package, in particular the sixth one. These are all our people, these are all our days. More than a month!

Of course, it is good that the sixth sanctions package has finally been agreed. But it must start working immediately so that it is possible to move on to the preparation of the seventh sanctions package. Every remaining link between Europe and Russia is a rope that the Russian state will try to turn into a stranglehold.

Thirdly, we must strengthen the unity of Europe, true unity. And the main step in this direction should be to grant Ukraine the status of a candidate for membership in the European Union, and subsequently full membership. There can be no temptation in Russia to assume that European countries will not support Ukraine in this matter.

Because if Russia feels that Europe is weak and can leave Ukraine without the obviously necessary decision on candidacy, it will be one of the biggest destabilizing factors for the continent during Russia's full-scale war against Ukraine.

Ladies and Gentlemen!

We must respond to all the challenges and dangers that the Russian Federation has created against us. Politics, economics, military sphere, food, environment, migration – there is no area of our lives in which there is no catastrophe, crisis or threat of catastrophe or crisis due to Russia's actions.

The quality of our answers directly depends on only one thing – our unity. Any division in Europe is a chance, a chance for Russia. For it to continue its aggressive policy.

I believe you are aware of this. So, I believe that we will be able to protect our continent and our people from everything that threatens us today. But we also have to think about tomorrow. About what will happen after the victory, together with you, we believe in our common victory over tyranny.

That is why Ukraine is already working on a large-scale United 24 initiative. It is a system of tools that can, when fully built, protect not only our state, but also other nations from the threat of armed aggression, natural disasters and anything that can destroy lives.

We aim to make sure that every state that needs help can receive it in 24 hours. Unfortunately, there is no such tool in the world today. Although it is obvious that there is a need for it.

So, I urge you to familiarize yourself with how the first element of this future infrastructure works. Fundraising platform that allows you to accumulate funds from different sources for different needs, including defense, infrastructure, medical, social. Anyone without any bureaucracy can decide for themselves how to help a state in need.

Gradually, we will add other tools to United 24. Diplomatic instruments, sanctions, technical tools – together with you. They will significantly upgrade the existing global security architecture. I am sure that the need to update it will also be one of the key topics of your discussions.

So, pay attention to the Ukrainian proposals. And do not forget that the state, for which anything is a weapon or a way to aggression, is trying to destroy us all. Including your peaceful and beautiful Danube.

Defend us! Defend yourself!

Glory to Ukraine!
There is video at the link if you prefer that. I think there are some very interesting things in President Zelenskyy's remarks to the security forum. The first is his emphasizing Russia's approach to executing its re-invasion of Ukraine: pounding everything into rubble. We've talked about this here repeatedly over the past 3 plus months, but it is important that President Zelenskyy, who has himself mentioned it more than once, keeps making this point to other national leaders.
The second is his description of the nature of some of the destruction. President Zelenskyy's focus on the environmental damage is interesting. We spent the better part of 20 years in both Afghanistan and Iraq and I don't ever recall any of the national leaders in the coalition discuss the environmental costs of either of those wars. And we were not even intending to cause that type of damage. I'm sure someone mentioned it, especially during the Obama administration, but I just don't recall it.
The third and final thing I want to highlight from his speech is President Zelenskyy once again making this not just about Ukraine, but about Europe. He, his spokespeople, and other Ukrainian senior leaders have regularly done this, but by clearly articulating that Ukraine is part of Europe, wishes to remain in Europe, and that Putin's re-invasion is intended to prevent that, which is itself an attack on Europe is just smart strategic communication.
What was not captured in the transcript, but is being reported, are the details that President Zelenskyy provided to the forum attendees about the cost of the war to Ukraine and her defenders:
⚡️Zelensky: Russia's war kills up to 100 Ukrainian soldiers every day in Donbas.

The president also said at the International Security Forum in Bratislava that between 450 and 500 soldiers are wounded every day.

— The Kyiv Independent (@KyivIndependent) June 2, 2022
And
Zelensky today on the consequences of Russia's invasion: 20% of Ukraine's territory, almost 125,000 sq km, is under Russian control. About 300,000 sq km are contaminated with mines and UXO. Almost 12 million people have been internally displaced, more than 5 million fled abroad.

— Christopher Miller (@ChristopherJM) June 2, 2022
Here's today's operational update from Ukraine's MOD (emphasis mine):
The operational update regarding the russian invasion on 06.00 on June 2, 2022

The ninety-ninth day of the heroic resistance of the Ukrainian people to a russian military invasion continues.

russian aggressor continues to launch missile and air strikes on military and civilian infrastructure in Ukraine.

In the Volyn and Polissya directions, the re-equipment of some units of the Armed Forces of the republic of belarus with modern models of armaments and military equipment continues. The threat of missile and air strikes from the territory of this country remains.

russian enemy did not take active action in the Siveskyy direction. russian enemy's units, which suffered losses during the fighting on the territory of Ukraine, are being supplemented with weapons and military equipment.

From the territory of the russian federation, the enemy fired mortars at the settlements of Seredyna-Buda, Progress, Sumy Oblast, and Leonivka, Chernihiv Oblast.

In the Kharkiv direction, russian enemy's main efforts are focused on maintaining the occupied borders. In order to reduce the offensive potential of our troops, it fired on the positions of the Defense Forces with artillery and rocket-propelled grenade launchers in the areas of the settlements of Mykhailivka, Prudyanka and Verkhniy Saltiv.

In the Slovyansk direction, russian enemy's main efforts were focused on maintaining their positions, conducting reconnaissance and creating conditions for the resumption of the offensive. It carried out artillery shelling in the areas of Dovhenke, Kurulka, Virnopillya and Dolyna.

In the Donetsk direction, russian enemy continues to fire on the positions of our troops along the entire line of contact with mortars, artillery and jet artillery.

In the Lyman direction, the enemy fought in the direction of the settlement of Raihorodok, suffered losses and withdrew.

In the Siverodonetsk direction, russian enemy is conducting assault operations in the settlement of Siverodonetsk. With the support of mortar fire, he stormed the settlements of Bobrove and Ustynivka, to no avail.

In the Bakhmut direction, russian enemy is storming the village of Komyshuvakha in order to take control of the city, has partial success, the fighting continues. He stormed the settlements of Nahirne and Bilohorivka, and as a result of the fire inflicted by our units, he withdrew.

In the Avdiivka, Kurakhivka, Novopavlivsk and Zaporizhzhia directions, russian enemy did not conduct active hostilities. It fired at Ukrainian troops with artillery and mortars in the areas of the settlements of Pisky, Avdiivka, Uspenivka, Vuhledar, Novosilka and Orikhiv.

In the Novopavlivsk and Zaporozhia directions, russian enemy continues the engineering equipment of the occupied frontiers. Carries out replenishment of stocks.

In the South Buh direction, russian occupiers increased the number of shellings of our positions. The settlements of Shevchenkove, Trudolyubivka, Luch, Stepova Dolyna and Shyroke were also fired upon with mortars and artillery. russian enemy launched air strikes with Mi-24 helicopters in the areas of Novohryhorivka and Oleksandrivka.

In order to justify the destruction of civilian objects, russian occupiers continue to spread information about the alleged location of military units in schools, hospitals and kindergartens.

In the Bessarabian direction, no significant changes in the activities of russian enemy units were noted.

In the waters of the Black and Azov Seas, the ships of the Black Sea Fleet of the russian federation continue to perform tasks of isolating the area of ​​hostilities, conducting reconnaissance and fire support in the coastal direction. russian enemy continues to take measures to block civilian navigation in the northwestern part of the Black Sea.

russian enemy continues to use the network of civilian medical facilities in the temporarily occupied territories to treat the wounded.

Over the past 24hrs, thirteen enemy attacks have been repulsed in the Donetsk and Luhansk directions, two tanks, six artillery systems, eight armoured combat vehicles and four enemy vehicles have been destroyed. Air defence units shot down seven Orlan-10 UAVs.

The enemy continues to lose unmanned aerial vehicles in all directions. The enemy is already using drones even of the Ministry of Emergencies of the Russian Federation.

We believe in the Armed Forces of Ukraine! Together to victory!

Glory to Ukraine!
Here's today's assessment from Britain's MOD: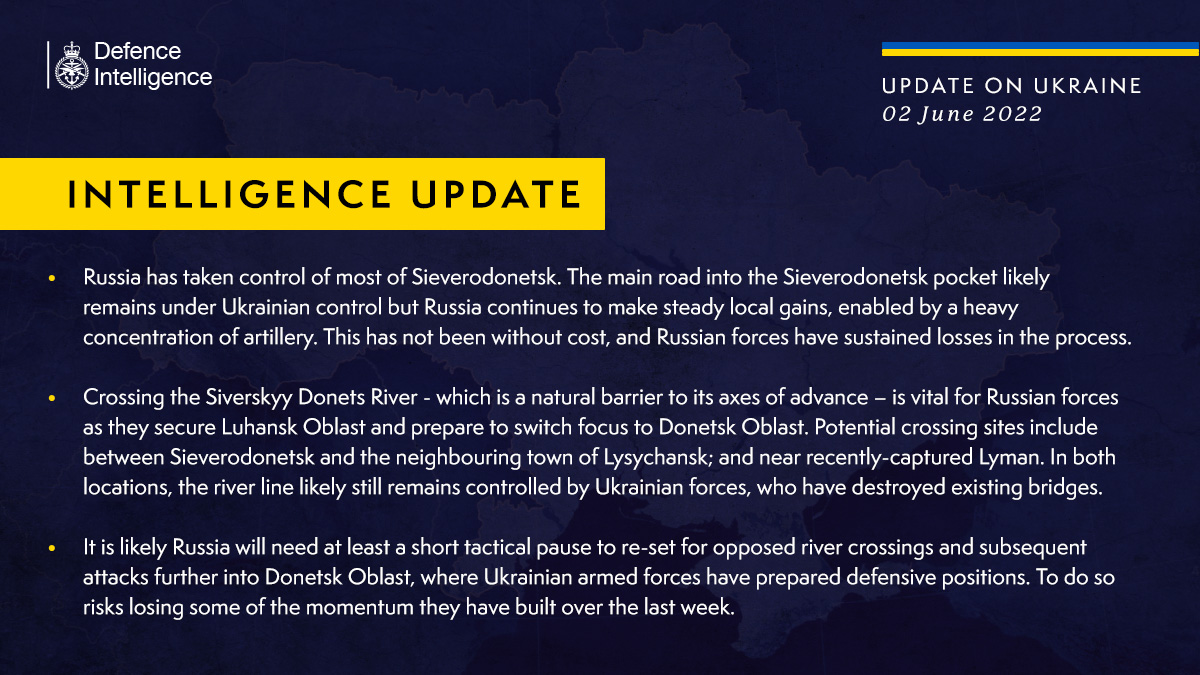 There was no updated British map today. However, The Telegraph's senior foreign correspondent, Roland Oliphant, reported an interesting and excellent piece about the riparian/riverine system in eastern Ukraine and what it means in regard to the Donbas campaign. He also did a tweet thread if you prefer that. From his article:
Once a peaceful fishing and bathing spot, the Siverskyi Donets river is now a crucial last line of defence in the battle for eastern Ukraine.

Mayaki is now a front-line village. The Donets has become the thread linking the most violent battles of the fight for eastern Ukraine, and the Ukrainians' last line of defence against the grinding Russian assault.

Upstream in Kharkiv region, a Ukrainian counter-offensive last month reached the right bank at the river town of Stary Saltiv, establishing a secure defensive line to the city's east.

Downstream from here, a desperate battle is ongoing for Severodonetsk, the last Ukrainian toe-hold on the left bank in Luhansk region.

As the Ukrainians in Severodonetsk are forced back, the Russians have tried to use the river to isolate them.

Just across the river from Mayaki, beyond the low and forested floodplain, the Russians last week pounded their way into the town of Lyman.

They are now poised to force a crossing to Slavyansk and Kramatorsk, the most important towns still under Ukrainian control in the Donetsk region, which makes up the other half of the Donbas with Luhansk.

On the day The Telegraph visited Mayaki, the bombardments on the other side of the river were relentless, loud, and terrifyingly close.

The Siverskyi Donets rises in Russia, just north of Belgorod, and crosses the border to the east of Kharkiv.

It passes through a steep, forested valley before looping up through the city centre of Izyum, then meanders down to Donetsk region – the province that took the river's name.

For the Donbas, the river is literally the source of life. The earliest neolithic settlements in the region have been found along its banks.

Mayaki – which means lighthouses – was settled by Cossacks who in the 17th century built a beacon on the highest hill above the river to warn of approaching enemies.

Since then, dams have slowed the river's flow and at some points form wide lakes. One such reservoir provides a large proportion of the drinking water for Kharkiv.

Since the industrial revolution, the river has been exploited extensively by the cities and factories of the Donbas for industrial and drinking water.

Nonetheless, the river and its tributaries retain a remarkable biodiversity that puts the silent English countryside to shame.

Along its banks, and those of the Kazyeni Torets, the tributary that runs through Slavyansk, the vegetation is thick, and the calls of frogs and insects as loud as in any jungle.

There is good fishing, and the basin's lakes and ponds are said to be the last Ukrainian habitat of the Russian Desman, an endangered aquatic mole-like creature unique to the waterways of the southern Eurasian steppes.

If they are lucky, the war will bypass the residents and refugees in Mayaki.

It has no bridge and to reach the river the Russians in Lyman would have to force their way through the dense national park opposite.

But Russian commanders could yet decide to obliterate the place, as they have other towns in their path.

The river here is the only thing keeping the Russians from Slavyansk, one of the most important strategic towns in the Donetsk region, where Moscow's offensive is likely to turn if it completes the capture of Luhansk.

If they can cross the bridge at Raygorodok, a few miles downstream, they will already be on the city's outskirts. Shells hit Slavyansk on Wednesday.

The topography favours the defenders. The right, Ukrainian-held bank tends to be steeper here, while the left, eastern bank is often lower-lying and marshy.

River crossings are also difficult and dangerous operations.

A Russian attempt to envelop Lysychansk by crossing at Bilohorivka on May 8 ended in catastrophe when it was spotted by Ukrainian artillery. Hundreds of Russian troops are believed to have been killed.

Ukrainian sources have claimed to have thwarted at least two other attempts on the same stretch of river.

Yet the river is not impenetrable.

The Russians are already over the river on the other side of the Donbas salient, pushing westwards from the town of Popasna to threaten Lysychansk from the rear.

Around Izyum, to the north, they are far across the river. If they can establish a bridgehead here, the Ukrainian defence of Donbas will be in big trouble.
Much more at the link. And at the tweet thread, which also has lots of pictures.
There was also no DOD backgrounder today.
Before we move on, for anyone who has done geo-spatial analysis – making the maps, producing the analysis based on the maps, both – this is hilarious!!!
you're killing me, ukraine pic.twitter.com/2OVYL2PXt0

— Nathan Ruser (@Nrg8000) June 2, 2022
This was in regard to the news that the Ukrainians had retaken Mykolaivka several days ago. Which led to a number of people to ask which one?
I want to spend just a few minutes on the toll that the war is taking on Ukraine's defenders. As I teased last night, details of these effects are starting to trickle out in the reporting. Christopher Miller, now with Politico, has an excellent piece of reporting on the effects of the war on Ukrainian soldiers.
DONETSK AND KHARKIV REGIONS, eastern Ukraine — The Ukrainian officer's urgent and profanity-laced plea crackled over the radio: "We need artillery support!"

His infantry troops were under attack on the frontline and they needed help, could the mechanized troops hit the enemy?

Commander "Topaz," a little more than two miles away, responded in the affirmative and shouted to platoon leader "Horizon" to ready the howitzers.

Moments later, crews scrambled among the dense brush onto two self-propelled Ukrainian 2S1 Gvozdikas, or Carnations, and loaded them with 122mm shells. Using a touchscreen device, Horizon checked the coordinates of their Russian targets obtained from satellite images and drone footage, kneeled, and then yelled the order: "Fire!"

Two muzzles jutting from camouflaged turrets each belched out a round as clouds of smoke dissipated into the air.

In just a few minutes, the guns fired six more times. There was an uneasy silence between each shot when just the wind could be heard rustling the grass, and then came the roar of explosions on Russian infantry and armored vehicles in the distance.

"Wasted," Horizon declared, rising confidently from the hilltop.

His artillerymen rushed to cover the Soviet-era weapons with tree branches to hide them from Russian drones that he said would inevitably come looking for their positions before returning fire. "Hurry!" one of the soldiers shouted.

During an artillery duel two days prior, a drone had loitered overhead — a few minutes later Russian shells were raining down on them. "A whole battery was working on us," said Horizon. They hadn't been hit since. "I think maybe we already fucked them up," he added, with a grin and the braggadocio of a soldier with several heavy weapons at his disposal.

Even so, with Russia's deep reserves, others would soon take their place.

Here, in the wide expanse of Ukraine's eastern steppe, heavy weapons are the defining feature of this new phase of the Russo-Ukrainian war. The conflict has ground into a long-range shooting war across the vast gullies and rolling hills, snaking rivers and slag heaps that protrude like miniature mountains in this heavily industrialized area. It's tricky to advance quickly here and soldiers on both sides rarely — if ever — see each other up close. And so whoever plays the cat-and-mouse artillery game best — and has the biggest guns and most shells to do so — is likely to come out the victor.

Right now, Russia appears to have the upper hand.

Moscow's forces are making incremental steps deeper into Ukrainian territory each day. Last week, Russian troops captured the towns of Lyman, a key rail hub in northern Donetsk region, and Svitlodarsk 50 miles southeast, where Ukrainian troops were forced to retreat. Russian soldiers have tried to break through Ukrainian lines below Izyum in the southern Kharkiv region in order to complete a pincer movement that includes a push north from territory under their control around Donetsk and its periphery.

If they succeed, Ukrainian forces will be surrounded.

But Kyiv hopes the momentum will soon change in its favor with the arrival of NATO weaponry and munitions.

"If it gets here quickly we can push them back. In fact, we can win," Topaz said. Officials in Kyiv, including President Volodymyr Zelenskyy, have been less upbeat in recent days. He called the fight in the east "hell" and pleaded with the West to rush heavy weapons to his country.

With artillery superiority, Russian forces are pounding Ukrainian troops and pulverizing everything else in their way with massive barrages around the clock in an effort to surround and capture strategic cities in the East of Ukraine, colloquially known as the Donbas.

"They are carpet-bombing us. The cities they attack are simply being erased from the face of the earth," said Serhiy Haidai, the head of the Luhansk regional military government. Donning full combat gear and flanked by an armed guard, he spoke to POLITICO on a park bench in the frontline city of Bakhmut last week, 40 miles southwest of his hometown of Severodonetsk, a strategic regional hub that now finds itself square in Russia's crosshairs.

POLITICO met soldiers and territorial defense forces at a hillside near the northwestern edge of Bakhmut where potential fallback positions and fresh trenches were being established. From that vantage point, black smoke from artillery attacks could be seen across the horizon. Volodymyr Yelets, a volunteer fighter from the eastern city of Toretsk, looked on with concern, accompanied by his dog Taco. "They're getting closer," he said, adding that Bakhmut had been hit by three missiles just an hour earlier. "Once they're close enough to use artillery, the city is screwed."

Haidai, who admitted to sleeping little and living on the move now, said Thursday that Russian shelling in Severodonetsk had killed some 1,500 residents and wiped out more than 60 percent of the city in recent weeks; about 95 percent of the Luhansk region is now occupied by Russian forces.

"They are destroying Severodonetsk, they are shelling it all the time with everything they have. And in this way they destroy cities so much that it is no longer possible for an army to gain a foothold there," Haidai told POLITICO. And if they can either capture Severodonetsk or block the Lysychansk-Bakhmut highway, it will be a victory for them."
Much more at the link!
Another major problem is, as I indicated last night, a lot of basic equipment is still not available to the Ukrainian military. Especially to the Territorial Defenders. This is beginning to create problems. From The Washington Post:
DRUZHKIVKA, Ukraine — Stuck in their trenches, the Ukrainian volunteers lived off a potato per day as Russian forces pounded them with artillery and Grad rockets on a key eastern front line. Outnumbered, untrained and clutching only light weapons, the men prayed for the barrage to end — and for their own tanks to stop targeting the Russians.

"They [Russians] already know where we are, and when the Ukrainian tank shoots from our side it gives away our position," said Serhi Lapko, their company commander, recalling the recent battle. "And they start firing back with everything — Grads, mortars.

"And you just pray to survive."

Ukrainian leaders have projected and nurtured a public image of military invulnerability — of their volunteer and professional forces triumphantly standing up to the Russian onslaught. Videos of assaults on Russian tanks or positions are posted daily on social media. Artists are creating patriotic posters, billboards and T-shirts. The postal service even released stamps commemorating the sinking of a Russian warship in the Black Sea.

Ukrainian forces have succeeded in thwarting Russian efforts to seize Kyiv and Kharkiv and have scored battlefield victories in the east. But the experience of Lapko and his group of volunteers offers a rare and more realistic portrait of the conflict and Ukraine's struggle to halt the Russian advance in parts of Donbas. Ukraine, like Russia, has provided scant information about deaths, injuries or losses of military equipment. But after three months of war, this company of 120 men is down to 54 because of deaths, injuries and desertions.

The volunteers were civilians before Russia invaded on Feb. 24, and they never expected to be dispatched to one of the most dangerous front lines in eastern Ukraine. They quickly found themselves in the crosshairs of war, feeling abandoned by their military superiors and struggling to survive.

"Our command takes no responsibility," Lapko said. "They only take credit for our achievements. They give us no support."

When they could take it no longer, Lapko and his top lieutenant, Vitaliy Khrus, retreated with members of their company this week to a hotel away from the front. There, both men spoke to The Washington Post on the record, knowing they could face a court-martial and time in military prison.

"If I speak for myself, I'm not a battlefield commander," he added. "But the guys will stand by me, and I will stand by them till the end."

The volunteers' battalion commander, Ihor Kisileichuk, did not respond to calls or written questions from The Post in time for publication, but he sent a terse message late Thursday saying: "Without this commander, the unit protects our land," in an apparent reference to Lapko. A Ukrainian military spokesman declined immediate comment, saying it would take "days" to provide a response.

"War breaks people down," said Serhiy Haidai, head of the regional war administration in Luhansk province, acknowledging many volunteers were not properly trained because Ukrainian authorities did not expect Russia to invade. But he maintained that all soldiers are taken care of: "They have enough medical supplies and food. The only thing is there are people that aren't ready to fight."

But Lapko and Khrus's concerns were echoed recently by a platoon of the 115th Brigade 3rd Battalion, based nearby in the besieged city of Severodonetsk. In a video uploaded to Telegram on May 24, and confirmed as authentic by an aide to Haidai, volunteers said they will no longer fight because they lacked proper weapons, rear support and military leadership.

"We are being sent to certain death," said a volunteer, reading from a prepared script, adding that a similar video was filmed by members of the 115th Brigade 1st Battalion. "We are not alone like this, we are many."

In an undated video, Ukrainian soldiers in the Donbas region made a plea for "proper protection" and said they have been waiting for weeks for reinforcements.

Ukraine's military rebutted the volunteers' claims in their own video posted online, saying the "deserters" had everything they needed to fight: "They thought they came for a vacation," one service member said. "That's why they left their positions."

Hours after The Post interviewed Lapko and Khrus, members of Ukraine's military security service arrived at their hotel and detained some of their men, accusing them of desertion.

The men contend that they were the ones who were deserted.

Before the invasion, Lapko was a driller of oil and gas wells. Khrus bought and sold power tools. Both lived in the western city of Uzhhorod and joined the territorial defense forces, a civilian militia that sprang up after the invasion.

Lapko, built like a wrestler, was made a company commander in the 5th Separate Rifle Battalion, in charge of 120 men. The similarly burlyKhrus became a platoon commander under Lapko. All of their comrades were from western Ukraine. They were handed AK-47 rifles and given training that lasted less than a half-hour.

"We shot 30 bullets and then they said, 'You can't get more; too expensive,' " Lapko said.

They were given orders to head to the western city of Lviv. When they got there, they were ordered to go south and then east into Luhansk province in Donbas, portions of which were already under the control of Moscow-backed separatists and are now occupied by Russian forces. A couple dozen of his men refused to fight, Lapko said, and they were imprisoned.

The ones who stayed were based in the town of Lysychansk. From there, they were dispatched to Toshkivka, a front-line village bordering the separatist areas where the Russian forces were trying to advance. They were surprised when they got the orders.

"When we were coming here, we were told that we were going to be in the third line on defense," Lapko said. "Instead, we came to the zero line, the front line. We didn't know where we were going."

The area has become a focal point of the war, as Moscow concentrates its military might on capturing the region. The city of Severodonetsk, near Lysychansk, is surrounded on three sides by Russian forces. Over the weekend, they destroyed one of three bridges into the city, and they are constantly shelling the other two. Ukrainian troops inside Severodonetsk are fighting to prevent the Russians from completely encircling the city.

That's also the mission of Lapko's men. If Toshkivka falls, the Russians can advance north toward Lysychansk and completely surround Severodonetsk. That would also allow them to go after larger cities in the region.

When the volunteers first arrived, their rotations in and out of Toshkivka lasted three or four days. As the war intensified, they stayed for a week minimum, sometimes two. "Food gets delivered every day except for when there are shellings or the situation is bad," Khrus said.

And in recent weeks, he said, the situation has gotten much worse. When their supply chains were cut off for two days by the bombardment, the men were forced to make do with a potato a day.

They spend most days and nights in trenches dug into the forest on the edges of Toshkivka or inside the basements of abandoned houses. "They have no water, nothing there," Lapko said. "Only water that I bring them every other day."

It's a miracle the Russians haven't pushed through their defensive line in Toshkivka, Khrus said as Lapko nodded. Besides their rifles and hand grenades, the only weapons they were given were a handful of rocket-propelled grenades to counter the well-equipped Russian forces. And no one showed Lapko's men how to use the RPGs.

"We had no proper training," Lapko said.

"It's around four RPGs for 15 men," Khrus said, shaking his head.

The Russians, he said, are deploying tanks, infantry fighting vehicles, Grad rockets and other forms of artillery — when they try to penetrate the forest with ground troops or infantry vehicles, they can easily get close enough "to kill."

"The situation is controllable but difficult," Khrus said. "And when the heavy weapons are against us, we don't have anything to work with. We are helpless."

Behind their positions, Ukrainian forces have tanks, artillery and mortars to back Lapko's men and other units along the front. But when the tanks or mortars are fired, the Russians respond with Grad rockets, often in areas where Lapko's men are taking cover. In some cases, his troops have found themselves with no artillery support.

This is, in part, because Lapko has not been provided a radio, he said. So there's no contact with his superiors in Lysychansk, preventing him from calling for help.

The men accuse the Russians of using phosphorous bombs, incendiary weapons that are banned by international law if used against civilians.

"It explodes at 30 to 50 meters high and goes down slowly and burns everything," Khrus said.

"Do you know what we have against phosphorous?" Lapko asked. "A glass of water, a piece of cloth to cover your mouth with!"

Both Lapko and Khrus expect to die at the front. That is why Lapko carries a pistol.

"It's just a toy against them, but I have it so that if they take me I will shoot myself," he said.

Despite the hardships, his men have fought courageously, Lapko said. Pointing at Khrus, he declared: "This guy here is a legend, a hero." Khrus and his platoon, his commander said, have killed more than 50 Russian soldiers in close-up battles.

In a recent clash, he said, his men attacked two Russian armored vehicles carrying about 30 soldiers, ambushing them with grenades and guns.

"Their mistake was not to come behind us," Lapko said. "If they would have done that, I wouldn't be talking to you here now."

Lapko has recommended 12 of his men for medals of valor, including two posthumously.

The war has taken a heavy toll on his company — as well as on other Ukrainian forces in the area. Two of his men were killed, among 20 fatalities in the battalion as a whole, and "many are wounded and in recovery now," he said.

Then there are those who are traumatized and have not returned.

"Many got shell shock. I don't know how to count them," Lapko said.
Much, much more at the link including video.
I'm not bringing this up, or posting reporting about it, to run down the Ukrainians. They're mounting an amazing defense under difficult circumstances. But everything is also not sunshine, roses, puppies, kittens, and ice cream sundaes. The Ukrainians need a lot of basic soldier stuff – small arms, ammunition, helmets, body armor, socks, med kits, radios, night vision gear, scopes, suppressors for their rifles and carbines, light trucks, etc – and they're trying to crowd fund and crowd source it! Announcements about sending HIMARS or air defense systems or anti-ship missiles gets a lot of press, and its a good thing this stuff is being sent, but the basics are still needed.
Last night commenter Torrey asked about a Ukrainian girl who was selling her drawings on Etsy to raise money for Ukraine. Another Scott replied with the correct link before I could go dig it out. But so we have it, here's the info you're looking for in case you want to buy a picture. From SheKnows:
A young Ukrainian girl is selling her drawings on Etsy to help support her family. The 7-year-old's digital artwork ranges from a colorful pair of birds to a cat holding a heart-shaped Ukraine flag and it's all available online right now.

Nils Laacks, a language coach in Canada, helped spark the idea when he was trying to figure out ways to help his friend Maxim, who lives in Ukraine. "When the war started I felt helpless and shocked like most people around the world," Laacks wrote in an email. "I was thinking of ways to help this family. I knew that Maxim's 7-year old niece loves to draw as he had sent me some of her drawings in the past."

Laacks suggested that Maxim set up an Etsy page for Maria, so they can sell her drawings and raise funds to directly support their family. Maxim did just that and has already racked up 529 sales (along with plenty of glowing reviews!) of her sweet, bright drawings.
More at the link. Here's the direct link to Maria's Etsy page.
Your daily Patron:
#Ukraine Our favourite dog Patron travelled to Lviv to meet with children and uplift their moods. Well, that's the fate of the most prominent pet in the country! pic.twitter.com/8NnT72DEJW

— Hanna Liubakova (@HannaLiubakova) June 1, 2022
Open thread!