Hand to Murphy the Trickster God, that's an actual quote from Gohmert!
Rep Louie Gohmert on Navarro indictment: "If you're a Republican, you can't even lie to Congress or lie to an FBI agent or they're coming after you" pic.twitter.com/8eIkkycukd

— Jason Campbell (@JasonSCampbell) June 3, 2022
Nothing short of a (possibly induced) fatal aneurysm is gonna keep Navarro from talking, and every sentence he finishes is gonna make trouble for someone in the Trump Crime Cartel. Or maybe I'm just an optimist…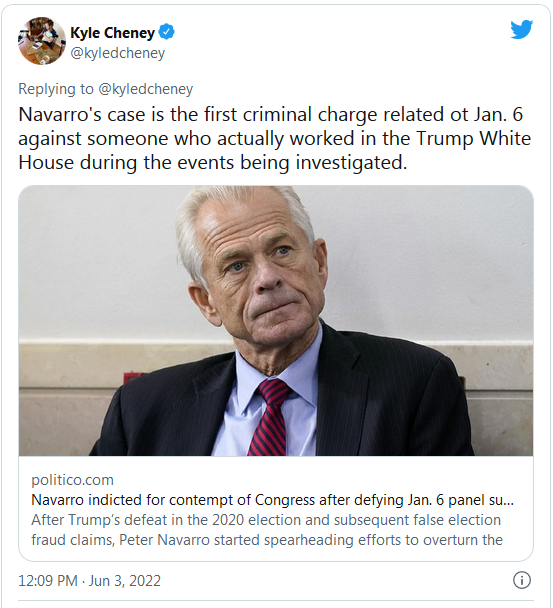 … After Trump's defeat in the 2020 election, Navarro became an early advocate for the former president's false claims of widespread election fraud and spearheaded efforts to overturn the election. He's been charged with two counts of contempt, each of which carries a maximum sentence of one year in prison.

The U.S. House committee investigating the Capitol insurrection subpoenaed Navarro in February and he tersely refused to comply, claiming sweeping executive privilege over his efforts. Following his appearance in court Friday afternoon, Navarro told reporters he had been arrested "getting on the plane" to Nashville and was put in handcuffs and leg irons.

"They just came with the full force of the federal government and put the hammer down trying to intimidate me," he said, calling the Justice Department "wrong on all manner of counts." The former Trump adviser is scheduled to be back in court on June 17 for his arraignment…

Navarro, who has been dealing with the select committee without a lawyer, publicly acknowledged receiving a grand jury subpoena related to his refusal to comply last week. He filed a lawsuit against the committee and Justice Department Tuesday, but a federal judge told him Thursday to refile it to correct a series of errors.

The select committee subpoenaed Navarro to testify in February, but he told them he would refuse to comply, citing executive privilege. The panel countered that its questions for him did not broach any possible privileges related to his White House work. Still, Navarro refused to appear. The committee held him in contempt for that decision in April, asking the Justice Department to pursue charges. The full House followed suit, adopting the panel's recommendation…

The case will be overseen by Judge Amit Mehta, who is also presiding over two other crucial Jan. 6 cases: the seditious conspiracy trial against leaders of the Oath Keepers and a sprawling series of civil lawsuits against Trump filed by members of Congress and Capitol Police officers. Assistant U.S. Attorneys Elizabeth Aloi and Molly Gaston are handling the case for DOJ. Amanda Vaughn, the lead prosecutor in the Bannon case, is also listed among the prosecutors.
Nobody is angrier than an old white guy in a blue suit treated the way the system treats everyone else https://t.co/N0tbTbKcjy

— OnlineDefamationExpertHat (@Popehat) June 3, 2022
Methinks Jason Miller fears for his own future:
Jason Miller is outraged the Feds arrested Navarro: "They went and arrested and put him in handcuffs? I mean, this is Peter Navarro! He's an economist. He's a PhD. You see that he's a very serious, very buttoned up guy, and you're going to go throw him in handcuffs!?! pic.twitter.com/nFIItDKbPF

— Ron Filipkowski ???? (@RonFilipkowski) June 3, 2022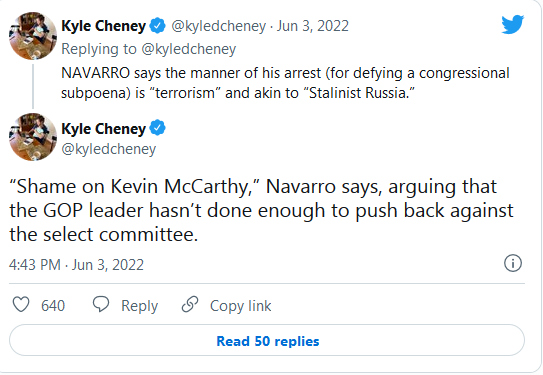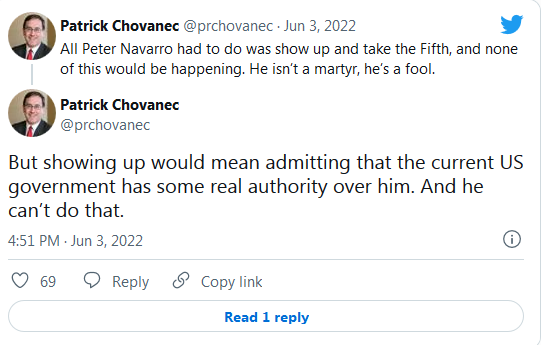 MSNBC eventually pulls away from Peter Navarro's comments after he exits the courthouse following his indictment.

John Heilemann: "I am a devotee of breaking news as much as anyone but there's only so much bug-eyed gibberish we can tolerate here…" pic.twitter.com/dwQ2itSh98

— Justin Baragona (@justinbaragona) June 3, 2022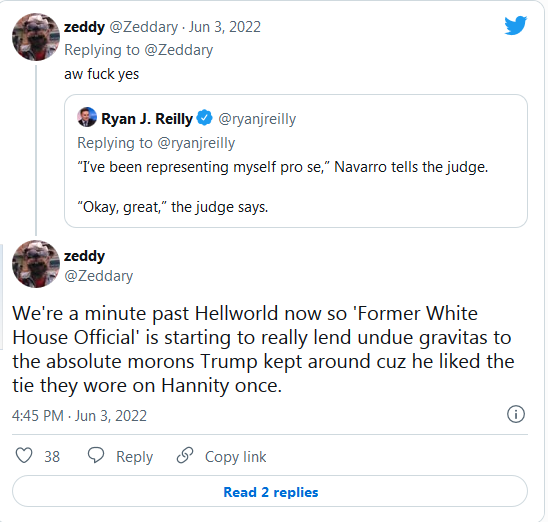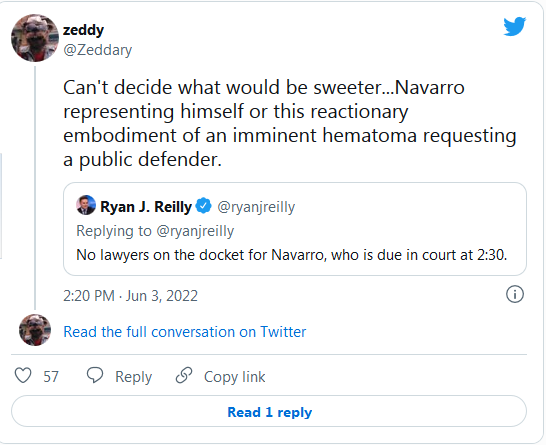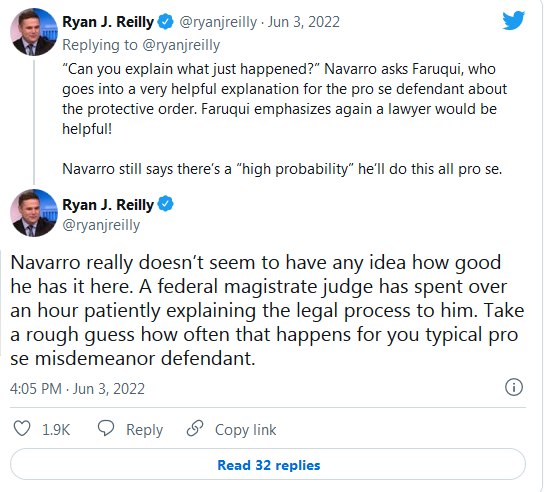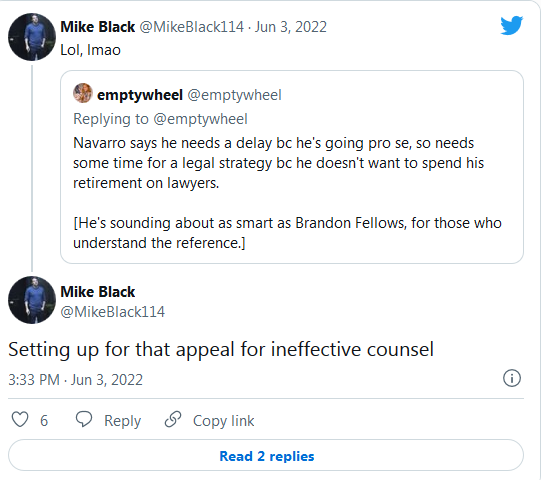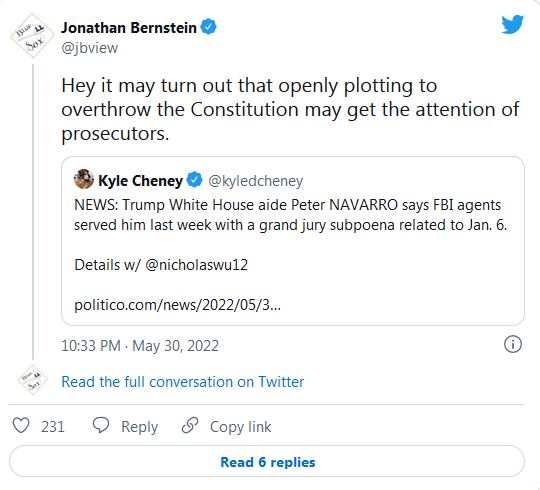 Thanks, Jared!