It seems like every single day I read another story like this:
If the Great Salt Lake, which has already shrunk by two-thirds, continues to dry up, here's what's in store:

The lake's flies and brine shrimp would die off — scientists warn it could start as soon as this summer — threatening the 10 million migratory birds that stop at the lake annually to feed on the tiny creatures. Ski conditions at the resorts above Salt Lake City, a vital source of revenue, would deteriorate. The lucrative extraction of magnesium and other minerals from the lake could stop.

Most alarming, the air surrounding Salt Lake City would occasionally turn poisonous. The lake bed contains high levels of arsenic and as more of it becomes exposed, wind storms carry that arsenic into the lungs of nearby residents, who make up three-quarters of Utah's population.

"We have this potential environmental nuclear bomb that's going to go off if we don't take some pretty dramatic action," said Joel Ferry, a Republican state lawmaker and rancher who lives on the north side of the lake.
Look, I've just accepted that we are not going to do anything about climate change. We just aren't. The shit is going to hit the fan and there is nothing any of us can do about it. But we can do some things to mitigate the harm, although I feel quite as certain we won't do that, either.
First of which is the population growth in desert climates has just got to stop. We have got to stop subsidizing the growth to regions that do not have the resources to support themselves, and we have got to stop accepting it and pretending it is socially responsible. We also have to stop wrecking communities that COULD survive with the resources they have if big ag and nestle weren't stealing all of them:
Gary Biggs' family hasn't had water coming out of their private well for over a decade, after a multi-year drought and overpumping by agriculture and industry.

Now, the eight-acre farm in West Goshen, California, which Biggs passed down to his son, Ryan, in the 1970s, is parched and fallow. His son and granddaughter carry in water from sources to drink and shower. They go to town to wash their clothes, Biggs says.

In recent years, the family has gone from relying on water from cisterns provided by government programs, which they say tastes terrible, to hauling water containers to and from neighbors' homes — neighbors who are willing to share what they have left.

Biggs, 72, still remembers when the family property had a thriving orchard. When he was a teenager, he planted pecan and orange trees, while his father grew alfalfa and raised cows and sheep.

"Now, it's all dirt," Biggs, a lifelong California resident, told CNN. "Central California is dying. We're becoming a wasteland. A hot and dry wasteland."
One of the things we could do that would help is for people to dump their fetishization of grass, which is the worst fucking thing you can have in your yard. It's utter shit. It is useless. It's beyond useless, it's harmful. It causes people to use pesticides to make a certain way, it requires wasting water on it so you can waste gasoline to cut it and emit co2 gasses. It does nothing for wild life, it does nothing as a carbon sink. When there are rains, it doesn't retain the water like other plants and vegetation would, and runs off into the gutters and gullies carrying all those pesticides into rivers, streams, and wastewater stations.
Personally, I was planning to rip up my back yard and get rid of all the grass this year, but I just do not have the money to do it and get the perennials and rain gardens in. But I might do my front yard. If everyone did this everywhere, it would make a difference, it really would.
But we won't do anything anyway so I am not sure why I am mentioning. Maybe I'll challenge a bunch of you to do it with me. I bet we could collectively gain the knowledge to plant the right things for our respective regions- indigenous plants that would help native species, and do it right. Let's think on that.
Speaking of native species, this slipped through the fence at my parent's place, and her momma could not get in to retrieve her: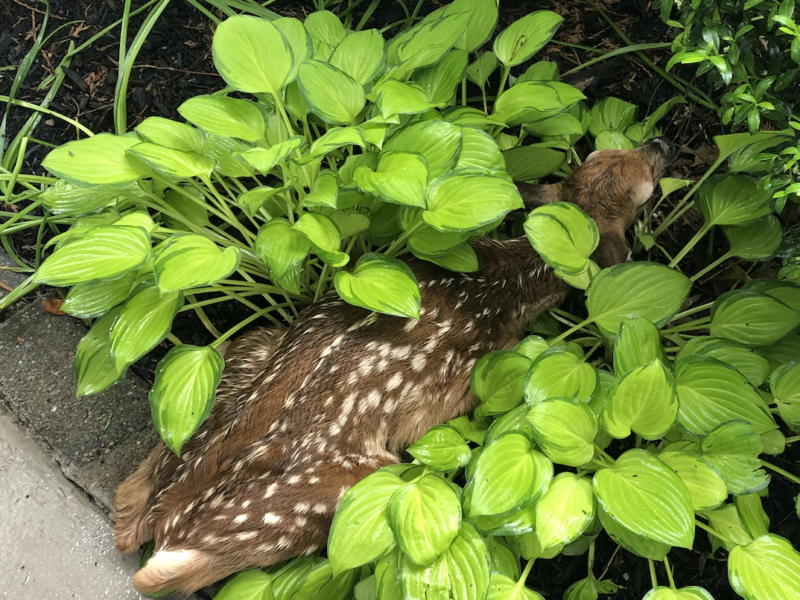 My parent's neighbor scooped it up and took it out to momma doe: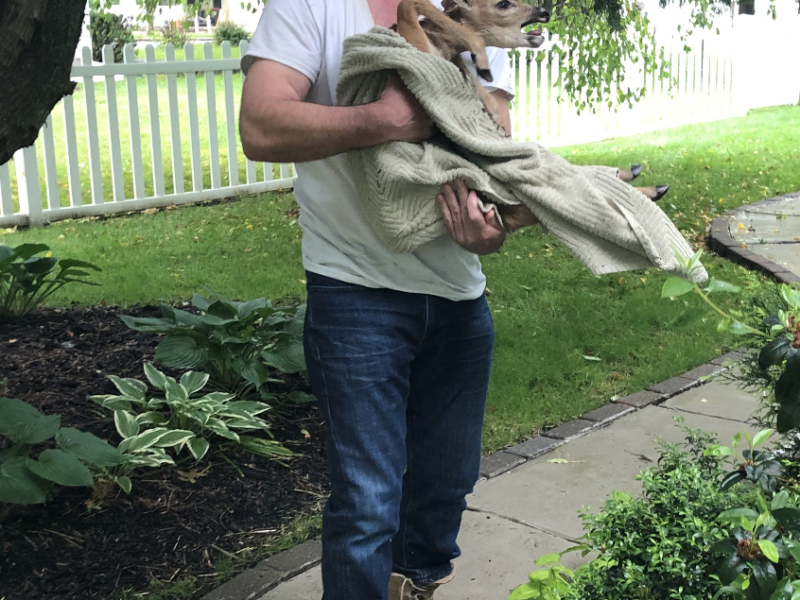 They headed off to the woods at the edge of town as soon as they were reunited.