After a year of investigating the January 6 assault on the U.S. Capitol, the House Select Committee will hold public hearings to shine a light on the attempt to subvert U.S. democracy and to draw the line of responsibility directly to the White House https://t.co/HK6URrGHVB pic.twitter.com/VSfCLfWv4n

— Reuters (@Reuters) June 8, 2022
Via commentor NotMax, a comprehensive guide on "How To Watch The Primetime January 6 Hearings Online & On TV, Plus Schedule & Who'll Be Testifying":
… The committee plans to unveil previously unseen footage from the attack on the Capitol, conduct interviews with Trump White House staffers and also play videos of its interviews with Ivanka Trump and Jared Kushner, according to the Washington Post.

The hearing reportedly will also include testimony from Nick Quested, a documentary filmmaker who was following the right-wing group The Proud Boys as the Capitol was attacked, and Caroline Edwards, a Capitol police officer who was injured.

C-SPAN is serving as the pool for broadcast and cable media, and will cover the hearing with seven cameras. Each network — except Fox News, which is not covering the hearings in full — will add analysis and reporting.

With mounds of data, graphic presentations, thousands of hours of footage and hundreds of photos, the hearing reportedly will be much more media heavy than is typical. That's likely part of why James Goldston, the former president of ABC News, has been advising on the presentation.

What follows are the coverage plans that each network has for the hearings, which can also be streamed at january6th.house.gov…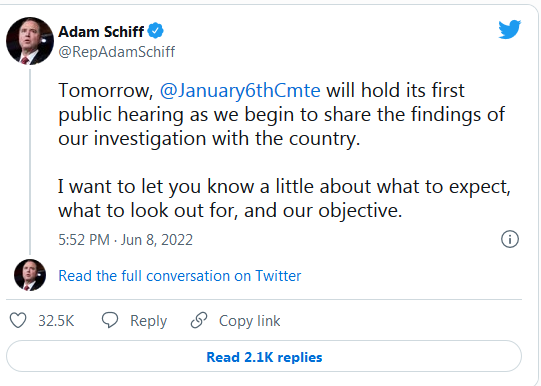 The public hearings will present both new and publicly known information in a compelling way.

Many have heard the story in drips and drabs.

But that only gives part of the picture.

We'll demonstrate the multipronged effort to overturn a presidential election, how one strategy to subvert the election led to another, culminating in a violent attack on our democracy.

It's an important story, and one that must be told to ensure it never happens again.

During tomorrow's hearing and in the ones to follow, we'll show how close we came to losing our democracy.

And why it's still deeply at risk.

We'll provide details of the effort to interfere with the peaceful transfer of power.

And what we must do to protect our democracy now.
Well worth reading:
Six questions the January 6 committee aims to answer about the U.S. Capitol attack during its hearings starting tonight https://t.co/BT3rD9vWaT

— The Washington Post (@washingtonpost) June 9, 2022
Counter-arguments: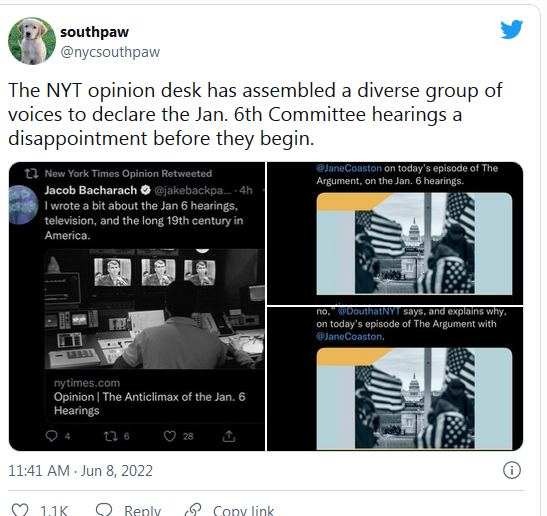 Nice of them to just come out and admit it. https://t.co/e8JGAhNPMs

— Centrism Fan Acct ?? (@Wilson__Valdez) June 8, 2022