Pre-orders of vaccines for children under age 5 have been slow, but Biden administration senior officials say they are not alarmed and expect the pace to pick up after federal approvals later this month. https://t.co/jyXY4mTC4E

— Reuters Health (@Reuters_Health) June 9, 2022
Uptake of under-5 COVID-19 vaccines is expected to be lackluster. But experts tell @KatherineJWu that two and a half years into the pandemic, immunizing as many people as possible is still an urgent need.https://t.co/X6wLFEgmqw

— The Atlantic (@TheAtlantic) June 10, 2022
The pandemic has reached a plateau, according to scientists at Johns Hopkins University. But for how long? One-third of the US isn't fully vaccinated & 2/3 haven't had a booster shot. On average ~265 people in the US die daily from Covid https://t.co/uViOi8Gu0w pic.twitter.com/poEOHDNMoj

— delthia ricks (@DelthiaRicks) June 9, 2022
======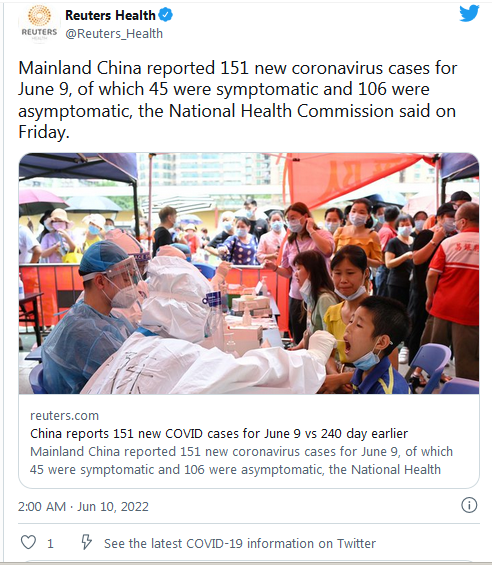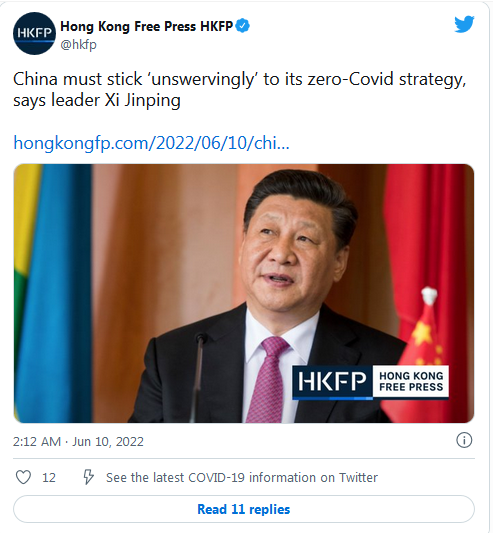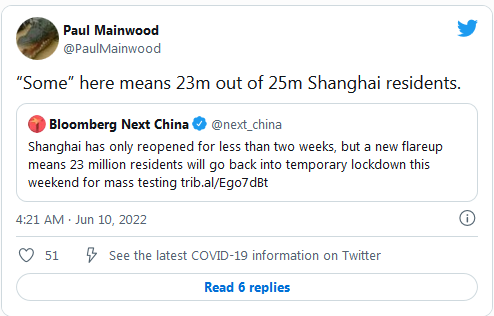 Shenzen resident scoffs:
"It's mild" https://t.co/asepXlNgNl pic.twitter.com/cp57Y7rSQS

— Naomi Wu 机械妖姬 (@RealSexyCyborg) June 9, 2022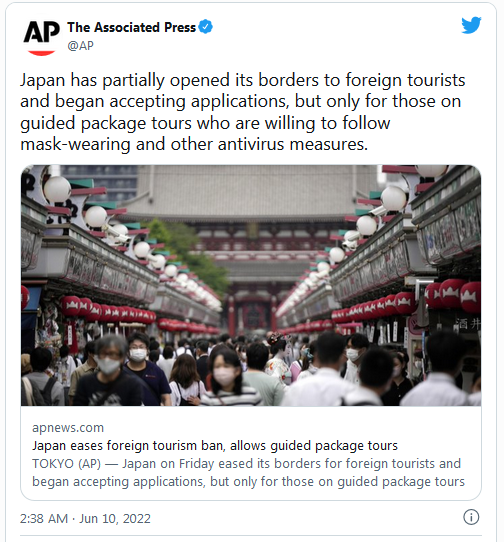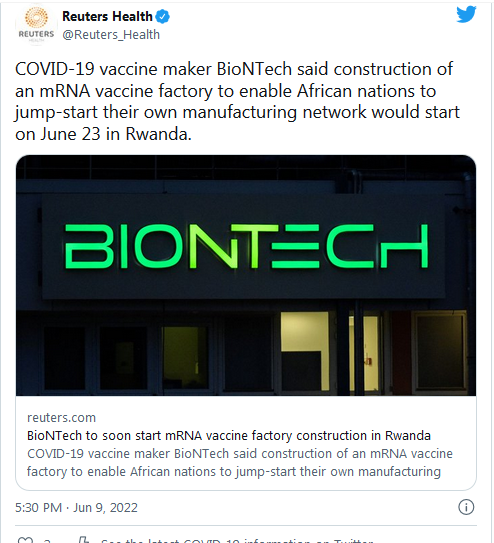 ======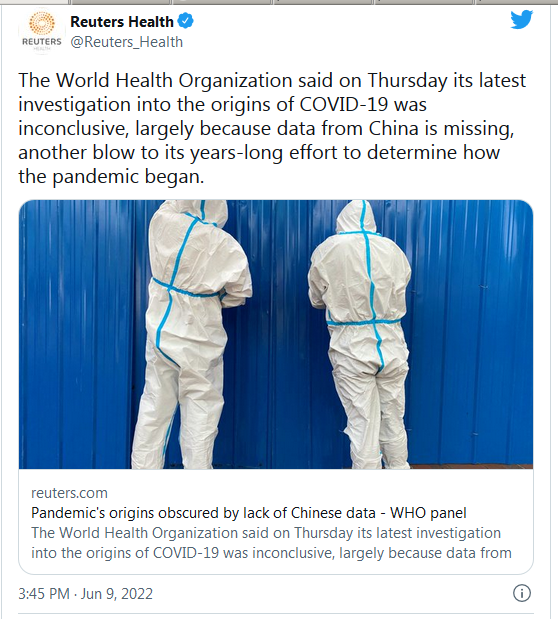 *Sigh*. This will be a big gift to the grifters conspiracy theorists:
… The report from the WHO expert panel said all available data showed the novel coronavirus that causes COVID-19 probably came from animals, likely bats, a similar conclusion to the U.N. agency's previous work on the topic in 2021 that followed a trip to China.

The missing data, especially from China, where the first cases were reported in December 2019, meant it was not possible to identify exactly how the virus was first transmitted to humans.

The findings are likely to add to doubts it will be possible to determine how and where the virus emerged.

They will also inject urgency into the effort to overhaul the WHO and its health emergency procedures as the agency strives to reassert itself after years of criticism over its handling of the pandemic.

The WHO says the report, the first of several expected from the panel, is also about drawing up a better way to probe the origins of future outbreaks…

Reflecting the political wrangling that has dogged the drafting of the report, it includes a footnote outlining how members of the panel from Brazil, China and Russia disagreed that further studies were needed on the lab hypothesis and suggested nothing had changed since the previous WHO-China joint report on origins, published in March 2021.

The latest report also includes a framework for how to pinpoint the origins of future outbreaks, which WHO has said is the panel's central aim, rather than drawing conclusions on COVID-19…

The report also includes a long list of recommendations for further studies that could shed more light on COVID-19's origins.

They include seeking information on the earliest cases in Wuhan, China, as well as further studies around the animal market in Wuhan that was identified early on as a potential location for the virus's jump to humans.

The 2021 report called a lab leak "highly unlikely" and suggested the most plausible theory was a spillover from animals. A later U.S. intelligence report said both theories remained plausible, although it too leaned towards natural origins.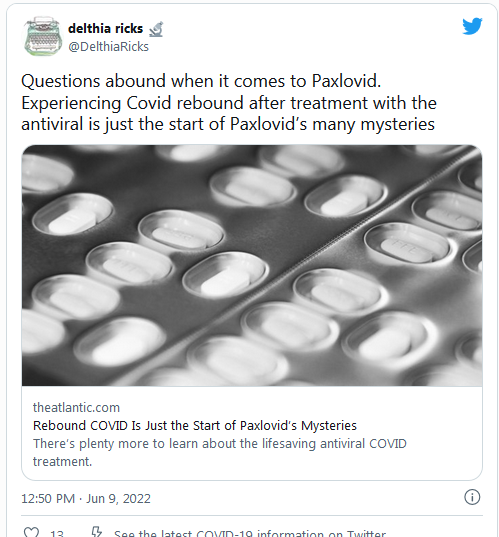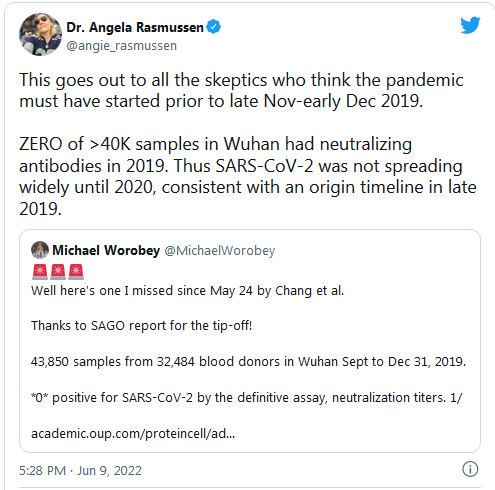 ======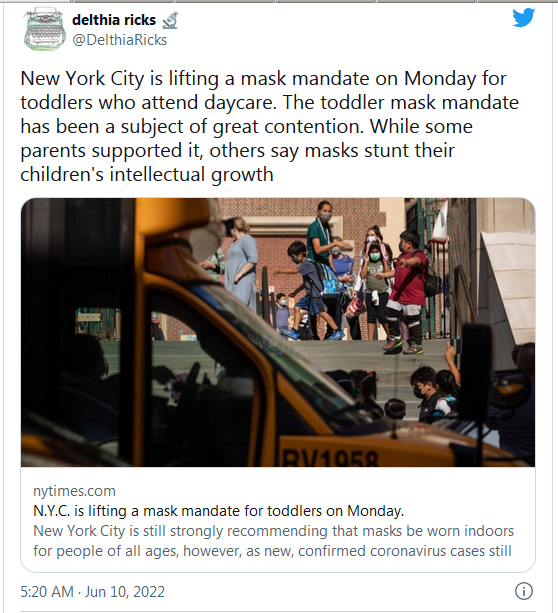 Speaking of conspiracy theorists / grifters…