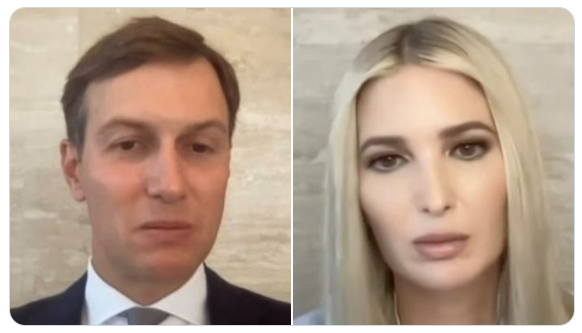 [Photo source: @RonFilipkowski]
Well, that happened!
Did y'all catch how Liz Cheney clowned the ever-lovin' fuck out of Kushner? She set the scene by observing how rare and serious it is for White House counsel to threaten to resign. Then she played the clip of the impossibly smug, self-righteous prick Jared talking about how he was so busy sifting through stacks of paperwork from crooks seeking a pardon while brushing off the White House counsel's resignation threats as "whining." Then Cheney emphasized it after the clip by incredulously quoting Kushner: "whining."
If Javanka cooperated with the committee as part of a rehab tour so they can get the fuck out of South Beach and return to NYC, that bit backfired stupendously, IMO. (Also, that pair of photos should illustrate dictionary definitions of "Uncanny Valley.")
As we know, the committee has several objectives for the hearings, which include creating a historical record and making the case for electoral reforms so the next would-be autocrat will find it more difficult to subvert an election. But to my non-lawyer ears, the overwhelming takeaway was that Trump had criminal intent and is therefore legally culpable for the insurrection.
Open thread (until another one comes along).