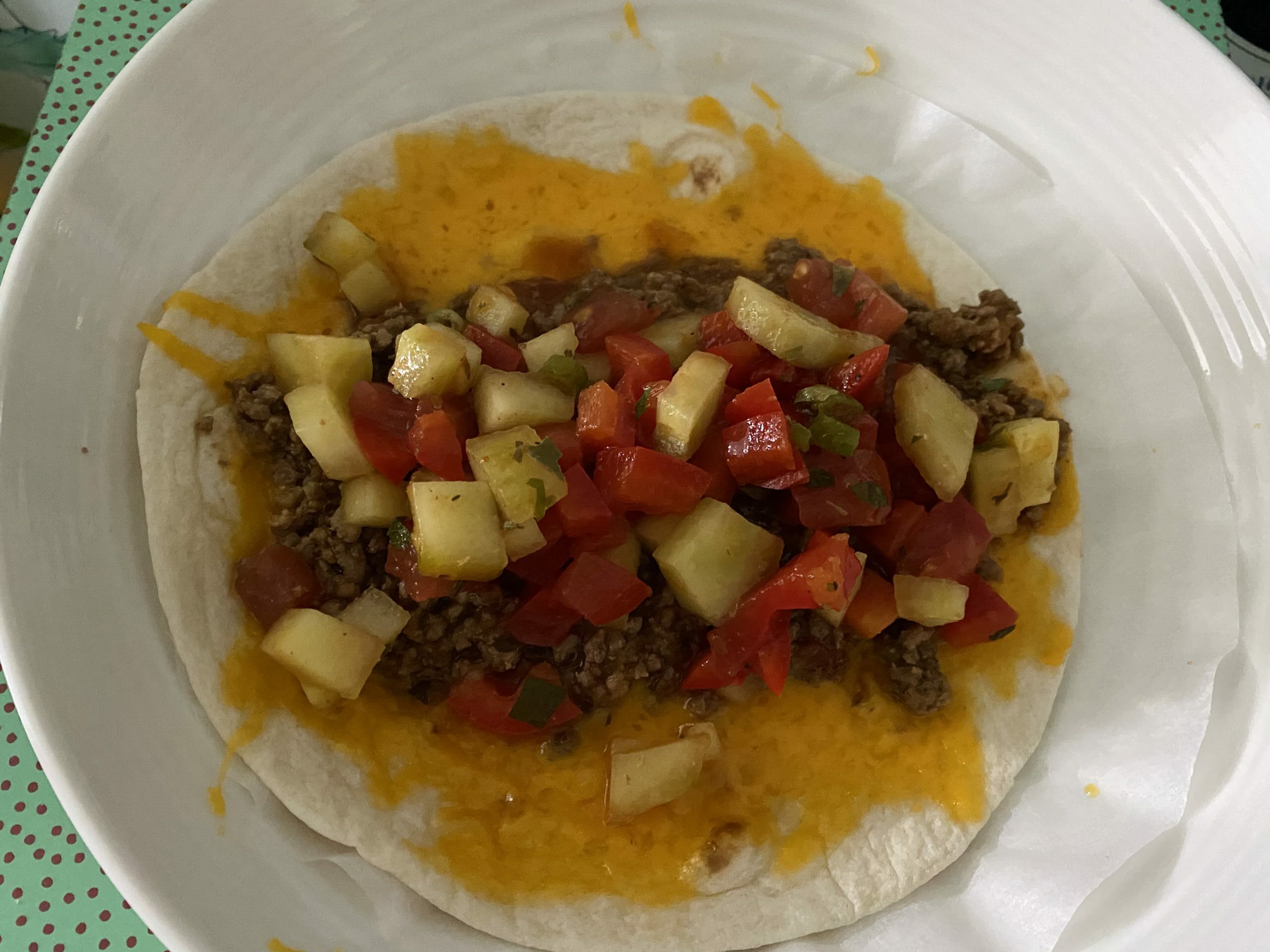 So I was making gazpacho yesterday and I reached for my honey and could not find it anywhere.  It was, no doubt, off cavorting somewhere with Cole's mustard, looking for a stray bottle of balsamic vinegar so they could have an impromptu get-together and turn themselves into salad dressing.  But I digress.
The gazpacho calls for fresh lime juice, fresh lemon juice and wine vinegar, so it definitely needs a little something for balance, but I couldn't bear to add sugar and I was sure I would get the proportion wrong and ruin my gazpacho, so I called my neighbor and she gave me the 1 teaspoon of honey I needed.
Then today I foraged for lunch items in the fridge.  I had taco meat and cheese and salsa, but no lettuce, no tomatoes, no avocados.  So I melted the cheese on my tortilla, mixed some taco meat with the salsa and heated that up, and then out of desperation I added some veggies from my gazpacho.  (I don't blend my gazpacho like some people do, so there are good-sized chunks of cucumber, red pepper and tomatoes in the gazpacho.)
My last thought before scooping out the veggies and adding them to my tortilla and meat was "how bad can it be?"
As it turns out, it was awesome.  I would not have predicted, but it was really, really good.
Another time I had a tiny bit of chili left and a tiny bit of southwest vegetable soup left, so I heated them up together.  That was pretty good, too!
What kinds of stuff have you thrown together out of necessity – or a sense of adventure – and what were your results?
Totally open thread.