NEW: A U-Haul with masked neo-Nazi white supremacists was pulled over near a Pride event in Idaho— an officer said they were detained en masse on suspicion of conspiracy to riot and had weapons in the truck, per @thedailybeast. pic.twitter.com/ZYVOevggPG

— No Lie with Brian Tyler Cohen (@NoLieWithBTC) June 11, 2022
TODAY: 31 members of the white nationalist hate group Patriot Front arrested in Idaho and charged with conspiracy to riot on their way to a Pride event… here's????the humiliating moment they were found piled into the back of a U-Haul. (Many were unmasked??) pic.twitter.com/jDhmKztmrn

— The Tennessee Holler (@TheTNHoller) June 12, 2022
BREAKING: Coeur d'Alene Police Chief Lee White said 31 members of the white nationalist group "Patriot Front" were arrested for conspiracy to riot. Those arrested traveled to North Idaho from 11 different states. https://t.co/dlDu2k85jW

— 4 News Now (@kxly4news) June 11, 2022

Local news station, KXLY:
Thirty-one people affiliated with the white nationalist group "Patriot Front" were arrested in downtown Coeur d'Alene Saturday.

Coeur d'Alene Police Chief Lee White said all 31 people are being charged with conspiracy to riot, which is a misdemeanor charge in Idaho. Police believe they were headed to riot at the Pride Festival…

White said they were alerted to the group thanks to an alert citizen who "saw something" and reported it. He said they developed probable cause to arrest those involved based on the gear they had. He said they were equipped with shields and other riot gear.

Police are still working to book all of those involved into jail but said those arrested traveled to North Idaho from Texas, Utah, Colorado, South Dakota, Illinois, Arkansas, Wyoming, Washington, Oregon and Virginia. One person was from Idaho…

Those arrested will make their first appearance in court on Monday.

Two other people were arrested at the Pride in the Park event; one for trespassing and another for disorderly conduct.
"*Not* from around here, except for that one loser."
The KXLY report includes the names of some of those arrested…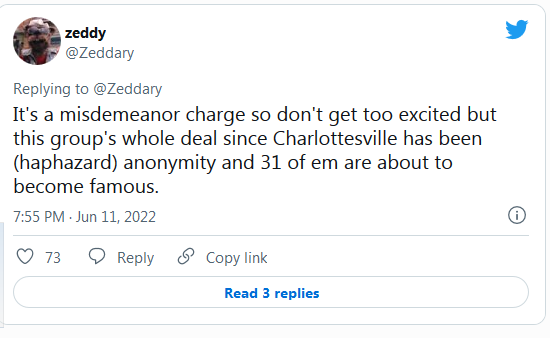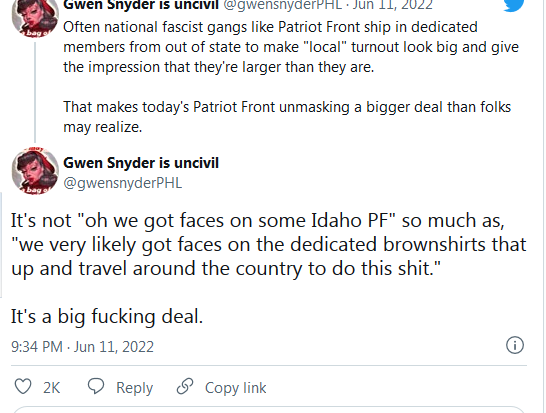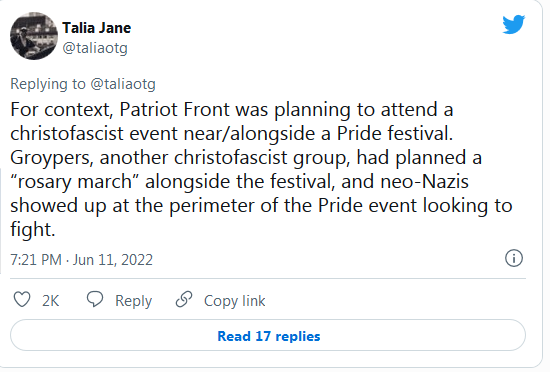 All's well that ends well!
Pride celebration in Coeur d'Alene's City Park. Organizers believe this is the largest pride event N Idaho has ever seen. @KREM2 pic.twitter.com/QZVydpymrB

— Kyle Simchuk (@KyleSimchuk) June 11, 2022