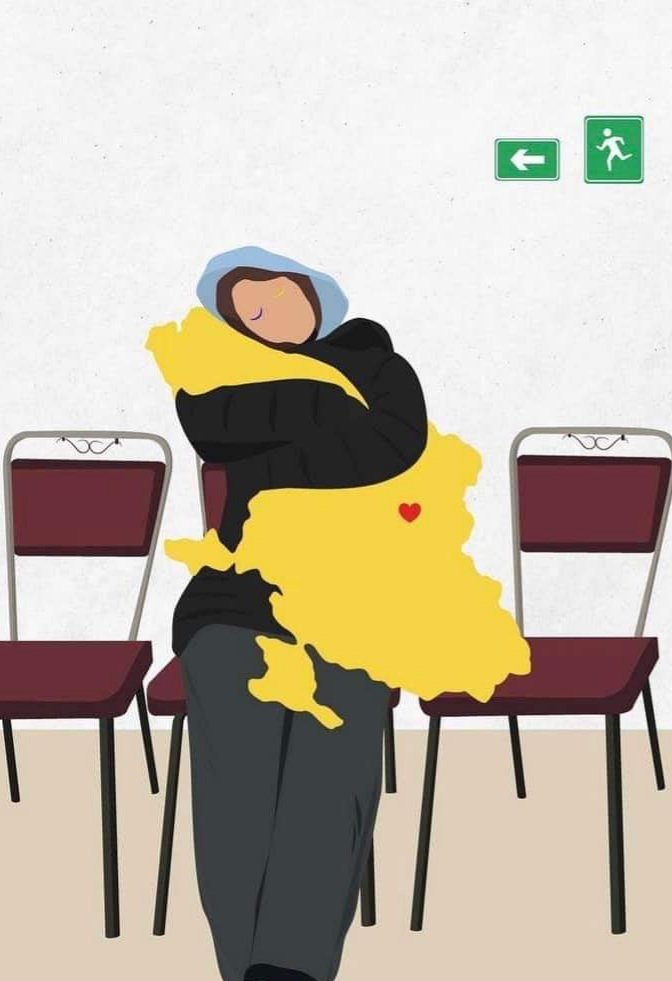 Before we get to President Zelenskyy's address from earlier this evening, let's start with the news that the Ukrainian forces began a counterattack in Kherson this morning.
In Kherson Oblast, Ukrainian forces are conducting a counteroffensive in the directions of Kyselivka, Soldatske, and Oleksandrivka. The village of Tavrijske is completely controlled by Ukrainian Armed Forces, says Kherson City Council
Photo: Kherson City Council pic.twitter.com/grRtPdCQNA

— Hromadske Int. (@Hromadske) June 11, 2022
The Ukrainian army in Kherson region is conducting a counterattack in the directions of Kyselivka, Soldatske & Oleksandrivka, Kherson city council reports. Oleksandrivka is the place of my childhood, it's destroyed. I'm grateful to everyone who helps 🇺🇦 return our lands. Pray 🙏 pic.twitter.com/hnz2ofSv28

— Iuliia Mendel (@IuliiaMendel) June 11, 2022
Here's President Zelenskyy's address. Video immediately below followed by English transcript after the jump: (emphasis mine)
I wish health to all Ukrainians and all our friends!

The final phase of the big diplomatic marathon, which is to end in a week and a half, has started today. And in this marathon we are actually together with the European Union – in one team, and this team has to win. I am sure that we will soon receive an answer on the candidate status for Ukraine. I am convinced that this decision can strengthen not only our state, but also the entire European Union.

What else needs to happen in Europe to make it clear to skeptics that the very fact of keeping Ukraine outside the European Union works against Europe? For example, everything is already obvious to the Russian occupiers. They say so when they torment our people that it is allegedly for the fact that Ukraine has gone to Europe. And why does Europe have skeptics then?

We will continue to work even harder at all levels to get the right decision. It is very important for us.

Very fruitful talks with President of the European Commission Ursula von der Leyen were held in Kyiv today. I am pleased to note her sincerity. It is the European Commission that will prepare a conclusion regarding our application. Ukraine provided all the necessary answers in a very short time, and it was done well.

There will be many more equally important and, I hope, fruitful talks with European leaders next week.

I talked to the participants of a very representative security forum in Asia, in Singapore. High level. The event was attended by defense ministers and other high-ranking officials from dozens of countries of the region. We really need this region. And I felt that today my address was heard there, arguments were heard and perceived.

News about the distribution of Russian passports in Kherson and the distribution of passports in Melitopol were actively spread in the occupied territories and in Russia. And I looked at who in this news was shown as Kherson and Melitopol residents who allegedly want Russian passports. A few collaborators and people from their entourage… Well, it looked like not a queue to get a passport, but an attempt to get a ticket to flee. Very demonstrative.

The Ukrainian troops are gradually liberating the territory of the Kherson region. Today the village of Tavriis'ke has been added to the list of returned settlements of our state. There is certain success in the Zaporizhzhia region as well.

Fierce street battles continue in Severodonetsk. I am proud of all our defenders who managed to stop the advance of these hostile people, these occupiers for many weeks already and keep our defense strong.

Do you remember how Russia hoped to capture the entire Donbas in early May? It is already the 108th day of the war, it is already June. Donbas is holding on. The losses suffered by the occupiers, including in this area, are extremely significant. In total, the Russian army today has about 32,000 dead souls. For what? What did it give you, Russia?

No one can say now how long this burning of souls by Russia will last. But we must do everything to make the occupiers regret that they have done all this, and to hold them accountable for every murder and every strike at our beautiful state.

Eternal glory to all who defend Ukraine!

Eternal memory to all who died for Ukraine!

Glory to Ukraine!
There was no operational update again today from Ukraine's MOD, though there were some other updates on the English version of the site. So hopefully whatever is going on with their public affairs is getting sorted out. There was also not a DOD backgrounder today.
Here is today's assessment from Britain's MOD: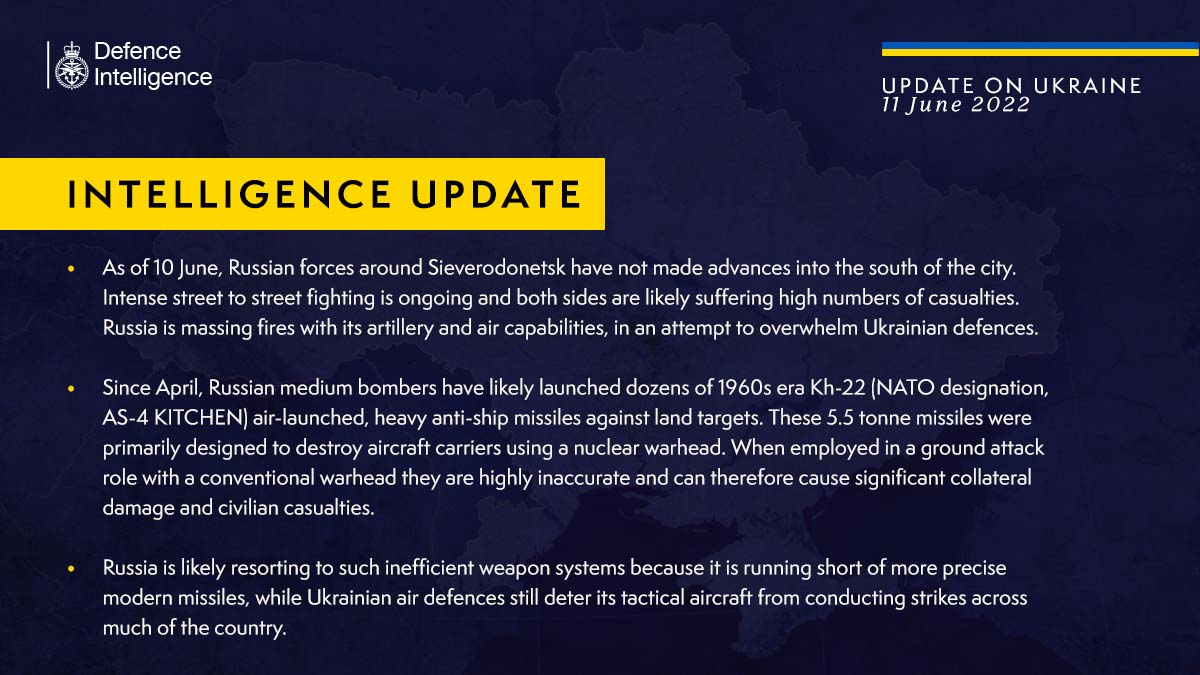 They did not update their maps today.
You'll notice that the British assessment is that Russian forces are still not able to make much progress in Sievierodonetsk even as it is still holding a majority of the city.
Here's former NAVDEVGRU squad leader Chuck Pfarrer's most recent map update and analysis regarding the battle of Sievierodonetsk:
SEVERODONETSK / 1630 UTC 11 JUN/ Conflicting information. UKR forces reported by reliable sources to be in control of airport, and may have advanced NE to the important T-13-06 HWY. Heavy combat and shelling continues. pic.twitter.com/88jKAWRx1c

— Chuck Pfarrer (@ChuckPfarrer) June 11, 2022
Horomadske International is reporting that Russia maintains control of 2/3 of Sievierodonetsk:
As of June 11, Ukrainian forces control one-third of Sievierodonetsk in Luhansk Oblast. Intense fighting continues in the city, which is accompanied by constant bombing. Ukrainian Armed Forces are trying to push the Russian troops back, said Head of Sievierodonetsk Civil-Military Administration Oleksandr Striuk to BBC Russian Service.

Striuk also said that the territory of Sievierodonetsk Azot chemical plant was "attacked both from the air and from heavy artillery" on June 10. "Yesterday, an ammonia processing plant exploded and a warehouse with chemical waste, which has been burning for 24 hours," he said.

Striuk added that Sievierodonetsk has been living without a water supply for about two months now because the city is disconnected from the electricity.

"High-voltage lines are damaged, and 70% of substations in the city were destroyed by shelling. There are casualties — mostly from Russian artillery because residential neighborhoods are being constantly shelled. The streets on the city outskirts are completely destroyed," said Oleksandr Striuk.

On May 25, Serhiy Haidai, Head of Luhansk Regional Military Administration, said that the Russian forces occupied 95% of Luhansk Oblast. There are now more than 40,000 people living in the territory of the region controlled by Ukraine; 99% of this population do not want to leave.

As of the morning of June 10, the Lysychansk-Bakhmut highway remains under Ukrainian control, despite being under constant Russian shelling.

Evacuation from Sievierodonetsk is now impossible. But the Ukrainian authorities manage to "quietly" evacuate people from Lysychansk and Hirske communities and deliver humanitarian aid to those areas. According to Haidai, as soon as Russian troops learn about the evacuation, a humanitarian center, or a working hospital, these points will be immediately shelled.
More at the link!
President Biden made a major strategic communication error at a fundraiser in Los Angeles last night. The Washington Post has the details:
President Biden said Ukrainian President Volodymyr Zelensky "didn't want to hear it" when U.S. intelligence officials raised warnings of a looming Russian attack before the Feb. 24 invasion.

Biden, who along with Congress has deepened U.S. involvement in the global effort to reject the Russian invasion by recently finalizing more than $40 billion in new military and humanitarian assistance, spoke at a Democratic fundraising event in Los Angeles on Friday night, according to the Associated Press and Bloomberg News. The president spoke about the American commitment to supporting Ukraine four months into the invasion, saying, "Nothing like this has happened since World War II."

During his talk, Biden also mentioned that his administration had warned Zelensky and the Ukrainian government, based on U.S. intelligence, before the invasion began.

"I know a lot of people thought I was maybe exaggerating," the president said, according to the AP.

Biden said he "knew we had data to sustain" that Russian President Vladimir Putin "was going to go in, off the border."

"There was no doubt, and Zelensky didn't want to hear it, nor did a lot of people," Biden said, according to Bloomberg. "I understand why they didn't want to hear it, but [Putin] went in."

Ukrainian officials, however, rejected Biden's account.

Serhiy Nykyforov, a spokesman for Zelensky, told Ukrainian news website LIGA.net that Zelensky had three or four telephone conversations with Biden in the period before the invasion, in which the two leaders discussed the situation. He added that Ukraine had called for preventive sanctions to de-escalate the situation.

"Therefore, the phrase 'did not want to hear' probably needs clarification," Nykyforov said.

Zelensky adviser Mykhailo Podolyak echoed Nykyforov, telling LIGA.net that Ukraine knew Russia was planning an invasion but that questions had remained over the scale of any attack.

"It is absurd to accuse a country of resisting the aggressor for more than 100 days, which prevails if key countries have failed to stop Russia as a precaution," he said.

The White House did not immediately respond to a request for comment early Saturday.
Much, much more at the link!
I don't care if this is true. I don't care if President Biden thinks it's true based on what he's been briefed by his national security team. I don't care if his national security team thinks it's true. YOU DO NOT NEED TO TELL THIS TO ANYONE!!!! ESPECIALLY A CROWD OF PEOPLE WHERE IT IS MOST DEFINITELY GOING TO GET TO THE NEWS MEDIA!!!!!
This is a major strategic communication failure. Completely unnecessary strategic own goal.
That's enough for tonight.
Your daily Patron!
Patron the bomb sniffing dog in Lviv pic.twitter.com/VvVOOA4KQO

— Philip Ittner (@PhilipIttner) June 8, 2022
A Ukrainian store on Etsy is selling these in addition to a variety of other stuffed toys – javelins, bayraktars, the Antonov Mriya, etc – and other crafts.
Here's some more video of Patron sleeping through a press conference:
Open thread!