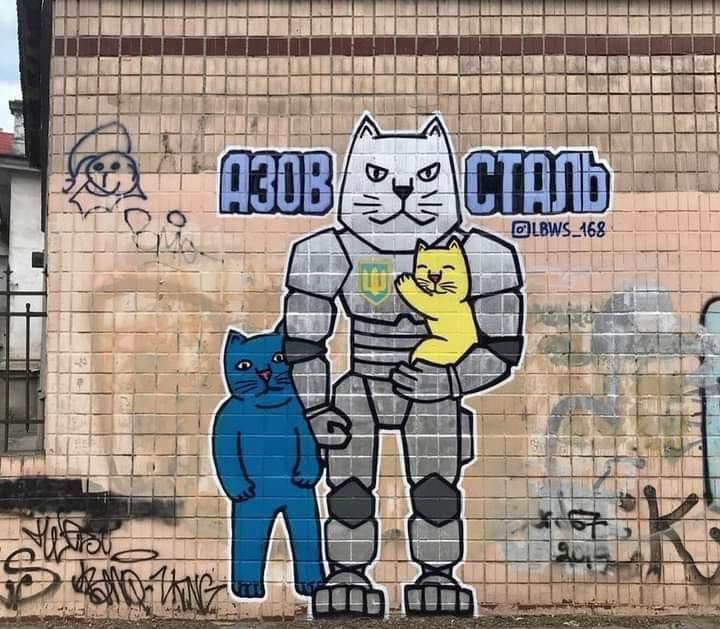 For whatever reason there was not a lot of news or new reporting today. There's still no Ukraine MOD operational update, nor a DOD backgrounder. So we'll jump right in and start with President Zelenksyy's address to Ukraine from earlier this evening. You all know the drill by now: video with subtitles below followed by the English transcript after the jump. And other than the greeting and the sign off of his remarks, the emphasis in the transcript is mine.
Ukrainians!

All our defenders!

After the missile strike at the Ternopil region, ten people are still in hospitals. There was no tactical or strategic sense in this strike, as in the vast majority of other Russian strikes. This is terror, just terror.

Among the victims is a 12-year-old girl from Kharkiv. She went to the Ternopil region to flee from the Russian army. And such facts will now determine perception of Russia in the world. Not Peter I or Lev Tolstoy, but children wounded and killed by Russian strikes.

Today is the 109th day of a full-scale war, but it is not the 109th day as we tell our partners a simple thing: Ukraine needs modern missile defense systems. The supply of such systems was possible this year, last year and even earlier. Did we get them? No. Do we need them? Yes. There have already been 2606 affirmative answers to this question in the form of various Russian cruise missiles that have hit Ukrainian cities. Our cities, our villages for the period from February 24. These are lives that could have been saved, these are tragedies that could have been prevented if Ukraine had been listened to.

The key tactical goal of the occupiers has not changed. They are pressing in Severodonetsk, where very fierce fighting is going on – literally for every meter. And they are also pressing in the direction of Lysychansk, Bakhmut, Slovyansk and so on.

The Russian army is trying to deploy reserve forces in Donbas. But what reserves can they have now? It seems that they will try to throw into battle poorly trained conscripts and those who were gathered by covert mobilization. Russian generals see their people simply as the cannon fodder they need to gain an advantage in numbers — in manpower, in military equipment. And this means only one thing: Russia can cross the line of 40,000 of its lost troops already in June. In no other war in many decades have they lost so much.

I prepared an address to the American Jewish Committee. A global forum organized by the committee began in New York today. This is one of the most influential structures that helps promote decisions for our protection.

I called on them to redouble their efforts so that we could get more modern weapons, more financial support for our state, so that we could end this war sooner.

This week I will continue to address the parliaments of the partner countries, in particular the parliament of the Czech Republic.

Many talks of various levels with European politicians are also planned.

We work every day with the European Union on the candidate status for Ukraine, and our state has done everything for a positive response. The only question is the determination of some European leaders.

We will continue to work to facilitate access of Ukrainian goods to all important markets around the world. Customs duties on trade with the European Union have already been abolished. The United States already applies a duty-free regime for Ukrainian steel. Canada has abolished customs duties. The same regime will work in the near future with Britain. We expect trade liberalization from Australia.

The Ministerial Conference of the World Trade Organization has started today. Before it began, representatives of 57 countries gathered for a special event of solidarity with Ukraine, and I am grateful to them – to each and everyone – for that. And as a result of this intergovernmental conference, we will learn, in particular, the timing of the decision on trade liberalization for Ukraine from Switzerland, Norway, Liechtenstein, Iceland.

So the week will be significant. And I believe that there will be good news for Ukraine.

I am grateful to all who defend our state!

Eternal memory to all who gave their lives for Ukraine!

Glory to Ukraine!
As you can see, President Zelenskyy continues to press for more weaponry. And for that already announced to be sent faster. Last night in the comments Carlo Graziani wrote:
Well, here's what looks kind of interesting to me.

In Sieverodonetsk there's a slugfest (not a "stalemate" according to Mark Hertling), probably intended to deliberately grind down Russian manpower resources on terms more favorable to UA than what they could obtaining open countryside.

To the southwest, a new offensive is annoying lower-quality Russian troops guarding the far reaches of the "land bridge" surrounding Kherson.

Somehow, 200 tanks donated by Poland to Ukraine, the only truly "offensive" weapons on the public lists of donations, have not, so far as I am aware, made an appearance on the battlefield.

Meanwhile, this week there have been a number of "poor us, we're fucked in the Donbas!" news stories peddled in a very consistent manner to Western media, notably the NYT. And more requests for purely reactive, defensive weapons, more artillery to counteract Rusdian artillery.

I smell a rat. I don't believe the UA have any intention of continuing to be passive playthings in the hands of the Russian army. I think they are husbanding a reserve, and intend to take the initiative, and are play-acting for the sake of misdirection.

There's a highway between Zaporizhzhia and Melitopol that would make a very nice drive for a strong column of tanks, APCs, dismounted infantry, helicopters, and sundry supplies. If they completed that jaunt, they would really put the cat among the pigeons. The Russians around Kherson, and in Crimea, would be basically fucked — they might as well slit their own throats. And the Russians in the Donbas are basically out of everything.

Just a toy scenario.
This is an interesting argument. It is logically and internally coherent.
However, I am here to smash Carlo's toy!!!!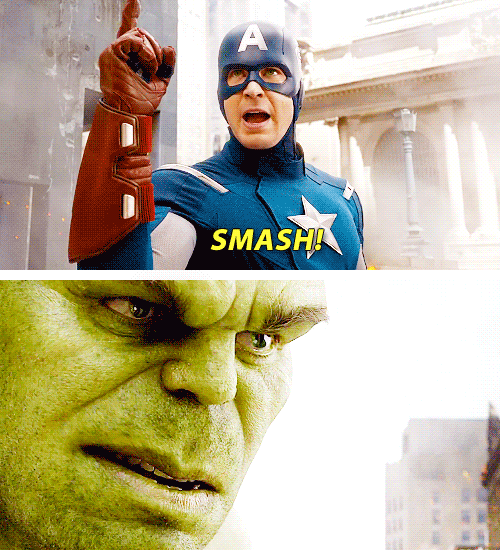 The Ukrainian military is fighting the way it is fighting in the Donbas campaign because it has no choice. It is not designed nor equipped to conduct combined arms maneuver warfare at scale. What made the Ukrainian military successful in the defense of Kyiv – small teams/units, small unit tactics, hybrid warfare combining conventional and unconventional warfare elements, and fighting in dense forests, as well as urban areas – is what the Ukrainian military is set up to do. Ukrainian forces have a lot of experience fighting this way. That experience was dearly learned and earned over the past eight years. Additionally, this is not a knock on Ukraine's tankers or artillerists or its pilots, its just that there aren't enough of those men and women. And there isn't enough material and equipment for them.
There are two completely unrelated bits of good news here though.
The first is that while the Russian military is supposed to be capable of conducting combined arms maneuver warfare at scale and in the open, what we've learned over the past 108 days is that they can't actually do it. Their material and equipment is either poorly maintained or really old. Their personnel just aren't capable of doing what they're supposed to have been able to do. Unfortunately the Russians have more artillery and air assets, as well as longer range ones, which they're using to just bombard everything they can reach in Ukraine into dust. They also have more personnel, even if a lot of those personnel aren't properly trained and don't really want to fight.
The second is that the Ukrainians are very smart. They're also determined. And they're defending their homes. If they lose they don't just lose and then pack their stuff up and go home. If they lose they lose their home. Which is why President Zelenskyy and everyone else involved in leading Ukraine's military and diplomatic efforts, as well as a very large amount of Ukrainians in general, are constantly delineating what they need and that they needed it back in November!
The Kyiv Independent's defense/military correspondent, Illia Ponomarkenko, provides support for this:
Sorry, had to delete the tweet's previous version, as it was saying "2,000 MLRSs" which is of course not realistic :)) Just my honest mistake.
This is what experts inside the Ukrainian defense and security sector say regarding an optimal amount of weapons we should get.

— Illia Ponomarenko 🇺🇦 (@IAPonomarenko) June 12, 2022
As does Rolling Stone's Mac William Bishop in his latest reporting from Ukraine.
NEAR LYMAN, Ukraine — Crossing the final checkpoint into a battle zone feels like a consecration.

The Ukrainian soldiers manning the last friendly post have a singular focus and intensity that's lacking behind the lines. They wave us through solemnly, without smiles or chatter. We coast through the invisible barrier separating the "front" from the "rear," then floor the gas and accelerate forward.

I'm in eastern Ukraine in late May, in a region called Donbas, where the war has become a whirlwind of carnage that is claiming the lives of as many as 100 Ukrainian soldiers a day. The casualties on the Russian side are almost certainly even higher, according to Ukrainian defense officials. I've heard conflicting reports about what is happening here, about whether the Ukrainian military is collapsing or the Russians are succeeding in breaking through the defender's lines, cutting off thousands of soldiers. But it's clear that Russia is inching forward, each day bringing it closer to its goal of annexing the provinces of Luhansk and Donetsk and cementing the region under Moscow's rule.

Ukraine won't stop fighting. But it is sacrificing thousands of its finest soldiers and still losing ground. It cannot win the war without game-changing foreign-military assistance: American heavy artillery, Danish anti-ship missiles, German air-defense systems — these are slowly making their way to the battlefield. But can the Ukrainian military hold out long enough for any of it to make a difference?

To truly understand what is going on — to get a sense of morale and see how the soldiers are holding up under Russian assault, I must descend into the inferno, and I need a guide. A Ukrainian paratrooper will lead the way.

I've called in favors with the commander of a reconnaissance company in an air-assault brigade, and he links me up with an officer whose elite scout unit is operating near intense fighting outside a town called Lyman, a senior lieutenant who goes by the nom de guerre "Mace."

Mace is soft-spoken and cordial, lean and fit as an endurance athlete. His face is that of a young man, but the salt-and-pepper hair hidden beneath his field hat and his calm self-possession amid chaos reveal he is a seasoned veteran who saw his share of combat before the current invasion. He takes me to the front in a Škoda station wagon, roaring down country back roads at 100-plus miles an hour, blasting techno as the foliage whips past in a blur.

The Russians are ceaselessly hunting Ukrainian heavy weapons, and their rockets, artillery, and missiles can strike anywhere here, at any time. The fields beside us are pockmarked with blast impacts, and the tails of dozens of dud rockets stick out of the earth as if planted by some mad farmer.

"This is hell on Earth," Mace says quietly. We are watching as BM-21 Grad rockets rain down on Ukrainian positions near a village called Sviatohirsk. It's impossible to see their individual effects amid the smoke and haze covering the densely forested hills. Standing in an observation post on high ground amid feathery grass and wild garlic, I give up on trying to count individual impacts and instead just count the salvos, timing each barrage. I witness as many as 480 rockets fired on a single position in less than a minute, followed by artillery.

Between my service in the U.S. Marines and over more than a decade as a foreign correspondent, I've been engaged in the professional study of organized human violence for 25 years. But I've never seen anything even close to this volume of artillery being unleashed.

Mace has chosen our ground well, as you'd expect from an officer in an elite reconnaissance unit. We're in a fold of earth on a hill that gives us a clear view of the battle raging around Sviatohirsk — a quiet little village nestled among chalk hills, overlooked by a nearly 400-year-old monastery on the opposite side of the river. It lies to our left. We can also see the fighting around Lyman — a key railway junction — to our right.

What these two places have in common is they are on the Russian-occupied side of the winding Seversky Donets River, the main natural barrier to the enemy's advance. There are tens of thousands of Russian soldiers with hundreds of tanks and armored vehicles attacking here, assaulting in a vast crescent surrounding Severodonetsk, one of the largest cities in Donbas that remained in Ukrainian hands before the invasion began in February.

"Things usually start to really kick off around 3 p.m.," Mace says. He describes what has become routine for his brigade of paratroopers: Russian scouts move forward to probe Ukrainian positions, then call in large-scale artillery strikes when they make contact. The artillery is followed by masses of armor supported by infantry. It's classic "combined arms" warfare, and would have been as familiar to a soldier in World War II as it is to Mace.

"The biggest problem is the artillery," Mace says. "The Russians just have so much."

What about the long-range artillery being provided by the United States and others?

"It's just starting to show up on the battlefield," Mace says. But for now, "there's just too much artillery. Too many tanks. We are fighting too hard."
Much, much more at the link! As well as in this Twitter thread by Bishop, which includes pictures.
If we can get the Ukrainians the weapons they need as soon as possible, then they'll be able to do what needs to be done with them. Every day of delay, whether its because Olaf Scholz is Olaf Scholz or because of any other reason, is day that is good for Russia and bad for Ukraine.
Here's today's updated assessment from the British MOD: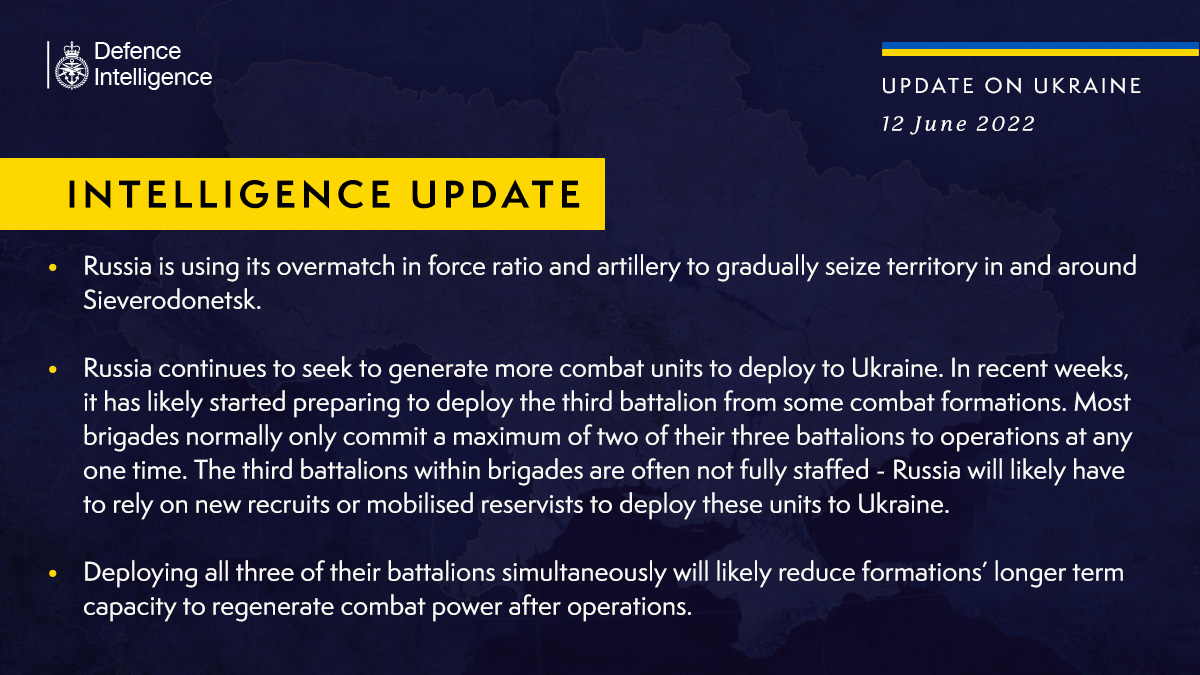 You'll notice that the Brits are highlighting that the Russians have the ability to bring more forces and more artillery to bear in and around Sievierodonetsk and that they are doing so. What they don't have is the ability to do this at scale and take advantage of the open, flat spaces in the Donbas.
They also have an updated map too!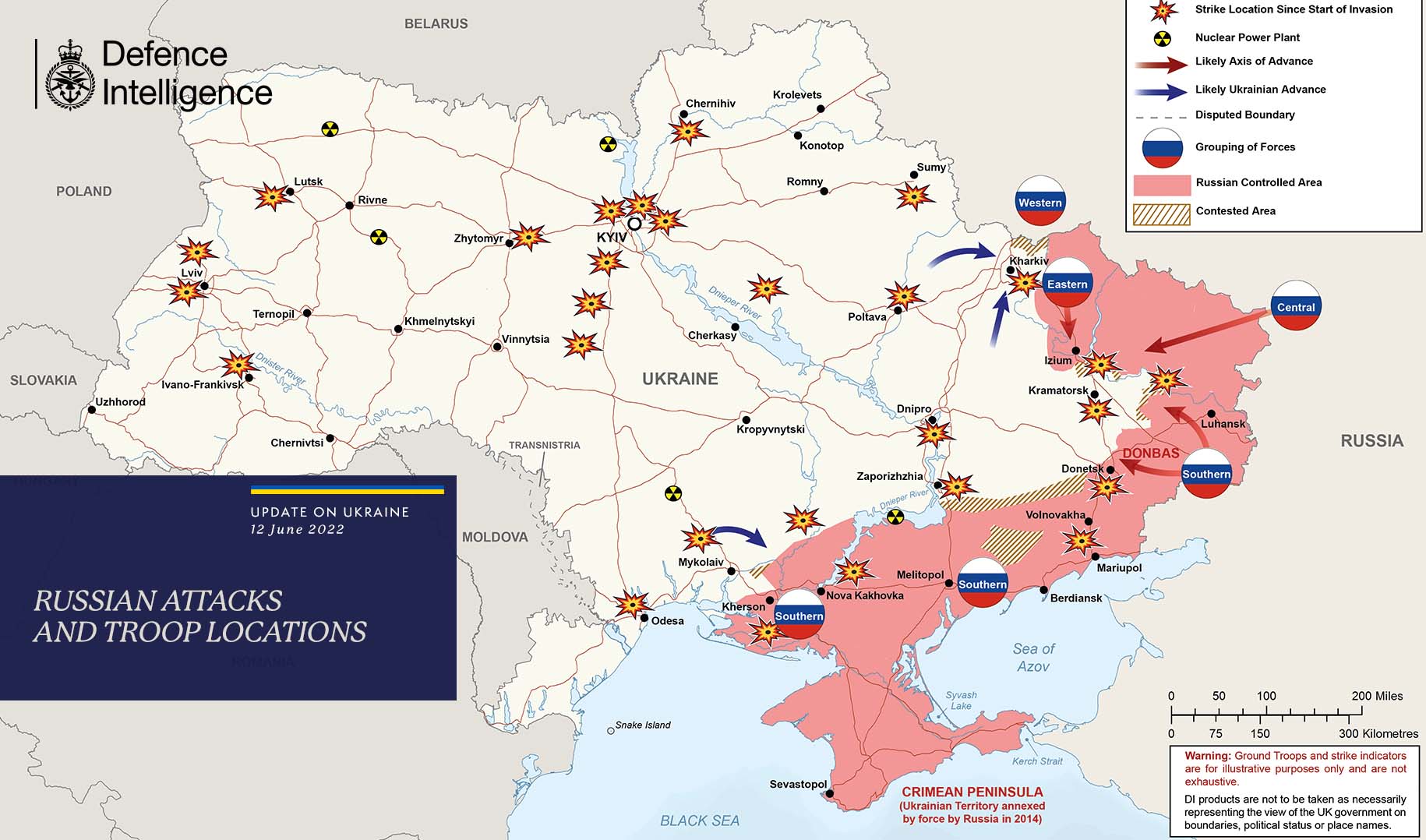 As you can see, the overall picture still looks stable as the Donbas campaign is a battle for small amounts of territory at a time.
Here's former NAVDEVGRU squadron leader Chuck Pfarrer's updated map and analysis of the battle for Sievierodonetsk:
SIEVERODONTETSK/ 1440 UTC 12 JUN/ RU forces attempt to widen urban combat. UKR, fighting from advantageous defensive positions, continue to punish invaders. Airport recaptured. 2 Donets bridges reported cut by UKR Gen'l Staff. Urban Forward Edge of Battle Area (FEBA) stable. pic.twitter.com/nLev1OeTcL

— Chuck Pfarrer (@ChuckPfarrer) June 12, 2022
Russia, using its proxies in Luhansk, have tried, convicted and sentenced to death three non-Ukrainians who were in the Ukrainian military that the Russians captured in Mariupol. Politico has the details:
Top human rights experts are slamming the death sentences handed down by a Russian-backed court in eastern Ukraine this week against two Britons and a Moroccan who were fighting with the Ukrainian army against Russian troops and their separatist allies.

The sentence, announced Thursday after a show trial in the self-proclaimed Donetsk People's Republic (DPR) — an area only recognized as independent by Russia — found that British citizensAIDEN ASLIN and SHAUN PINNER, and Moroccan national BRAHIM SAADOUNE be shot.

It was just the latest in a long line of show trials put on by Russian-backed separatist courts dating to the Russian invasion in 2014, in which lawful Ukrainian combatants have regularly been convicted and sentenced to death in ad hoc "courts." In the often gruesome spectacles, audiences vote on whether to execute the soldiers. Those proceedings have regularly violated the Geneva Convention.

"There's no legal basis for the trial" in the DPR this week, according to MICHAEL NEWTON, a law professor at Vanderbilt University, adding that the Kremlin is ultimately responsible for what happens to the men.

"The Russians have the obligation to accord prisoner of war status to all persons who come into their custody or the custody of their proxies," under the Geneva Convention's Article Five, Newton said. Once the separatist or Russian troops capture combatants on the battlefield, they are "entitled to all protections equivalent to Russian soldiers," added Newton, who served as the senior adviser to the ambassador-at-large for War Crimes Issues in the State Department.

International criminal courts and tribunals "use a standard we call overall control, so if you can show that Russia was funding and or organizing in some way, then this is directly imputable to Russia," said LEILA SADAT, professor of International Criminal Law at Washington University who has also served as the International Criminal Court's special adviser on crimes against humanity.

"It's not illegal to serve in the army," Sadat said, adding that the Geneva Convention's Article Three "requires that prisoners be tried by an independent, impartial and regularly constituted court … but nothing about this sounds like it fulfills the requirements of an independent, impartial and regularly constituted court."

VADYM DENYSENKO, a Ukrainian Interior Ministry adviser, said on national television Friday that Russia is holding the men "hostage" and their death sentence "raises the stakes in the Russian Federation's negotiation process. They are using them as hostages to put pressure on the world over the negotiation process."

U.K. Foreign Secretary LIZ TRUSS said Thursday, "I utterly condemn the sentencing of Aiden Aslin and Shaun Pinner held by Russian proxies in eastern Ukraine. They are prisoners of war. This is a sham judgment with absolutely no legitimacy."

In any trial of captured troops, "what should happen is an administrative process under Article Five of the Third Geneva Convention that says 'here's the evidence of who these people are, what they did,' etc. but [the court] didn't do any of that, they just put them on trial" for fighting off the Russian invasion.
Much, much more at the link!
While Aiden Aslin, aka Cossak Gundi, and Shuan Pinner have gotten a lot of coverage, less has been written about Brahim Sadooune. This Twitter thread has the details:
Brahim was a figure on the underground nightclub scene and had many friends in the city before signing up to join the Ukrainian marines in November 2021. Those friends are deeply concerned about his fate and have launched the social media campaign #SaveBrahim pic.twitter.com/vkXfgV5oyG

— Catherine Norris Trent (@cntrentF24) June 12, 2022
Brahim, like Britons Aiden Aslin and Sean Pinner, whom he knew well, intends to appeal his death sentence. But his friends are concerned that as a Moroccan national, his case will receive less international attention. They're calling for him to receive Ukrainian citizenship 4/ pic.twitter.com/ggi8N7pwNH

— Catherine Norris Trent (@cntrentF24) June 12, 2022
That's enough for tonight.
Your daily Patron!
The story of #Patron and his human 💛💙 #PatronDoge pic.twitter.com/aA6QqFfADP

— Anton Gerashchenko (@Gerashchenko_en) June 11, 2022
Open thread!