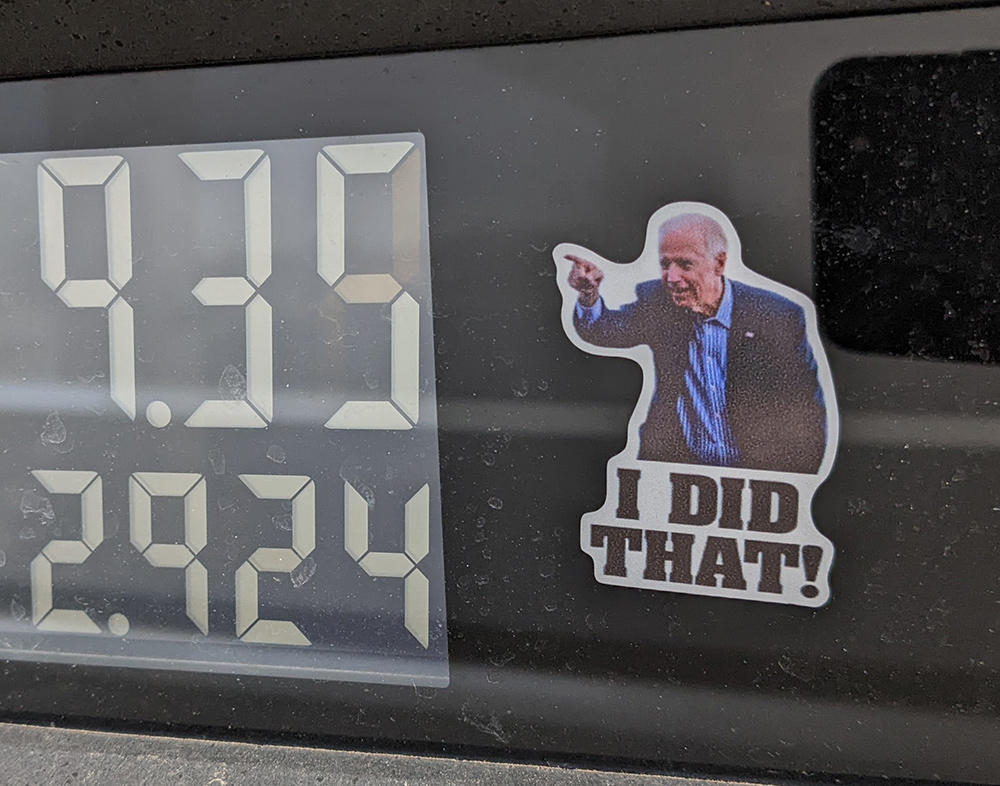 I see these stickers everywhere out here in redlandia (this shot is from last December), and I'm sure Fox and Co-conspirators are pushing the line that gas prices are all sleepy Joe's fault. Still, I've had a few conversations with Republicans who are beyond blaming Biden for gas prices. One person cited the discrepancy between crude prices and gas prices, which are usually closely tied together. Others cite the food price hikes at local grocery stores, which don't match the price hikes from retailers in other, bigger cities. It's clear to these people that corporations are using inflation as an excuse to raise prices.
Back in olden times when inflation was a problem, politicians would trot out a few egregious examples of corporations ripping off the public and make examples of them. They used to call it "price gouging." Whether or not that political attack was effective, it sure didn't hurt, since nobody likes oil companies. Similarly, in these modern times, cell phone companies are another juicy target:
MVNO stands for Mobile Virtual Network Operator, which are cell phone companies that don't own their own network, like Boost, Red Pocket, Total Wireless and others. Everyone knows that AT&T's huge network didn't all of a sudden get way more expensive to run because of inflation.
Both the gas price and cell phone "price gouging" charges are easy to understand and should be simple to articulate. They can also be accompanied by action by some regulatory body that probably won't do much, but it will at least call out the true cause of some of the misery caused by price gouging. And, from my extensive anecdotal research, people will believe it.