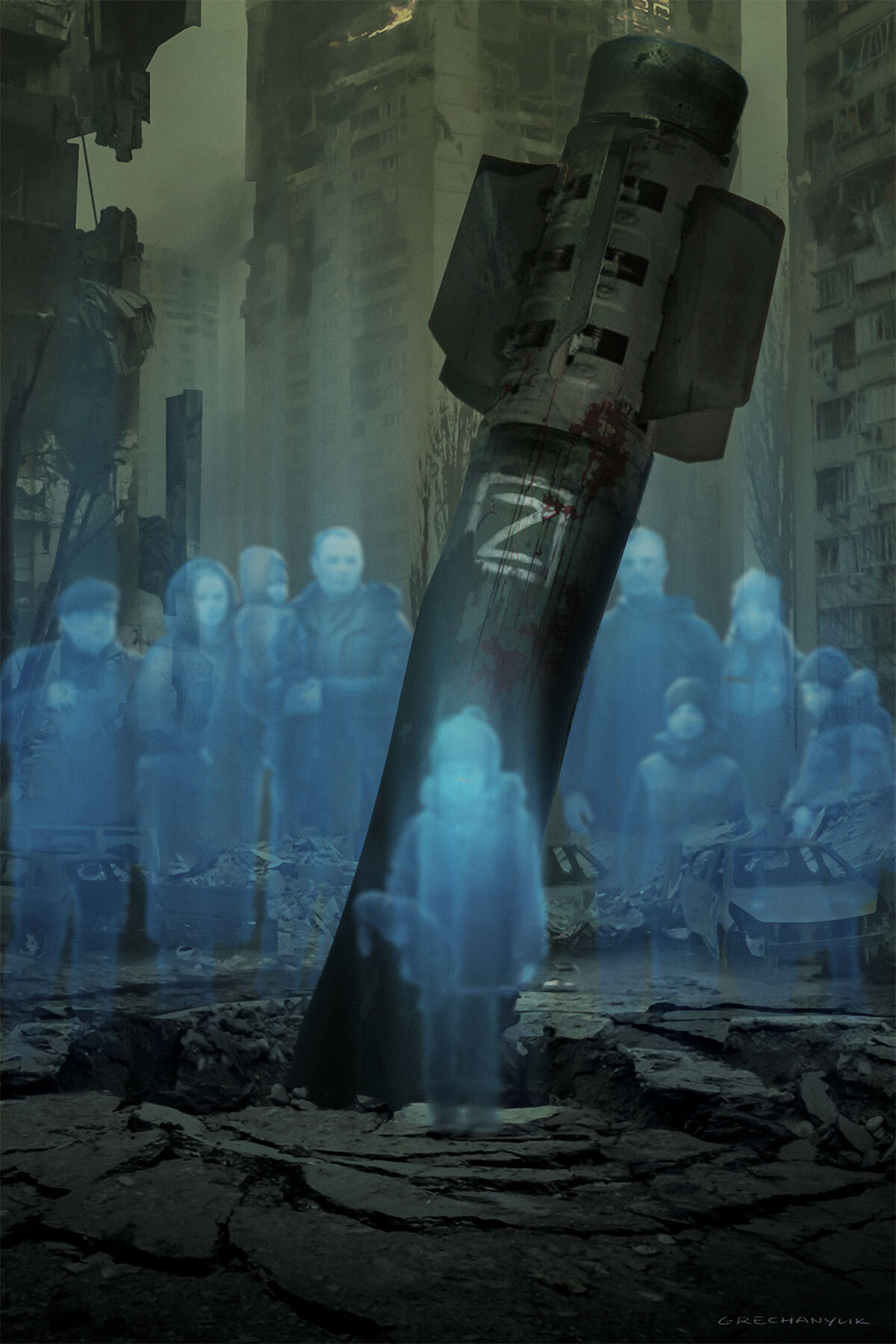 There's no Ukrainian MOD operational update, no updated British map, and Chuck Pfarrer has not done an updated map and analysis of the battle for Sievierodonetsk (yet) today. So this should be quick…
Here's President Zelenskyy's address from earlier this evening. Video below followed by English transcript after the jump: (emphasis mine)
Ukrainians!

All our defenders!

Today, our air defense units managed to "cut the wings" of Russian missiles. Some of the missiles fired by the occupiers at our cities were shot down. And these are saved lives. This is a saved infrastructure.

But we managed to shoot down only part of them. Unfortunately, there are victims, there is destruction. Today, the Lviv and Ternopil regions were hit. And we keep telling our partners that Ukraine needs modern anti-missile weapons. Our country does not have it at a sufficient level yet, but it is our country in Europe that needs such weapons most right now. Delay with its provision cannot be justified. I will constantly emphasize this when talking to our partners.

We made the first requests for anti-missile systems long before the full-scale invasion. And this week there will be many different important talks – and not only with European politicians who are able to provide Ukraine with modern anti-missile systems. Even though Russia has fewer and fewer modern missiles with each passing day, Ukraine's need for such systems remains. Because Russia still has enough Soviet types of missiles, which are even more dangerous. They are many times less precise, and therefore threaten civilian objects and ordinary residential buildings much more.

I spoke today with Prime Minister of Canada Justin Trudeau. Of course, the number one topic was defense support. Canada is among the leaders in it. I expressed gratitude for the fact that Canada became the first country to transfer special assistance to the Ukrainian account at the IMF – about $ 800 million.

I also had a conversation with the President of Ecuador. I congratulated him on the election of Ecuador as a member of the UN Security Council. I informed him about the current situation on the battlefield and called for increasing pressure on Russia to end this war. Both this conversation with the President of Ecuador and yesterday's conversation with the President of Guatemala are just the beginning of our new policy of restoring relations with Latin America.

Today I asked the Commander-in-Chief of the Armed Forces of Ukraine to be very attentive to reports in the media and on social networks that some of our fighters do not have enough personal protective equipment. The reports I receive are significantly different from what is discussed by society. And I expect inspections of logistics in the army – inspections of what is supplied and how personal protective equipment is distributed. Today, everyone in the areas of hostilities must have everything they need to protect themselves. The state provides such supplies.

Over the past day no drastic changes have taken place in the battle in Donbas. The fiercest fighting is in Severodonetsk and in all cities and communities nearby – as before. The losses, unfortunately, are painful. But we have to hold on. This is our state. It is vital to hold on there, in Donbas. The more losses the enemy suffers there, the less power they will have to continue the aggression. Therefore, the Donbas direction is key to determining who will dominate in the coming weeks.

We also have painful losses in the Kharkiv region, where the Russian army is trying to strengthen its position. The battles for this direction continue, and we still have to fight hard for complete security for Kharkiv and the region.

We continue to put pressure on the occupiers in the south. The key goal is the liberation of Kherson, and we will move towards this step by step.

I signed another decree on awarding those who excelled in battles. 63 servicemen were awarded for bravery and efficiency in defending the state.

The total number of awarded is already 18,453. And such a scale, such a number of feats fully demonstrate the level of confrontation and the brutality of hostilities.

I thank everyone who stood up for our state!

Eternal memory to everyone whose life was taken by the occupiers!

Glory to Ukraine!
As you can see, President Zelenskyy is continuing the strategic communication campaign regarding the need for specific types of weaponry for the Ukrainian military.
You may also notice that he's ordered a logistics review of why he's seeing appeals and/or reports of appeals on social media for body armor, helmets, and other equipment for individual soldiers because the Ukrainian military is, allegedly, unable to provide these items. I expect this is one of the things he's responding to:
Great start so far everyone, with your help we've raised more than €57,000 for helmets and body armor to help protect the heroes defending Ukraine! Still a long way to go until we reach our goal so please continue sharing and if you haven't yet, consider donating as well. 🛡️✌️🇺🇦 https://t.co/tP4Puoai9t

— Ukraine Aid Operations 🇺🇦 (@UkraineAidOps) June 13, 2022
Here's the British MOD's assessment for today: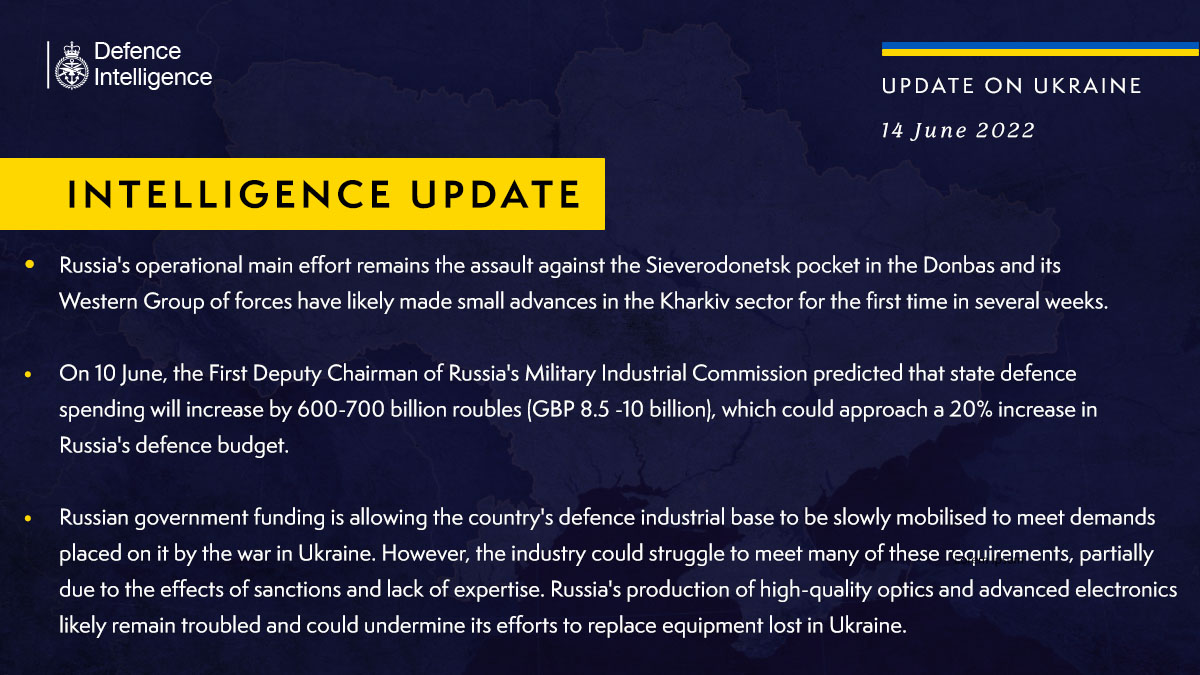 I want to go back to President Zelenskyy's appeals for weaponry from the US, our EU and NATO allies, and our non-EU and non-NATO allies.
Mistermix emailed me earlier today with a question about this based on the Mykhail Podylyak's list of what Ukraine needs that I posted last night.
My question:  In a tweet from yesterday's update, Ukraine wants

1000 howitzers caliber 155 mm;

300 MLRS; 500 tanks;

2000 armored vehicles;

1000 drones.

But if you read this thread by Mark Hertling, the US Army has 240 howitzers and 300 rocket systems in the entire active force.

Is the Ukraine asking for 1000 in hopes of getting another 100, do they really need that number of howitzers, etc., or is something else going on here?

Thanks!
So let's start with LTG (ret) Hertling's thread:
As I said in past threads, the "new phase" of the fight (which started in early April), brought change.

-RU focus is on massing artillery, attempts at breakthrough.
-UA focus is logistics, active defense & maintaining will.

I've used this slide to describe the major shifts. 2/ pic.twitter.com/Da7yBmo8Qa

— Mark Hertling (@MarkHertling) June 13, 2022
@nytimes

In the last few days, the

,

@washingtonpost,@WSJ

 & others have reported Ukraine's demand for more combat equipment. UA needs support, lots of it. It's important to understand the scope of their "asks," the art of the possible & the associated logistics requirements. 3/

I'll provide some of context for all that, from a soldier's perspective & battlefield experience as a Division Commander. Some of what I say will be met with "they know more than you on what they need." So please understand I'm just giving my perspective. 4/

Many reports today said the west is "lagging" & "indecisive" in providing equipment. Those reports also say Ukraine needs nations to provide 1000 howitzers, 300 MLRS, 500 tanks, 2000 armored vehicles. I'd offer some context for those requests. 5/

Let's talk artillery. There are 10 active US Army Divisions. Depending on the "type" division (Armored, Infantry, Airborne, Air Assault, Light), each one is equipped differently. Each has a Division Artillery Brigade -called a "DIVARTY"- which normally has 3 Battalions. 6/

During combat, each artillery battalion in DIVARTY isattached to the 3 combat brigades of the Division. Each of those arty battalions has between 16-24 howitzers (either self-propelled M109A7 or towed M777) & usually 9 different "types" of rocket artillery (MLRS or HIMARS). 7/

To make it easy for math purposes, let's round up and say each Division has 24 howitzers & 9 rocket systems. That's a TOTAL of 240 howitzers & 90 rocket systems in all ten of the active US Army Divisions . That's an indicator of the scope of the UA "asks." 8/

The US provided 108 M777 to UA a few weeks ago, the equivalent of almost 5 artillery battalions. Those came with 200,000 rounds of ammunition. The US also sent 4 HIMARS as a proof of principle. There will likely be more of those in the next tranche. 9/

NATO countries are also sending cannons & ammunition, some w/ different chassis, fire control systems, training requirements. They wont match RU guns 1:1, as western militaries have other methods to counter the RU artillery threat. (That is hard to explain in a thread). 10/

Part of the "ask" that is required but usually not discussed in the requirement for support for all this equipment. Parts, mechanics, maintenance, etc. That comes from elsewhere. Along with a "DIVARTY," each US Division also has a Division Support Command, or "DISCOM." 11/

The DISCOM is a very large organization w/ mechanics, part suppliers & parts, truck drivers, fuelers, equipment handlers & all other things that are part of supply chain operations. That DISCOM "supports the supporters" that exists internally to each battalion/brigade. 12/

What these soldiers do is ensure each piece of high-tech equipment continues to work, is supplied with ammo/fuel/spare parts/electronics. When delivering cannons…there's requirements to deliver all the "stuff." There's more supporters than trigger pullers in a US Division.13/

It's relatively easy to train soldiers to operate cannons. But there's also the need for EXTENSIVE training of mechanics, suppliers, & other supporters. And…you must ensure the supply chain (including the route for all this to take place) operates smoothly. 14/

It's an estimated 400 miles from Ukraine's western border to Kyiv…another 200+ from Kyiv to the front lines. The military calls that a "line of communications" or LOC. Keeping LOCs secure & open in combat is tough work, but it's required. 15/

Add to this, the different kind of equipment Ukraine is requesting is coming from a variety of NATO and non-NATO nations. Not all of it is the same. That exacerbates parts & maintenance requirements. This compounds supply chain & LOC challenges. 16/

In this thread, we've talked just artillery. Now multiply cannon issues to fielding new & technologically advanced tanks, infantry vehicles, aviation, etc. In effect, UA is wanting to field a new army, w/ western equipment, w/unfamiliar processes, while fighting a war. 17/

As a division commander in combat, I fielded several weapons systems -some complicated, some not- during a 15-month deployment. The easy fieldings took weeks…hard ones took longer. Units are pulled off line & trained. Mechanics learn their stuff. Supplies are restocked. 18/

And I had the advantage of a great DISCOM, practiced processes, secured supply lines, soldiers that knew what they were getting, the ability to pull folks offline and replace them with others while equipment was fielded. UA has none of that. 19/

Make no mistake, UKR requires support from the US & NATO. The courage & tenacity UA has shown is exemplary & they are fighting for all of us. UA will win, but it will be a tough fight. And…supporters ought understand the dynamics of what they're facing. 20/

Sorry if this thread has pissed anyone off, but these are the challenges associated with transforming and modernizing an army…and it requires more than just people saying "give them everything they need." 21/21
To answer mistermix's question, LTG Hertling is not wrong. But there are two things that are getting missed here. The first is that LTG Hertling indicated that the numbers he was providing for the US are for the active Army. You can find that in tweet #10. He is not including the Reserves and the National Guard. So there is more than this in the US Army's inventory in terms of overall force structure. How much more? I don't know but it isn't just a few dozen. The US Army, of all the Services, has the largest Reserves and National Guard to Active component ratio. The idea is to keep the standing Army that the Founders were so afraid of as small as possible unless we're actually at war. Which is why we've seen a re-balancing of the Active component's size in terms of reductions in relation to the Reserve and Guard over the past decade as operations in Iraq and Afghanistan wound down or got smaller or both. It also doesn't account for US Marine Corps artillery assets. Not a gigantic amount, but not nothing either.
The second issue is that the US has a lot of its long and medium range fires capacity tied up not in artillery, but in aviation. Fixed and rotary wing attack fighters. Short, medium, and long range fighter bombers. Land, sea, and amphibious based. So while Russia and China have the vast, vast majority of their fires capacity in land based artillery, we have it in aviation.
There is an effort underway to rebalance this and to bring much longer range ground based fires on line under the Army's multi-domain combat concept of operations. Under this the Army would have artillery capable of hitting up to 2,000 km away from the guns. Something that would normally be done by aviation assets.
There is a very good article explaining this at Business Insider.
Third, and finally, as to what Ukraine is asking for, I think the answer lies in the second issue. Ukraine had limited ground/land based fires capability to begin with. And it was old, Soviet legacy stuff. They also have a very limited, though quite capable, Air Force. Within the air component, even limited in number of platforms overall, the vast majority are the MiG 23 attack fighters, not the SU-25 close attack fighters, as well as Mi24 rotary attack craft more popularly known as the Hind. As a result, if we're not going to facilitate them getting old MiGs  and SUs from the former Soviet states now in NATO, and we're not going to get them US and other western platforms – F-18s, F-16s, F-15s, A-10s, Apache and Kiowa rotary wing attack choppers, British Typhoons, etc – then they need ground based fires platforms because they don't have the aviation equivalents.
Mistermix then had a follow on question:
I don't know if you want to comment on this, but one thing I saw today somewhere on Twitter was that the artillery supplied by the US/NATO that is now being used by the Ukranians is higher quality than the Russian stuff they were using.  So, shell-for-shell, tube-for-tube or however you guys assess this, the Ukranians will have more impact with what they got from US/NATO countries.  I don't know how that figures into the calculation.
This is correct. The legacy Soviet stuff is old. It was designed for 30 years ago at the latest. The stuff we and our allies have been sending that is new and NATO standard – and our non NATO allies try to use NATO standard for interoperability – is of much more modern design. This is part of why our Defense budget is so expensive. We constantly have R&D and manufacturing for either running upgrade changes to our existing equipment or material and have constant development of new, next gen equipment and material to replace it. All to ensure that we always have strategic over match. Unfortunately, we also know that strategic over match doesn't get you very far in the wars we've spent the past 20 years fighting. Except for what the SOF bubbas are doing.
CNN is reporting that the US is expecting new weapons requests from Ukraine at tomorrow's meeting in Brussels.
The US expects more announcements of weapons and equipment packages to be sent to Ukraine to help in its fight against Russia at a meeting of nearly 50 countries in Brussels on Wednesday, according to a senior US defense official.

Ukrainian officials have warned that Russia is gaining ground in the Donbas region of eastern Ukraine, specifically in the city of Severodonetsk, which has seen some of the heaviest fighting recently. Without an influx of more weapons, some Ukrainian officials have said it will be increasingly difficult to halt Russia's incremental progress or reclaim occupied ground in the region.

"We hear what they're saying, we absolutely hear what they're saying," said the senior defense official, who spoke of the "urgency" of the Ukraine Contact Group meeting Thursday in Brussels.

The official would not detail what countries would be announcing new security packages or what those shipments would include but noted that the US works "very closely" with allies to figure out what Ukraine's armed forces need and then find those systems to send over.

The official would also not say whether the US would make a new announcement but said the Biden administration is already working on the next weapons package.

"It's a constant drumbeat because it's a constant battle" with "constantly evolving urgent requirements," the official told a group of reporters traveling with Defense Secretary Lloyd Austin.

The US has taken on "some risk" to its own military readiness in sending weapons and equipment to Ukraine, Army Secretary Christine Wormuth said earlier this month, but it was "not an unacceptable level of risk at all."

The senior defense official said the US and it allies have a significant amount of equipment still available to send to Ukraine.

"We have far from exhausted the resource and the multi-country security assistance for this battle on Ukrainian territory," the official said.

Ukrainian President Volodomyr Zelensky vowed in an evening speech on Monday that Ukraine would liberate all of the territories occupied by Russia, even the Crimean peninsula, which Russia annexed shortly after its takeover in 2014. But that could only happen, he said, if more weapons are sent to Ukraine.

"It only takes enough weapons to make it happen. The partners have it. In sufficient quantities. And we work every day for the political will to give us these weapons to appear," Zelensky said.

Ukrainian officials have said 100 to 200 soldiers a day are dying in the fighting, a number that raises some doubts about the ability of the Ukrainian armed forces to sustain such losses. The US official said they don't doubt the casualty figures.

"The numbers are not out of line with what you would expect for this kind of artillery battle," the official said. "It's not surprising that the numbers the Ukrainians are reporting are that serious."

But the official said the US has not seen a flagging of Ukrainian morale to remain in the fight, even as the conflict becomes a grinding, brutal battle of artillery that may favor the firepower and manpower of Russia's military. The official sounded a more optimistic note about the state of the war, even as Russia appears to be gaining momentum in the Donbas region.
More at the link!
I think that's enough for tonight.
Your daily Patron:
Пес-сапер Патрон відтепер на варті й в Ужгороді.

🔹Створила його поруч із двома іншими патріотичними стріт-артами на стіні стадіону "Авангард" ужгородська художниця Катерина Туз. pic.twitter.com/FjKU1HbUoM

— МВС України (@MVS_UA) June 14, 2022
The tweet says:
Dog sapper Patron is now on guard in Uzhgorod. It was created next to two other patriotic street art artists on the wall of Avangard Stadium by Uzhhorod artist Kateryna Tuz.
And new Patron video on his official TikTok page!!!!
Open thread!