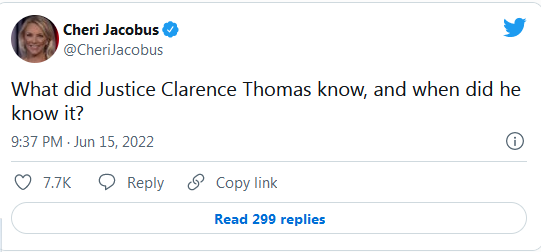 At this point, Ginni and Clarence Thomas are asking us to believe that she lobbied everyone she could possibly think of to overturn the results of the election except her powerful husband. It's an obvious lie and he has to recuse himself. https://t.co/jNxIaXdpmt

— Tommy Vietor (@TVietor08) June 15, 2022
Maybe it's the cynic in me, but it's clear Liz Cheney is not enchanted by the romance of the insurrectionists. The Cheney clan lovingly built up a jewel of a one-stop shoppe for all the best lobbyists and oligarchs' business needs, intended as a family legacy in the proud tradition of Prescott Bush and his kin. Then this overbearing behema Ginni burst in, surrounded by yawping nutbags and greasy low-rent grifters, and thoroughly trashed the place, just as they trashed the Capital on January 6th. 'Family friend' or not, *I* would carry a grudge!
The House committee investigating the Jan. 6, 2021, attack on the Capitol has obtained email correspondence between Virginia "Ginni" Thomas, the wife of Supreme Court Justice Clarence Thomas, and lawyer John Eastman, who played a key role in efforts to pressure Vice President Mike Pence to block the certification of Joe Biden's victory, according to three people involved in the committee's investigation…

The committee's members and staffers are now discussing whether to spend time during their public hearings exploring Ginni Thomas's role in the attempt to overturn the outcome of the 2020 election, the three people said. The Washington Post previously reported that the committee had not sought an interview with Thomas and was leaning against pursuing her cooperation with its investigation.

The two people said the emails were among documents obtained by the committee and reviewed recently. Last week, a federal judge ordered Eastman to turn more than 100 documents over to the committee. Eastman had tried to block the release of those and other documents by arguing that they were privileged communications and therefore should be protected…

While Thomas has maintained that she and her husband operate in separate professional lanes, her activities as a conservative political activist have long distinguished her from other spouses of Supreme Court justices. Any new revelations about Thomas's actions after the 2020 presidential election are likely to further intensify questions about whether Clarence Thomas should recuse himself from cases related to the election and attempts to subvert it…

In the weeks after the 2020 election, Ginni Thomas repeatedly pressed Meadows to overturn the outcome, according to text messages obtained by The Post and CBS News. After Jan. 6, she told Meadows in a text that she was "disgusted" with Pence, who had refused to help block the certification of Biden's electoral college victory. She wrote, "We are living through what feels like the end of America."

During that same post-election period, Thomas also pressed Republican lawmakers in Arizona to help keep Trump in office by setting aside Biden's popular-vote win and to "choose" their own electors, The Post has reported, based on documents obtained via a public records request. Thomas sent the emails via FreeRoots, an online platform designed to facilitate sending pre-written messages to multiple elected officials…
Liz Cheney reportedly said she didn't want the Committee to talk about Ginni Thomas unless there was hard evidence showing that she had some sort of involvement.

Maybe the production of Eastman's emails is why they rescheduled today's hearing… https://t.co/3KbChL3q9R

— ClearingTheFog (@clearing_fog) June 16, 2022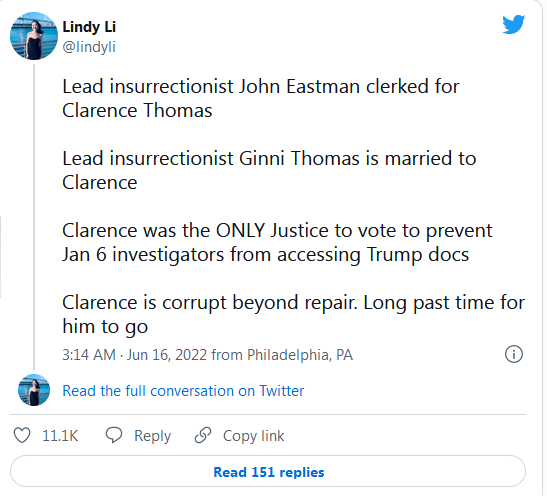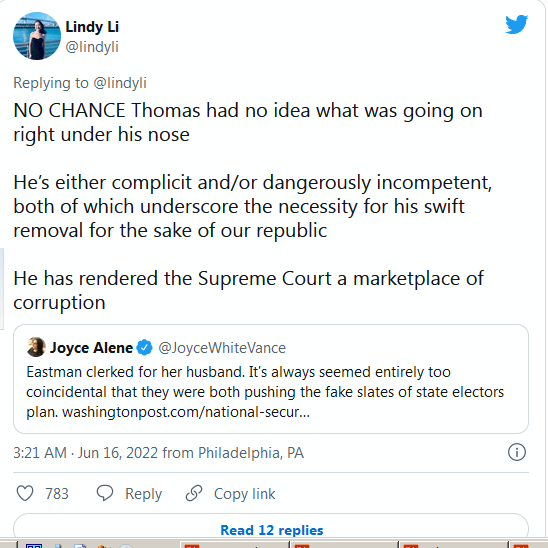 (from the archives)https://t.co/gzwogZjG5d pic.twitter.com/FFPCOvGIwD

— Ann Telnaes (@AnnTelnaes) June 16, 2022