Dr. Anthony Fauci testified remotely before the Senate Health committee regarding America's ongoing response to COVID and said that more federal funding was needed to develop 'new vaccine platforms' to combat an 'ever-changing' coronavirus pic.twitter.com/l6j7vZBnYm

— Reuters (@Reuters) June 16, 2022
Predictably: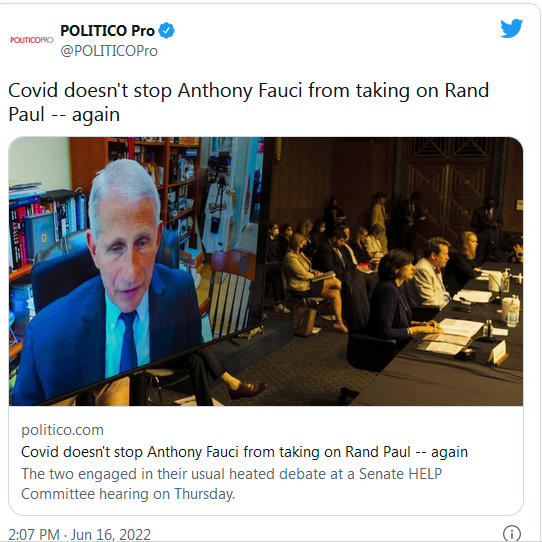 Video of the three-hour-long meeting (which also covers the baby-formula crisis) here. Via Laurie Garrett, Young Prince Rand was not the only Repub to cover himself with… the opposite of glory: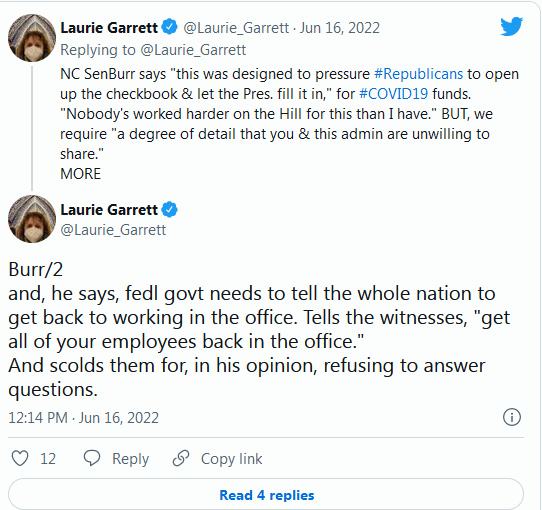 Ergo: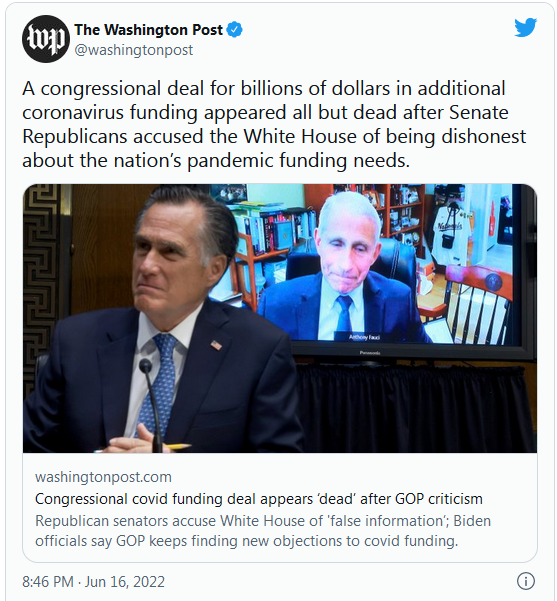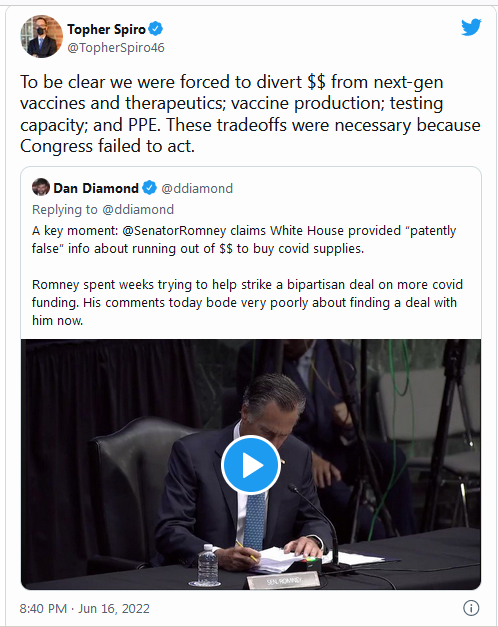 Thanks, Republicans!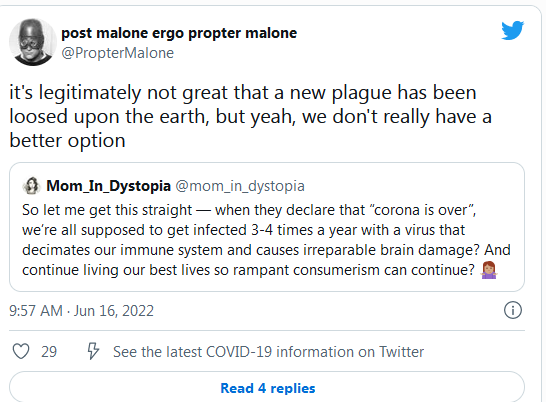 ======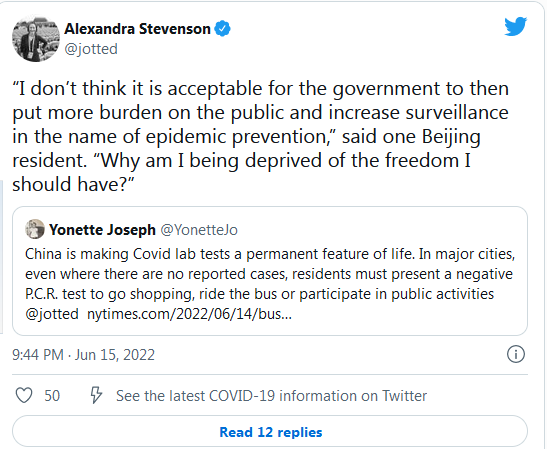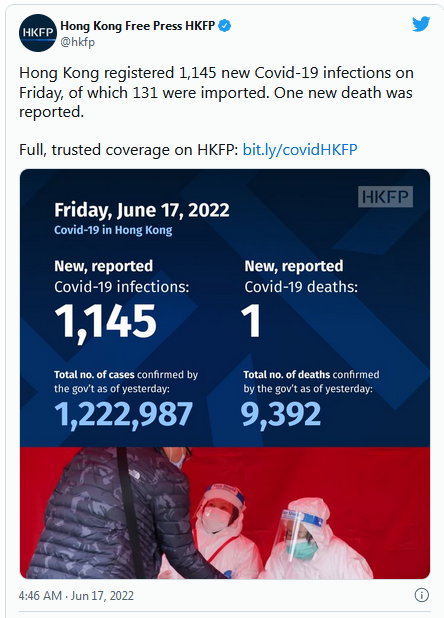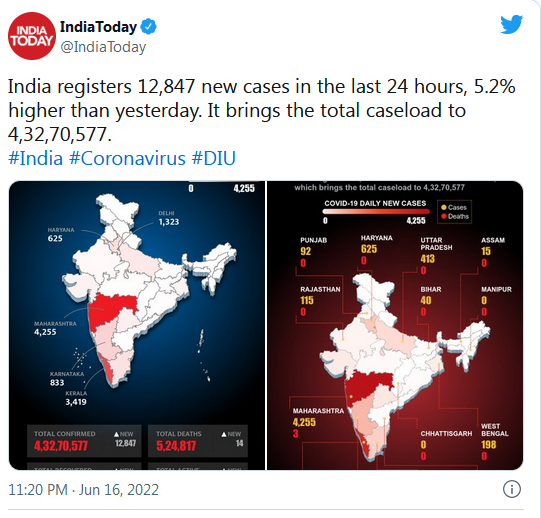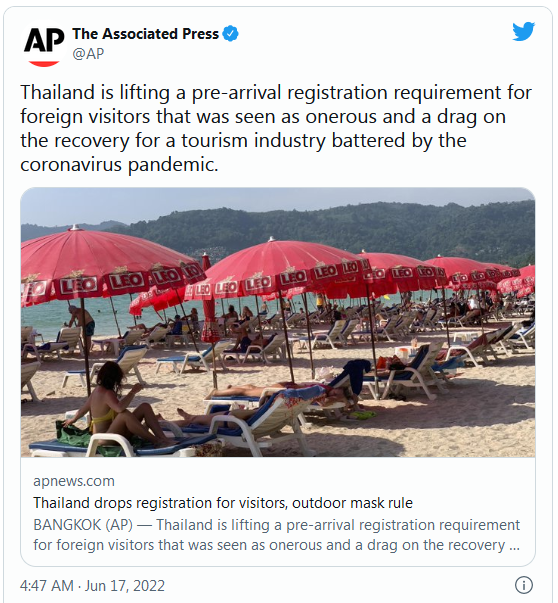 United Kingdom: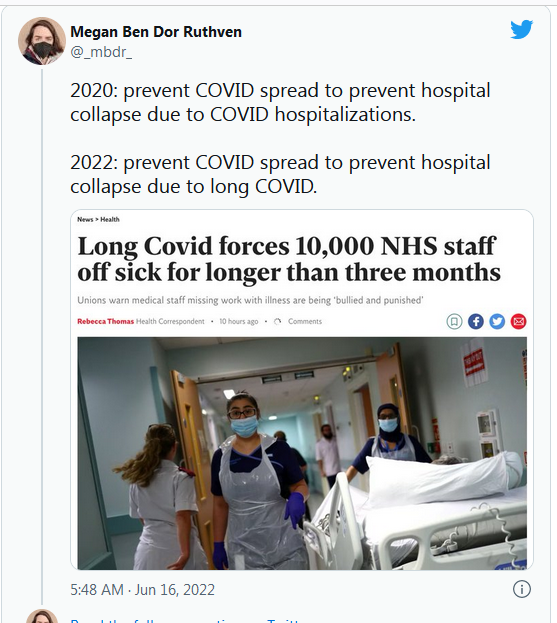 ======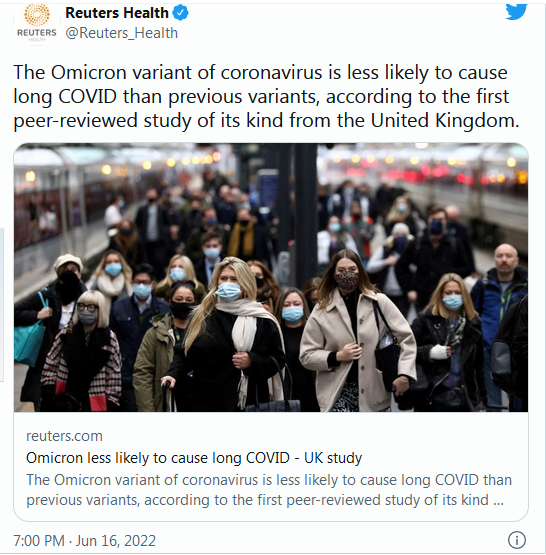 … Researchers at King's College London, using data from the ZOE COVID Symptom study app, found the odds of developing long COVID after infection were 20% to 50% lower during the Omicron wave in the UK compared to Delta. The figure varied depending on the patient's age and the timing of their last vaccination.

Long COVID, which includes prolonged symptoms ranging from fatigue to 'brain fog', can be debilitating and continue for weeks or months. It is increasingly being recognised as a public health problem, and researchers have been racing to find out if Omicron presents as big a risk of long COVID as previously dominant variants.

The study from King's is believed to be the first academic research to show Omicron does not present as great a risk of long COVID, but that does not mean long COVID patient numbers are dropping, the team said…

While the risk of long COVID was lower during Omicron, more people were infected, so the absolute number now suffering is higher.

"It's good news, but please don't decommission any of your long COVID services," lead researcher Dr Claire Steves told Reuters, appealing to health-service providers…

While the study – published in The Lancet journal on Thursday – compared Delta and Omicron, Dr Steves said previous work had showed no substantial difference in long COVID risk between other variants.

More work was needed to establish why Omicron may have a lower long COVID risk, the team added.
A review of what we know about 3 theories that may represent underpinnings of #LongCovid @ScienceMagazine: (1) microclots, (2) persistent virus, and (3) immune system gone haywirehttps://t.co/KuY8N9dVp6

— Eric Topol (@EricTopol) June 17, 2022
You just recovered from either of #Omicron's two subvariants in the US, BA.2 or BA.2.12.1. Are you now immune to the two up and coming Omicron strains BA.4 or BA.5? Answer: No, you're probably not protected and yes you can get infected again doctors say https://t.co/YGzcoAOc5Z pic.twitter.com/epFV3E2Ff6

— delthia ricks ?? (@DelthiaRicks) June 17, 2022
======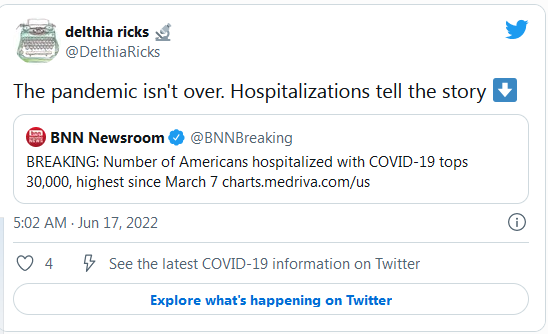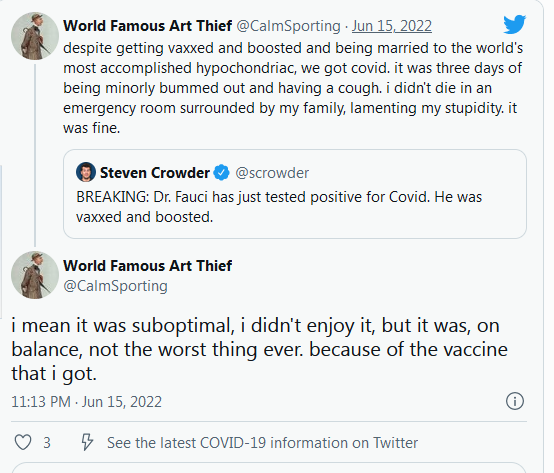 Pro-life! (for GOP Death Cult definitions of 'life')