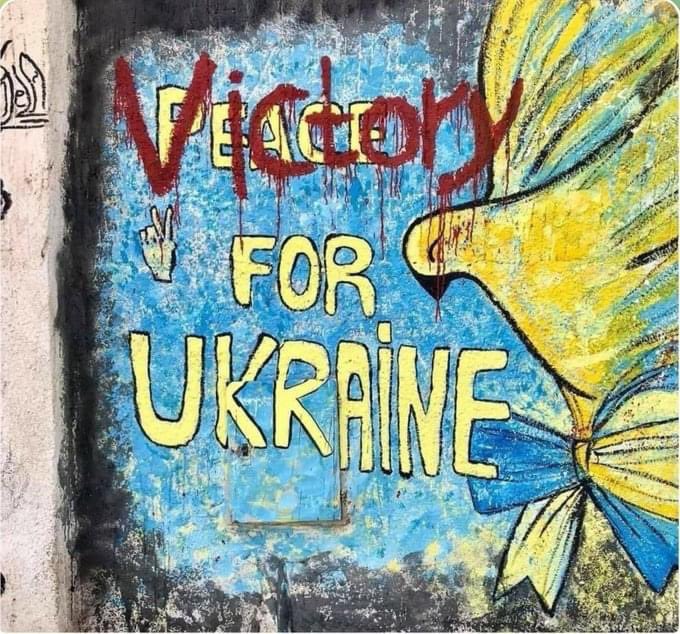 We're back!
Here's President Zelenskyy's address to Ukraine from earlier this evening. Video below, English transcript after the jump (emphasis mine).
Ukrainians!

All our defenders!

Today is a truly historic day – Ukraine has felt the support of four powerful European states at once. And in particular support for our movement to the European Union. Italy, Romania, France and Germany are with us. All four leaders – Mr. Draghi, Mr. Iohannis, Mr. Macron and Mr. Scholz – support Ukraine's candidacy.

Of course, all relevant procedures must be followed, and all EU member states must join. But at our meeting today a big step was made – a step forward. It was important for me to hear from the leaders another fundamental thing – they agree that the end of the war and peace for Ukraine must be exactly as Ukraine sees them. As our people see them.

I am grateful to Italy for its principled political support, macro-financial and defense assistance. Historically we now have the best relations – and I am sure we can do a lot more for our nations.

I am grateful to Romania for the defense assistance and assistance in the transit of our goods, including grain. We agreed to increase export capacity through the territory of Romania.

France will provide additional Caesar artillery systems. This is very important for our defense. Also today, President Macron openly said that the European support for Ukraine should really demonstrate that we defend the same values, defend Europe together.

Germany has confirmed the provision of air defense systems for our country and further support.

By the way, when four leaders arrived in Kyiv today, it coincided with the beginning of the air raid siren. Russia has created a background for everyone to hear these sirens to create a tense atmosphere. But no one was scared, and it only inspired us to be as specific as possible and to negotiate for our interests – for all Ukrainians and for all in Europe.

Today I personally thanked Chancellor Scholz for inviting me to the G7 meeting. In general, my impression of the meeting is positive. All leaders understand why negotiations to end the war are not under way. Exclusively because of Russia's position, which is only trying to intimidate everyone in Europe and continue the destruction of our state. They do not want to look for a way to peace. This is an aggressor who must decide for himself that the war must end.

We will continue to fight until we guarantee our state full security and territorial integrity.

We talked today about the preparation of a new sanctions package against Russia. We talked about overcoming the food crisis provoked by Russia. The resumption of exports of Ukrainian agricultural products is vital for dozens of countries. And there is only one reason why the food crisis has become possible at all: Russia is to blame, and no one else. All leaders already recognize this.

We talked about the reconstruction of Ukraine after the war – we have very specific views of partners on this.

I believe that it is not a coincidence that the situation with gas in Europe has worsened today – the price has jumped again. Russia has done this on purpose, restricting supplies to harm Europe, to strike at Europeans.

Gazprom is simply pulling on the gas chain in which they have been trying to shackle Europe for a long time. And this is another argument in favor of the fact that Europe must now switch to life without Russian gas. There should be no such dependence.

Tomorrow and the day after tomorrow there will also be a lot of news for Ukraine, and I believe that they will be positive. I really believe that. I would like to emphasize once again that all this is possible first of all thanks to our heroes, thanks to each and everyone who protects us from Russian troops.

Today, the Ukrainian army is fighting in the conditions of a significant quantitative advantage of the enemy – in technology, in artillery systems. Fighting in such conditions is a daily feat. We do everything to give our heroes modern and powerful weapons. And I am proud of all those who have been repelling the occupier and all the attacks for 113 days of the full-scale war already.

It is thanks to the bravery of Ukrainian men and women that Europe can create this new history of freedom and finally remove the "gray" zone between the EU and Russia in Eastern Europe. Ukraine has come closest to the European Union since independence.

Eternal glory to all who are fighting for Ukraine!

Eternal memory to all whose lives were taken by these occupiers!

Glory to Ukraine!
As you can see in President Zelenskyy's remarks, shortly after it was reported that President Macron, Prime Minister Draghi, Chancellor Scholtz, and Prime Minister Iohannis had arrived in Kyiv, Russia launched a number of ballistic missiles from the direction of the Black Sea. This, of course, lit up the air defense radar all over Ukraine, which led to air raid alerts being issued for the entire country. Subtle Putin is not!
I want to focus on a couple of items that President Zelenskyy mentioned in his nightly address. The first is that France and Germany are going to support Ukraine's candidacy. This is welcome news as many of us, based on the reporting, expected were going to either slow walk or outright object to Ukraine being given candidate status immediately. They are going to support Ukraine's candidacy. In the case of Chancellor Scholtz it is because he is getting pressure from his coalition partners and the opposition:
Additional pressure on Scholz to move on 🇺🇦 membership candidacy comes from parliament, where Scholz risks a revolt next week — which he will seek to preempt.

More in today's POLITICO Playbook, also with scoop by @HankeVela & @suzannelynch1 on 🇫🇷 plans:https://t.co/W9Fkay2UBx pic.twitter.com/uVWaoBdjsK

— Hans von der Burchard (@vonderburchard) June 15, 2022
I have a feeling that Scholtz is not going to have a long tenure as chancellor.
Regardless of why it is happening, this is good news:
The leaders of Germany, France, Italy and Romania on Thursday threw their weight behind accepting Ukraine and Moldova as EU membership candidates, laying to rest doubts over their stance amid Russia's war against Ukraine.

"All four of us support the status of immediate candidate for membership," French President Emmanuel Macron told reporters at a joint news conference in Kyiv, where the leaders had traveled to meet Ukrainian President Volodymyr Zelenskyy. He was speaking alongside German Chancellor Olaf Scholz, Italian Prime Minister Mario Draghi and Romanian President Klaus Iohannis.

Scholz delivered a similar conclusion: "Germany is in favor of a positive decision in favor of Ukraine. This also applies to the Republic of Moldova," the chancellor said. "Ukraine belongs to the European family," he added.

Scholz's statement was particularly notable since the chancellor had been more reluctant to endorse a trajectory toward membership for Ukraine or Moldova in previous comments.
I expect Hungary is going to continue to be a problem given who Orban is. How the EU leadership handles him will indicate how things are going to go.
The second thing I want to highlight is President Macron's seeming change in rhetoric. Yesterday, Macron gave remarks at a press conference. The replies were then chopped up and many taken out of context. Here's an accurate translation:
🧵 Macron was asked twice about his humiliation remarks at a presser with 🇷🇴 President Ioannis & hinted at Kyiv visit.

BFM clip below is actually Part 2 of Answer 1 (Part 1&more blunt answer 2 later in🪡)

🗣 Macron: "But we want to build peace. This means that at some point, 1/ https://t.co/zQwDszhDRy

— Elise (@Elise_ML) June 15, 2022
"we all want fire to stop [i.e., ceasefire] and the discussions to resume. With this sentence, in constant contact with President Zelensky and as he has perfectly understood, I simply reiterated that we, Europeans, share a continent." 2/

"And geography is stubborn, and it so happens that at the end of it, Russia is still there. It is there today, it was there yesterday, it will be there tomorrow." 3/

"Russia is a power with [nuclear weapons] and so I never shared the opinion of those who say that "today we wage a war on the Russian people and tomorrow we want to annihilate them" as it is sometimes said. No." 4/

"Because at some point, when we will have helped

as much as possible to resist and when, I hope, Ukraine will win and fire will stop, we will have to negotiate. Ukraine's president & leaders will have to negotiate with Russia," 5/ (Not that different from

Biden's op-ed)

"and we Europeans will be at the table bringing security guarantees and elements that pertain to our continent. This is the reality of things and it is this principle that I simply recalled. … Any excessive talk will not allow this moment to come. Our future is at stake." 6/
You can find part 1 translated at the tweet thread.
Despite President Macron seeming to get with the program, based on body language and facial expression, I'm not sure President Zelenskyy is particularly enamored of him:
I know it's may be just a caption, but note the difference in how leaders look at each other on these two photos.
📷 Zelenskyy official pic.twitter.com/X6DJ2qni3k

— Olga Tokariuk (@olgatokariuk) June 16, 2022
This, however, remains the real issue:
Ukraine military assistance: commitment vs actual deliveries. The US has delivered half of what it promised, Germany even less. Poland matches words with its deeds pic.twitter.com/HtDJ6X5667

— Daniel Szeligowski (@dszeligowski) June 16, 2022
Politico has the practical details:
The Biden administration is touting another $1 billion package of military aid to Ukraine, including thousands of rounds of critically needed ammunition for the grinding fight in the Donbas. But the U.S. announcement Wednesday was met with an outcry from Ukrainians and reporters on the ground, who all had the same complaint: It's not enough.

Ukraine is only able to fire 5,000 to 6,000 artillery rounds per day, Ukraine's Deputy Defense Minister HANNA MALIAR told our own CHRISTOPHER MILLER in an interview — which means the 36,000 rounds the U.S. is sending in its latest tranche of assistance will last Kyiv roughly a week. Russia, meanwhile, fires nearly twice as many in a single day.

"There is not a single region in Ukraine that is safe today. There is not a single area that has not been hit by rocket fire," Maliar said.

Russian forces have slowly but steadily started to make gains in Ukraine's eastern Donbas region, pounding towns and cities there with nonstop shelling. In recent weeks, Moscow has tightened its grip on Sievierodonetsk, one of Ukraine's last remaining strongholds in the area, and the two sides are locked in a brutal street-by-street battle for the city.

Ukraine is outgunned and outnumbered 10 to one on the battlefield, Maliar said. Russia has 330,000 personnel committed to the war in Ukraine — 150,000 of whom are currently on Ukrainian territory — and Ukrainian intelligence officials estimate that Moscow can sustain the intensity of its campaign in the Donbas for at least a year.

"If Ukraine is not given weapons, heavy weapons, air defense and missile defense today, then we won't be able to survive this war," Maliar said. "This shows the imbalance of power. It is clear how many weapons Ukraine needs in order to enter parity in order to win this war."

The problem is that most of Ukraine's artillery from before the invasion is Russian-built and fires 152 mm rounds that are no longer available to Kyiv. NATO countries are filling the gap by supplying Western artillery, including U.S. M777 Howitzers and 155 mm munitions. But this weapons flow is limited because it comes from Western inventories.

"We are supporting the Ukrainian military as rapidly as humanly possible," Gen. MARK MILLEY, chair of the Joint Chiefs of Staff, said Wednesday during a press conference in Brussels.
Here's GEN Milley's assessment of Ukraine's progress as reported by DefenseOne:
"The Ukrainians are fighting them street by street house by house," Milley said. "And it's not a done deal. There are no inevitabilities in war. War takes many, many turns. So I wouldn't say it's an inevitability. But I would say that the numbers clearly favor the Russians."

But, Milley said, Ukraine has been able to destroy between 20 to 30 percent of Russia's armored force.

"That's significant," Milley said. "That's huge."
There was no operational update today from the Ukrainian MOD, nor was their an updated map from the British MOD. There is an assessment today from the British though: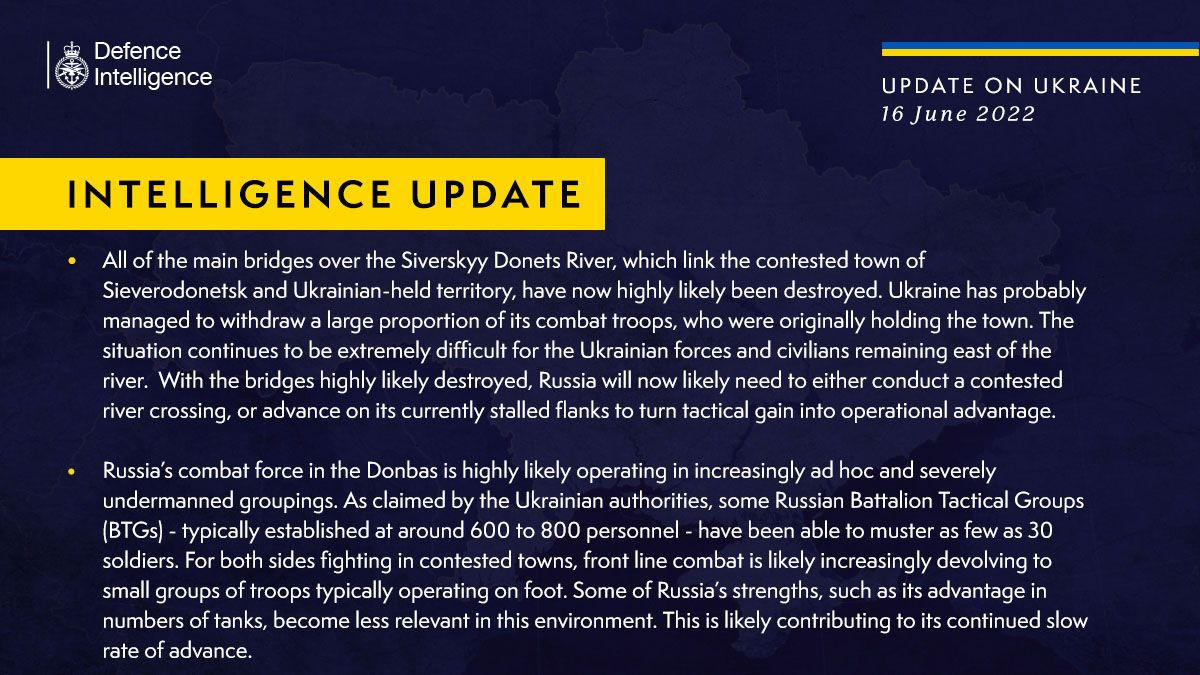 And here's former NAVDEVGRU squadron commander Chuck Pfarrer's updated analysis and map of the battle for Sieverodonetsk:
SIEVERODONETSK / 2000 UTC 16 JUN / FEBA remains steady on existing axes. Heavy shelling continues targeting urban ares of Sieverodonetsk, Lysychansk and Linsa Dacha. Though urban attacks have been reinforced, RU forces have failed to advance beyond Bohdan Lishina Street. pic.twitter.com/y3kXhMyxa1

— Chuck Pfarrer (@ChuckPfarrer) June 16, 2022
Secretary of Defense Austin held a press conference at today's NATO Defense Ministerial Conference.
SECRETARY OF DEFENSE LLOYD J. AUSTIN III: Well, good afternoon, everyone. It's always good to be back at NATO. I'd like to thank Secretary General Stoltenberg for hosting this defense ministerial and for his tremendous leadership during this critical time.

You know, back in 1949, President Truman said that NATO's task would be to build, quote, "the structure of peace", and he said what we must work patiently — he said that we must work patiently and careful, advancing with practical, realistic steps in the light of circumstances and events as they occur.

And that's just what this Alliance has done since Russia's indefensible invasion of Ukraine, and we have had to face events that we all hoped would never come to pass. And this Alliance has met the challenge with determination, with resolve, and above all, with unity. Together, we have responded swiftly and decisively to Russia's baseless and lawless and reckless invasion of Ukraine. NATO has shown the world that it remains the essential forum for consultation, decision, and action on transatlantic security.

We are all proud to stand with the brave people of Ukraine as they defend themselves and their democracy and their sovereignty. And during this enormous crisis in European security, we're proud to stand together to strengthen the rules-based international order that protects us all.

Our work together is indispensable, and these ministerials are invaluable. It's an opportunity to consult with one another and to share ideas and to ensure that the Alliance is prepared to face the challenges of today and tomorrow.

Together, we have risen to the challenge of Putin's war of choice, and Russia's assault on transatlantic security. Our Allies have activated NATO's defense plans. They've deployed elements of the NATO Response Force and they've placed tens of thousands of troops in the eastern areas of the Alliance, along with significant air and naval assets under the direct command of NATO and supported by Allies' national deployments.

And NATO is also making plans to strengthen its deterrence and defense posture for the longer-term, especially along the eastern flank. Over two highly-productive days, this ministerial has laid the groundwork for important discussions and decisions at the NATO Summit in Madrid later this month.

Now, NATO is also close to welcoming two new members to the Alliance, and Finland and Sweden have made the historic decisions to apply for membership, and that reflects the appeal of NATO's core values. The values that unite us as an Alliance remain strong and timeless, and so does our shared vision of a stronger rules-based international order and a more peaceful world.

I am deeply proud of the progress that we've made over the past several months, and now the good work must continue. And during our time together, I've encouraged my fellow ministers to do even more, and we all share the responsibility to procure, prepare, and provide ready capabilities and forces to prepare this Alliance for the challenges to come.

NATO's preeminent task has not changed, to defend each and every Ally's sovereignty, territorial integrity, and independence. And that's why America's commitment to NATO and to Article 5 remains iron-clad.

Thank you for being here today. And I'm happy to take a couple of questions.

STAFF: (inaudible) from Frankfurter-Allgemeine.

Q: Thanks a lot. (inaudible)from Frankfurter Allgemeine Zeitung. Mr. Secretary, the reinforcements that NATO Allies are considering regarding the Eastern flank seems to be along the concept of scalable brigades. So this means that NATO member states will rely heavily on their ability to quickly move forces to theater when it's necessary. We all know about shortcomings in logistics and weapons supplies over the previous years.

And I'm just wondering how confident are you that NATO member states will be up to the task, and will in fact be able to fulfill this requirement if need be? Thank you.

SEC. AUSTIN: Well, thanks. I am confident. I have confidence in the process and the ability of our Allies to build the capabilities that we agreed to — that we all need. You know, when I looked around the room in our meetings there, and I saw the commitment and the energy in that room and you know, I was — it was heartening. It was encouraging.

As you heard the Secretary General mentioned earlier, there are things that we can do and will do to make sure that it's a lot easier to rapidly-deploy forces forward. Some of those things include pre-positioning of equipment, putting forces that are at home station on higher levels of alert, streamlining command-and-control so that it's easier to fall in on a formation.

So, recognizing the challenges of the past, I think, you know, all of our allies have learned from any shortcomings that we may have experienced in the past. And they'll build to ensure that they have the right capabilities to provide flexible and responsible and combat-credible forces when the time comes.

STAFF: Oren Liebermann, CNN?

Q: Mr. Secretary, you talked about the support of NATO behind the cause of Ukraine. It's relatively easy, by and large, to unite NATO governments, but how do you keep the NATO public engaged when many, including in the U.S., are already more concerned about the high costs of fuel and inflation than they are about what's happening in the Donbas region?

How fragile is public support for this, as it drags on?

SEC. AUSTIN: Well, certainly, making sure that the public — that the people of each of our countries in the Alliance remain engaged. I'm confident that our leaders will do the right thing to address their constituents.

You know, as we come together and talk about complex issues, you know, we can be assured from time to time that there will be differences of opinion, but that's why we have these meetings, to make sure that we — you know, we really wring things out and entertain any questions or issues that various countries may have so that they can go back and work with their constituents and make sure that, you know, people really understand where the Alliance is going and what it needs.

And I have confidence that in every case, we'll be able to reach consensus and move forward. We've done that in the past; I certainly saw evidence of that here in this meeting and in other meetings. But that's why we have these meetings. That's why we come together.

But in terms of making sure that the constituents of the various countries, you know, remain supportive of our efforts, I have confidence that the leadership of the various countries will be able to manage that and maintain support, so…

STAFF: Lili Bayer, Politico E.U.?

Q: Thank you very much. I have two brief questions. The first is, could you update us more specifically on your thinking on what kind of extra support the U.S. might offer Eastern NATO allies? And the second question is, what assistance is the U.S. providing Ukrainians trying to repair Javelins? Thank you.

SEC. AUSTIN: Well, I don't have any announcements to make today. I would say that, you know, as you look back at what's happened since the 24th of February, members of the Alliance have really stepped up. We rapidly deployed capability to the eastern flank in order to reassure our Allies that, you know, we're ready to defend every inch of NATO's territory. So if you look at the things, the increase in force posture, since that time, you know, it's been impressive. And so that's kind of reassuring when we look at the future and what we need to do in the future to make sure that we have that combat-credible capability. I feel very good about us being able to work together to ensure that we have what we need.

You heard the Secretary General say earlier that what we're really focused on is not just numbers of boots on the ground; we're really focused on total capability, so capability in air, land, sea and cyber and space. And you know, as we look at putting that together- and you heard me say a couple minutes ago that there are things that we're also looking at in terms of pre-positioning of equipment, you know, streamlining command-and-control, making sure that — you know, that we have our balance and footprint about right. There are number of things that we're going to be working on going forward, but that's — that is still a work in progress, and you know, I expect that at the Madrid Summit we'll see senior leaders make announcements based upon the recommendations from the ministers and the things that we've worked out here.

STAFF: We have time for just one more. Jim Garamone from the Defense Media Activity.

Q: Mr. Secretary, the Secretary General mentioned that China was a — and your — of discussion during the meetings. You just came from the Shangri-La and from the Asia-Pacific. How did you see that conversation going?

SEC. AUSTIN: Conversation —

Q: In the meetings about China and the strategic concept.

SEC. AUSTIN: Well, I — you know, clearly, the members of the Alliance are supportive of what's in the strategic concept, and they recognize the importance of making sure that we pay attention to what's going on in the Indo-Pacific, and we all have a common interest in making sure that the Indo-Pacific remains free and open and accessible.

So we've seen a number of countries that are members of this Alliance operate in the Indo-Pacific, some in conjunction with us and other countries like Australia and Japan. And so there are clearly a number of countries who have direct interest in the Indo-Pacific. But the Alliance as a whole, as you've heard the Secretary General say, has — is interested and is — and will stay — will pay attention to what's going on in the region.

But again, Jim, if you just kind of look at the importance of all those countries out there, it's a — my view, it's the right thing to do and it's the same view that our Allies have, as well, so —

STAFF: Thank you, everyone.

SEC. AUSTIN: Thanks, everybody, and I'll see you on the next ministerial or at the summit.
I think that's more than enough for tonight.
Your daily Patron!
From Patron's Instagram page (they don't embed for some reason)
Here's the accompanying caption:
patron_dsns It's me from the grass looking out who is so pretty looking at me. And this is you! I went to bite the telephone wires because @emmanuelmacron came to Ukraine, and he has some problems with the uncontrollable desire to call one disrespectful person
And the picture: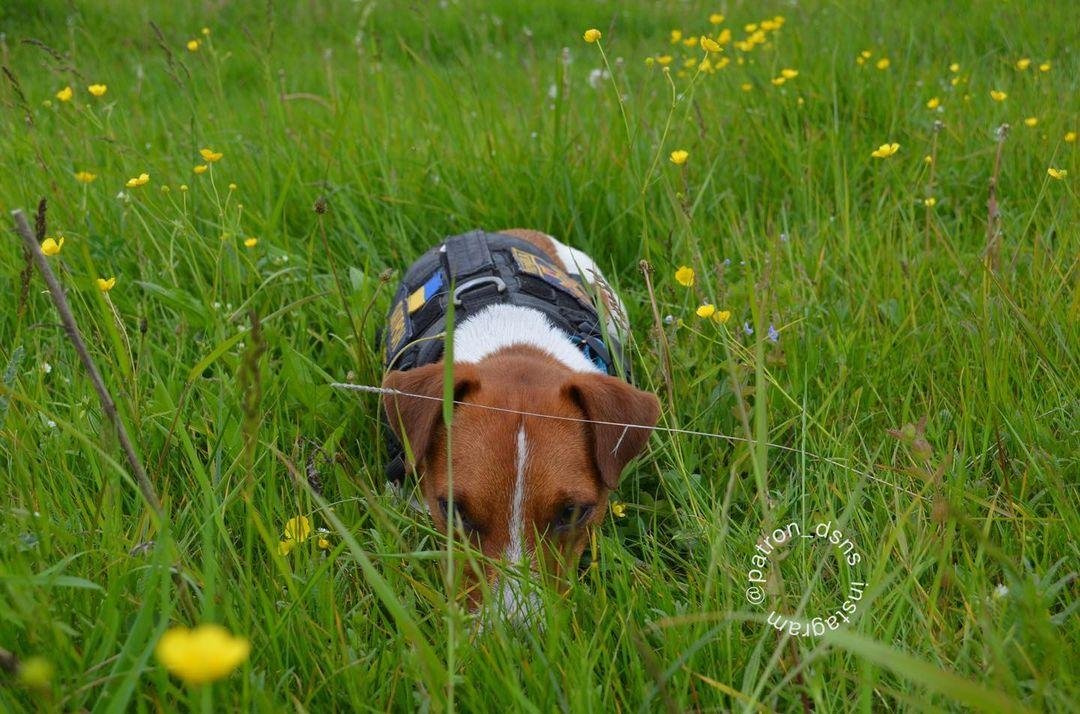 And here's some new video of Patron from his TikTok account:
Open thread!