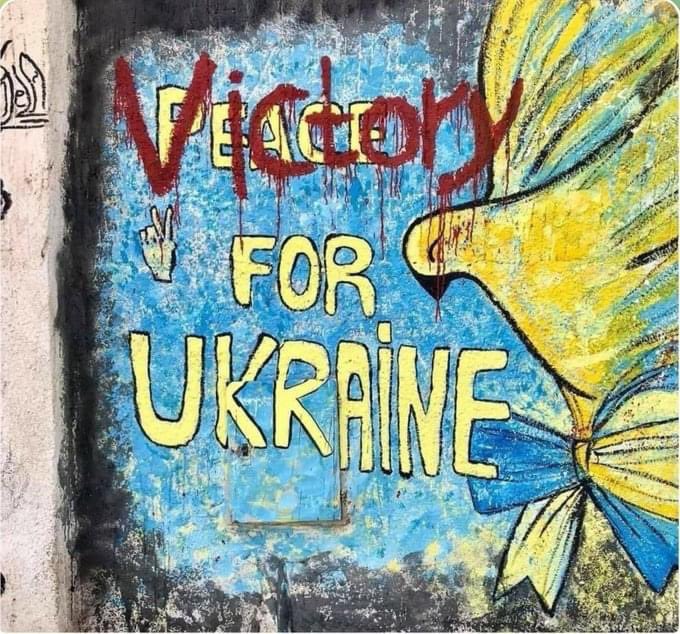 Here's President Zelenskyy's address to Ukraine from this evening. Video below, English transcript after the jump (emphasis mine).
Ukrainians!

All our defenders!

We are now one step from the beginning of full-fledged integration with the European Union. We have a positive conclusion from the European Commission on the candidacy for Ukraine. And this is a historical achievement of all those who work for our state. The only thing left is to wait for the decision of the European Council next week. And I believe that Ukraine has done everything possible for this step to be positive as well – the decision of the European Council, i.e. the leaders of the EU states.

Ukraine deserves this positive. Ukrainian values are European values. Ukrainian institutions maintain resilience even in conditions of war. Ukrainian democratic habits have not lost their power even now. And our rapprochement with the European Union is not only positive for us. This is the greatest contribution to the future of Europe in many years.

Let me remind you now only one thing: after February 24, our country acceded to the European energy system. Our networks – Ukraine and the European Union – work in sync despite a full-scale war. Hence, even this fact alone shows everything at once – the professionalism of our people, the strength of our institutions, our ability to fulfill promises and the magnitude of Ukraine's potential.

And I want to emphasize that Ukraine's European integration is not something purely political, not something detached from the lives of ordinary people. On the contrary. The closer we are to other European countries, the more opportunities we will have to guarantee all Ukrainians a modern and prosperous life.

I spoke today with Mrs. Ursula von der Leyen, President of the European Commission. I thanked her and all members of the European Commission for their leadership and today's decision. I also spoke with European Council President Charles Michel. We are coordinating our steps. And I am grateful to Charles for feeling the historical significance of these processes for both Ukraine and the future of Europe.

Today I will also speak with Prime Minister of the Netherlands Rutte. I use every opportunity for our interests, for Ukraine.

During yesterday's visit to Kyiv by the leaders of France, Germany, Romania and Italy, it was clear what far-reaching prospects are being opened both for our country and for all Europeans if we continue to work together. And today this understanding has become even clearer. European strength, European independence and European development can be imagined truly powerful only with Ukraine.

It is interesting, by the way, how the course of history chooses the time for important decisions: the government of Ukraine abolished the agreement on visa-free regime with the Russian Federation today. Now the visa regime will be effective starting from July 1. It is difficult to overestimate the symbolism of what happened today. But no one picked the moment on purpose. This is what the course of history is. Russia itself has done everything to destroy any ties with Ukraine. Well, we are doing everything to make our ties with Europe as strong as possible.

Boris Johnson visited Kyiv today. This is already the second visit of the Prime Minister of the United Kingdom to our capital since February 24.

The negotiations are positive. We discussed the situation on the frontline and ways to achieve our victory. I am grateful to Boris for his leadership in supporting Ukraine, including with weapons. I am also grateful that we equally perceive the need for unconditional protection of our state. We talked about security guarantees for Ukraine. When we define the parameters of these guarantees, they will determine the future of Ukrainians and all Europeans for generations to come.

In general, the week was maximally useful for Ukraine – in many areas. And I would also like to thank US President Biden today for increasing American support for Ukraine every week. And this week we have significant results on the front exactly due to the support of the United States.

I have just signed new decrees on awarding our heroes. 413 combatants were awarded state awards, 29 of them posthumously.

And finally. Today I can already announce this: we managed to liberate "Tayra", Ukrainian paramedic Yulia Payevska, from captivity. I am grateful to everyone who worked for this result. "Tayra" is already home. We will keep working to liberate everyone.

Eternal glory to all who stood up for our independence and our freedom!

Eternal memory to all who died for Ukraine!

Glory to Ukraine!
The big news here is that the European Council has recommended that Ukraine be granted candidate status.
Ukrainians are ready to die for the European perspective.

We want them to live with us the European dream. pic.twitter.com/3SPRqkgK7l

— Ursula von der Leyen (@vonderleyen) June 17, 2022
The Kyiv Independent has President Macron's take on what is going to happen with EU candidacy for Ukraine and few other things:
French President Emmanuel Macron believes Ukraine will be granted candidate status next week, with the president's visit to Kyiv, together with the leaders of Germany and Italy, set to unite Europe behind this decision.

"Earlier, there were different positions in Europe, so I thought it was appropriate and useful to come now, to bring together the countries that support this message of unity in the EU," Macron said during an interview.

On June 23, the European Council is set to decide on Ukraine's candidate status bid, with the three largest EU economies – Germany, France, and Italy – expressing support for a positive outcome.

The Elysee Palace invited several media outlets, including the Kyiv Independent, to talk about their country's stance regarding Ukraine's EU bid, arms shipment, and potential peace talks with Russia.

According to Macron, Ukraine won't see peace in the near future, as he believes Russian dictator Vladimir Putin doesn't want to negotiate.

"I know he (Putin) is not yet ready to step back, but Ukrainians resist bravely and heroically, and Ukraine is also not ready for concessions," said Macron. "Thus, the time to talk about peace and compromises has not arrived."

According to Marcon, no country would pressure Ukraine into making any concessions, including territorial, in order to approach peace with Russia.

"Neither France nor any other country can set conditions for Ukraine based on which peace talks should be held," said Macron.

Meanwhile, France and Western countries are to restrain from sending tanks and planes, says Macron.

"This is an almost official position of NATO," said Macron. "(We'll) help Ukraine defend itself, but we are not going to war with Russia, so certain weapons, such as planes or tanks, were agreed to not be supplied."

"And President Zelensky is aware of this," Macron added.

Macron pointed out that France is continuing to supply Ukraine with Ceasar self-propelled gun-howitzers. Ukraine has received six, with an additional six to be delivered shortly.

"When we have such equipment, we respond if we can. In some cases, we do not have the weapons asked for, so we ask other countries and finance such shipment," said Macron.

Macron says that his country will continue to do everything and more to help Ukraine, even if it means hurting European consumers in the short run.

"Russia blackmails (Europe) with gas, changes volumes of supply the way it likes. Cuts out supplies for some," Macron said.

"We are aware of this and that's why France is trying to quickly build energy sovereignty," he said.

"Why do you think we support Ukraine, the Ukrainian army, the Ukrainian people and have adopted six packages of sanctions against Russia," said Macron.

"Because we believe that you uphold democratic values."
Several different things to unpack here. First, is that Macron expects that the fill EU will vote to admit Ukraine to candidate status next week. This requires a unanimous vote. All of the states, or heads of those states' governments, that had expressed concerns – Denmark, France, Germany, the Netherlands – have all gone on record as supporting Ukraine's candidacy. With the exception of Hungary and Viktor Orban. If there's going to be a problem, that's where it will be.
The second item here is that Macron seems to have gotten the message that Ukrainians will decide for themselves as a result of what happens on the battlefield when the war ends. Not Putin, unless he decides to surrender. And certainly not the French or the Germans.
The third and final item is that we once again see the "almost official position of NATO" to not provide Ukraine tanks or planes. I'm not sure what an almost official position is, perhaps it's like being partially pregnant. Regardless, at some point this position is going to have either be formalized or abandoned. At the very least in terms of tanks. It would be best if it would be abandoned. And quickly.
Here's some video of President Zelenskyy with Prime Minister Johnson:
Notice how President Zelenskyy's body language is much more relaxed in regard to BoJo than with President Macron yesterday?
During his visit, Prime Minister Johnson announced that the British would step up a training mission for Ukrainian forces. The Telegraph has the details:
Boris Johnson offered Ukraine a UK-led military training programme, which he said could "change the equation of the war", during a surprise visit to Kyiv on Friday.

Ukrainian forces would be drilled under the British scheme, which the Government said had the potential to train up to 10,000 soldiers every 120 days.

Mr Johnson said the programme, designed to make up for a shortage of trainers in Ukraine and informed by British Army expertise, would harness "that most powerful of forces, the Ukrainian determination to win".

The Prime Minister said: "The UK is with you, and we will be with you until you ultimately prevail.

"As Ukrainian soldiers fire UK missiles in defence of your nation's sovereignty, they do so also in defence of the very freedoms we take for granted.

"Two months on from my last visit, the Ukrainian grit, determination and resilience is stronger than ever, and I know that unbreakable resolve will long outlive the vain ambitions of President Putin," Mr Johnson said in the Ukrainian capital.

"Many days of this war have proved that Great Britain's support for Ukraine is firm and resolute. Glad to see our country's great friend Boris Johnson in Kyiv again," said Volodymr Zelensky, Ukraine's president.

"We have a shared vision of how to move towards victory because that is exactly what Ukraine needs – the victory of our state," the Ukrainian leader added.

If Ukraine accepts the offer, its soldiers will be taught "battle-winning skills for the front line" in addition to basic medical and cyber-security training and counter-explosive tactics.

The three-week training will take place outside of Ukraine and the UK will ask international partners to host the course for new and existing soldiers.

The UK trained more than 22,000 personnel between 2015, the year after the Russian annexation of Crimea, and February's second invasion. Operation Orbital helped Ukrainians conduct their ferocious defence of their homeland, Downing St said.

The UK has sent more than £1.3billion in humanitarian and economic support to Ukraine since February 24, including military aid.
Much more at the link!
Here's today's assessment from Britain's MOD: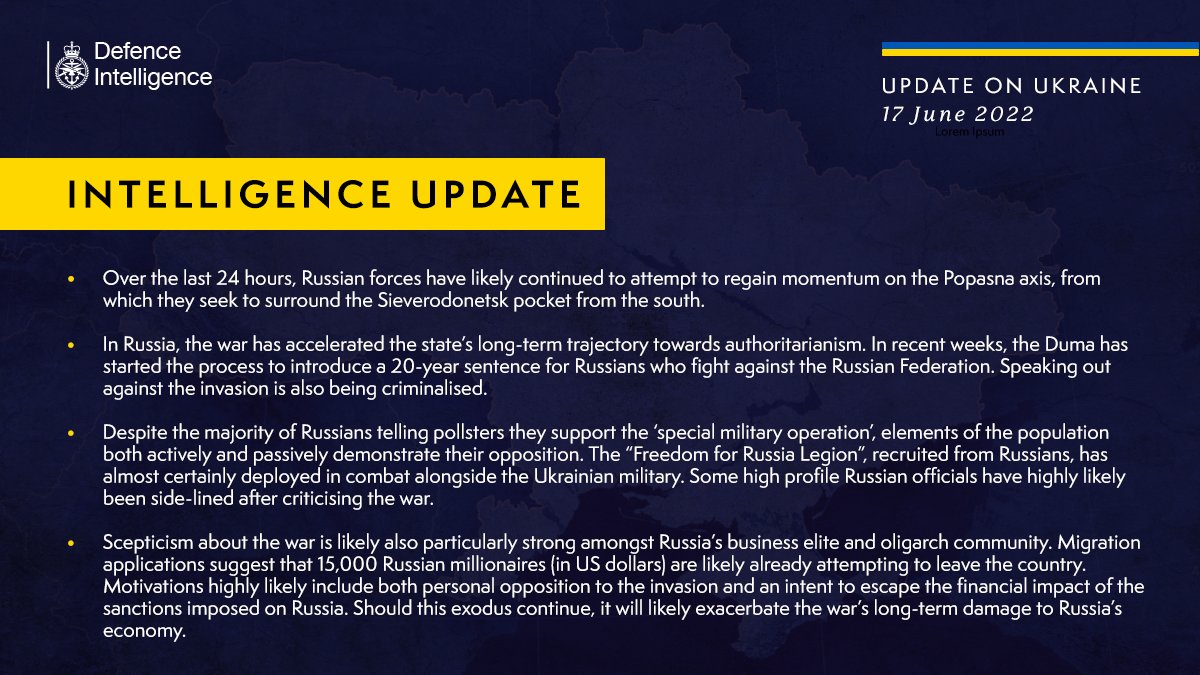 There was no updated map from British Military Intelligence or one from Chuck Pfarrer regarding the battle of Sievierodonetsk.
There was also no DOD backgrounder today.
Ukrainian forces sank a Russian Naval tug this morning. The tug was transporting supplies, including munitions, to resupply the Russian outpost on the occupied Snake Island.
Spasatel Vasily Bekh, a tug of the russian black sea fleet, successfully demilitarized by the @UA_NAVY. The ship was transporting personnel, weapons and ammunition to the occupied Snake Island.
Moskva never be alone… pic.twitter.com/3slXr6qtEl

— Defence of Ukraine (@DefenceU) June 17, 2022
In other good news in Ukraine, you may recall way back in March, that one of the updates partially dealt with a Ukrainian medic who had been captured by the Russians. The good news is that she was alive, in Russian captivity, and has now been released. She's safely back home:
More good news: volunteer paramedic Yulia Payevska, known as Taira, has been released from Russian captivity and is now at home, president Zelensky said pic.twitter.com/8Rf1F388xt

— Olga Tokariuk (@olgatokariuk) June 17, 2022
That's enough for a Friday night.
Here's your daily Patron!
Partron art!
This"Dog Patron" was made by my daughter. During the war, it's very important to know your heroes. For children, this is the dog Patron – the mascot of a sappers detachment engaged in mine clearance, the personification of patriotism, a national hero and the most famous dog of 🇺🇦 pic.twitter.com/3WTo3x0deu

— Oksana Hliebushkina (@hliebushkina) June 15, 2022
Awww!
Patron is going to be one very busy pup!!!
This is slightly larger than the entire nation of New Zealand. The minister said that Ukraine is in talks with the U.K., Italy and France to receive appropriate demining equipment which might cost millions of dollars.

— The Kyiv Independent (@KyivIndependent) June 18, 2022
Here's video of Patron and a hedgehog! Probably trying to get the hedgehog to enlist…
Open thread!