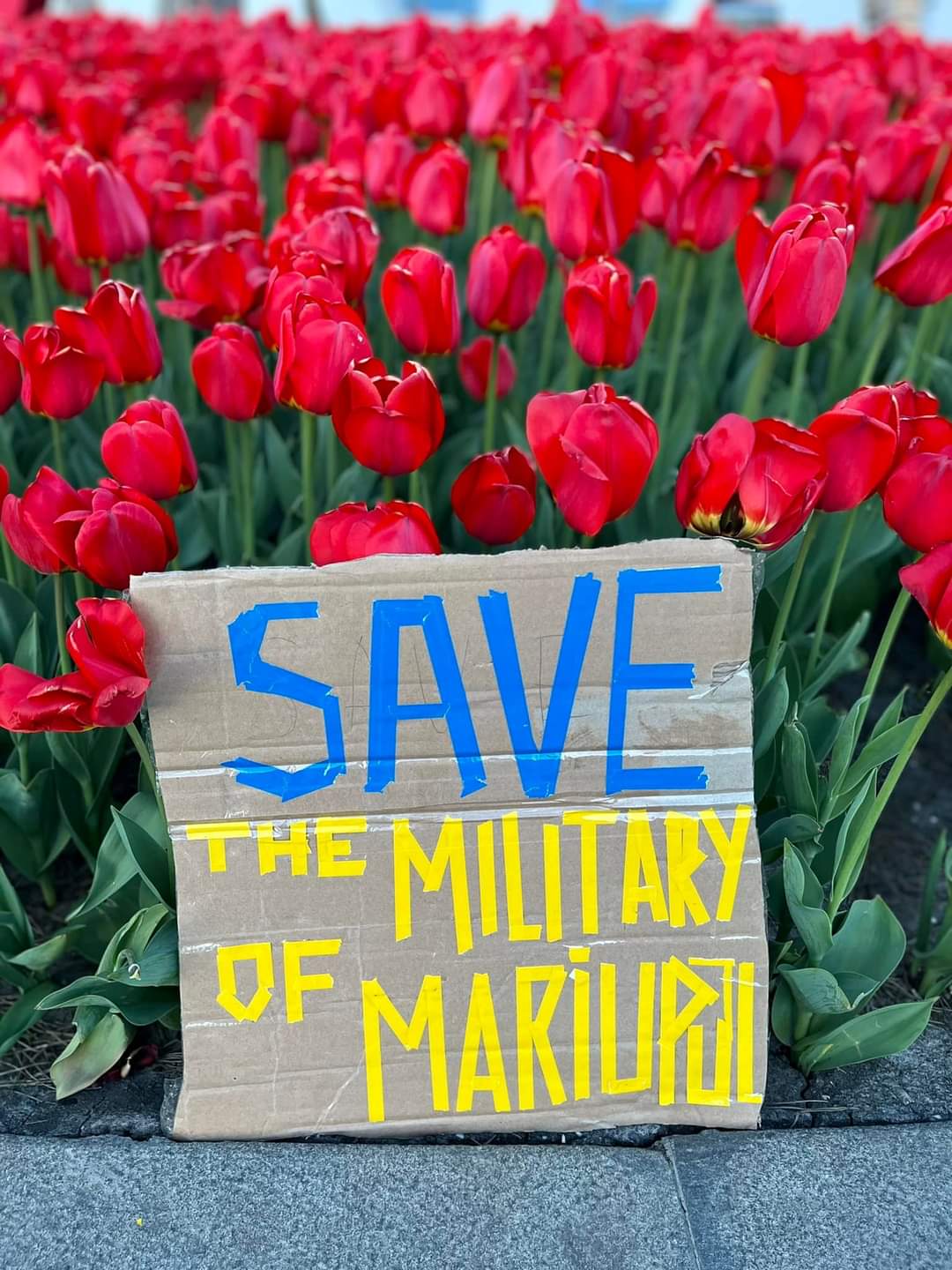 Just two quick housekeeping items. First off, everyone is most welcome for the posts. If I haven't directly replied to say thank you it usually means I've gone to sleep. The second is that the cartoon of Patron I put in last night's post has been pulled. This was done at the request of the people who run Patron's social media accounts.
Here's President Zelenskyy's address from earlier this evening. Video below, English transcript after the jump (emphasis mine):
Ukrainians!

All our defenders!

There were many congratulations in our country today. June 19 is Medical Workers' Day, Father's Day and Farmer's Day.

Of course, today I would like to thank all our doctors, all Ukrainian nurses, who have been literally on the frontline since February 24. Thank you for the tens of thousands of second birthdays you gave to our military, our civilians, our Ukrainian children. Thank you for saving lives on the front, in hospitals across our country.

Ukrainian doctors are countless examples of extraordinary heroism. Heroism of those who carried out surgeries under shelling. Who worked in the blockade in Mariupol. Who survived the occupation, captivity and even in such conditions, as much as possible, saved lives – the most precious thing.

I would also like to thank our farmers today. Those who defended their communities even with bare hands when stopping the Russian military. Who, despite the war, ensured a sowing campaign. Those who were even nicknamed "tractor troops" when they were taking Russian trophy equipment from the battlefield. And now that Russia has blocked our exports through the Black Sea ports, the whole world has seen who Ukrainian farmers really are and what the work of our agricultural sector is worth.

Of course, I would like to thank all the fathers in Ukraine. All those who raised their children as good, decent, brave people. People who defend the state and do everything to help their neighbors live through the war. The Ukrainian courage that inspires the world so much, the Ukrainian freedom that strengthens the whole of Europe are possible only because Ukrainian parents have raised such children. Children with an understanding of values, able to be true heroes.

Tomorrow a truly historic week begins. A week when we will hear the answer from the European Union on the candidate status for Ukraine. We already have a positive decision from the European Commission, and at the end of the new week there will be a response from the European Council.

I think it is obvious to everyone that since 1991 there have been few such fateful decisions for Ukraine as we expect now. And I am convinced that only a positive decision meets the interests of the whole of Europe.

I will deliver new addresses this week, including to Europeans. I will take every opportunity to defend the European perspective for Ukraine, for each of us, and to gather new supporters for us.

Obviously, we should expect greater hostile activity from Russia. Purposefully – demonstratively. This week exactly. And not only against Ukraine, but also against other European countries. We are preparing. We are ready. We warn partners.

The occupiers are accumulating forces in the Kharkiv direction, in the Zaporizhzhia region. They struck at our fuel infrastructure again – they want to worsen the fuel situation. Of course, we will respond to this, too.

Fierce fighting continues in Donbas. The Russian army uses the greatest number of artillery there, the greatest number of offensive forces. But Severodonetsk, Lysychansk, Avdiivka, Krasnohorivka and other hot spots are holding on. Our people are like that. They are holding on. Our army is holding on. And I am grateful to everyone whose strength today means our victory tomorrow.

Eternal glory to everyone who fights for Ukraine! Fights hard!

Glory to Ukraine!
There was no operational update posted by Ukraine's MOD as of 10:30 PM EDT tonight. Nor was their a DOD backgrounder today given it is a long weekend for Juneteenth.
Here's is the British MOD's assessment for today: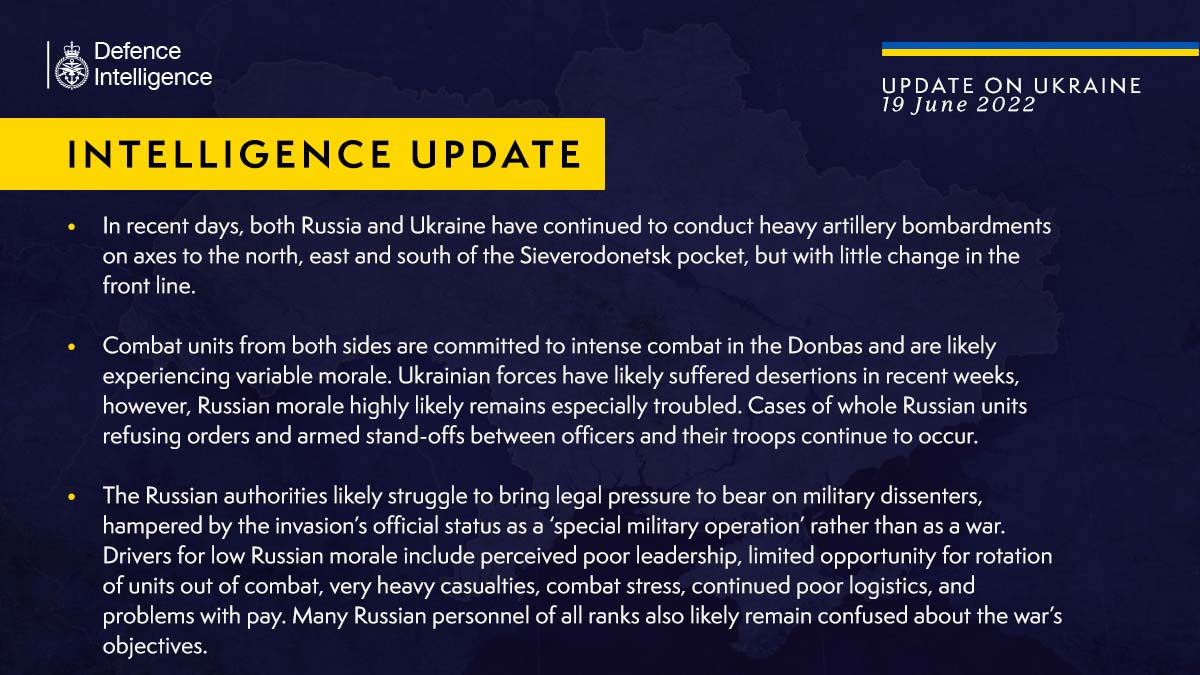 And here's their updated map for today: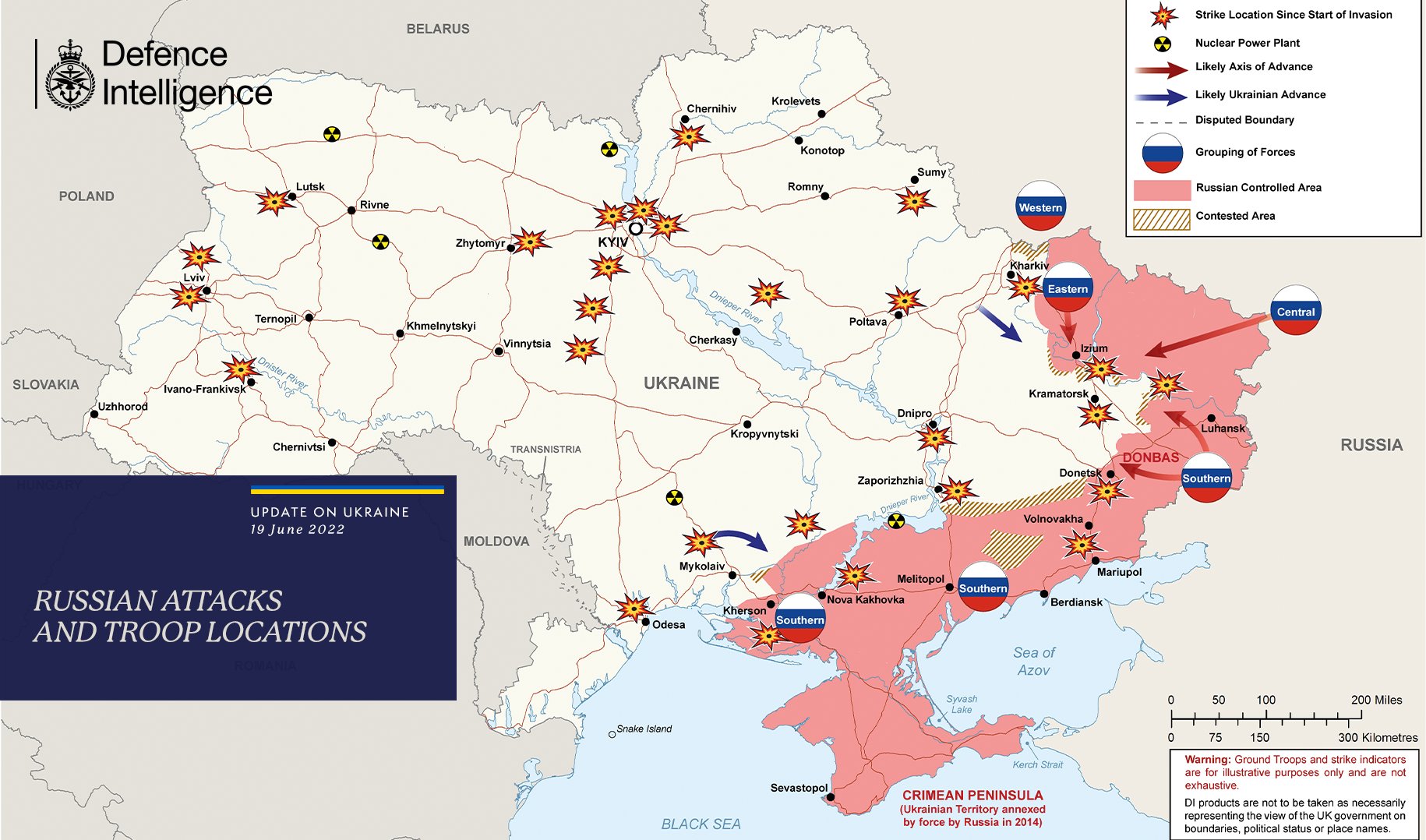 If you go back to the posts from last week, which was when the British last posted an updated map, you can see the major change is in the south near Kherson. I'll have more on the Ukrainian counterattack in Kherson tomorrow.
Here is former NAVDEVGRU Squadron Commander Chuck Pfarrer's updated analysis and map of the battle for Sievierodonetsk:
SIEVERDONETSK /1650 UTC 19 JUN/ RU forces have registered advances north and south of the urban areas. This TACMAP will be followed by annotated overhead imagery of Lysychansk. pic.twitter.com/WM8Krc5MEA

— Chuck Pfarrer (@ChuckPfarrer) June 19, 2022
He also has several maps with analysis regarding Lysyschansk. You can find those here, here, here, and here.
I want to take a moment and make sure we're all tracking on what is going on with the Azovstal defenders. About a week or so ago I made note that three of the defenders of Mariupol – two British nationals and one Moroccan national – were sentenced to death in a show trial in Donetsk. Just the trial, let alone if they actually carry out the sentence, is a war crime as all three of these Ukrainian Marines are considered POWs under the Geneva Conventions pertaining to prisoners of war. Today The Kyiv Independent is reporting that the Azovstal defenders are in just as much peril:
TASS reported earlier that they had been sent to Russia for a criminal investigation. Hundreds of Azov soldiers surrendered in May after defending Mariupol for months.

— The Kyiv Independent (@KyivIndependent) June 19, 2022
This is something that a lot of us have been worrying about. That rather than treating the members of the Azov Regiment, the 36th Separate Marine Brigade, the Territorial Defenders from Mariupol, and the Mariupolian law enforcement and first responders that were defending Mariupol from the Azovstal facility as POWs, the Russians would set up sham show trials to further their de-NAZIfication agitprop narrative.
Today was father's day in Ukraine, as in just about everywhere else. It was a bittersweet one at best.
Praying for all fathers especially from #Ukraine for this Father's Day…#SlavaUkrainepic.twitter.com/Eb3NXbUPwJ

— Michael Yoga Widianto 🇺🇸 🇺🇦 (@WidiantoMichael) June 19, 2022
For the first time in several months of the war, the son met his father. It is impossible to watch without tears 💙💛 #StandWithUkraine #StopRussiaNOW pic.twitter.com/6haTv99WpJ

— UkraineWorld (@ukraine_world) June 16, 2022
June 19 – Father's Day. Lysychansk. A dad near the body of his son killed by russian shelling.
How many more sons&daughters we'll have to loose before the world realises that Ukraine must win? We have to stop russian terrorist&this massacre!
Pic by Aris Messinis/AFP/Scanpix/LETA pic.twitter.com/aLzDVmD7wX

— Defence of Ukraine (@DefenceU) June 19, 2022
A young Ukrainian girl sees her father for the first time since the start of the war.

This is what Ukrainian soldiers are fighting for.

— Visegrád 24 (@visegrad24) June 18, 2022
Very special Father's Day.
Being a father is a great responsibility and a great happiness. It is strength, wisdom, motivation to go forward and not to give up. And no matter how difficult it is – to protect and defend the most precious.
Thank you, our heroes.#Ukraine pic.twitter.com/GSQb0ic911

— Verkhovna Rada of Ukraine – Ukrainian Parliament (@ua_parliament) June 19, 2022
That's enough for tonight.
You daily Patron!
Open thread!