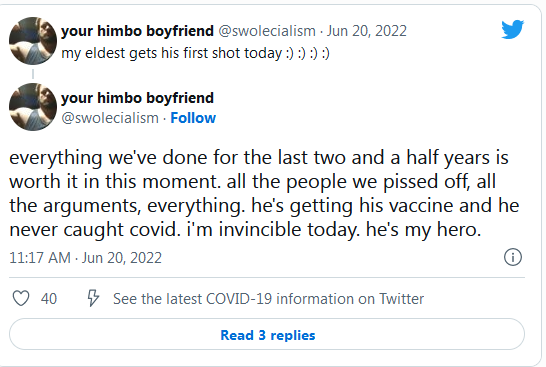 Most of the 19 million kids under the age of 5 can now get a #COVID19 vaccine.

• About ½ are children of color
• Nearly 1 in 4 are below the poverty line
• About 4 in 10 are covered by Medicaid

Our look at challenges in vaccinating this group: https://t.co/7Ohsvan6oy pic.twitter.com/FbYg44h8Ts

— KFF (Kaiser Family Foundation) (@KFF) June 21, 2022
The United States has begun distributing COVID vaccines for children as young as six months around the country, and availability of the shots will improve in the coming days, according to White House COVID-19 response coordinator Dr. Ashish Jha. https://t.co/gLLsVsyrt6

— Reuters Health (@Reuters_Health) June 21, 2022
Covid vaccines for children under 5 are finally available in the US. But which vaccine should you choose for your child?
https://t.co/XG2uhZ1QPO

— Helen Branswell ???? (@HelenBranswell) June 20, 2022
======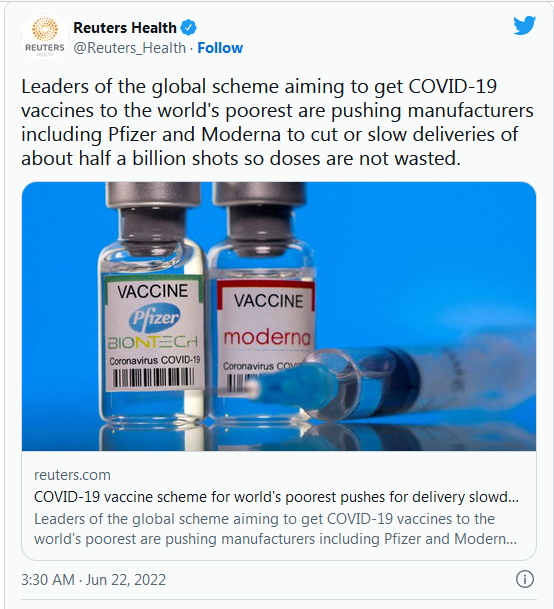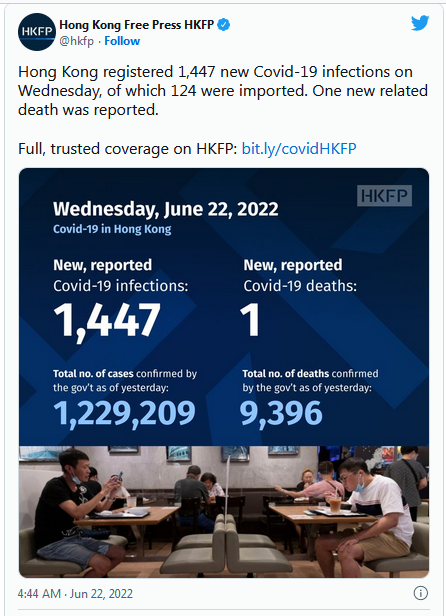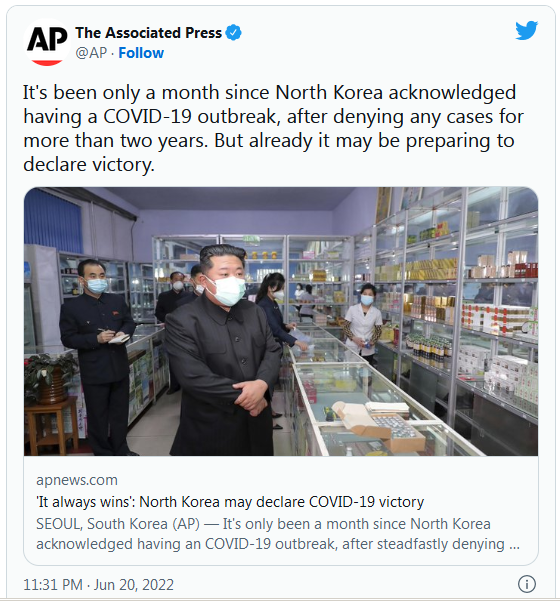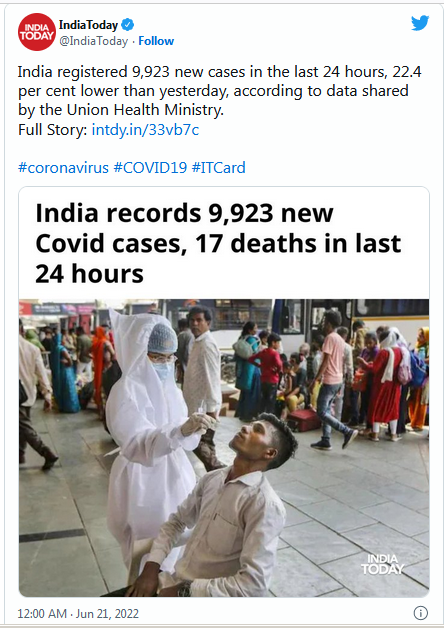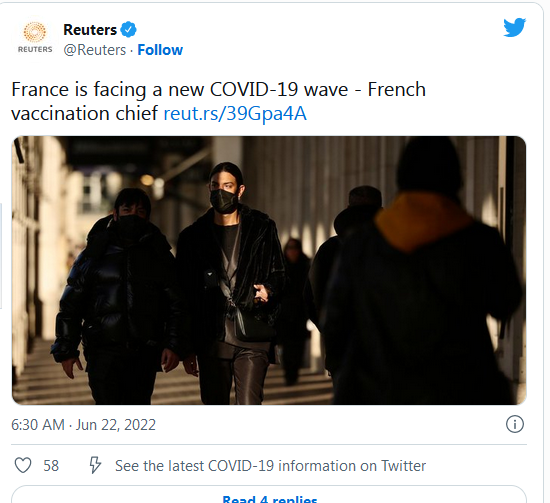 France is facing a new wave of COVID-19 infections fuelled by new variants of the disease, French vaccination chief Alain Fischer said on Wednesday, as daily new cases reached an almost two-month peak the day before at more than 95,000.

Speaking on France 2 television, he said there was no doubt there was once again an upsurge of the pandemic in the country, adding he was personally in favour of reinstating mandatory face mask wearing on public transport…

Other European countries, especially Portugal, are also seeing an increase, due two new Omicron subvariants BA.4 and BA.5, which, according to the European Centre for Disease Prevention and Control, are likely to become dominant in the region.

The variants do not appear to carry a higher risk of severe disease than other forms of Omicron but as they are somewhat more infectious than the latter, it could lead to an increase in hospitalisations and deaths, the ECDC said…

New infections have been steadily rising since the end of May in France, with the seven-day moving average of daily new cases almost tripling between the May 27 figure of 17,705 and Tuesday's 50,402…

France's COVID death toll rose by 56 over 24 hours on Tuesday, to reach 149,162.
======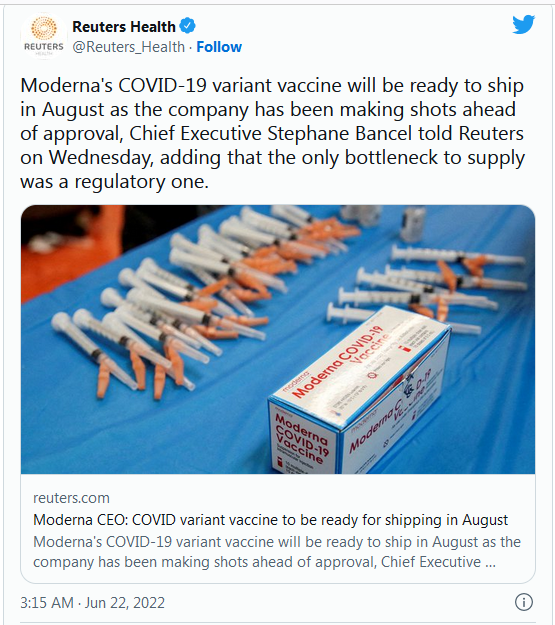 New from @CDCgov is survey of #Paxlovid use across USA, showing resurging #COVID19 after apparent treatment success, and concludes: "Paxlovid might prevent COVID-19–related hospitalization among persons with mild-to-moderate COVID-19."https://t.co/txFwFWmVcr

— Laurie Garrett (@Laurie_Garrett) June 21, 2022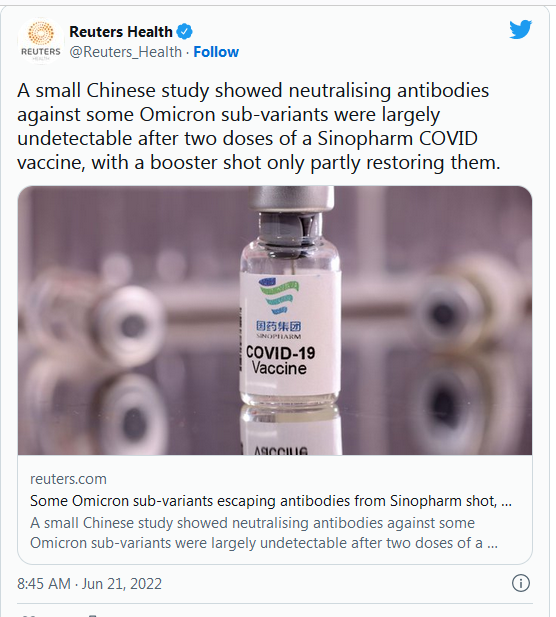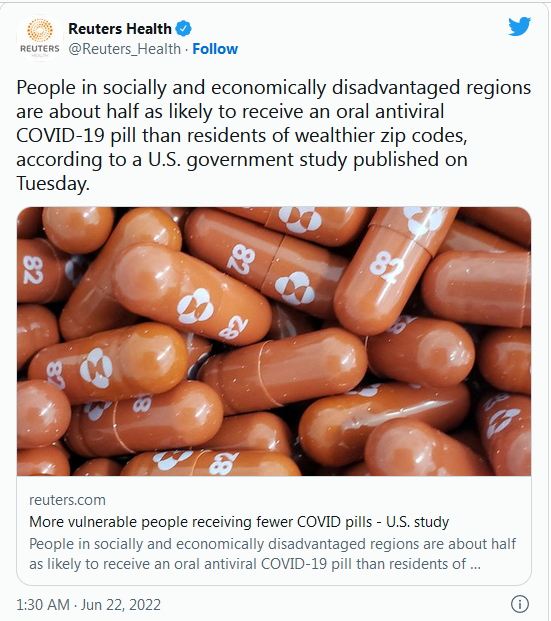 ======