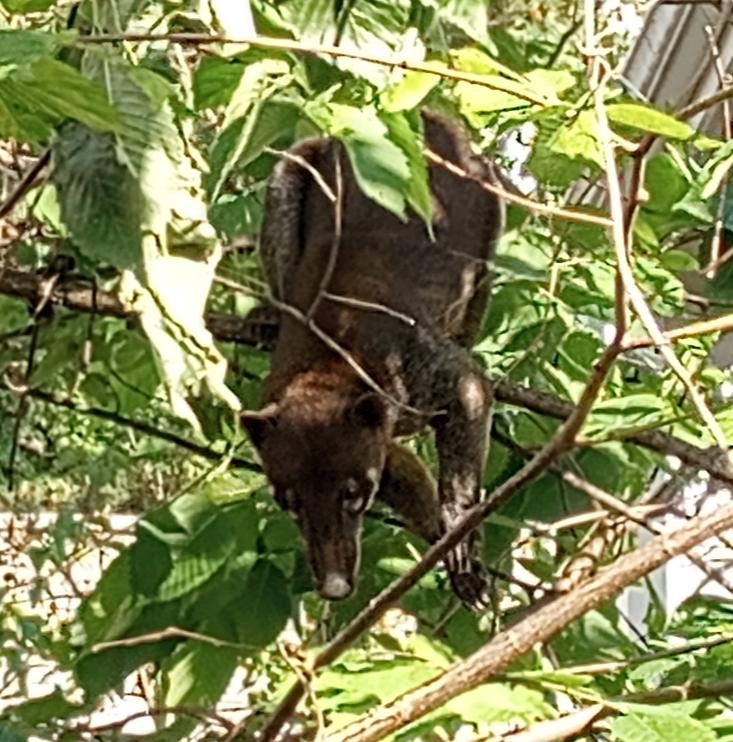 One of the Spousal Unit's coworkers sent this around, and the tag line I used in the title convinced me y'all needed to see it, too:
Not long before sunset Monday [June 13], from our bedroom window in Cambridgeport, I saw our neighbor Dana and her daughter Etta looking at and discussing something in the tree in the lot between ours and theirs.

Me: "Couldn't help but overhear, is there an animal in the tree?"

Dana: "Yeah, but we're not sure what. might just be a big cat."

Etta: "It's a coati, mom. i'm positive!"

I hustled down and sure enough, it was a good sized adult coatimundi. (Raccoon relative but diurnal, they live in Mexico and points south, also the southwest US.) We agreed it must be somebody's escaped pet and that Dana would call Animal Control in the morning.

In the event i guess Etta posted it on the web right away (because that's what you do if you're not old and out of it) and this is what alerted Animal Control.

Tuesday morning Maja (at home) informs me (at work) there is a coati SWAT team at the house. All very amusing. At top is a pic she took from our bedroom window.

So i get home at 5.15 and the first thing I see is a knot of Mass Environmental Police on the sidewalk.

Me: "Did you get him?"

They: Sheepish looks and a muttered "nah".

There was also Pat the Cheery Cambridge Animal Control Lady — who was packing watermelon bait and said the whole thing was under (regular) police investigation so she could say no more — plus two guys in aloha shirts.

Mr. C, who I guess appropriated a crows' nest and ate their eggs (angry cawing from the crows was a constant and not entirely pleasant accompaniment to all of this), had apparently come down to get the eggs and watermelon the team laid out but scooted right back up again. Subsequently the fire department stopped by and tried to destroy the nest (without Mr. C in it of course) but failed (although they left pieces of the tree all over our walkway).

An older guy with a tranq dart gun everyone called "Doc" (again, not making this up) was waiting to get a clear shot. One of the EP officers was a retired first gulf war/Afghanistan/Iraq vet with a goat farm… When he asked for my ladder to go up the tree (which abuts the fence on the other side) and shake the nest, I said "Sure, when some jerk who's illegally transporting animals loses one I'm happy to help" and one of the aloha guys cheerfully said "I'm the jerk".

He was not offended by my remark — "It's legal in West Virginia, just not here."
I'm 100% positive he was on his way to New Hampshire, motto "Live Free With Whatever Exotic Pet You Want Or Die". We got on well over the next couple hours (yes, this was our main evening activity).

There was little real action and much schmoozing, until Maja and I suggested that Doc go up to our bedroom where he would have a better shot. A multi-EP effort managed to scare Mr. C down a little, and Doc fired a dart that just missed but scared him down even more (in case you don't know, these things have tiny explosive charges to make sure the needle sinks in).

I suggested they throw tennis balls at him to drive him down further and gave them our cockapoo Lucy's reserve supply of four. Another EP admitted to having a good arm. His first throw was pretty accurate and Mr. C came down a little further. Doc just barely missed on another shot (I think the dart is still sticking in a tree limb) and that brought him down more.

Then the final three tennis balls drove him to ground level. Everyone quickly moved to seal off all exit routes (including the tree), and after some tense minutes Mr. Aloha Jerk got the net on him.

A party atmosphere prevailed. The Brookfield haying vet was effusive in his thanks for all our help, and while Lucy spent some time growling at the empty container ("damn coatis!") we eventually got all our tennis balls back :).

I am just hoping for a commendation from the mayor for my brilliant idea.