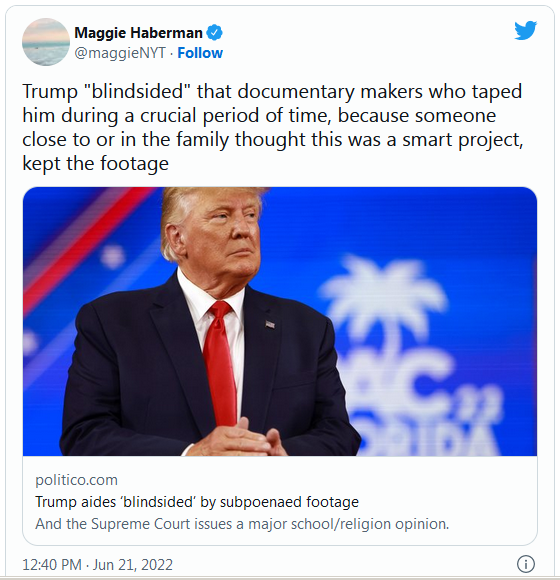 Once again ignoring the infamous Stringer Bell Rule: "Is you taking notes on a criminal f*cking conspiracy?".
Per Rolling Stone:
The Jan. 6 committee has subpoenaed documentary filmmaker Alex Holder in regard to footage and interviews Holder and his team shot while following former President Donald Trump and his inner circle throughout the 2020 presidential campaign. Holder's company, AJH Films, confirmed to Rolling Stone on Tuesday that he has been subpoenaed, will sit for an interview with the panel on Thursday, and has "fully complied with all of the committee's requests."…

In some of the highest ranks of the Trumpworld diaspora — including among several who testified before the Jan. 6 committee — news of the documentarian cooperating with the congressional panel (and also potentially having reams of behind-the-scenes footage of Trump's crusade to nullify the 2020 election) came as a bizarre surprise. "What the fuck is this?" a former top Trump 2020 official messaged Rolling Stone on Tuesday after seeing the Politico item…

In other words: many of the people actually running Trump's reelection operation are now saying they somehow had zero clue that an entire documentary was being filmed largely about Trump and his reelection campaign. And now the fruits of that doc are being mined for evidence by the congressional committee investigating Trump and his multi-pronged efforts to shred the American democratic order…

A source familiar with the production of Holder's documentary, titled Unprecedented, told Rolling Stone that the film was conceptualized and coordinated directly with the Trump family, and that senior campaign staff was not involved in approving participants or in decisions regarding what subject matter would be included in the film. The source, who is knowledgeable about the project and its scope, detailed that Holder had extensive access to Trump campaign activities, including filming behind the scenes at campaign events and traveling with documentary subjects…

As a filmmaker, Holder is best known for his documentary Keep Quiet, which covered far-right Hungarian politician Csanad Szagedi's fall from power. Szagedi was the deputy head of Hungary's radical nationalist Jobbik party, and after years of catering to anti-semitic groups was forced to resign when his own Jewish ancestry became public knowledge…
If this were fiction, any respectable editor would've red-penciled that nugget. But, hey — this was Prince Jared, Master of Networking!

Some reporting on the Alex Holder Trump doc, per convos with 3 people this morning who worked on Trump 2020…

1-They recall a film crew coming to HQ at least once. They also remember it being odd because campaign's legal team seemed surprised, as if it was an unvetted project.

— Robert Costa (@costareports) June 21, 2022
He did. pic.twitter.com/cjavR7SRnq

— Neil Davis (@neildavis211) June 21, 2022
Scheduled for release this summer by 'a major streaming service'!
My statement in response to being subpoenaed by Congress: pic.twitter.com/LOY53rEynI

— Alex Holder (@alexjholder) June 21, 2022

Bring all the popcorn!