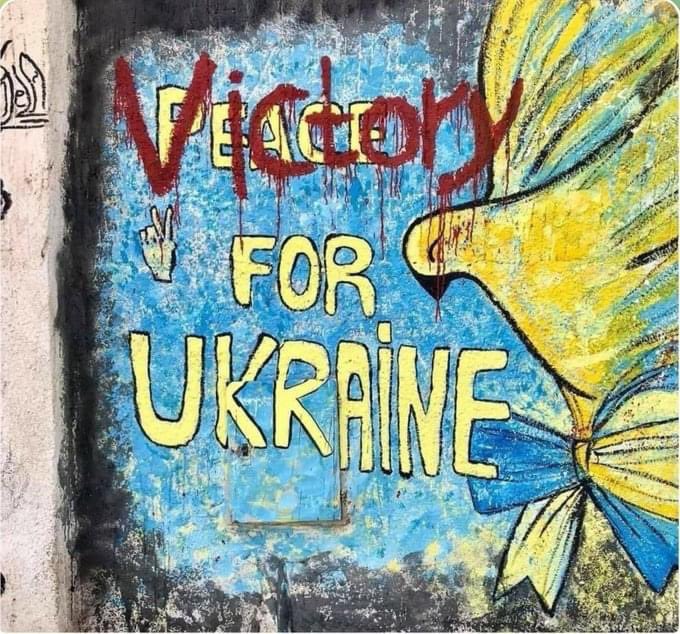 Sinus infection it is! I've got my first dose of antibiotics and two quarts of wonton soup in and I'm ready to go!!!! Lay down. And watch the hockey game…
But first, tonight's update.
Here's tonight's address by President Zelenskyy. Video below, English language transcript after the jump. (emphasis mine)
Ukrainians!

Our defenders!

Today, June 22, is the Day of Mourning and Remembrance of the Victims of War. That war. A war that was to remain forever in the history of the XX century and was never to be repeated. But it is repeated.

Today there is no shortage of words that Russia did the same on February 24 as the Nazis did on June 22. Much has been said about this. And I want to add only one thing. Then 1418 days passed from the morning of the invasion to the defeat of the aggressor. We must liberate our land and achieve victory, but faster. Much faster. This is our national goal, and we must work to achieve it on a daily basis. Not only the state, but also every citizen – at the level at which it is possible.

From the very morning I continued the telephone marathon for a positive decision on the candidacy for Ukraine. 11 leaders today.

Bulgaria. I thanked Prime Minister of Bulgaria Petkov for supporting Ukraine and the development of the whole of Europe with our participation.

Latvia. We discussed with Mr. Prime Minister Kariņš the cooperation between our countries, between Ukraine and the European Union, as well as our joint opportunities to protect Europe from the crises that Russia organizes, including the food crisis.

Greece. I was glad to hear the words of sincere support for Ukraine. Mr. Prime Minister and I have the same vision of the historical significance of the decision that is expected from the European Council.

Sweden. Prospects for bilateral cooperation and cooperation at the level of European structures were discussed with Prime Minister Andersson.

Estonia. Thanked Mrs. Prime Minister Kallas for her continued support of Ukraine. The priorities of our cooperation and the agenda in the context of the NATO Summit in Madrid next week were discussed.

Czech Republic. Fruitful conversation with Mr. Prime Minister Fiala. The priorities of the Czech presidency of the Council of the European Union in the next six months were discussed. And now I am sure that the voice of the Czech Republic is in favor of Ukraine.

Belgium. I thanked Mr. Prime Minister De Croo for supporting our European perspective and invited him to visit Ukraine. I hope that Belgium will take a significant part in the post-war reconstruction of our country.

Austria. I am grateful to Chancellor Nehammer for the political and humanitarian support, for understanding the needs of Ukraine. We can do a lot to develop relations between our states.

Slovenia. We agreed with Mr. Prime Minister Golob that we can strengthen cooperation between our countries. I thanked him for the consistent support of the candidacy for Ukraine.

Moldova. I spoke with President Sandu. We supported each other on the eve of an important meeting of the European Council. And we will help each other to complete this path to the European Union faster.

Today I spoke again with President of Lithuania Gitanas Nausėda. I expressed full support to him over the situation around the Kaliningrad region of Russia.

Tomorrow I will continue this marathon – we must provide maximum support to our state. We expect a key European decision tomorrow night.

The occupiers struck at Mykolaiv, seven missiles. Fortunately, no one was killed. Five people were injured. There were strikes at the Kharkiv region as well. There are casualties. There were strikes at the borders of the Chernihiv and Sumy regions.

In Donbas there are massive air and artillery strikes. The goal of the occupiers in this direction remains the same – they want to destroy the whole Donbas step by step. Entire. Lysychansk, Slovyansk, Kramatorsk – they aim to turn any city into Mariupol. Completely ruined.

That is why we repeatedly emphasize the acceleration of weapons supplies to Ukraine. Parity is needed on the battlefield as soon as possible to stop this devilish armada and move it beyond the borders of Ukraine.

I am grateful to the United States for its assistance in investigating war crimes in Ukraine. I am grateful to Mr. Eli Rosenbaum for his willingness to join in the establishment of justice – he is one of those American investigators who managed to expose many Nazis. Our joint investigation team must be as strong as possible so that none of the Russian criminals avoid punishment. And this will be one of the largest contributions to the protection of international law and order of our time. Just as September 1, 1939 and June 22, 1941 ended in Nuremberg trials, February 24, 2022 must end in a fair tribunal. Russia must be held accountable for all the evil it has brought to Ukraine.

Today I signed a new decree on awarding our heroes. 195 combatants were awarded state awards, 17 of them posthumously.

Eternal memory to all whose lives were taken by the occupiers!

Eternal glory to everyone who fights for Ukraine!

We are preparing for the historic decision of the European Council, there are only a few hours left.

Glory to Ukraine!
There was no operational update today from Ukraine's MOD. Nor was their a DOD backgrounder today.
Here is today's assessment from Britain's MOD: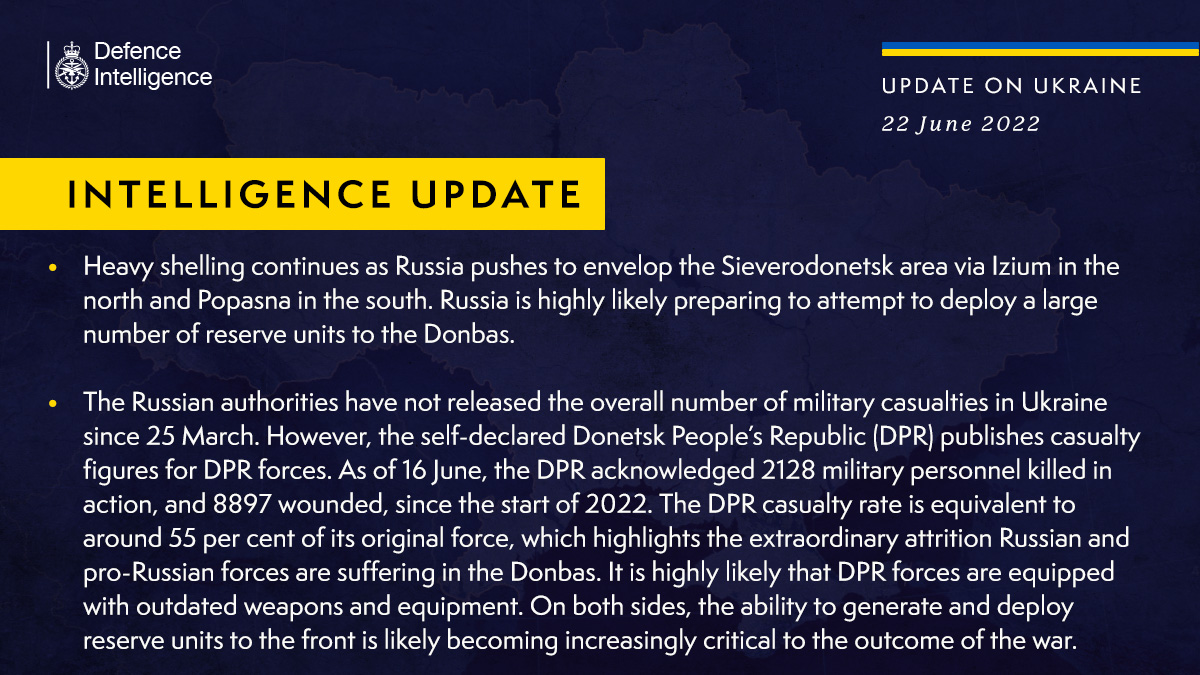 And here's their updated map for today: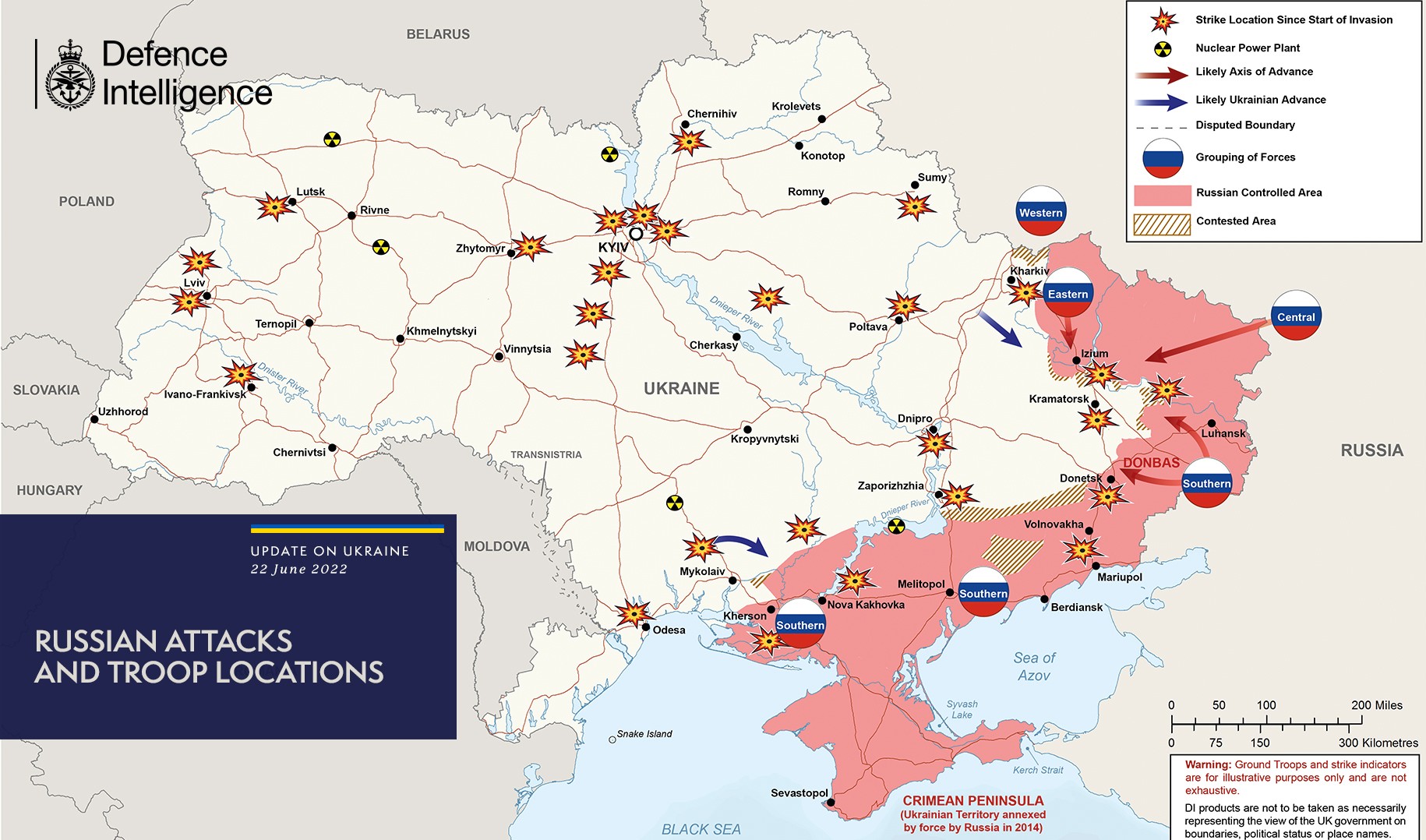 We're still at the same place we've been for several weeks: not a lot of movement being reflected on the maps overall.
Here's former NAVDEVGRU Squadron Commander Chuck Pfarrer's updated map and analysis on the battle for Sievierodonetsk:
SIEVERDONETSK / NEW MAP PROJECTION / 2130 UTC 22 JUN/ Wider area map showing approximate RU holdings in the vicinity of Sieverodonetsk. UKR continues defensive Ops As RU exhausts resources & morale, it may gain territory, but is unlikely to defend it against UKR counter-attack. pic.twitter.com/t3mL5H5Xye

— Chuck Pfarrer (@ChuckPfarrer) June 22, 2022
He also brings us another example of partisan activity in occupied Kherson:
INDIAN COUNTRY: RU occupiers face the threat of Ukrainian Special Forces and Partisans. @Johnyrocket69 has posted this video of a Partisan / SOF attack on RU forces near Kherson. RU is discovering that it's one thing to seize UKR territory, but quite another to hold it. https://t.co/9QpVb6w3IB

— Chuck Pfarrer (@ChuckPfarrer) June 22, 2022
We also have video of Ukrainian forces using a kamikaze drone to attack a petroleum refinery in Rostov Oblast, Russia!
Here is some video of the immediate aftermath. The PD-1 and PD-2 have a max payload of 22kg; but in this instance it is quite possible that the drones have been modified to carry a larger warhead.

Either way, a fascinating example of modern warfare. pic.twitter.com/4V76nAOmPv

— 🇺🇦 Ukraine Weapons Tracker (@UAWeapons) June 22, 2022
We also have some sudden Russian personnel changes. First up is retired FSS Colonel Vadim Zimin, who carried Russia's equivalent of the nuclear football for Putin. Zimin was found shot in his home over the weekend. Fox3 News has the details:
In the kitchen of his apartment in Krasnogorsk, which is located in the Moscow region, he was discovered dead from gunshot wounds.

Zimin was discovered by his brother, who, according to reports, had been hiding in the bathroom during the shooting that took place on Monday.

He was injured in the head and was laying in a pool of blood; a pistol marked Izh 79-9TM was lying nearby.

According to Moskovsky Komsomolets, the incident took place while Zimin was the subject of a criminal investigation for the alleged accepting of bribes after being promoted to a prominent job within the customs department.
US News & World Report is reporting that Putin has replaced his theater commander, again!
The Russian government appears to have fired top commanders for its invasion of Ukraine and replaced them with lower ranking officers, an unusual shake-up in the midst of an ongoing military operation that analysts say represents a "possible purge."

The Institute for the Study of War in an analysis note published early Wednesday assessed that Russia will appoint a new commander for the headquarters overseeing operations in the region that includes Ukraine while also replacing the commander for the war itself – which Russian President Vladimir Putin insists on calling a "special military operation" – with a senior officer not currently commanding combat troops.

Similarly, the Kremlin appears to have fired the current head of the elite Russian airborne forces and replaced him with Colonel-General Mikhail Teplinsky, the current chief of staff for the military headquarters overseeing operations around central Russia – the region stretching from the Ural mountains to Siberia.

The institute, which has fastidiously documented Russian operations since its invasion on Feb. 24, assesses the moves indicate the Kremlin "may be in the process of radically reshuffling the command structure of the Russian invasion of Ukraine, indicating a possible purge of senior officers blamed for failures in Ukraine."

"Such drastic rotations within the Russian military, if true, are not actions taken by a force on the verge of a major success and indicate ongoing dysfunction in the Kremlin's conduct of the war," the institute's analysis note concluded.

Moscow has not commented publicly on the moves, though Teplinksy on Tuesday oversaw a medal ceremony for paratroopers and drone operators who distinguished themselves in the Ukraine war, state news reported.

The shake-up comes amid Western fears that the conflict is settling into a grinding war of attrition as it ends its fourth month as well as indications that it is becoming unsustainable for Russia's military.

Appointing a new commander for the headquarters that oversees Ukraine, known as the Southern Military District, combined with a separate appointment for the war itself "is a drastic step that would speak to severe crises within the Russian high command, and possibly a purge by the Kremlin," the institute said.
More at the link.
On Monday we got word that the German government expects that Finland and Sweden will be admitted to NATO:
The full report from the German government source, which suggests that the impasse with Turkey on Sweden and Finland's NATO membership might finally be nearing an end pic.twitter.com/rh60bG2VMY

— Samuel Ramani (@SamRamani2) June 20, 2022
Which is good because Finland has been paying attention to Russian provocations regarding Estonia and Lithuania:
#Finland is ready to fight #Russia in case of attack

"Finland has been preparing for a Russian attack for decades and will offer fierce resistance if it happens," said Armed Forces Commander-in-Chief Timo Kivinen. pic.twitter.com/lYO83ZbCuw

— NEXTA (@nexta_tv) June 22, 2022
Yesterday a Russian  MI-8 transport helicopter violated Estonian airspace. Sky News has the details:
Estonia has accused Russia of violating its airspace for the first time by helicopter, in a highly provocative move ahead of a major NATO summit.

The Baltic state, a member of the NATO alliance, also said ongoing Russian military exercises are simulating missile strikes against its country daily.

"This is the picture of the threat. How we see the Russian threat… It has never been as serious as it is now," said Kusti Salm, the top civil servant at the Estonian defence ministry, speaking to journalists on Tuesday.

It also came just days before the heads of state and government of the 30-strong NATO alliance meet for a landmark summit in Madrid, where they are set to present plans for a fundamental reshaping of their defences in the wake of Russia's war in Ukraine.

Estonia said it has summoned the Russian ambassador to Tallinn to protest at the flight path of the MI-8 border guard helicopter, which it said entered Estonian airspace for two minutes without permission on Saturday evening.

The incident took place in the southern Koidula area, not far from the Russian city of Pskov, according to a statement from Estonia's military.

Mr Salm said there had been "multiple border violations by helicopters" from Russia over the past week.

He said one helicopter had crossed the border, while another flew very close. He described these helicopter incidents as having happened "several times in the region".

Russia is also conducting military exercises that include simulating missile strikes on its Baltic neighbour.

"It is real life. They are actually simulating missiles attacks against NATO territory and letting us know that they are doing this," Mr Salm said.
More at the link.
Putin has also decided to rattle his sabre at Lithuania. Lithuania, in a move to fully enforce the EU sanctions on Russia, announced this week that it would block the shipment of goods from Russia to Kaliningrad. Putin was not amused. Reuters has the details:
VILNIUS, June 22 (Reuters) – Lithuania will be prepared if Russia disconnects it from the regional power grid in retaliation for blocking rail shipments of some Russian goods to Moscow's Kaliningrad exclave, but no military confrontation is expected, its president told Reuters.

He spoke after the Kremlin warned Lithuania on Tuesday that Moscow would respond to the ban on the transit of goods sanctioned by the EU to Kaliningrad in such a way that citizens of the Baltic state would feel the pain. read more

With relations between Moscow and the West at a half-century low over Russia's invasion of Ukraine, Lithuania banned the transit of goods sanctioned by the European Union across its territory to and from Kaliningrad, citing EU sanction rules.

Kaliningrad is sandwiched between NATO members Poland and Lithuania and supplied by rail via the territory of Lithuania.

Lithuania shut the route for transport of steel and other ferrous metals from mainland Russia on Friday, saying it had to do so under EU sanctions that took effect that day.

"We are ready and we are prepared for unfriendly actions from Russia (in response), such as disconnection from the BRELL (power grid) system, or others," Lithuanian President Gitanas Nauseda said in the interview on Wednesday.

Thirty years after seceding from the then-Soviet Union and 17 years since joining the EU, Baltic states Lithuania, Latvia and Estonia still depend on Russia for stable power supplies.

However, Lithuania installed equipment on its power link to Poland last year to connect with the continental European grid quickly as an insurance policy in case Russia cuts off the flow of electricity, potentially causing blackouts.

Nikolai Patrushev, secretary of Russia's Security Council on Tuesday promised retaliation that "will have a serious negative impact on the population of Lithuania", while the top EU envoy in Moscow urged Russia to refrain from "escalatory steps and rhetoric". read more

Nauseda said: "I do not believe that Russia will challenge us in military sense, because we are a NATO member."

He said he will bring up the stand-off at a NATO summit next week when the alliance will weigh whether to boost troop levels in member states nearest to Russia, like the Baltics.

"It would not be a mistake for us to use this example (standoff) to illustrate what Russia really is, and what methods and threats it uses to solve its problems," said Nauseda. "It might calm down those who say that we must help Russia to save face – while it threatens us in a cocky manner."

Nauseda also said Lithuania felt the solidarity of other EU countries in the stand-off, and will be expanding the list of goods it bars from reaching Kaliningrad, as phase-in periods for the EU sanctions are reached.

"We feel the support of the European Union, because this is a decision made by the European Union," he said.
More at the link.
Here in the US, the US Intelligence Community is very worried about increased Russian active measures and the effect on both domestic American politics and American support for Ukraine. The Daily Beast has the details:
Ever since Russian President Vladimir Putin launched a war in Ukraine this February, his ouster has been predicted up the wazoo; the invasion hasn't been the quick success he'd hoped it would be, his insider circle has been itching to get rid of him, and he's rumored to have cancer.

But rather than counting on exiting the political scene in dramatic fashion, Putin might be betting that he can somehow outlast his detractors as well as the Biden Administration, whose security assistance for Ukraine has been pivotal in keeping a Russian win at bay. And part of Putin's plot to outlive the Biden administration is likely to include influence operations aimed at securing an American political environment that's more favorable to his goals, former CIA and Department of Homeland Security officials told The Daily Beast.

That scheme will inevitably aim to influence voters participating in both the midterms and the presidential election in 2024 in an attempt to get candidates elected who are somehow more sympathetic to Putin, according to Daniel Hoffman, a former CIA Moscow chief of station.

"He's going to try really, really hard to… exacerbate those isolationist tendencies and kind of induce us to question, 'Why are we supporting Ukraine?'" Hoffman said. "He's trying to dilute U.S. support for [Ukrainian President] Zelensky."

Already, Russian influence operations targeting American and Western audiences appear to be weakening Americans' support and appetite for providing aid to Ukraine, according to a U.S. intelligence community bulletin obtained by The Daily Beast.

The May intelligence bulletin from the Office of Intelligence and Analysis at the Department of Homeland Security says the Kremlin's influence arm has focused Russian influence operations that are targeting American audiences almost entirely on the war in Ukraine. Russian state media and proxy information operations are working to paint Western support for Ukraine as the reason the war is dragging on so long, and the reason there is a growing food crisis. Never mind the fact the conflict and grain export problems exist because Putin chose to invade Ukraine in the first place.

"Outlets claimed… that Western nations prolonged the conflict by sending military aid to Ukraine," reads the intelligence brief, which focused on Russian information operations in May. "Outlets claimed that Western actions were causing global food prices to soar."

The intelligence team also assesses that the Russian government remains one of the primary threats to the United States due to its "malicious cyber operations against federal and state, local, tribal, and territorial governments, election organizations," and more.

The Russian influence shops have also particularly been zeroing in on the idea that Western security assistance to Ukraine has been escalating the war.

These kinds of narratives are only likely to increase in the coming days as Putin seeks to shore up his power, according to Brian Harrell, a former Assistant Secretary at the Department of Homeland Security.

"As health related rumors swirl surrounding Putin, I suspect we will see an uptick in propaganda and even counter-messages from loyalists," Harrell told The Daily Beast.

Any good spy will tell you it's impossible to get inside Putin's head. But Russian information operations can offer a clue. In distracting Americans from supporting Ukraine, and as Russian forces continue to try to take key Ukrainian cities, Putin is likely hoping that he can stave off defeat in Ukraine and therefore stave off an ouster, too.

"Putin's thinking: 'I can outlast all you people. And if I get this to 2024, I might get a Republican who doesn't feel like Joe Biden,'" Hoffman told The Daily Beast. "They're students of American politics. Of course he's going to look at the midterms and he's looking at anybody who's… against the war in Ukraine."

Russian election interference may also include efforts to advance politicians or themes that would reverse sanctions against Russia, according to Gavin Wilde, a former director for Russia, Baltic, and Caucasus affairs on the White House National Security Council.

"Their major headache has been the idea that Washington is kind of facilitating Ukraine's westward geopolitical tilt," Wilde, who contributed to the U.S. intelligence community's assessment of Russian interference in the 2016 presidential election, told The Daily Beast. "To the extent that they can both delegitimize that in Ukraine proper as well as delegitimize those forces in Washington, D.C. and break that strain of support over the longer term, that's kind of the major end goal."

Russia has long intervened in American politics by choosing a preferred candidate to support in influence operations. In 2016, Putin developed a preference for Donald Trump's candidacy, according to a Senate Intelligence Committee assessment. In the buildup to the 2020 presidential elections, Putin had Russian influence operations denigrating Biden's candidacy while supporting Trump's reelection, according to a National Intelligence Council briefing on the matter.

Russian proxies and information operations teams have also worked to meddle in U.S. politics by exacerbating existing divisions in the United States in order to sow discord and create distrust in the U.S. government. Even before the coronavirus pandemic, vaccination debates were a favorite of the Kremlin. Between 2014 and 2017 Russian influence operations linked to the Russian government Internet Research Agency (IRA) focused on pumping both pro- and anti-vaccination narratives online to amplify divisions around vaccination in the United States. In the buildup to the 2016 presidential elections, Russia's Foreign Intelligence Service (SVR) aimed to stoke racial divisions by creating fake Black Lives Matter groups on Facebook. In 2020, Russian efforts focused on inflaming racial tensions and on duping real journalists to publish posts that would inflame political tensions.

Some of Putin's influence operations in the coming months are likely to try to dig in on existing divisive issues to create more tension and drama in the United States, just as Russian operations have before, both to sow discord and distract from the war in Ukraine.

"Certainly there's probably a line of thought out of Moscow that any country if distracted by its own internal problems will have less of an appetite for foreign problems," Wilde told The Daily Beast. "All politics are local in that sense and I think the Kremlin certainly grasps that—that might be one kind of avenue through which to kind of limit Washington's appetite or capacity to support Ukraine."

And according to a second intelligence bulletin from the Office of Intelligence and Analysis that The Daily Beast obtained, the intelligence community already believes that the Kremlin is seeking to interfere in the midterm elections this year.

"We expect Russian interference in the upcoming 2022 midterm elections, as Russia views this activity as an equitable response to perceived actions by Washington and an opportunity to both undermine U.S. global standing and influence U.S. decision-making," the June intelligence bulletin, which was first reported by CNN, reads.

The DHS intelligence team expects the Russian government to continue to rely on troll farms, state media outlets, and other proxies online to spread pro-Russia narratives and to try to divide Americans in the coming months.

"We assess that Russia will continue malign influence and interference activities designed to undermine U.S. global prestige, sow division among the American public, undermine faith in U.S. democratic institutions, and portray Russia as a global power," the intelligence brief states.

One topic Putin might be eyeing is support in the United States for Europe, and in particular, U.S. dedication to the North Atlantic Treaty Organization and other security assistance to Ukraine and Europe, according to Wilde.

"There's going to probably be, by 2024, a crystallized debate about the degree of U.S. commitment to Europe… including Ukraine," Wilde said. "Putin is very well aware that that debate is probably only going to become more acute."

Part of the Kremlin's information operations tactics to undermine the U.S. political process will be aimed at suppressing the American vote by dissuading voters from showing up to the polls, the report states.

"Russian malign influence actors likely will attempt to dissuade U.S. voters from participating in the 2022 midterm elections using similar tactics employed during the 2020 and 2016 presidential elections, such as targeting audiences with false information about voting logistics, exacerbating racial tensions, and levying attacks or praise on candidates from either political party," the report states.
More at the link!
For those of you who remember the analysis that John sent around as a newsletter and then someone subsequently posted at the backup site, I wrote this back when the site was down:
A significant problem giving forward is that donor fatigue in the US has already started to set in. For instance, in anticipation of the Senate finally voting to approve the $40 billion aid package for Ukraine, Senator Rubio stated that he expected that senators from both the Democratic and Republican party would defeat Rand Paul's filibuster/objection, that aiding Ukraine is the right thing to do, but they – and they was undefined, it was unclear if it was Ukraine or the Biden admin or both – cannot just keep coming back to Congress asking for $40 billion after $40 billion. Given the number of isolationist Republicans (57 as of 18 MAY) that have coalesced around Representative Massie (R-KY) and his position that the US should not provide any aid to Ukraine, should the Republicans retake the House majority, let alone recapture both chambers of Congress in the November 2022 elections, funding will most likely be greatly reduced if not turned off entirely.

This is not because there is not currently a majority in the House between both the parties for providing support, but because with 50 to 60 Republican representatives who are now siding with Massie in his opposition to providing any funding, the Republicans will not have a majority of their own majority to pass the funding legislation. When in the majority the House Republican Caucus operates based on a caucus specific rule known as the Hastert Rule. The Hastert Rule states that unless there is a majority within the Republican House Caucus to pass any specific piece of legislation, then that legislation will not be brought up to a vote. Even if it has majority support overall in the House. While the Hastert Rule has often been waived to prevent a government shutdown or fund disaster aid to US states when the Republicans have had a majority in the House, it is intended to heighten the partisan divide between the parties by functionally excluding the Democratic Caucus in the House from participating in legislating. As a result, any significantly large enough group within the Republican caucus can prevent a House Republican majority from legislating This was done repeatedly to Speakers Ryan and Boehner by the Republican Freedom Caucus, which was the successor to the Republican Tea Party Caucus.

Additionally, war skepticism, specifically concern over the Biden administration's strategic objectives in regard to supporting Ukraine, has been adopted as the editorial line by the editorial board at The New York Times. The two poles, or boundaries, of American news media are The New York Times and Fox News. Fox News early on staked out a position of both skepticism of American support for Ukraine among its more journalistic oriented reporting and outright pro-Putin/pro-Russian agitprop as espoused by Tucker Carlson who is Fox's most watched commenter. Clips of Carlson and his guests, as well as other Fox segments, are regularly promoted on Russian state controlled news and news analysis programs. The other pole, The New York Times, is the de facto editor for all the political reporting in the US other than Fox News. Whatever position The New York Times takes will be quickly picked up by the rest of the US news media. To have the de facto editor for all political reporting in the US adopting a skeptical position to the US's support for Ukraine as one pole for American journalism while Fox News had already established outright hostility to the US's support for Ukraine as the other, will constrain how American reporters and news outlets cover Ukraine's defense against Putin's re-invasion going forward. It will drive war skepticism among Americans and provide the isolationist wing of the Republican Party, especially of the House and Senate Republican Caucuses, with the excuse they need to try to cut off further American support to Ukraine.

If I were advising the Ukrainian MOD, I would be recommending they ask for everything they think they're going to need and ask for it immediately because come next January, there is a good chance the majority in at least the House, if not both chambers of Congress will have changed hands. If that does happen, the Ukrainians will likely get nothing once the new Congress is sworn in.
You may also remember my post from June 4th where I also discussed these concerns:
What Putin is trying to do is achieve subordinate goals that will then function as ways to achieve his primary strategic objectives and ends. If Putin can create a large enough food crisis in parts of the Middle East and Africa, then he believes he can kick off another refugee crisis just like he did between 2014 and 2016 from his actions in support of Assad in the Syrian civil war. It is important to remember that the Levant is still suffering from over a decade of drought, which has hit Iraq particularly hard. Moreover, mercenaries, commonly referred to as the Wagner Group, working for Progozhin's subsidiary mineral extraction companies are currently operating across and through the Sahel. They are creating significant problems in the Central African Republic, parts of Sudan, and Mali. They're also a major problem in Libya. So they have the ability to create population outflows through violence as well as famine. We already know that India isn't going to make its stockpile of grain available for export. Modi has decided to sit on it. If Putin's theft of Ukrainian grain or interdiction of it preventing it from being brought to market is successful, he believes he can create a food scarcity crisis that will overwhelm the EU states. At the same time, if his theft and/or interdiction of Ukrainian grain also creates a food scarcity crisis in Ukraine, then he can increase the outflow of Ukrainians into the EU as refugees as well. This refugee crisis of Ukrainians, as well as people from parts the Middle East and parts of Africa is intended to provide an opening for the extremist nationalist and fascist movements and parties he supports in the EU states to make electoral, other political, and societal gains. He also intends for the refugee crisis to create an informational and ideational space for the blame to be placed on the Ukrainians, especially the Ukrainian refugees. The Russian information warfare around the grain and refugee issues is already setting the conditions for this.

I think this strategy could be partially successful. Right now the soft to almost indifferent parts of the EU regarding Ukraine and her defense against Putin's re-invasion are Germany, France, Italy, and Hungary. Hungary for obvious reasons resulting from who Orban is, his own history, and his alliance with Putin against the rest of the EU. Italy, especially its news media, has been particularly susceptible to Russia's information warfare campaign against Ukraine. We've covered what is going on with Germany a number of times. Though this new Der Spiegel reporting is interesting. As for France, Macron seems to have completely lost the plot based on today's reporting.

What I think could happen is not that the EU or NATO will split, but they'll simply become irrelevant to the process. You'd see the Baltic states, Poland, Norway, Finland, Sweden, the Czech Republic, the Slovak Republic, Britain, Canada, Australia, New Zealand, Japan, and the US – provided what I'm worried about doesn't happen in November – continue to support Ukraine while Germany, France, Italy, Hungary either wind up somewhere between ineffectually useless (Germay, France, Italy) or outright hostile (Hungary). The other EU and NATO members will chip in when and where they feel they can and it is in their interests.
So you will not be surprised that I think the assessments that The Daily Beast reporting refers to is spot on!
That's enough for tonight.
Your daily Patron!
🐕Dog Sapper Patron received reinforcements

Two drones – air reconnaissance and submarine – will help Patron and his colleagues in demining the occupied territories.

The equipment was handed over to SES units by Rinat Akhmetov's DTEK. pic.twitter.com/m2H6MT0TIR

— ТРУХА⚡️English (@TpyxaNews) June 22, 2022
And four footed backup too!
A working dog 🐕in #Ukraine 🇺🇦 trained like patron to sniff out mines 💣 #StandWithUkraine #UkraineRussianWar #dogs pic.twitter.com/FFl3VueUZx

— Steven Thomas (@aNdr0iz) June 22, 2022