The bivalent vaccine, which Moderna has said it hopes will be authorized for use in the U.S. this fall, is designed to target both the original omicron variant and the original coronavirus strain in a single shot.

— Breaking News (@BreakingNews) June 22, 2022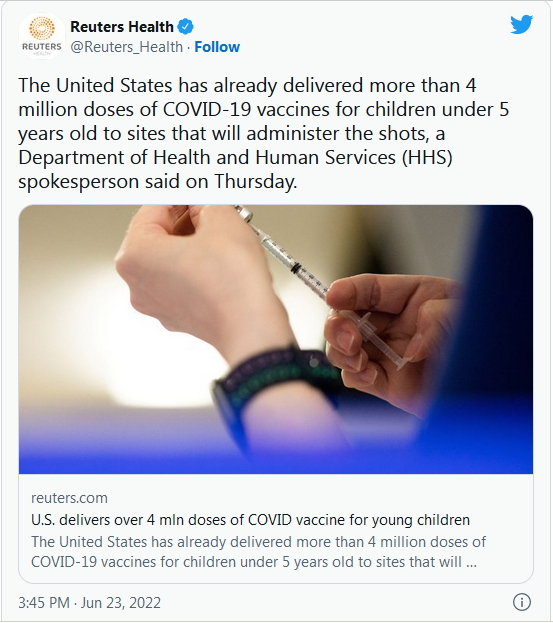 The White House Covid czar—Dr. Ashish Jha—says he's still optimistic about more aid despite recent Republican objections. Billions of dollars in Covid emergency aid are stalled in Congress. But while Jha may be optimistic, Republicans remain pessimistic https://t.co/H3XiGFuwKa

— delthia ricks (@DelthiaRicks) June 24, 2022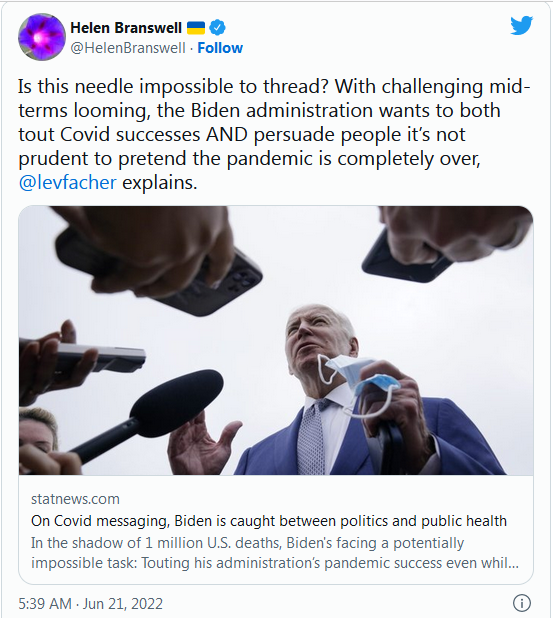 … Biden spent the 2020 campaign arguing that he was better equipped to handle Covid-19 than President Trump. But now, in the shadow of 1 million U.S. deaths, he's facing a potentially impossible task: Touting his administration's pandemic success even while reminding Americans that it's nowhere near done.

In an interview with STAT, Ashish Jha, the Biden administration's pandemic response coordinator, acknowledged the challenge of preaching optimism and caution at the same time.

"I don't think of it as glass half-empty or glass half-full — we're just trying to accurately describe the situation we're in," he said. "Obviously, we're in a much better place than we were 16 months ago."

At the same time, Jha said, the status quo of 100,000 new Covid cases and 300 deaths each day is "not acceptable."…

Biden does have reasons to celebrate. Since he took power, a large majority of the country has been vaccinated — many have received boosters, and some older or immunocompromised people have even had a fourth dose. Death rates have plummeted. Only about 25,000 people in the U.S. are currently hospitalized with Covid, compared to about 150,000 in January.

More recently, the Biden administration has touted its efforts to make the antiviral drug Paxlovid widely available, ship free rapid tests to Americans' doorsteps, and offer Covid-19 vaccines to children under 5. Broadly, those advancements have allowed many people to return to something resembling a pre-pandemic "normal."

Highlighting those achievements isn't necessarily a political move, said Tom Inglesby, a Johns Hopkins epidemiologist and Biden's former Covid-testing czar.

"I would not say the administration is trying to sell the story," he told STAT in an interview. "They're trying to describe where we are. It's not easy to get it out in one sentence, but there's a clear throughline: It's a lot better, but a lot of people remain at risk."…

It's possible that the administration has been a victim of its own success. Since taking office, Biden has made good on promises to make tests, vaccines, and Covid medications widely available — perhaps emboldening many Americans to resume activities once seen as risky.

"The kind of interventions that people were willing to take during the first year of the pandemic — in terms of interruption of their lives — are no longer a thing," Inglesby said….

The White House has repeatedly asked Congress to allocate roughly $10 billion to support its pandemic response. Without that funding, Biden officials warn, the country could experience an acute shortage of vaccines, tests, and antivirals this fall and winter — when they project case rates could once again surge.

The disconnect leaves the White House operating via split-screen: a positive message for Americans and a negative one for the lawmakers who represent them in Washington. It is a needle, experts say, that might be impossible to thread.

"It's hard, because Congress won't pay attention," Lurie said. "But by the same token, if you over-exaggerate it, then you're not taken seriously."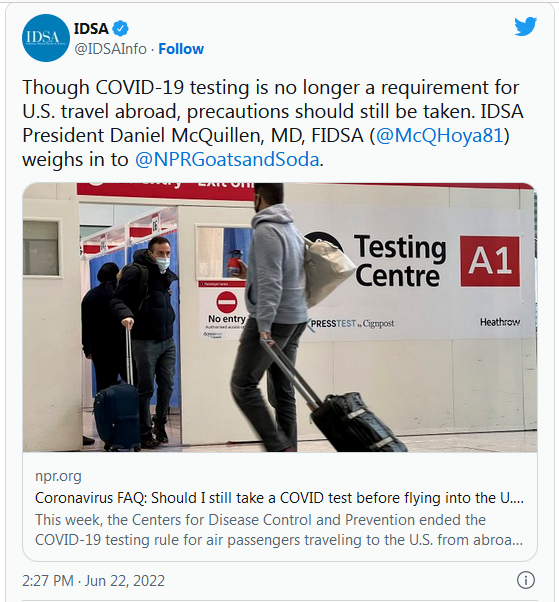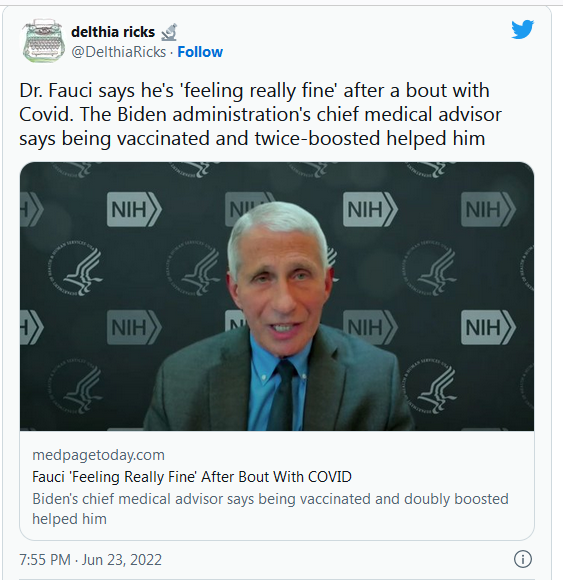 ======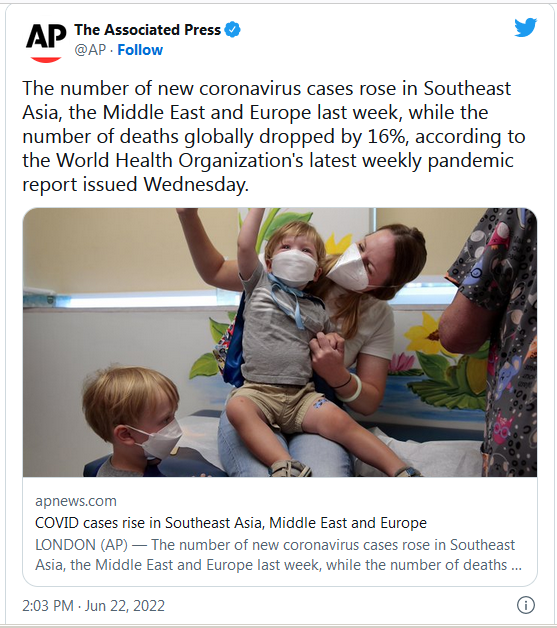 … The WHO said there were 3.3 million new COVID-19 infections last week, marking a 4% decrease, with more than 7,500 deaths. But cases jumped by about 45% in Southeast Asia and the Middle East, and by about 6% in Europe. Southeast Asia was the only region to report a slight 4% increase in deaths, while figures fell elsewhere. Globally, the number of new COVID-19 cases has ben falling after peaking in January.

Salim Abdool Karim, an epidemiologist and vice-chancellor at the University of KwaZulu-Natal in South Africa, said the recent fall in COVID-19 numbers had reached "trough" levels and had not been seen much in the last two and a half years. He warned, however, that some countries, including Britain, were starting to see a slight resurgence in cases…

The country dropped nearly all of its COVID restrictions months ago. Last week, the U.K. recorded a 43% rise in cases following the street parties, concerts and other festivities celebrating Queen Elizabeth II's platinum jubilee earlier this month, that marked her 70 years as monarch.

Meanwhile in the U.S., officials began rolling out vaccines for the littlest children late last week, with shots for kids aged six months to five years…

While young children generally don't get as sick from COVID-19 as older kids and adults, their hospitalizations surged during the omicron wave and American experts determined that benefits from vaccination outweighed the minimal risks.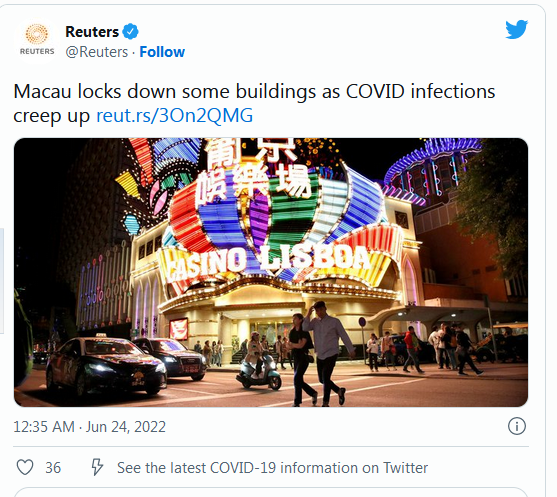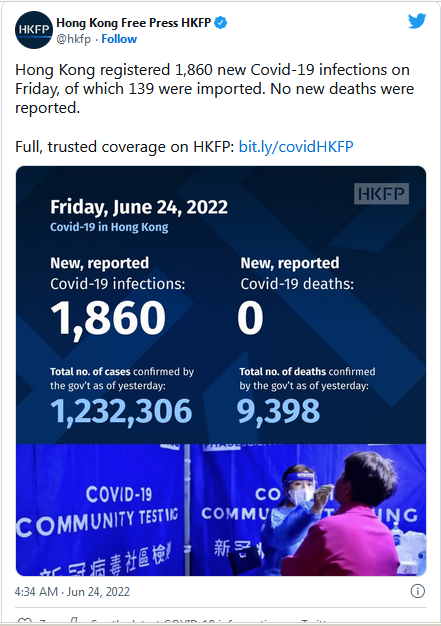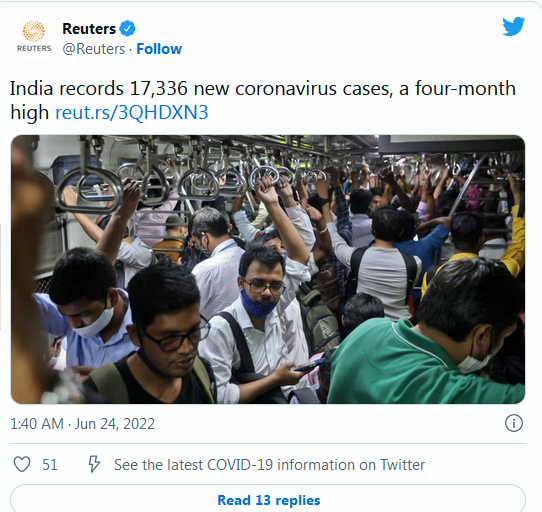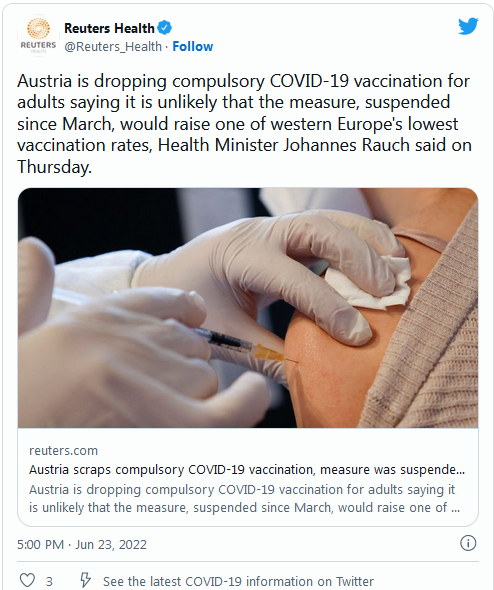 Thread on England:
A combined hospital stats and primary diagnosis update today, starting with a further leap in admissions.

Today's 1,155 is up 51% on last week , and takes the 7 day average up to 920 (40% up on the week), already more than double the recent low (439) seen on June 3rd.

— John Roberts (@john_actuary) June 23, 2022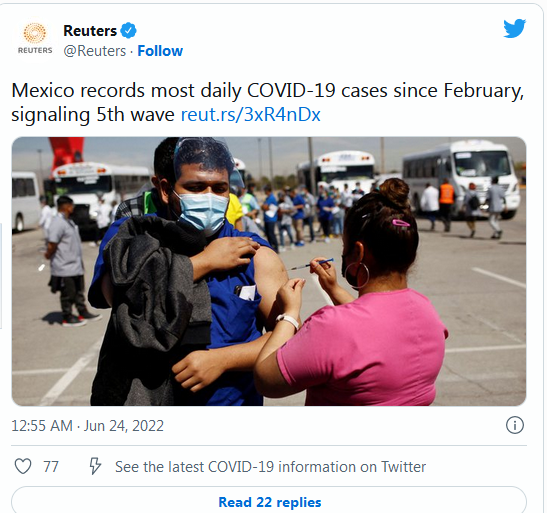 ======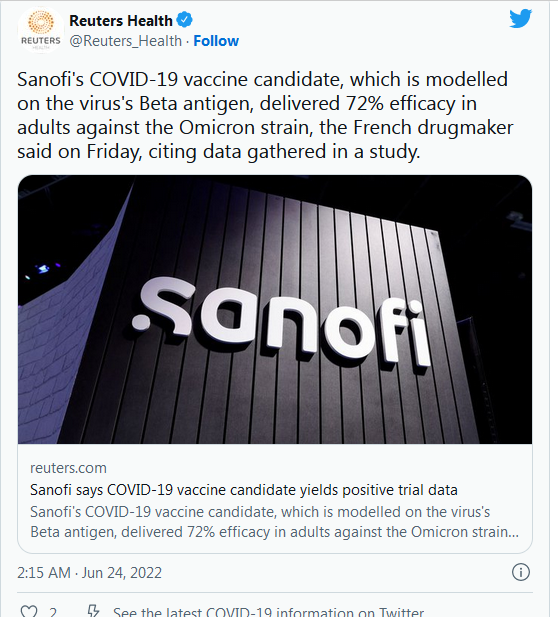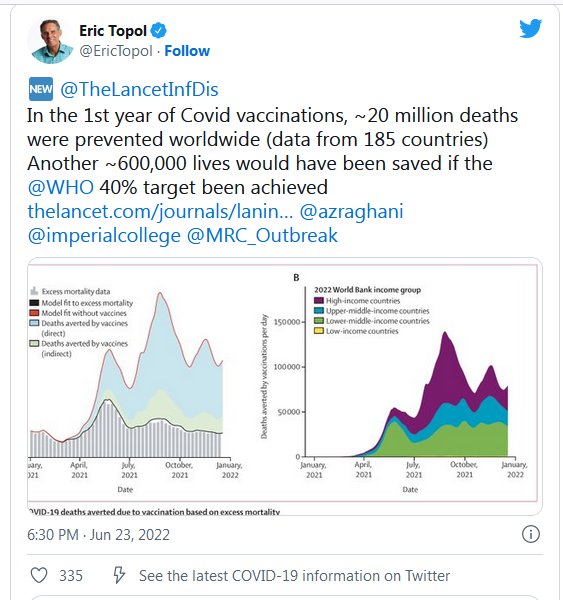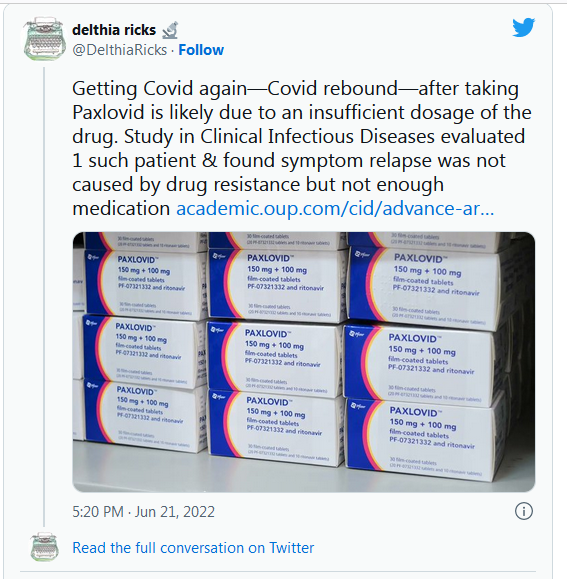 ======
New CDC "community levels" are out

Under the pre-Feb 25th guidance, universal indoor masking would be recommended in 94% of counties. Under the new guidance, universal indoor masking is recommended in 12% of counties.https://t.co/bOHHirOOwr pic.twitter.com/N9dvfClGzy

— wsbgnl (@wsbgnl) June 23, 2022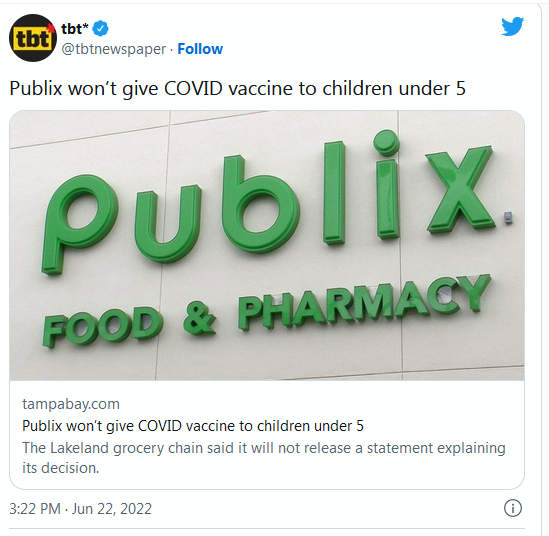 Per the Washington Post:
… While almost all of the country has taken part in the nation's vaccine rollout for children, Florida has pushed back on what the state's health department described as a "convoluted vaccine distribution process." Florida Surgeon General Joseph Ladapo has repeatedly questioned the safety and efficacy of the shots, despite robust evidence that they protect against severe illness and death. In March, Ladapo went against CDC guidelines when he recommended against giving the coronavirus vaccine to healthy children because, he argued, they are at lower risk of severe illness from covid-19. The direction from the surgeon general was denounced by pediatricians and top infectious-disease experts, and the White House called it "deeply disturbing."

As the single largest vaccine supplier in Florida, Publix became a key part of DeSantis's vaccine rollout last year. The state's largest private employer received more than a quarter of the state's doses in 2021, according to the Times.

Publix has donated to both Democrats and Republicans, but the company notably gave $100,000 to DeSantis's political committee last year, campaign finance records show. The Post reported last week that Julie Fancelli, the 72-year-old Publix heiress, paid the speaking fee for Kimberly Guilfoyle, a fundraiser for former president Donald Trump and the fiancee of his eldest son, Donald Trump Jr., at the rally on Jan. 6, 2021, that preceded the Capitol riot. In the days leading up to the Jan. 6 rally, Fancelli wired $650,000 to several organizations that helped stage and promote the event…

Some companies have taken similar positions on vaccinating the youngest Americans during the initial rollout. Walmart, Walgreens, Sam's Club and Winn-Dixie are only vaccinating children as young as 3 years old, while CVS has opened up appointments for children as young as 18 months.