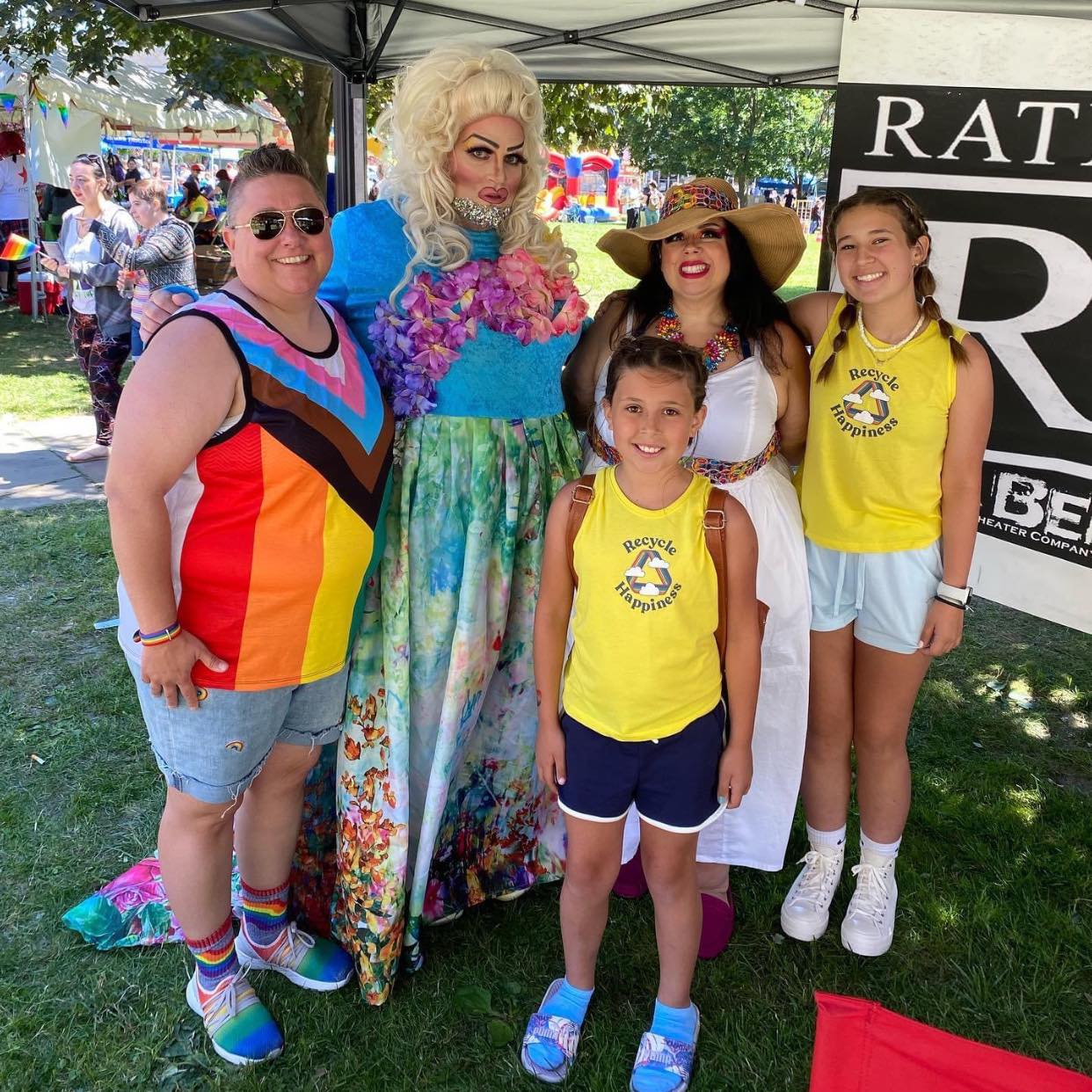 From Starrlet O'Hara:
Regarding The Incident At PRIDE

First and foremost, I need to thank everyone who has reached out to me this week. If I haven't responded, please know that I do appreciate your concern and your kind words. I just needed a minute to process this before I addressed it.

I was on stage for our Rust Belt Theater family friendly Kids Show, getting ready to announce the next performer… When a man with a megaphone rushed out of the crowd. He called me a "pervert." He said that I was "grooming" and "indoctrinating" children. He was also filming my reaction.

My first instinct was to tackle him. I did not. My second instinct was to scream back at him. I did not. I have been doing theater for children for over 25 years. As a performer I am always hyper aware of my audience and what I consider to be APPROPRIATE, especially when it comes to young people. In the words of the late, great Stephen Sondheim:

"Careful the things you say,
children will listen.
Careful things you do,
children will see.
And learn."

What I COULD do, was counter his message with my own, because the only way to banish the DARKNESS is to turn on a LIGHT. I took a deep breath, closed my eyes and started to sing. The first words that came to my mouth were…

"Somewhere over the rainbow, way up high…"

It's a song my Nana used to sing to me, probably the first song I ever learned all of the words to. It has always been a source of comfort for me when I needed it, and in that moment it was there for me once again.

The man with megaphone got LOUDER. He began to circle me, getting closer, becoming more and more agitated, screaming at the crowd…The crowd of CHILDREN, telling them I was a MONSTER. I was terrified, but I was determined not to show it.

"There's a land that I heard of once in a lullaby."

Then something unexpected happened…One by one, beginning with Esther Gin and Mrs. Goutfire, the other performers joined me. They linked arms with me, and started to sing along. We were then joined by people in the audience, singing in unison. Together we drowned his message of HATE with our message of HOPE. He had a megaphone, but I had a family.

In the end he ran off, pursued not by parents, not by security, but by queer and nonbinary teenagers. They were wearing pride flags as capes, like the heroes that they are.

"Birds fly over the rainbow, why then oh why can't I?"

By the end of the song, the darkness was gone, banished by the light. By progress. By the future. Afterward, several people asked me if it was all part of the show. I promise you it was not

After it happened I was determined not to let anyone see me cry. I took a moment in the dressing room to get myself together, and we just continued with the show…Because that's what we do. And what we do is important. This incident was a reminder of just HOW important.

Anyway….thank you for indulging me, and allowing me to get this out. I have been struggling with it all week and I'm hoping that writing down the experience will ease my mind a little. The anxiety, and especially the nightmares have been brutal. My mind is not always as kind to me as perhaps it should be.

"If happy little bluebirds fly beyond the rainbow…Why, oh why can't I?"

Please know that I love all of you, no matter what.

Here is a photo from that day with my two nieces, Ellie and Ema, who rode on the pride float with me.

"Careful the tale you tell
That is the spell,
Children will listen…"

-Robert Dennick Joki
AKA Starrlet O'Hara
Be an ally. This hate cannot stand.
Someone asked me what to do if you're afraid, afraid to confront the crazy person, afraid they are going to turn violent, but you still want to do something?  I agreed that confrontation is not the best response in this day of every bully has a gun.
I responded that if all you do is stand silent in solidarity beside someone who is the target of this hate, that means they are not standing alone. Hold their hand, put an arm around them. That can be more powerful than shouting back at the crazy.
Hate WILL NOT WIN
But I am afraid things are going to get worse before we turn the ship around. But we'll only turn the ship around if we all stand up and say "this is not okay."
Anyway, this is an open thread. I'm going to go pour some more coffee, maybe pet a critter or two so I can calm the fuck down.