As promised, I'll try and post Acts of Kindness a few times a week. I think we could all use the mental health break.
LAX to YYZ somehow was a 14 hour travel day. I thought I was having a bad day…. While picking up my guitar at baggage claim, I noticed 3 whimpering dogs in kennels. I asked the airport staff how long they were there for and I was told they were there for over 2 hours. 🧵

— Shawn Hook (@ShawnHook) June 6, 2022
I immediately went into dog dad mode and found a phone number on one of the kennels. I called it, and an Eastern European man answered. I told him the scenario and he said the dog belonged to his grand daughter that is a Ukrainian refugee and was travelling to Vancouver via

Toronto from Ukraine. He said she had no place to stay in TO before her next day flight to YVR. I told him I would stay with her dog and help his GD when she arrived. She arrived 30 mins later. She was very distraught. The reunion with her dog was equally heartwarming and

heart wrenching at the same time. I tried communicating with her but her English was as good as my Ukrainian. I spoke some Russian to her and she understood. Thankfully google translator allowed us to fill in the rest of the gaps. She desperately wanted to get outside to get some

fresh air for her and her pup. I helped her through customs and we found Red Cross which was set up just outside of the baggage area. Red Cross had 2 Ukrainian translators and other resources for her. Unfortunately, red cross wasn't able to get her accommodations in time before

her next flight. (She had a flight to YVR this morning at 10am). While still in dog dad mode and feeling the distress of both her and her dog, I booked her a room and an Uber to a pet friendly hotel nearest to YYZ. The translator at Red Cross explained to her what I was doing and

she shed a few tears and asked why I was helping. I told the translator, My ancestors were Eastern European refugees in 1900's. They too made a brave journey via ship from Russia / Ukraine to Canada. Booking a room for this poor woman was the least I could do compared to the

struggles so many refugees have faced and are facing right now. I helped her and her pup to the Uber. We shared an embrace, I may have shed a few tears as well as she waived at me from the Uber. Long story short, it put a lot into perspective. What I thought was a rough day was

nothing compared to what this woman and her poor dog had gone though. Next time you're having a "Bad day at the airport" think of Victoria and the journey she made. It's just the start for her.
And for those wondering, the other dogs he noticed were quickly reunited with their owners while he was there.
Two from Steeplejack, who likes to keep me stocked in kindness, but I'm kinda thinking he should include kleenex gift cards:
Pavlo Vyshebaba was three months at the front. He never parted with his daughter for such a long time. Now he was allowed a short visit and look at the present he gave her.

"Let all the kids hug their parents at last!" pic.twitter.com/FpAGz9JS8w

— Euromaidan Press (@EuromaidanPress) June 5, 2022
I've watched this one a few times and I still need the tissues. As I've probably mentioned before, the day my dad came back from Vietnam is seared in my memory – probably one of the most vivid of my pre-school years. So I feel all the feelz with these kids.
🏥 I went to discharge a toddler from the hospital and found a medical student in the room carefully bandaging her owl stuffy who had a "broken wing". He left the toddler clear "stuffy care instructions" and some stickers.

The future of medicine is bright ☀️

— Jessie Allan, MD (@DrJessieAllan) April 28, 2022
If you can click through on this one, lots of people had similar adorable stories.
View this post on Instagram
A lot of cities have these street pianos, but Boston is the only place I've been with them and someone is always playing one.
And finally, a personal kindness story:
About a month ago, some friends called me and told me that a friend of theirs since college was in the last stages of pancreatic cancer. As happens, this was a quick diagnosis, followed by an even quicker hospice. During his final days, their friend found an abandoned 4-5 week-old kitten in his garage. Of course, my friends promised to take care of him, get him well and find him a good home. This was the photo they sent me a few days later: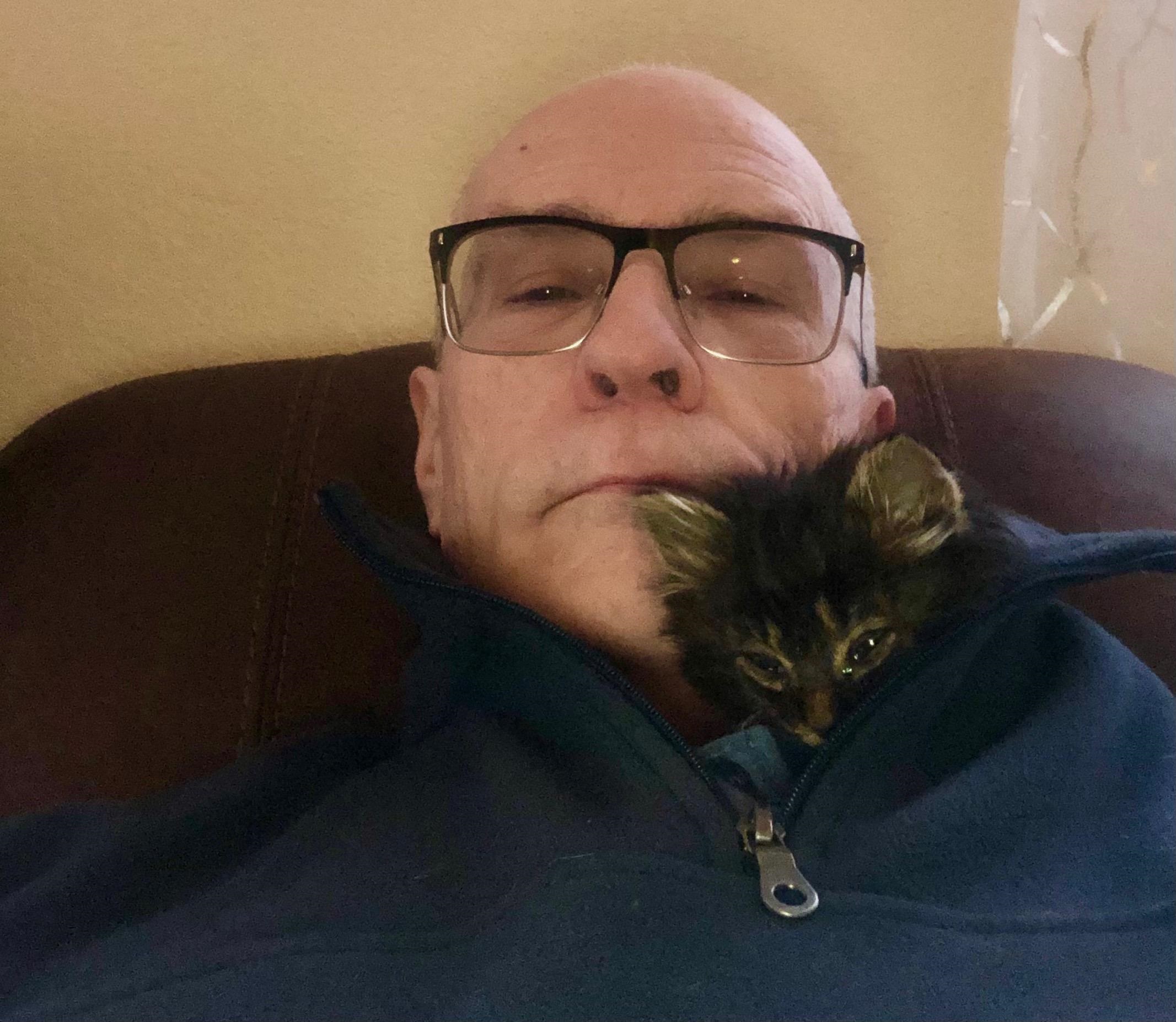 I knew then he wasn't going anywhere. Their only concern was they were afraid he outlive them, so I promised if that was the case, he could come live with me. After all, I have contingency plans for all my critters, I'm happy to be "god-parent" to this fluffball. They named him after their friend who passed. To say he has helped with their grief would be an understatement.
That's it for today. I'll try for the next one on Wednesday. Until then, be kind to yourself.
And send me Acts of Kindness when you find them.  And if you have sent me some, know they are in the queue.