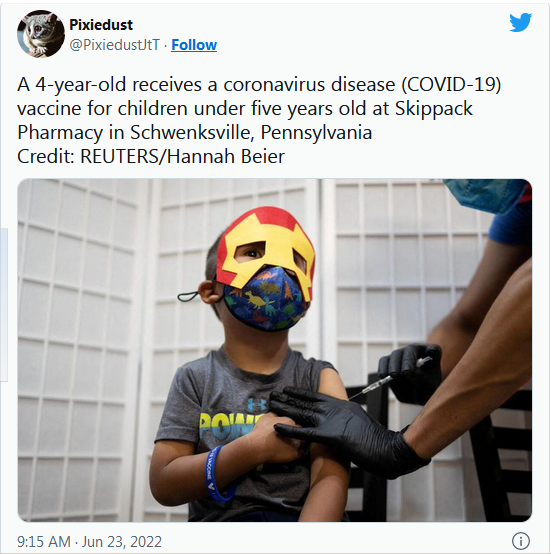 The COVID-19 Vaccine was one of mankind's greatest accomplishments. It saved a World War's equivalent of lives. https://t.co/s37XmB6zHN

— Scott Imberman (@imbernomics) June 26, 2022
Two Pfizer and BioNTech Covid-19 vaccine boosters updated to target the Omicron variant show a substantially higher immune response than the current Covid-19 vaccine. https://t.co/ApgvsxJ8Ay

— CNN International (@cnni) June 25, 2022
======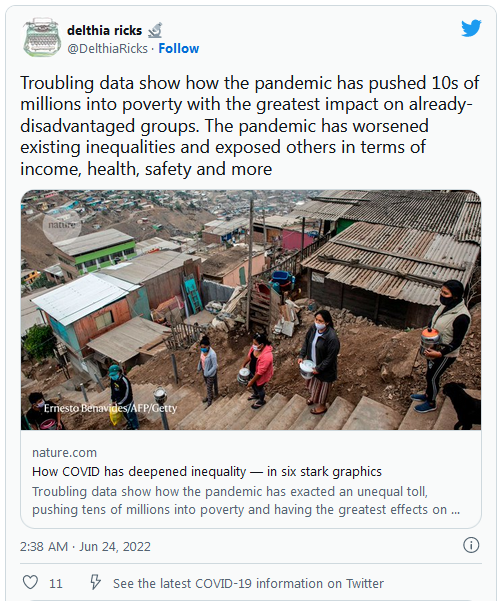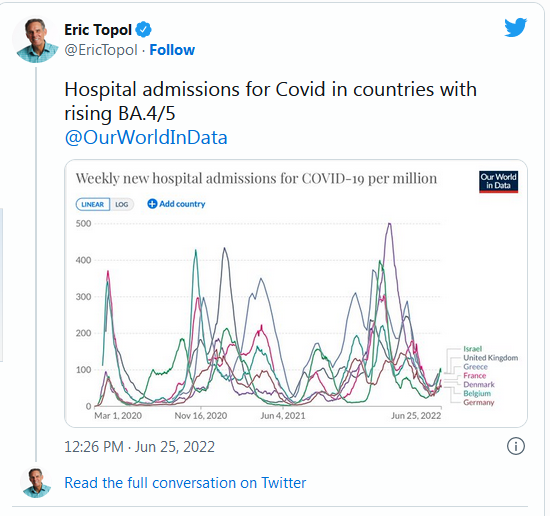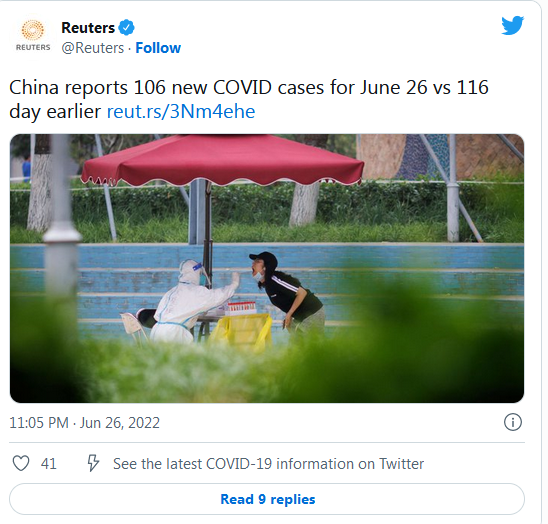 From a longer thread:
China was first to spot Long-COVID in a large-scale study in Jan 2021- and there is no doubt this information influenced the decision to focus on a Zero-COVID strategy. That the long-term costs of a "let 'er rip" policy would be devastating to our economyhttps://t.co/t2glfCXFCN.

— Naomi Wu 机械妖姬 (@RealSexyCyborg) June 27, 2022
There is no doubt that this information was published and is not secret. It's just the response to it was far different in the West than it was in China. Our response to the prospect of a large portion of our population being disabled is dismissed as irrational. It is- to you…

Our response is not always scientific either- that's for sure. Excess PPE, other forms of fomite mitigation are not supported by most Chinese academics at this point- these are implemented for various reasons by lower-level officials. Sometimes the "science" is social.

Our quarantine system, mass PCR testing is well documented. Our lockdowns- again, well documented. They vary from quick, moderate, and sensible to nightmarishly draconian, and incompetent. The one real "black box" that remains- that no one really has access to is contact tracing.

We have QR codes much like other countries, but ours tie into a system that enables government entities granular, real-time tracking of individuals. Buying a SIM card requires national ID and biometric authentication- without a smartphone and apps living here is very challenging.

There is of course human contact tracing- but time and again outbreaks have seemingly been tied to individuals living somewhat off-grid for various reasons. In Shenzhen during our last COVID surge it was refugees from Hong Kong avoiding local registration (and so had a bounty).

When you have a system already in place that can sort through millions of individuals and trace their precise location to a few meters outdoors- or the nearest WiFi AP point indoors, matching contact points and potential infection branches is trivial- and verifiable with CCTV.

Do I think that this is the "secret sauce" that is solely responsible for the relatively low levels of COVID in China? No, because other countries have had digital contract tracing schemes almost as good- but if you are looking for a poorly documented X factor- that's it.

Much of our current pandemic response- lack of improved ventilation and air treatment, poor implementation of N95/KN95/FFP2 masks, a focus on fomites, is now woefully out of date and lags behind. But unlike the West our fail state for these things is to be over-cautious.

When whole buildings in Shanghai got infected due to everyone climbing up and down the same flight of stairs- huffing and puffing through leaky surgical masks to wait on crowded lines for daily PCR tests they just extended the lockdown- they did not drop it. It failed safe.

They had less information- not more, but acted on it in a more risk-averse manner.
There is too much evidence of a massive gulf in action based on identical access to excisting data, to require conjecture about hidden data- which would not be believed even if it did exist.

In short, taking a buffet-style approach to Chinese mitigations, dismissing half of them out of hand as unfeasible or unscientific- and then when you don't get the same results saying "they must be hiding something!" is, well…intellectually dishonest to say the least.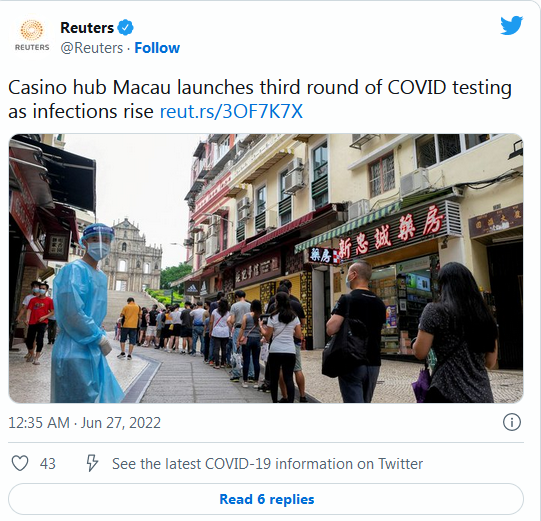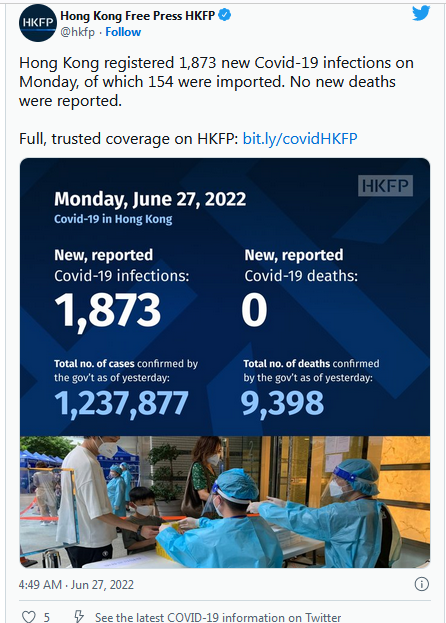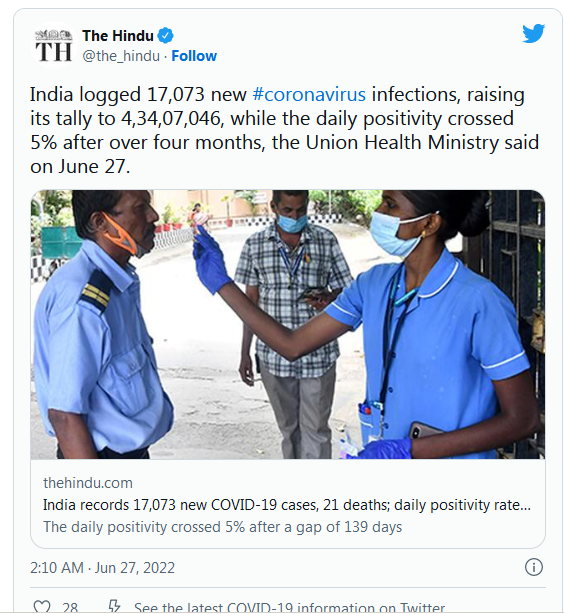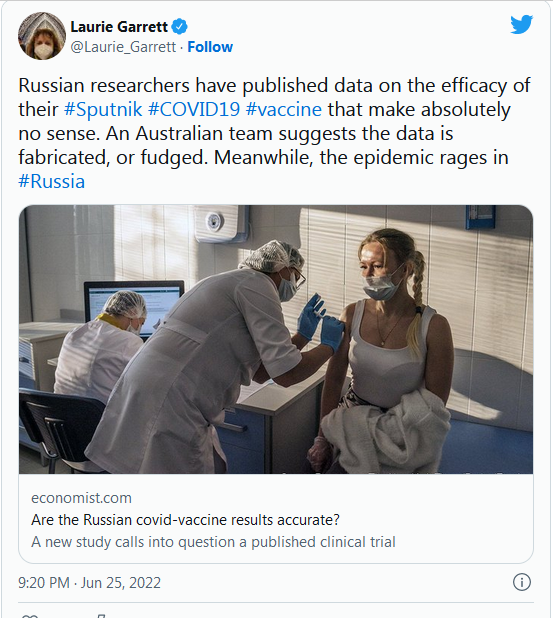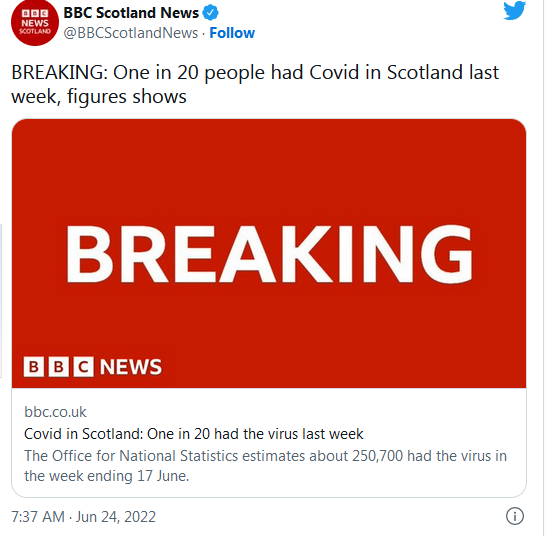 ======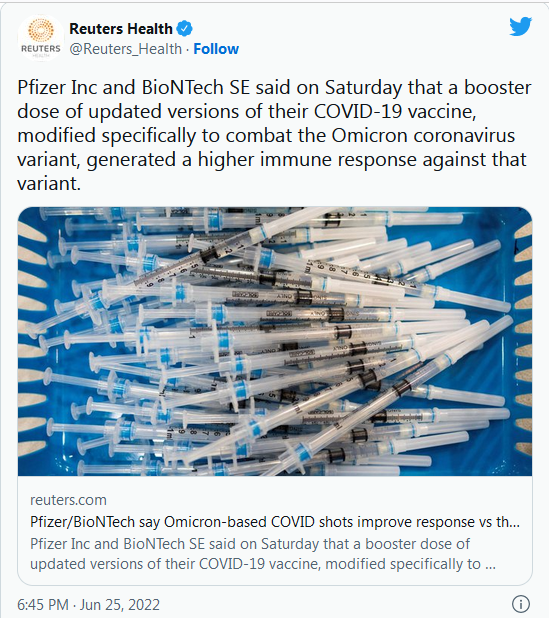 … Advisors to the U.S. Food and Drug Administration are scheduled to meet on Tuesday to discuss whether to update COVID-19 vaccines for the fall. The updated shots are likely to be redesigned to combat the Omicron variant of the coronavirus, experts say.

Pfizer and BioNTech said that 30 and 60 microgram doses of a shot targeting just the BA.1 Omicron subvariant that was circulating last winter elicited a 13.5 and 19.6-fold increase in neutralizing geometric titers against that subvariant. A version of the shot that contained both the redesigned vaccine and their original vaccine elicited a 9.1 and 10.9-fold increase, they said.

The results were from a trial of 1,234 people aged 56 or older. The shots were well-tolerated in participants, the companies said.

They said that early laboratory studies suggest that both Omicron-modified candidates neutralize the Omicron BA.4 and BA.5 subvariants that have been circulating more recently, though to a lesser extent than they do for BA.1, with titers approximately 3-fold lower. The companies say they are continuing to collect data on how well the boosters perform versus the more recently circulating strains…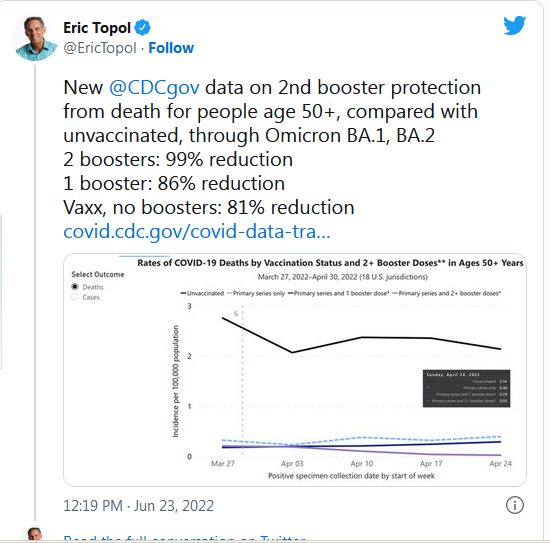 Should young & otherwise healthy patients take the antiviral Paxlovid after testing positive for #Covid? The antiviral has not been shown to be valuable among people in their 20s or 30s. But older people have benefited https://t.co/U3rVHfCYVD

— delthia ricks (@DelthiaRicks) June 27, 2022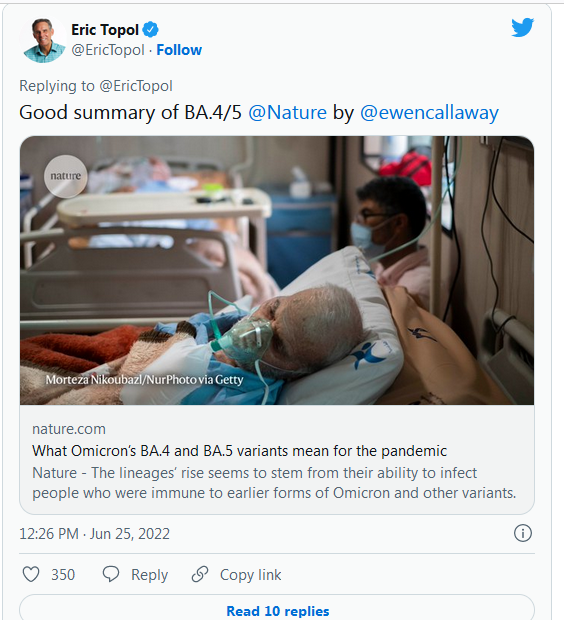 … What will come next?
That's anybody's guess. The parade of Omicron subvariants could continue, with new variants picking further holes in existing immunity. "Nobody can say BA.4/5 is the final variant. It is highly probable that additional Omicron variants will emerge," says Kei Sato, a virologist at the University of Tokyo. Researchers have identified several spots on the spike protein that are currently recognized by the antibodies that are triggered by vaccination and previous infection, but that could mutate in future Omicron strains.

Another possibility is the emergence of a variant from a branch of the SARS-CoV-2 family tree different from the one that bore Omicron. Repeat Omicron infections could build broad immunity against successive lineages, creating an opening for a totally different SARS-CoV-2 variant that is unfamiliar to people's immune responses, says Gupta. "The bar is getting higher and higher for a virus to take over."

Increasingly, scientists think that variants including Omicron and Alpha probably originated from months-long chronic SARS-CoV-2 infections, in which sets of immune-evading and transmissibility-boosting mutations can build up. But the longer Omicron and its offshoots continue to dominate, the less likely it is that a totally new variant will emerge from a chronic infection, says Mahan Ghafari, who researches viral evolution at the University of Oxford, UK.

To succeed, future variants will have to evade immunity. But they could come with other worrying properties. Sato's team found that BA.4 and BA.5 were deadlier in hamsters than was BA.2, and better able to infect cultured lung cells. Epidemiology studies, such as the one led by Jassat, suggest that successive COVID-19 waves are getting milder. But this trend should not be taken for granted, Sato cautions. Viruses don't necessarily evolve to become less deadly.

It's also unclear when the next variant will appear. BA.4 and BA.5 started emerging in South Africa only a few months after BA.1 and BA.2, a pattern now being repeated in places including the United Kingdom and United States. But as global immunity from repeated vaccination and infection builds, Althaus expects the frequency of SARS-CoV-2 waves to slow down.

One possible future for SARS-CoV-2 is that it will become like the other four seasonal coronaviruses, the levels of which ebb and flow with the seasons, usually peaking in winter and typically reinfecting people every three years or so, Althaus says. "The big question is whether symptoms will become milder and milder and whether issues with long COVID will slowly disappear," he says. "If it stays like it is now, then it will be a serious public-health problem."