It's about marriage. It's about sex. It's about what we read. It's about how we communicate with each other. It's about the limits to search and seizure. It's about medical records and genetic information. It's about libraries and the internet. /2

— Charles P. Pierce (@CharlesPPierce) June 26, 2022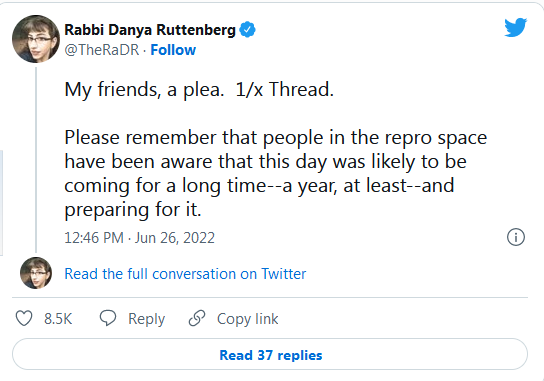 Various coalitions of repro orgs have been meeting regularly for a long time, including religious coalitions, of which I have been a part.

Please look to these people for best practices and decisions, and follow the leadership that is happening. What is happening in these spaces is a result of deliberate choices.

For example: Before Roe, there was an organization called Clergy Consultation Service, made of rabbis and ministers, that helped people access abortion care. No, we are not starting up CCS in the same way now.

In large part because BIPOC communities–those most impacted–are organizing and leading in abortion justice spaces now in a way that they were not before Roe. The work now is different. The world is different.

We are not here to try to do some white savior stuff. We are here as part of a larger movement for liberation and we are here to be *useful*.

What people seeking abortion care want now is not to stay in your guest rooms.

They need money. What is needed now from anyone who can offer it most immediately, to have the most impact on those who are most harmed is MONEY.
That's why we set up the Jewish Fund for Abortion Access. https://t.co/pO9ItTN6Xy 100% of the money that is raised goes directly to support those who need care. They call a hotline, and get support to get abortion care.

— Rabbi Danya Ruttenberg (@TheRaDR) June 26, 2022
If they need travel funds–yes, to travel out of state–they will get funded. If they need funds for their abortion, they will get those funds. If they don't need money and they just need help figuring out what their best option is now for getting an abortion.

How you can help right now is as follows.
1) Raise money for abortion funds and advocacy orgs

2) Make your community a place where abortion is destigmatized, where we talk about abortion as a medical procedure that everyone can access.

3) Care for those who may need it now, whether or not they may need an abortion, whether or not they've had one (you know people who have had abortions, & know that some abortion experiences are difficult, some liberating, some full of other emotions–don't presume)
4) If you want to get involved locally, find a local repro advocacy or justice org and ask if they need your capacity and particular skills.

5) Spread the word about medication abortion: https://t.co/eiMPFK1j46 , https://t.co/VG343wtBVb

— Rabbi Danya Ruttenberg (@TheRaDR) June 26, 2022
But please trust the expertise of experts now. There are well-intentioned actions that can be harmful at this moment. We need all hands on deck but esp for those of us lacking in the melanin dept: white saviorism doesn't help anything, my friends. Truly.

(Again: Black and Brown communities are disproportionately impacted by bans.)

And we don't need people rushing in when some of us have been working & planning & strategizing in coalition for a long time & making choices as a result of that work.

Feel free to share.

And a PS about this whole "I will take you camping/I will offer you my guest room" business:

PEOPLE WHO NEED ABORTION CARE MUST GET SUPPORT FROM PEOPLE WHO ARE VETTED AND PROVEN SAFE, NOT INTERNET STRANGERS

You haven't thought it through.
Let the experts do the work.
Want to become a practical support volunteer? Remember, there is vetting and training involved. And remember: Every org, fund and practical support org is OVERWHELMED right now, it's been a LOT the last few weeks. But read this as your starting point:https://t.co/qUyhE1g8h9

— Rabbi Danya Ruttenberg (@TheRaDR) June 26, 2022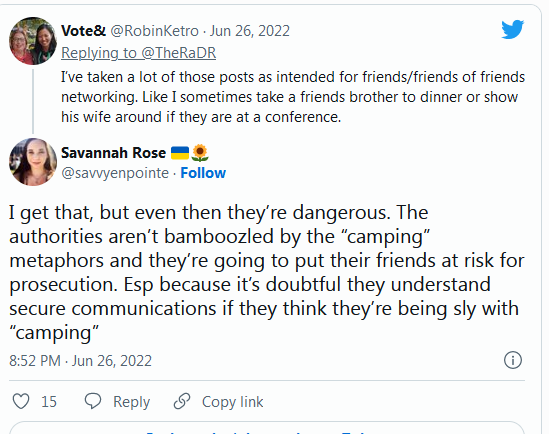 ETA: Another clever way to be helpful, from Quinn Cummings — sending people in trigger states the help they may need, anonymously:
Here it is unrolled, should you want to send it to a person who might want the book and has the good sense not to be on here.https://t.co/0eTEwdC81B

— Quinn Cummings (@quinncy) June 27, 2022