Some have speculated the surprise witness tomorrow may be Ali Alexander. He was the coordinator of Stop the Steal, and testified to a DC grand jury for hours on Friday.
If he flips a lot of Republicans are in trouble. https://t.co/GF62Rm7BoM

— Duty To Warn (@duty2warn) June 27, 2022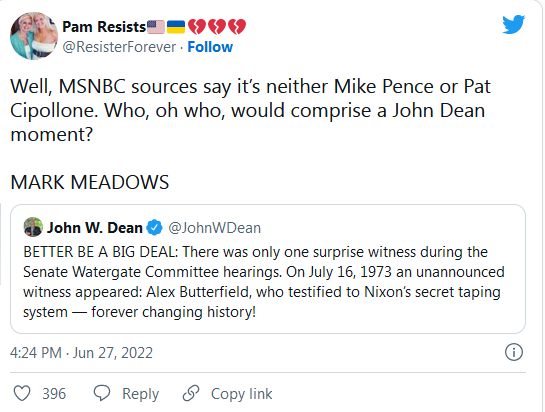 I had this in draft last night, and decided I'd wait for just the right time to hit post…
The Jan. 6 committee hearings are no summer reruns. Instead, they spin out a binge-worthy drama with storytelling techniques, strong character development and a sense of focus and clarity unusual for congressional hearings. https://t.co/6HitQpXkN7

— AP Politics (@AP_Politics) June 27, 2022
… The five sessions have revealed a storyteller's eye, with focus, clarity, an understanding of how news is digested in modern media, and strong character development — even if former President Donald Trump's allies suggest there aren't enough actors…

House Republican leader Kevin McCarthy's decision not to participate gave the committee a gift, the chance to craft hearings as a unicorn of sorts in today's political age.

The hearings are concise, no more than 2 ½ hours, each day with a specific theme. It goes like this: First, viewers are told at the outset what they're going to hear. Then they hear it. Then they are told at the end what they just heard. Usually there's a preview of what's next — a trick that likely reflects the advice of James Goldston, a former ABC News producer hired as a consultant…

"It's just focused on the witnesses and the evidence," said Democratic Rep. Adam Schiff of California, a member of the panel who also led the second Trump impeachment hearings. "We know we have a precious opportunity to get this information to the American people, and we don't want to waste a minute of it."

The committee uses clips from taped testimony like a journalist would include quotes in a story. Questioning of live witnesses doesn't wander.

Committee Chairman Rep. Bennie Thompson, D-Miss., and Republican Vice Chair Rep. Liz Cheney, R-Wyo., question witnesses alongside one other member who is in charge of each hearing…

Each day's hearing fits the overall theme — that the plot to nullify the 2020 election was multi-faceted, with the events of Jan. 6, 2021, only one part, and that many of the people surrounding Trump didn't believe his claims of election fraud.

Witness testimony gains power because it mostly comes from Republicans, Trump's former aides and allies, Jamieson said. It's one thing to have Schiff declare Trump's rigged election claims were bull, quite another to have it come from the former president's attorney general, with an Ivanka Trump endorsement…

The hearings also command the attention of journalists by consistently offering something new or unexamined, such as Thursday's revelation of congressmen who pleaded for presidential pardons, or the extent of Trump's fundraising off his false claims of fraud…

There's so much material to review!
Last week: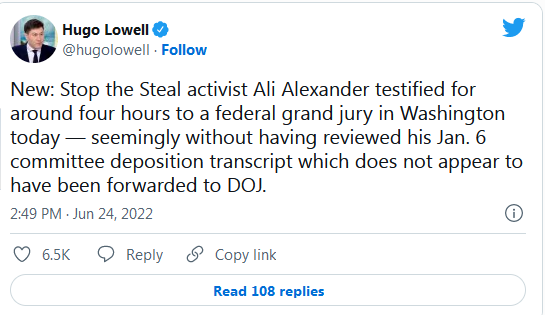 Today:
Ali Alexander? He testified 4 hours w J6 Cmte. Perhaps he's going to testify tomorrow. He has the goods on so many lawmakers in DC. Pls pls let it be a witness who will tell America which of the 203 House/50 senate members were part of the Stop the Steal. #ArrestThemAl pic.twitter.com/guJMH35Gx5

— Dakota_Girl_495 (@dakota_girl495) June 27, 2022
Another strong contender: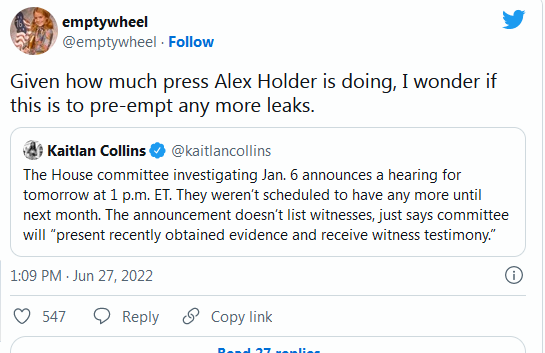 A sample — hey, those Danes have a documentary to promote! — from the Independent:
… In an interview with The Independent, Mr Holder said Trump family members — and Eric Trump in particular — were unbothered by the idea that the often violent rhetoric they and their patriarch espoused after his loss to now-president Joe Biden would inspire his supporters to act out.

"When I asked Eric about the potential danger of sort of rhetoric and the sort of the belligerence, he felt that it was … fair game in that it … was sort of the equivalent on the other side of the political discourse, or he felt that it was the right thing to do … because the election was stolen," he said.

Mr Holder said he had a foreboding feeling about the chance for violence as filming went on and the former president and his family continued to claim the 2020 election was stolen, even as courts rejected at least 60 lawsuits seeking to invalidate the results…

The filmmaker said his Trump-focused documentary, which is titled Unprecedented and will be released this summer "chronicle the events leading up to the Capitol attack" and serves also as a "fascinating insight into the Trump dynamic" that "shows a sort of Succession type vibe between the three siblings and who potentially could one day take over from their father in terms of heading that sort of Trump dynasty".
Back story:
The Justice Department and the House committee investigating the Jan. 6 attack on the U.S. Capitol have asked Danish filmmakers for video footage recorded as they followed Trump confidant Roger Stone in the weeks after the 2020 election. https://t.co/C8IbMv28dd

— The Washington Post (@washingtonpost) June 24, 2022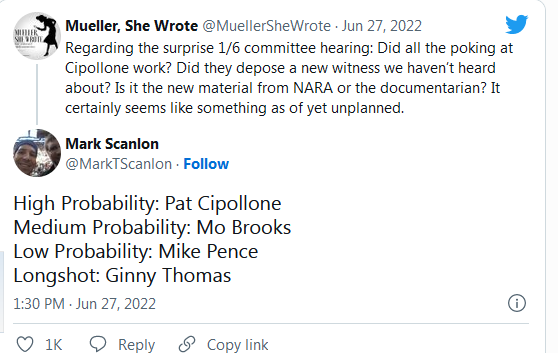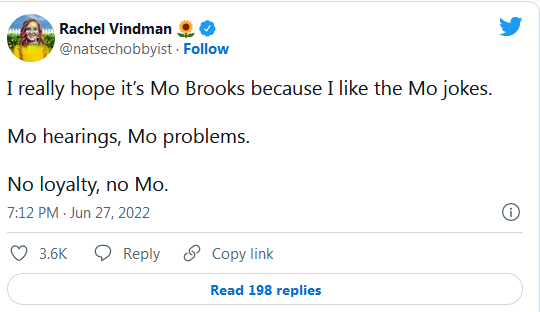 June 27, 2022.

Maybe Mo Brooks can tell us about this which we have already known about for 17 months. pic.twitter.com/tfo4wBJ8PS

— Don Winslow (@donwinslow) June 27, 2022
Also relevant: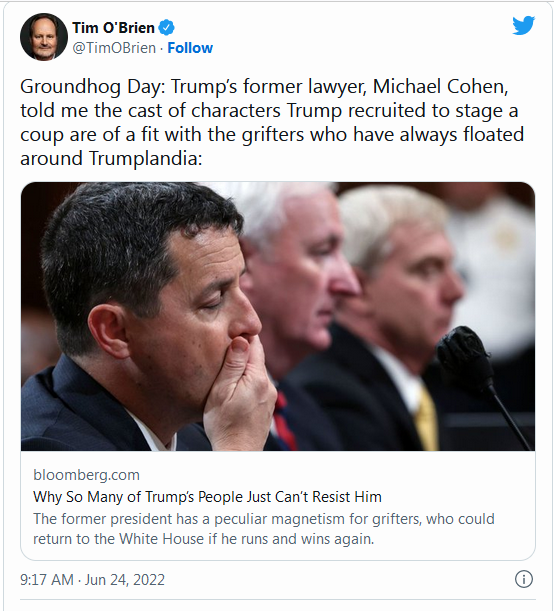 You can't cheat turn an honest man (into a grifter)…
… For most of his 76 years, Trump has attracted operators, wannabes and seemingly strait-laced people who, once they enter his orbit, become unusually craven. It happened when he was an aspiring real estate and casino mogul, when he was a reality-TV celebrity and, with much greater and lasting consequence, when he was president.

Michael Cohen, a former Trump lawyer and enforcer, is someone who well understands Trump as a manipulator. He is familiar with the triggers that Trump is able to pull when he so desires. I gave Cohen a call to ask him about what lessons he drew from Thursday's congressional hearing — and what life is like as a Trump co-dependent.

"I believe that everyone in Trump's inner circle are all fundamentally missing something in their lives. For me, I had just come off a series of health issues when I was asked to join the Trump Organization. I had missed the excitement," Cohen told me. "There's an excitement in being around the celebrity of Donald Trump. He has a great ability to make those around him feel that they're part of that moment — even if it's not for a good thing."

"It's intoxicating," he continued. "Until things go bad with Trump, then they go really bad. Ultimately, those who were his inner circle all end up having their lives turned upside down. And for what, for who?"…

There is a long parade of people, past and present, who have indulged their inner Donalds once the former president tapped them on the shoulder. Some of them were already steeped in the dark arts: Roy Cohn, Roger Stone and Steve Bannon come to mind. Others went rogue once Trump showed them the way. Jeffrey Clark counts as one of those, I think. The Jan. 6 hearings have proven that lots of others joined Clark's ranks during Trump's White House years.

The list of Trump's corruptibles may include several Republican legislators. Representatives Andy Biggs, Mo Brooks, Matt Gaetz, Louie Gohmert, Marjorie Taylor Greene and Scott Perry all lobbied Trump for presidential pardons after the Jan. 6 siege, according to hearing testimony. Perhaps none of them did anything wrong, but people don't typically seek a pre-emptive presidential pardon unless they believe they might be charged with a crime.

Whatever comes of the Jan. 6 hearings, at least two things are already evident. First, there was a clear line between those who knew right from wrong in the Trump presidency, and those who didn't. Second, Trump made a home in the White House for legions of lawyers, legislators and lackeys inclined to grift — or even undermine democracy. That was to be expected. After all, Trump has spent a lifetime recruiting those kinds of people.