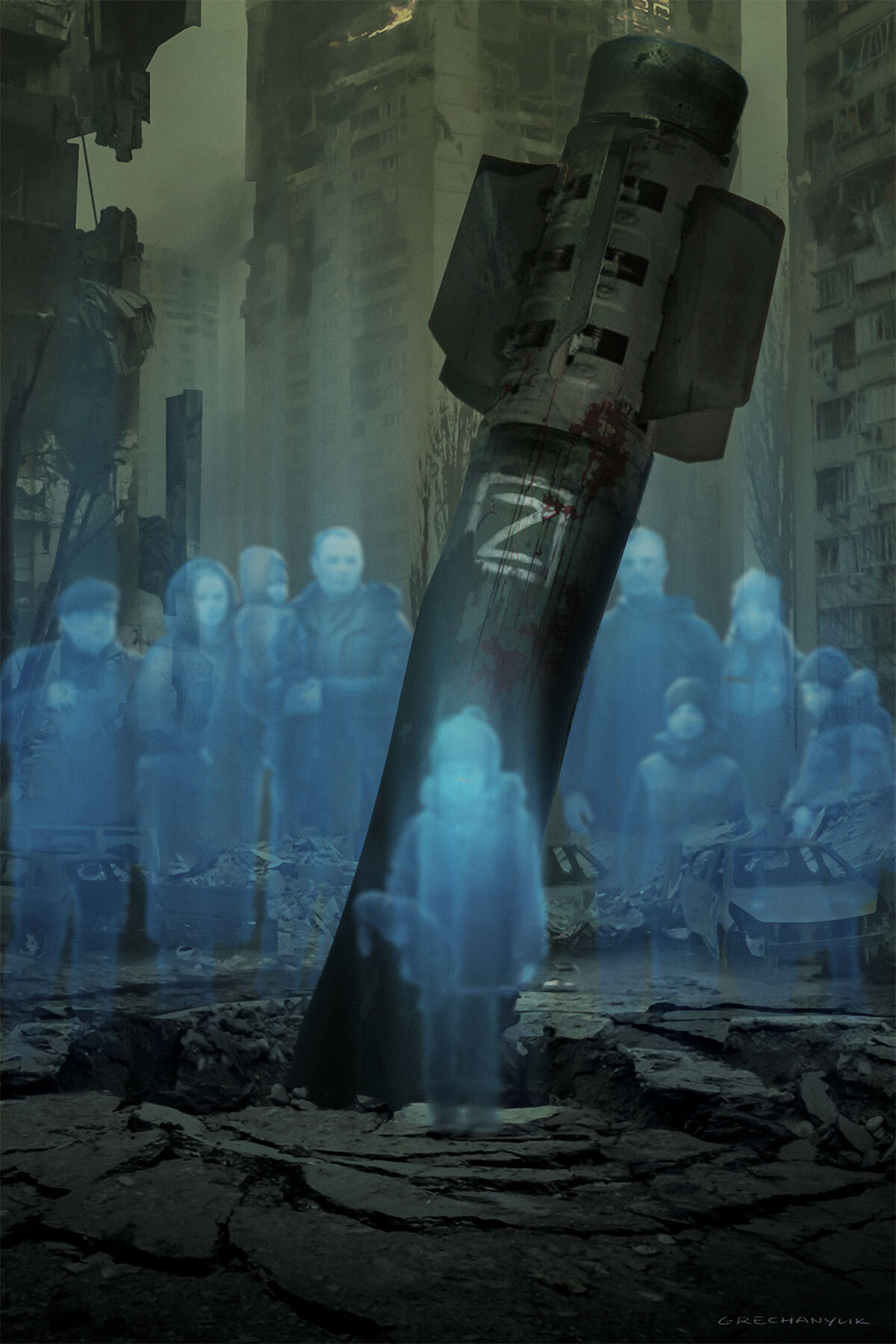 We're back! I took a few days to continue to recuperate from my sinus infection and I wanted to give everyone the weekend to process and work through the events of the end of last week, so that's where I've been.
I'm going to ease back into things tonight and just cover the basics including the attack on the shopping center today.
Let's start with President Zelenskyy's address from earlier this evening. Video below with English language transcript after the jump: (emphasis mine)
This address is without greetings.

Today's Russian strike at a shopping mall in Kremenchuk is one of the most defiant terrorist attacks in European history. A peaceful city, an ordinary shopping mall with women, children, ordinary civilians inside… Before the air alarm there were about a thousand people. Fortunately, as far as we know at this time, many people managed to get out in time. They were taken out in time. But there were still people inside: staff, some visitors…

Only totally insane terrorists, who should have no place on earth, can strike missiles at such an object. And this is not an off-target missile strike, this is a calculated Russian strike – exactly at this shopping mall.

It is not yet possible to establish the number of victims for now. A fire broke out in an area of more than 10 thousand square meters. The rescue operation continues, but we must be aware that the losses may be significant. As of now, we know about 12 dead and 24 wounded. We are establishing the number of people under the rubble.

All the wounded will be provided with all the necessary assistance – Kyiv doctors have already left for Kremenchuk. The Minister of Internal Affairs is already there, he will coordinate all the necessary actions.

My condolences to the families and friends of those killed in this terrible terrorist attack.

And I ask each and every one – whenever you hear the air alarm siren, go to the shelter. Necessarily. Don't ignore it. Russia will stop at nothing.

This morning, I appealed to the United States to recognize Russia as a state that sponsors terrorism. The relevant resolution is approved by the US Senate Committee, and the legal decision can be adopted by the Department of State. And such a decision is clearly needed, and it must be supported by the entire democratic world. I told this to the participants of the G7 Summit, which took place in Germany.

As of today, Russia has used almost 2,800 different cruise missiles against Ukraine. The number of air bombs and MLRS rockets hitting our cities simply cannot be counted. There were hundreds of thousands of them in the four months of the war. This is nothing but terror.

Another brutal shelling of Kharkiv, northern Saltivka took place today. At present, we know about 5 people killed and more than 30 wounded, 5 of them children. All are civilians, no military.

The Russian state has become the largest terrorist organization in the world. And this is a fact. And this must be a legal fact. And everyone in the world must know that buying or transporting Russian oil, maintaining contacts with Russian banks, paying taxes and customs duties to the Russian state means giving money to terrorists.

I also said today, addressing the leaders of the G7, that our common potential is absolutely enough to defeat the Russian army – it does not know how to fight. All the operations we carry out to deoccupy our territories show one thing: the occupiers are crumbling when we have something to put pressure on them. They do not know how to resist. They are capable only of such vile strikes as those in Kremenchuk or Saltivka today, only of the total thoughtless destruction of all living things as in Mariupol. Therefore, the war may not drag on, if we can really push together and drive the occupiers out of our Ukrainian land. The sooner this happens, the more lives will be saved.

Even before the start of a full-scale war, we told our partners that we needed modern missile defense. We repeated this after February 24 as well. People in the Kremenchuk shopping mall deserved security just as much as people in any mall in the world – somewhere in Philadelphia or Tel Aviv, or in a shopping gallery somewhere in Dresden. The world can, and therefore must, stop Russian terror. And now I can already say this – I heard it from our partners: Ukraine must get reliable missile defense, we are expecting the supply of appropriate systems.

And there is another important result of the "seven", which is worth mentioning right now. This has already been officially agreed: the most powerful democracies in the world will support our state as long as necessary for our victory.

Ukraine will not be broken! Never.

Glory to Ukraine!
Here's today's operational update from Ukraine's MOD: (emphasis mine)
The operational update regarding the russian invasion on 18.00 on June 27, 2022

The one hundred twenty fourth (124) day of the heroic resistance of the Ukrainian people to a russian military invasion continues.

russian occupiers continue to launch missile strikes on civilian targets in Ukraine. Today, in Kremenchuh, Poltava oblast, russian rocket hit a shopping center where civilians were staying. The number of victims is currently unknown. Rescue operations are underway.

Demonstrative and provocative actions by units of the Armed Forces of the republic of belarus in the areas bordering Ukraine are not ruled out in the Volyn and Polissya areas, as well as intensification of intelligence to clarify the positions and nature of our troops.

Air and missile strikes from the territory and airspace of the republic of belarus are expected to continue. Once again, we urge you not to ignore air alarm signals.

In the Siversky direction, units of the Armed Forces of the russian federation continue to be located in the border areas of the Bryansk and Kursk regions in order to restrain the actions of units of the Defense Forces. The enemy fired mortars near Pokrovka and Starykovo, Sumy oblast. The enemy also used jet artillery in the areas of the settlements of Porozok and Verkhnya Pozhnya, Sumy oblast.

In the Slobozhansky direction, the enemy is defending previously occupied positions, trying to prevent the advance of units of the Defense Forces and their entry to the state border of Ukraine in the north of Kharkiv region. Intelligence is trying to find weaknesses in the defense of our troops.

In the Kharkiv direction, the enemy, in order to regain lost ground, tried to carry out assault operations in the area of ​​the settlement of Dementievka, had no success, withdrew. Also, Ukrainian soldiers successfully repulsed enemy assaults in the direction of Dovhalivka and Zalyman.

The occupiers are taking measures to quickly disguise and try to mislead our units, for which they are installing wooden models of tanks on the defensive positions.

In the Slovyansk direction, the enemy is trying to improve its tactical position and create favorable conditions for the attack on the settlements of Barvinkove and Slovyansk. Continues shelling.

Trying to take control of Mazanivka, the enemy launched an offensive from the area of ​​the village of Dovhenke. It received a strong rebuff from the Ukrainian defenders and withdrew with losses.

In the Donetsk direction, the enemy continues to focus on attempts to surround the Defense Forces near the city of Lysychansk, trying to blockade the city from the south and southwest. Takes measures to replenish the loss of personnel, weapons and military equipment.

The enemy did not take active action in the Kramatorsk direction.

Mortar and artillery shelling was recorded in the Lysychansk direction in the areas of the settlements of Lysychansk, Verkhnokamyanka and Soledar.

The enemy led the offensive in the direction of Vovchoyarivka – Verkhnokamyanka, has partial success, is consolidated south of the Lysychansk refinery. To distract the efforts of our troops, he led the offensive in the direction of Pidlisne – Lysychansk, had no success, withdrew.

In the Bakhmut direction, it fires artillery of various calibers in the areas of the settlements of Berestove, Klynove, Bakhmut, Vershina and Travneve.

Our soldiers successfully stopped the enemy's reconnaissance attempt by fighting in the area of ​​Berestovo and the offensive in the direction of Midna Ruda – Klynove. In both cases, the occupiers withdrew.

The enemy has partial success in the direction of the Roty – Vershyna, trying to gain a foothold at the intersection of the E-40 highway.

In the Avdiivka, Kurakhiv, Novopavliv and Zaporizhzhia directions, in order to restrain the actions of our troops and prevent their transfer to other directions, the enemy fired mortars, tanks, barrel artillery and jet artillery at the areas of the settlements of Pisky, Avdiivka, Katerynivka, Chervone and Malynivka. It struck an air strike near Krasnohorivka.

Ukrainian soldiers stopped the occupiers' offensive in the direction of Petrivske-Shevchenko and pushed the enemy back.

In the South Buh direction, the aggressor continued to fire at the positions of our troops with mortars, tanks, barrel artillery and jet artillery along the entire line of contact. It is possible that the enemy will carry out assault operations in certain areas in order to reach the administrative borders of the Kherson region.

In readiness to launch missile strikes on objects on the territory of Ukraine, the enemy holds two carriers of cruise missiles of the naval base "Caliber".

Our units continue to successfully carry out missile and artillery fire missions in certain areas and inflict casualties on the occupiers in close combat.

We believe in the Armed Forces of Ukraine! Together to victory!

Glory to Ukraine!
A lot to unpack there. The first is that despite all of Russia's efforts – all the probing and the shelling – they're not making much ground. As the DOD Senior Defense Official stated in his background briefing on 24 June: (emphasis mine)
So first, because it's kind of out there in the news today, I wanted to just give you my quick take on what we're seeing on the battlefield, and then secondly, a few highlights on security assistance.

So I just want to put into context what we're seeing in Severodonetsk in terms of the Ukrainian Armed Forces' managed retrograde from that location. And the context that I want to share is just, when you look at the sweep of the past four months, obviously we've seen Russia having to, you know, completely recalibrate its plans, because its initial plans were overly ambitious and mismanaged, going from their multi-axis attempt that was defeated by the Ukrainians to now, a focus on Eastern Ukraine. And really, the Russians are just eking out inch by inch of territory here.
More on Sievierodonetsk in a minute or two, but let's focus on this. What the Pentagon is assessing is that the Russians are just not getting very much out of their efforts. They have almost nothing to show for all the men and material that have been chewed up over the past four months.
Liz Sly at The Washington Post has reported that the Russian military is, as we say in the US military, just about out of Schlitz!
The Russian military will soon exhaust its combat capabilities and be forced to bring its offensive in Ukraine's eastern Donbas region to a grinding halt, according to Western intelligence predictions and military experts.

"There will come a time when the tiny advances Russia is making become unsustainable in light of the costs and they will need a significant pause to regenerate capability," said a senior Western official, speaking on the condition of anonymity to discuss a sensitive issue.The assessments come despite continued Russian advances against outgunned Ukrainian forces, including the capture on Friday of the city of Severodonetsk, the biggest urban center taken by Russia in the east since launching the latest Donbas offensive nearly three months ago.

The assessments come despite continued Russian advances against outgunned Ukrainian forces, including the capture on Friday of the city of Severodonetsk, the biggest urban center taken by Russia in the east since launching the latest Donbas offensive nearly three months ago.

The Russians are now closing in on the adjacent city of Lysychansk, on the opposite bank of the Donets River. The town's capture would give Russia almost complete control of the Luhansk oblast, one of two oblasts, or provinces, that make up the Donbas region. Control of Donbas is the publicly declared goal of Russia's "special military operation," although the multifront invasion launched in February made it clear that Moscow's original ambitions were far broader.

Capturing Lysychansk presents a challenge because it stands on higher ground and the Donets River impedes Russian advances from the east. So instead, Russian troops appear intent on encircling the city from the west, pressing southeast from Izyum and northeast from Popasna on the western bank of the river.

According to chatter on Russian Telegram channels and Ukraine's deputy defense minister, Anna Malyar, the Russian military is under pressure to bring all of Luhansk under Russian control by Sunday, perhaps explaining the heightened momentum of the past week.

But the "creeping" advances are dependent almost entirely on the expenditure of vast quantities of ammunition, notably artillery shells, which are being fired at a rate almost no military in the world would be able to sustain for long, said the senior Western official.

Russia, meanwhile, is continuing to suffer heavy losses of equipment and men, calling into question how much longer it can remain on the attack, the official said.

Officials refuse to offer a time frame, but British Prime Minister Boris Johnson, citing intelligence assessments, indicated this week that Russia would be able to continue to fight on only for the "next few months." After that, "Russia could come to a point when there is no longer any forward momentum because it has exhausted its resources," he told the German newspaper Süddeutsche Zeitung in an interview.

Russian commentators are also noting the challenges, emphasizing a chronic shortage of manpower. "Russia does not have enough physical strength in the zone of the special military operation in Ukraine … taking into account the almost one thousand kilometer (or more) line of confrontation," wrote Russian military blogger Yuri Kotyenok on his Telegram account. He estimated that Russia would need 500,000 troops to attain its goals, which would only be possible with a large-scale mobilization, a potentially risky and unpopular move that President Vladimir Putin has so far refrained from undertaking.
Much, much more at the link!
This does not mean that Ukraine is cruising to an easy victory. Russia is not spent, it still has a lot of artillery and missiles it can launch and bombs that it can drop on Ukraine. And it hasn't even really tried tapping into its huge population to reconstitute its forces. Regardless of whether that would be a good political move for Putin or not.
As for Sievierodonetsk, as the Senior Defense Official indicated, the Ukrainians spent the past several days undertaking a retreat our of Sievierodonetsk, back across the river, and to their position on the high ground at Lysychansk. My understanding from the reporting is that the Ukrainians had determined they'd achieved their goals of slowing the Russians down, bottling them up, and attriting their forces and equipment in Sievierodonetsk. As such it was no longer worth continuing to fight there and a retreat out of town and across the river was undertaken and accomplished. Here's former NAVDEVGRU Squadron Commander Chuck Pfarrer's latest map and analysis, from yesterday, on the battle for Sievierodonetsk:
SIEVRODONETSK /1750 UTC 26 JUN/ The battle for the city is concluded. RU forces are now consolidating control of what is, for all purposes, a destroyed city. UKR forces have withdrawn to a solid defensive line conforming to the west bank of the Donets River. See Assessment. pic.twitter.com/DdS2ZQuVGq

— Chuck Pfarrer (@ChuckPfarrer) June 26, 2022
Here is today's British MOD assessment: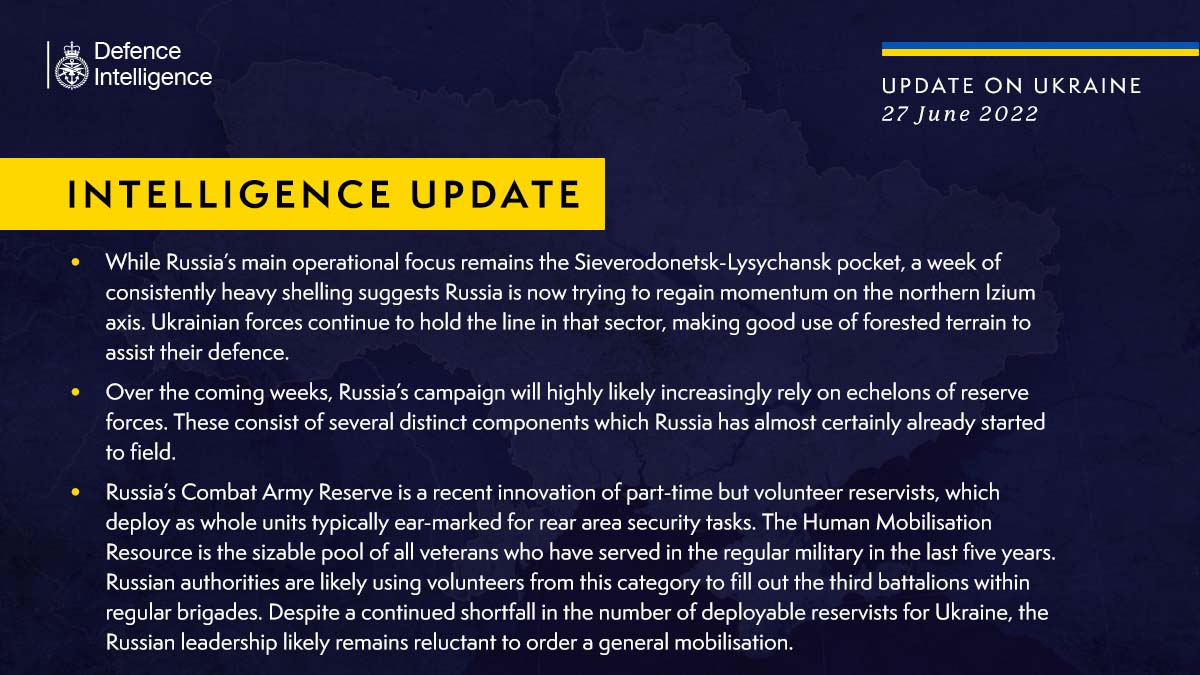 And here's their updated map for today: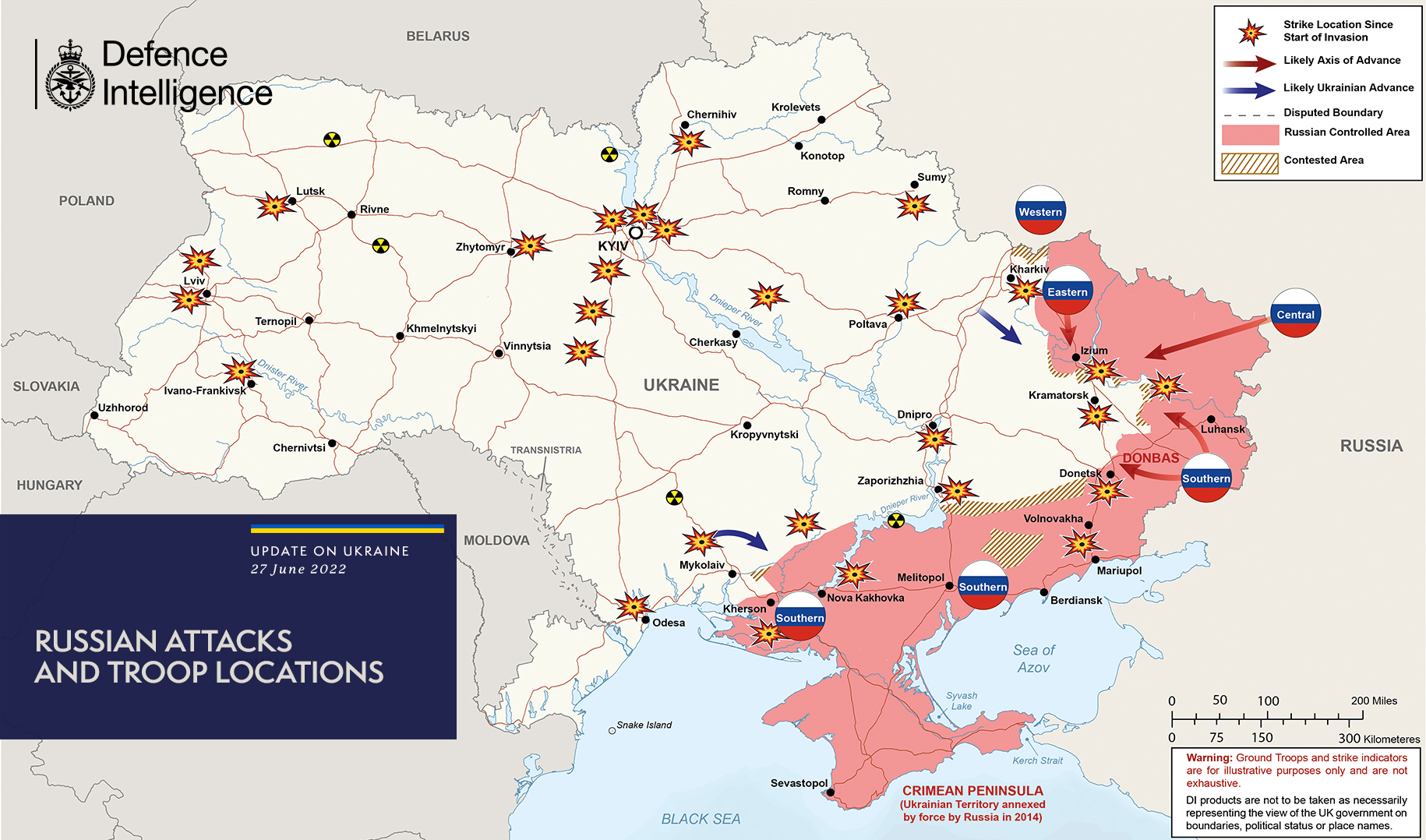 As you can see, as we've been saying over and over, and as confirmed by the SDO on the 24th, there just isn't a lot of movement in the macro sense of the theater of operations.
Here's today's background briefing from the DOD: (emphasis mine)
STAFF: All right, hey, good morning, everybody. This is (Edited) from Defense Press Ops. I'm glad we're able to do this this morning. It's been a while since we've done one of these.

Just as a reminder, this is a background brief. Your subject matter expert today will be referred to as "a senior defense official", and for your informational purposes, that senior defense official is (Edited). He'll give a brief opener, and then we'll go to Q&A.

We do have a 30-minute cap on the Q&A today, so we'll have to stick with that. I apologize. We may not be able to get to everybody, but we'll move as quickly as we can.

And with that, sir, I'll turn it over to you.

SENIOR DEFENSE OFFICIAL: Thanks. Well, first of all, good morning to everyone. All right, I'm going to — this is going to get you all sharpened up, but I'm going to tell you, I've been on the job now for about two weeks, so I hope you'll forgive any of my misunderstandings just up front, but I would tell you that I've been on the Joint Staff before: left here a couple years ago and in between, was serving in a job that had me in Europe for the last three months, deployed as a part of operations forward. So I do feel pretty comfortable talking about what's going on overseas and I look forward to our conversations today.

I think you're all aware it's the hundredth — 124th day of Russia's illegal invasion of Ukraine. As you've likely observed on social media, Ukrainians are noting now that they do have HIMARS in their country. I won't go into any particular details this morning, but all indications are that they are employing them very well. We're continuing to work diligently to get the additional four HIMARS in the country that were announced in last week's PDA. And also of note, the second round of HIMARS training should coincide with that, as well, and we expect that to be done here in the near future. And again, I'm happy to talk about that training and other training that we're conducting with our partners and with the Ukrainians.

Over the weekend, I know you're also aware of the Russian-executed 60 missile strikes across the country in Kyiv, Lviv, Chernihiv and Odesa. We're not quite sure about the Russian objectives of the strikes. They certainly could be a protest against the G7, or of the arrival of HIMARS in country. We do know, and I think all of you have reported to some extent the impact of civilian casualties in Kyiv in particular against apartment buildings that were in vicinity of that strike, or the intended location of that strike. Again, not unusual to hear of civilian casualties associated with Russian strikes, sadly.

In the Donbas, we haven't observed any real additional further movement out of Severodonetsk or through Severodonetsk by the Russians. We have seen Russian gains. Those gains, as many of you have been reporting, in that portion of the battlespace are occurring (inaudible), and I'm happy to talk a little bit about that, but it does not appear that they have encircled Lysychansk, and the Ukrainians are fighting very well, or very hard in — in that part of the battlespace.

And then, as has been mentioned in open source, we're also aware of several reliefs of Russian generals in Ukraine. I'll leave all the particulars of that to the Russian MOD spokesman, but we do continue to see concerns with that leadership or — and continued morale concerns with Russian forces.

Near Kherson in the south, we're aware of growing indications of resistance against the Russian occupation. Over the last several days we've become aware of assassinations of local Russian officials, and we're also aware that reporting suggests the Ukrainians have been successful in liberating several small towns northwest and west of Kherson, showing that despite tactical success by the Russians, they continue to hold on to what they capture to territory and prevent it from falling into Russian hands.

The last thing I'd say before I open it up is, you know, we are continuing to work our security assistance and moving heaven and earth to get that assistance forward to the Ukrainians as fast as we can, and I think what you're seeing on the battlefield is that the Ukrainians are making good use of not just our assistance, but systems that they're obtaining from our partners and allies around the world.

So I will hold there and look forward to your questions.

STAFF: All right. We'll go ahead. We'll start with Lita, AP.

Q: Morning. Thank you. Thanks, (SDO), for doing this.

I was wondering if you could talk to us a little bit about the new medium to long range missile systems, the NASAMS that are going to be going to Ukraine. Like what additional capabilities that will give them and how long it may take to get them, how many? Just how that might impact the battlespace from your view? And one quick other thing just on this sort of broader, you said you weren't sure — the U.S. isn't sure why there was suddenly Odesa and all the other broader strikes, is there any — is there any suggestion that there is an effort by Russia to change its focus or would it be just some statements do you think?

Thank you.

SENIOR DEFENSE OFFICIAL: Let me — so on the HIMARS, so the — I think what we're finding, and I don't want to draw a correlation between the HIMARS and the rocket strikes or the missile strikes that we talked about in the second part of your comment there, you know, as I mentioned, we have not received indications that the strikes by the Russians are associated with the entry of the HIMARS or of anything else, quite honestly. And what I couldn't tell you is if that is part of their larger — you know, their larger portion of the offensive or not. So I don't want to connect it too.

And then the question about the air defense systems. I think you probably saw that the national security adviser talked about the air defense system. That's certainly something that we're looking at, is the way to help Ukrainians with additional air defense assets. I don't have the particulars associated with the systems. But as soon as we know that and as soon as those are finalized, we will certainly work to provide you with those details and the particulars of the systems that we're employing.

STAFF: All right. We'll go to Dan Lamothe, Washington Post.

Q: Hey, good morning. Thanks for your time today.

Wanted to ask about these strikes, mostly by way of what you think they may be targeting, you know, that the — what weapons deliveries are obviously getting spread out across the country, there is some sense the depots are being at least targeted. Have you seen anything hit in terms of depots? And do you get the sense that that at least an aim here?

SENIOR DEFENSE OFFICIAL: Thanks for your question, Dan.

Well, first of all, I'd say, you know, we — you know, we are apathetic, if that's the right term in terms of the targeting. What I mean by that is, the Ukrainians are determining the targets that they shoot at. So we have provided the systems to the Ukrainians. They were pretty amazing in their training and have been in all sorts of training that's going on outside the country. And then based on that, they're determining the targets that they need to hit. This is their fight. And they're doing that.

I don't have particulars related to the targets that they've struck, but I know that if they were to employ them, they would employ them like we would in some cases against command-and-control or logistics, large concentrations of troops, that types of thing. But don't have the particulars about how they're targeting in this situation.

Q: I'm sorry, just to be clear, I was asking about whether there is an assessment that the Russians are trying to hit Ukrainian depots.

SENIOR DEFENSE OFFICIAL: That's a whole different question that I answered incomplete, or incorrectly. And I don't have that.

So, we are seeing that they are trying to hit targets — as an example, the target that resulted in the civilian casualties over the weekend, that target, those apartments were adjacent to or near a factory that we know constructs munitions for the Ukrainians. So it does give an indication that in that case in particular they were trying to hit a military target. I don't have evidence that they're trying to hit other logistic support areas at this time.

Sorry about the mess-up on that, Dan.

Q: No problem. Thanks.

STAFF: All right, we'll go to David Martin, CBS.

Q: Could you give your latest assessment on the two opposing sides' ability to sustain operations? Are the — you hear absolutely conflicting opinions that the Russians can only keep this up for a couple more months or that the Russians can keep this up forever. What is — what was the assessment from the Pentagon?

SENIOR DEFENSE OFFICIAL: Yes, sure. The — first of all I would tell you — I mean, if you just look on paper — if you just look on paper, the Russians certainly have an advantage that relates to munitions systems and likely total numbers of troops that they can put on the field.

What's much harder to gain an understanding of is the will of the Ukrainian fighter. And I think, you know, and I know you all have reported on this extensively as well, but if you go back to the very beginnings the Ukrainian fighter has demonstrated an ability to win in a level of adversity that is just surprising in many cases.

With that in mind, I'd be hazard to give you any kind of timetable associated with either sides' ability to press, and just because I think it has surprised the world time and time again.

I do know this: The Russians can stop any time they want. The Russians are the ones that instigated this. The Russians are the one that attacked a sovereign nation. And so, at any time they could opt to stop and head back. I imagine that, you know, that won't necessarily be the exact thing we see, but that's certainly their possibility.

Q: Let me ask you more specifically then with Severodonetsk. Are they going to be able to exploit that or do they now have to stop and regroup?

SENIOR DEFENSE OFFICIAL: That's a great question.

I think — you know, so they certainly wanted Severodonetsk. What's — you know, from a military perspective, what I would tell you is the small number of Ukrainians that held the Russians at Severodonetsk for as long as they did is really something I think we'll probably all study in the future.

And when they chose to leave Severodonetsk, they chose to do it of their own accord, and to give that up in order to move to better-prepared locations for the continuing of that defense. And so, again, I'm telling you I think we'll end up studying that in our army in years to come. I think they're going to do that throughout that portion of the battlespace or the battlefield.

You know, if you look at that spot, it's not very big. And what I mean by that is the area that the Russians and the Ukrainians are fighting over right now and that the Russians are losing a large number of people to gain, the Ukrainians are making them pay for a very small piece of ground.

In most cases, the Ukrainians are leaving those locations of their accord, not necessarily because the Russians have made them do but because they are choosing to move to positions of greater advantage. And the cost is pretty significant for the Russians. I think we'll see that continue.

It is important, though, when you look at the map to realize the size of that general area is not huge. I think and this is — I haven't put this on a map, but I think the entire area we're talking about is something like from D.C. to Fairfax for those who live in this area. So not very big.

The way it's being described in some circles you would think that it was here to Richmond or here to Norfolk, but that's not the case. And again, the Ukrainians are holding that at pretty extensive cost for the Russians.

STAFF: All right, we'll go to Idrees with Reuters.

Q: Can I just try that question once more? So there was basically a Washington Post story over the weekend citing Western intelligence, saying that Russia would exhaust its combat capabilities and be forced to stop its offensive in the east. Do you have any intel product that says their combat capabilities are near to being exhausted and they'll have to stop their offensive?

SENIOR DEFENSE OFFICIAL: I don't have those particulars to be able to talk to any real knowledge here. I'm sorry.

Q: That works. Thank you.

STAFF: All right, we'll go to Jack Detsch, F.P.

Q: Sort of on a similar line, U.K. intelligence this morning said that Russia's likely to start leaning more heavily on reserve forces, echelons of reserve forces in the Donbas. Just wondering if you've seen sort of any mobilization of those sorts of forces perhaps from the army combat reserves or from other echelons of Russian forces.

SENIOR DEFENSE OFFICIAL: I know that the Russians have employed reserves over the last month or so. The fact that the Russians are talking about reserves speaks to the impact the Ukrainians are taking on the Russian army. And again, going back to our earlier discussion about, you know, initial indications about how the Russians might perform or the Ukrainians might do so, the fact that there continue to be reports and conversations about Russians using reserve speaks to the impact that the Ukrainians are having against their army.

STAFF: All right, we'll go to Mike Glenn.

Q: Yes. Thank you (SDO).

With the high number of combat casualties, there have been some reports that the Russians are really having to scrape the bottom of the barrel for their senior leadership, including calling up retired officers back to the active duty. I'm wondering if can you all confirm that they're really digging for senior leaders because of all the casualties they've suffered.

SENIOR DEFENSE OFFICIAL: You know, I think I've seen some of the same open press you have. I have not seen any particulars in our circles here, but I've seen the same open-source reports.

You know, given the way and per my earlier comments about general officers being replaced, it would make sense that they will start to run shy of senior leaders. And so, I think there's probably some veracity to those reports. I just don't have any particular evidence myself.

Q: Okay, thanks.

STAFF: All right, we'll got to Nick, PBS, Nick Schifrin.

Q: Thanks, (SDO). Thank you very much.

Can we go back to Severodonetsk and Lysychansk a little bit? I know you're trying to describe the physical area that it is, but as you know politically Severodonetsk became important because Russian separatists seized the administrative capital of Luhansk and Severodonetsk became Ukrainian-held, essentially, political capital of the Oblast. So can you talk about the significance of the fall of Severodonetsk from a little bit more strategic perspective, and the risk to Lysychansk that is posed today?

And then I know Lita asked about NASAMS. I know, even if you don't want to specify the platform, could you just talk about the requests that Ukraine is asking for when it comes air defense? Can you talk about what you understand the air defense requirement is today, and in general, how the U.S. is trying to help that?

Thanks.

SENIOR DEFENSE OFFICIAL: Sure, Nick. I appreciate the question.

I should probably clarify the criticality of ground. If I'm a Ukrainian, every foot of Ukrainian soil I give up is pretty important to me. And so I don't want to — I don't want to underestimate the impact of losing ground to the Ukrainians. I think, you know, similarly to Mariupol, I think there was a great deal of symbolism in Severodonetsk for many of the reasons you just stated.

I think it's also important — and I'm not, you know, wearing a Ukrainian uniform or a member of the Ukrainian government certainly, but I think what you'll be able to see is the Ukrainians kind of rally around the fight that they gave the Russians in Severodonetsk. And so although they gave up ground, I think they did so by extracting a pretty significant cost against the Russians. The fact that, you know, in the end, several hundred Ukrainians continue to hold off the Russian Army in that part of the world in a — a pretty significant fight. It speaks again to the veracity — or not the veracity, but the tenacity of the Ukrainian soldier and their leadership.

The — back to the air defense question, the Ukrainians have asked for additional air support — defense support. I know that the Ukrainians are looking for air defense in all sorts of ways, so — from helicopters and airplanes, as well as missiles. And so we are working with the Ukrainians through all of our sources and with our partners and allies to provide them with the systems that they ask for that get after those needs.
Believe it or not, there is still a lot more Q&A at the link!
If you're wondering what bottom of the barrel for Russian senior military leaders looks like, this is it:
After losing all of his top generals and commanders in the war with Ukraine, Putin calls General Pavel out of retirement to lead the Russian invasion. He weighs nearly 300 pounds now, intelligence officials say Putin is "scraping the bottom of the barrel". pic.twitter.com/AMoMTfoZ3F

— Mike Sington (@MikeSington) June 26, 2022
This morning Ukrainian Forces carried out another strike on Russian positions on Snake Island!
Another strike of the #UAarmy on the russian troops on Snake Island. The occupiers lost an anti-aircraft system Pantsir (SA-22 Greyhound). The cleaning of our land will continue as long as needed. pic.twitter.com/WpXbUrOICH

— Defence of Ukraine (@DefenceU) June 27, 2022
Unfortunately, and as you saw referenced in both President Zelenskyy's address and the Ukrainian MOD's update, the Russians launched a cruise missile strike on a shopping mall earlier today.
"More than 1,000 civilians were in the #Kremenchuk shopping center at the time of the Russian missile strike. "The mall is on fire, rescue teams are fighting the fire, the number of victims is impossible to imagine," – President Zelensky#RussianWarCrimes pic.twitter.com/9eFg3KJjDM

— Stratcom Centre UA (@StratcomCentre) June 27, 2022
Shopping mall in Kremenchuk after today's russian attack.
So far, 10 people are reported dead, and at least 40 wounded.#RussianWarCrimes pic.twitter.com/lS71eCGYP8

— Stratcom Centre UA (@StratcomCentre) June 27, 2022
Ukraine said it feared scores of civilians might be dead or injured after a Russian missile strike hit a crowded shopping mall in the center of the country Monday.

More than 1,000 people were inside at the time of the rocket attack, President Volodymyr Zelenskyy said.

"The number of victims is impossible to imagine," he added in a post on the Telegram messaging app, sharing video that showed plumes of gray smoke rising above a building that was consumed in flames as people and first responders ran in front of it.

The apparent attack hit a shopping center in Kremenchuk, a city in the Poltava region on the banks of Ukraine's Dnieper River. Dmytro Lunin, head of the Poltava region, said at least 13 people were killed and more than 40 others were injured.

"It is too early to talk about the final number of the killed," he said as night fell in Ukraine.

Standing inside the smoking rubble of what was once a supermarket, Anton Herashchenko, an adviser for the Ministry of Internal Affairs, said rescuers were digging through what remained of the roof to find potential survivors.

"Rescue workers are underway to save people who just came to buy groceries," he said, lifting the camera to show dozens of people frantically shoveling and sawing in to the blackened debris.

The Ukrainian Air Force Command reported that the missiles were fired from long-range bombers that took off from a Russian air base north of Ukraine.

NBC News has not verified that claim or the number of any deaths. The Russian Embassy in the United States did not immediately respond to a request for comment on the Ukrainian claims.
Much more at the link, including Russia's odious claims that this was a false flag attack carried out by the Ukrainians on their own people as provocation against Russia. Which is, of course, a lie!
I think that's enough for our first night back.
Your daily Patron!
Demining dog Patron showed the subscribers a new fit – a stylish white & blue vyshyvanka.

"Honestly, I don't like to wear anything but my work vest and Vyshyvanka." https://t.co/VNh76co9Py pic.twitter.com/t0GsYshR5A

— Euromaidan Press (@EuromaidanPress) June 27, 2022
Styling and profiling!
And here, from Patron's official TikTok, is Patron engaged in the most serious fight of any war: fighting to stay awake during a briefing!
Open thread!