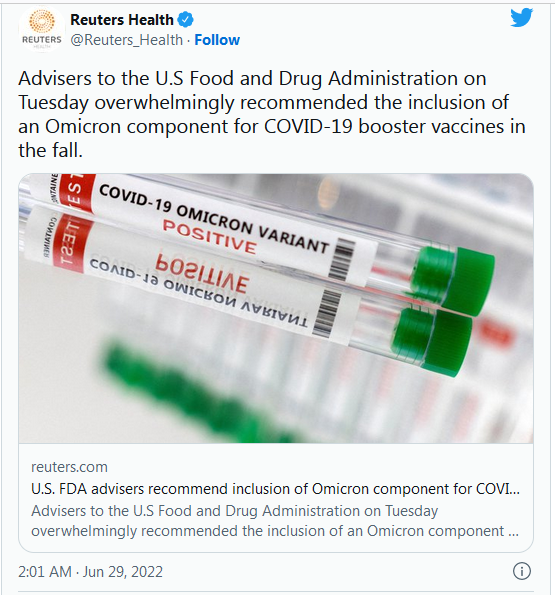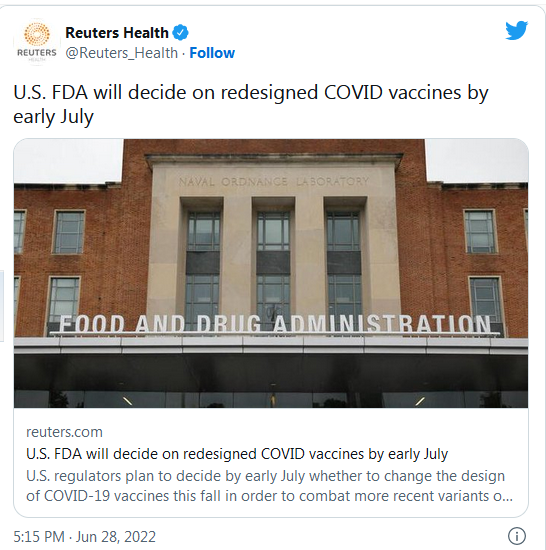 … FDA scientists at the meeting suggested they preferred vaccines that will target the BA.4 and BA.5 Omicron subvariants that are currently dominant rather than the BA.1 Omicron variant that led to a massive surge in infections last winter.

Dr. Peter Marks, director of the FDA's Center for Biologics Evaluation and Research, said the regulator would hope to launch a booster campaign with a retooled vaccine by October.

"The better the match of the vaccines to the circulating strain we believe may correspond to improved vaccine effectiveness, and potentially to a better durability of protection," Marks told the meeting of outside expert advisers to the agency…

Dr. Kanta Subbarao, representing a World Health Organization advisory committee that also considered the issue, said she preferred BA.1-based vaccines, suggesting they could generate a broader immune response because that variant is more distinct from the original virus than its successor subvariants…

Both Moderna and Pfizer have said that their respective BA.1 inclusive vaccines generated a better immune response against Omicron than their current shots that were designed for the original virus that emerged from China.

They have said their new vaccines also appear to work against BA.4 and BA.5, but that protection is not as strong as against BA.1.

The International Coalition of Medicines Regulatory Authorities, a group of global drug regulators that includes the FDA, will meet to discuss the issue on Thursday.
The fast-spreading BA.4 and BA.5 sub-variants of Omicron are estimated to make up a combined 52% of the coronavirus cases in the United States as of June 25, the U.S. Centers for Disease Control and Prevention (CDC) said on Tuesday. https://t.co/55FbiLiiyN

— Reuters Health (@Reuters_Health) June 28, 2022
======
It started as a pandemic mitigation effort, but turned out to be surprisingly popular…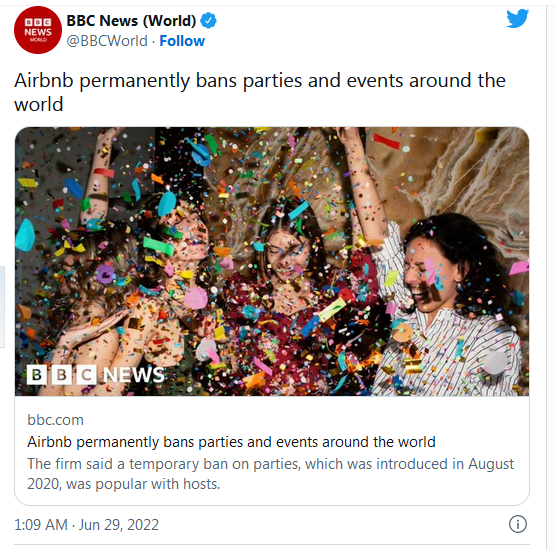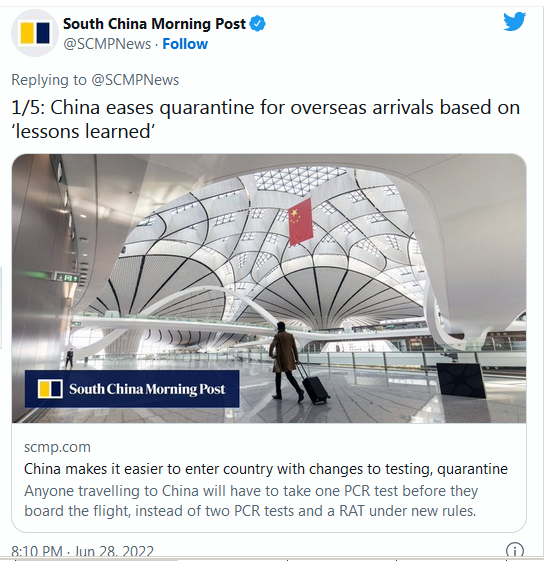 Former English expat in Beijing: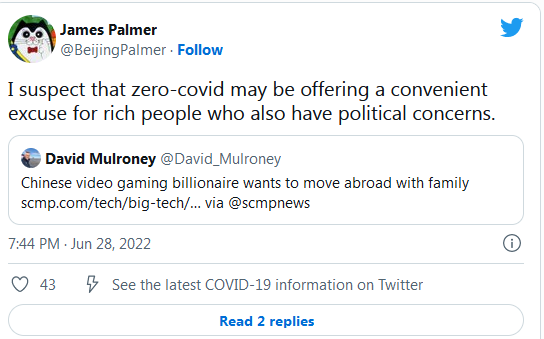 Huang Yimeng, the billionaire co-founder of one of China's largest video gaming companies, XD, said he is relocating with his family abroad next year, joining a growing number of rich and educated Chinese people considering emigration amid the country's rigid Covid-19 measures…

One of China's youngest nouveau riche with a net worth of US$1.2 billion according to the 2021 Forbes Rich List, Huang currently lives with his school-age children in Shanghai, where XD is headquartered.

His decision to move his family out of China comes after Shanghai recently emerged from a two-month citywide lockdown that began on April 1.

One of the very few Chinese technology executives active on Twitter, Huang had been blogging almost daily about his life since the start of the lockdown, which forced most of Shanghai's 25 million residents to stay home in a bid to control the city's worst coronavirus outbreak to date…

Huang's decision also comes as his company accelerates overseas expansion amid increasing competition and tightened regulations at home. It is becoming harder for game studios like XD to obtain permission from Beijing to launch new titles…
Hong Kong registered 2,004 new Covid-19 infections on Wednesday, of which 155 were imported. No new deaths were reported.

Full, trusted coverage on HKFP: https://t.co/w8LTgNgHXy pic.twitter.com/YVtmE5E8WD

— Hong Kong Free Press HKFP (@hkfp) June 29, 2022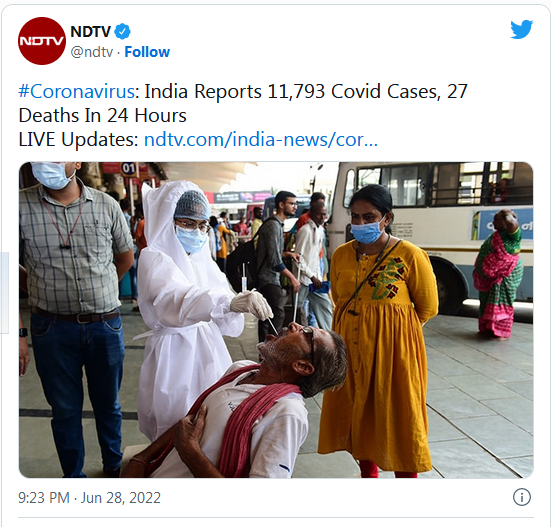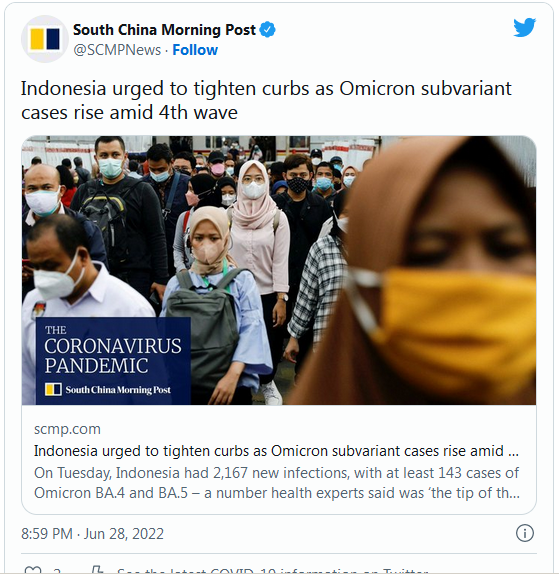 Health experts have urged Indonesia to reimplement stricter coronavirus curbs as a top official warns the country could see the latest wave, driven by Omicron subvariants, peak in the second or third week of July.

Health Minister Budi Gunadi Sadikin made the prediction on Sunday, based on the virus' transmission pattern in South Africa, the first country that reported the emergence of the Omicron subvariants BA.4 and BA.5. If the same infection rate applies in Indonesia, the country would see around "17,000 or 18,000" daily cases during the peak before the wave flattens, Budi said.

Southeast Asia's biggest economy has persistently recorded an increase in new Covid-19 infections in the past weeks, recording 2,167 daily cases on Tuesday, the highest since early April. Since Friday, Indonesia has also seen at least 143 cases of Omicron BA.4 and BA.5, though health experts warned that this number was only "the tip of the iceberg" due to lack of testing and tracing, a fundamental problem the country has had since the pandemic was declared more than two years ago.

Some provinces, such as Jakarta and Banten, have recorded a positivity rate beyond the World Health Organization's standard of 5 per cent, which dictates that any rate below it means that the pandemic is under control. However, minister Budi has claimed that Indonesia's national Covid-19 positivity rate is currently tracked at 3.61 per cent.

"We do see an increase of daily cases, from 200 to around 2,000 daily cases, at the moment. But during the peak of previous waves, the daily cases in Indonesia reached up to 60,000 cases per day," Budi said, adding that the public should remain calm and stay alert during the current wave…

Both experts also urged Indonesians to adhere to the Covid-19 health protocols, whose implementation have been laxed in the past months following the Omicron-driven third wave earlier this year.

While a hard lockdown like the one seen in China is unlikely to be imposed in Indonesia, Coordinating Minister for Maritime Affairs and Investment Luhut Pandjaitan – who is tasked by President Joko Widodo to oversee the pandemic responses in Java and Bali – hinted last week at the possibility of requiring booster shots as a travel requirement. It was not immediately clear if the plan would include both domestic and international travel…
======
Great BA.5 primer by @EricTopol. Key points:
1) Will be dominant variant soon
2) ⬆infectious & ⬆immune evasive vs prior variants
3) Severity unclear, but some ⬆hospitalizations
4) Adds to case for 2nd boost & masking
5) New bivalent vax may not add much https://t.co/h317ggGutV

— Bob Wachter (@Bob_Wachter) June 28, 2022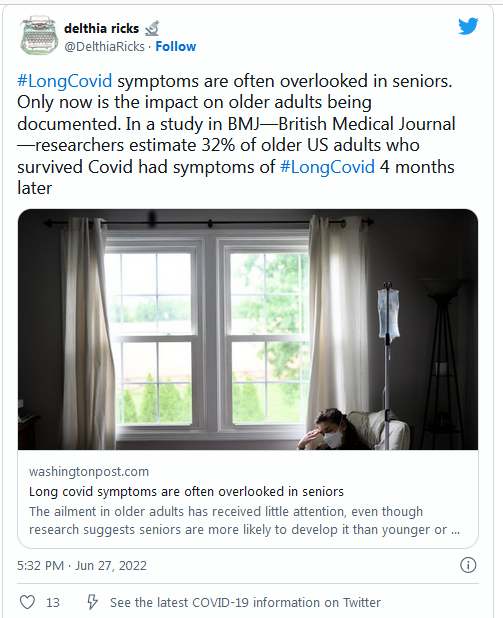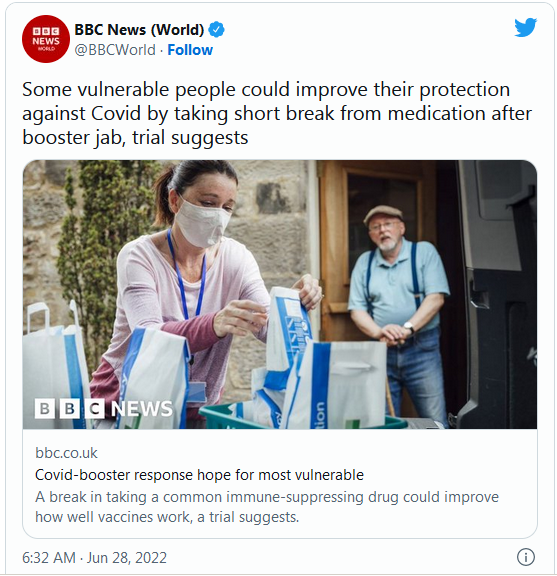 Methotrexate, specifically:
… It found stopping the common immune-suppressing drug methotrexate for two weeks doubled spike antibody levels for up to 12 weeks.

Some people experienced disease flare-ups but no impact on quality of life.

Research is needed to find out if a similar approach works for other drugs.

Patients should always consult their doctor or specialist hospital team before pausing their medication, scientists writing in the Lancet Respiratory Medicine said.

Until now, UK guidance has been to continue taking methotrexate after a Covid booster – but in the US, patients have been advised to stop for a week…

In the trial, 254 adults, from 26 NHS hospitals across England and Wales, who had just had a Covid booster jab, were equally divided and asked to either:

– stop taking methotrexate for two weeks
– continue using it as normal

Four weeks later, levels of spike antibodies in the blood – which block the virus from infecting cells inside the body – were twice as high in the first group as the second group, and they remained noticeably higher after 12 weeks.

Some disease symptoms temporarily returned after a month but this had no negative impact on their general health…

Dr Benjamin Ellis, consultant rheumatologist and senior clinical advisor at charity Versus Arthritis said hundreds of thousands of people on these medications for arthritis had to shield from Covid at the height of the pandemic.

He said that for most people, pausing methotrexate for a couple of weeks was "probably a good idea" but further research was needed "to really understand if this is necessary".

"People should never pause their immune system medication without checking first with their health-care team," Dr Ellis added.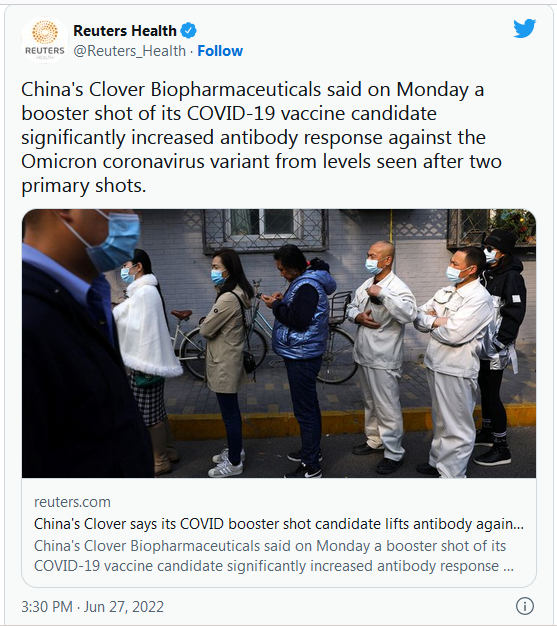 ======
Some things don't ever change…
Elmo gets covid vaccine, sparks another muppet feud with Ted Cruz https://t.co/ddhgxzosGz

— Post Health/Science (@PostHealthSci) June 29, 2022