Yesterday one of two compromised Secret Service agents, Tony Ornato and Robert Engel, one of whom (Ornato) became a Trump aide for a time, was more than likely the "anonymous source" who ran to a credulous hack and became part of the MAGA pushback and tarring of Cassidy Hutchinson. Remember, all Hutchinson said under oath is that Ornato told her the story. She didn't testify as an eyewitness.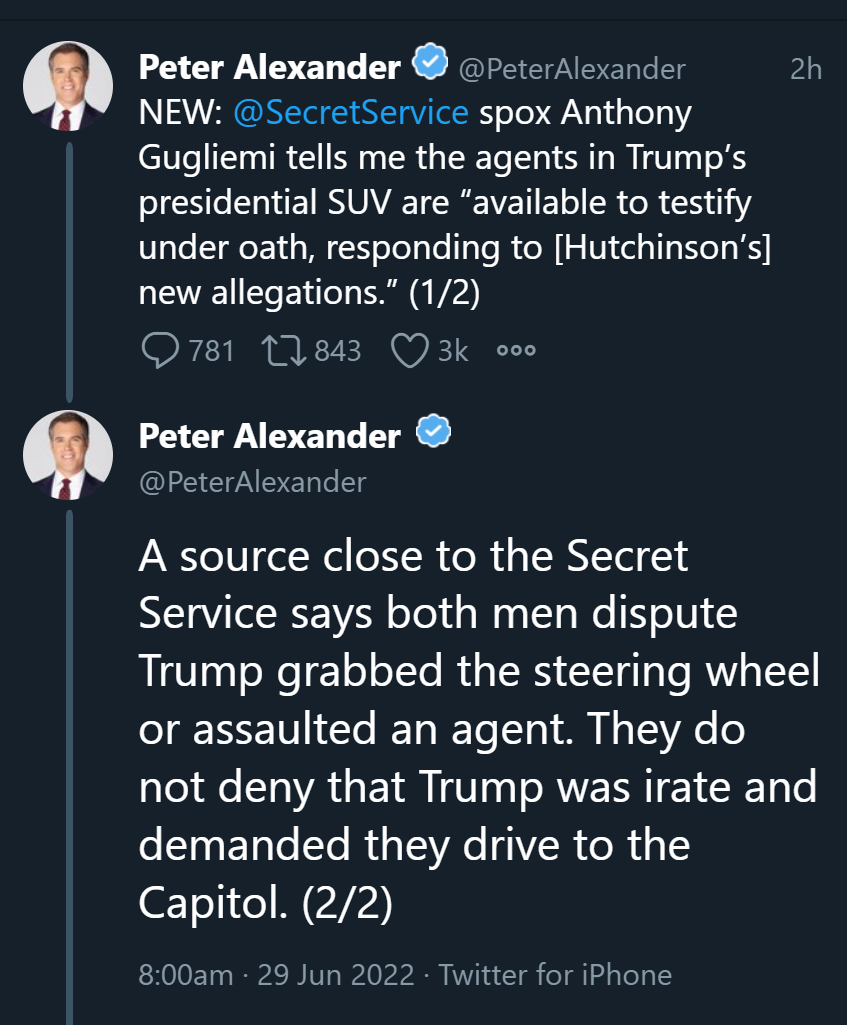 Also, yesterday, Ginni Thomas, through her lawyer, said she'd changed her mind and won't testify under oath after all.
So in the actions of Thomas, we see the gameplan. Make a headline and then let the truth out on the back page a few weeks later.
Unfortunately for us and the nation, the god damned DC Press Corpse is more easily distractible than a ten week old puppy, so they'll run this Jesus take the wheel horseshit into the ground, while ignoring the bigger story. The reasons are many, including a fanatical devotion to "both sides", but the one I despise is laziness. A reporter would actually have to talk to an expert and learn something to realize it's Trump's intention to go to the Capitol, not grabbing the wheel, that is the real issue here. Instead, we're going to have stories on the inner dimensions of the SUV, Trump's reach, etc. In addition to laziness, part of the problem is the ghoulish fixation that they have on assassination and presidential protection. A still bigger issue is the Stockholm syndrome of formerly bullied nerds that leads to veneration of supposed tough guys like Secret Service agents.
The bottom line is a big part of the reason that Democrats' talking points and positions don't get any traction is because the so-called liberal media is not on the side of truth, but rather on the side of their mostly white, mostly male media privilege. They think this privilege will be retained in the coming Reich: in that sense, they're like Republican women who are just now understanding that their ectopic pregnancy could lead to death under the new Canon law that they gleefully supported. Unfortunately for our self-appointed disinterested arbiters of truth, if the MAGAts take over, the mainstream media will be among the first to be strung up by the Proud Boys and Gravy Seals.
Anyway, my point is that Cassidy Hutchinson's testimony will be challenged if and only if one of these clowns goes under oath and swears to a different version of the story. Until then, we should pay them no heed, and certainly not grant them anonymity to tell their lies.