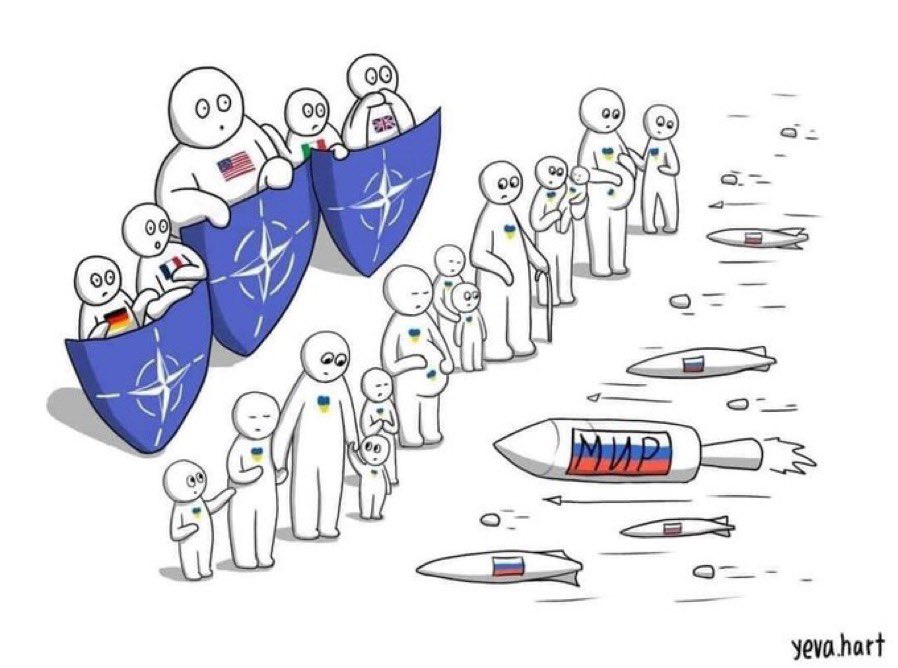 Here's President Zelenskyy's address from earlier this evening. Video below, English transcript after the jump: (emphasis mine)
Ukrainians!

All our defenders!

I have just taken part in a special meeting of the UN Security Council convened at the request of Ukraine. Convened by Albania – this state presides in the Security Council. We have taken advantage of all international levers to bring Russia to justice for state terrorism. For everything done by the Russian army against Ukrainians in Kremenchuk, in Ochakiv, in Lysychansk, in Kharkiv, in Dnipro, in many, many other cities of Ukraine. As of this evening, the total number of Russian missiles that have hit our cities is already 2,811. And there are many more air bombs, many artillery shells…

The UN Security Council today stood in silence to commemorate all Ukrainians killed by the Russian army on our land. The members of the Russian delegation looked at everyone present in the Security Council and also decided to stand up – just so as not to look like outright murderers. But everyone knows that it is Russian terror, it is the Russian state that is killing innocent people in this war waged against the Ukrainian people.

I called on the UN to use the existing mechanisms of the Charter to stop Russian manipulation of the Organization's structures and to set up a special tribunal to investigate the actions of the Russian occupiers on Ukrainian soil.

Ukraine's law enforcement and intelligence agencies are doing their best to identify all Russian servicemen responsible for the terror against our cities. The names, faces and all information about each of these terrorists will be known to the world. None of them will be able to avoid responsibility, and personal sanctions will not be enough for these people. A sentence and imprisonment are the minimum they deserve.

And I wish to say separately about the responsibility of those Russian propagandists who lie about this terror, who are trying to justify the actions of the Russian army. Each of you will also be punished. We have all the evidence of what the Russian troops are doing against our people.

Today, I want to end this address with one such piece of evidence – so that no one dares to deceive about the missile strike at the shopping mall in Kremenchuk. The Russian missile hit this very object, purposefully. Obviously, that was the order. It is obvious that Russian assassins received such coordinates for this missile. They wanted to kill as many people as possible in a peaceful city, in a regular shopping mall. Here is what happened in Kremenchuk:

(Video)

And for this act of state terrorism, as for all others, Russia will be responsible. On the battlefield in Ukraine, by the strengthening of sanctions and, of course, in the tribunal.

I am grateful to everyone who defends Ukraine. Today I signed a new decree on awarding our heroes. 314 more combatants were awarded state awards.

Eternal glory to our defenders!

Glory to Ukraine!
As of now there is no operational update from Ukraine's MOD posted.
There was also no DOD background briefing today.
Here's the British MOD's assessment for today: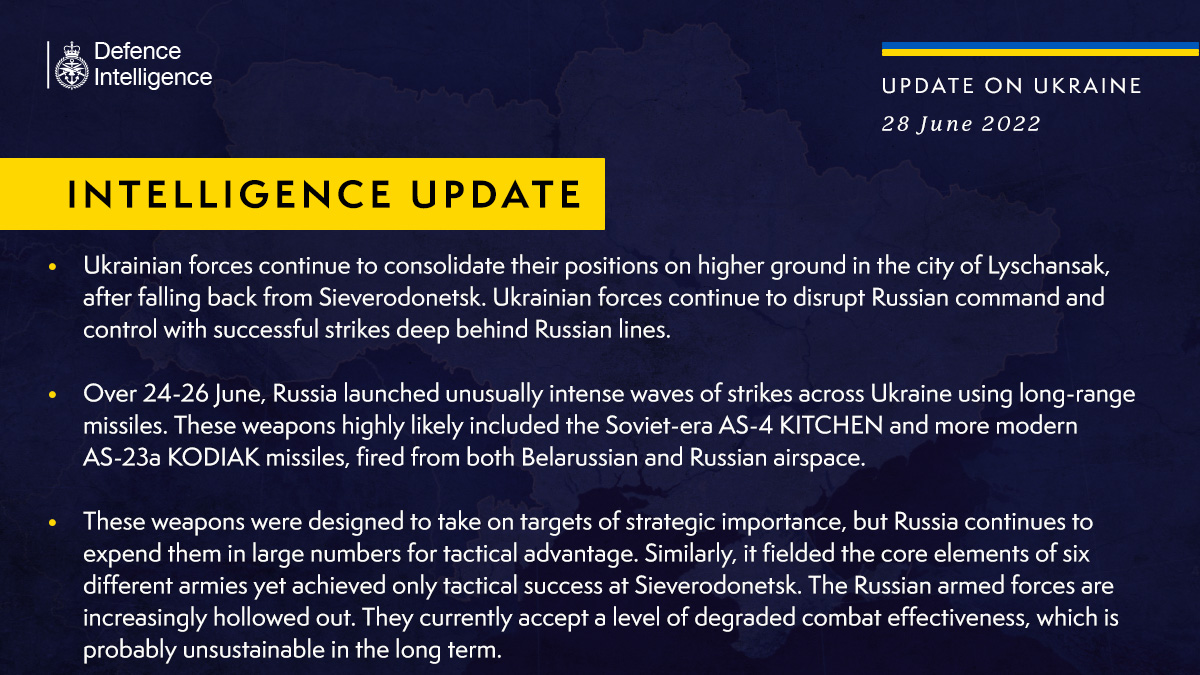 And here's their updated map for today: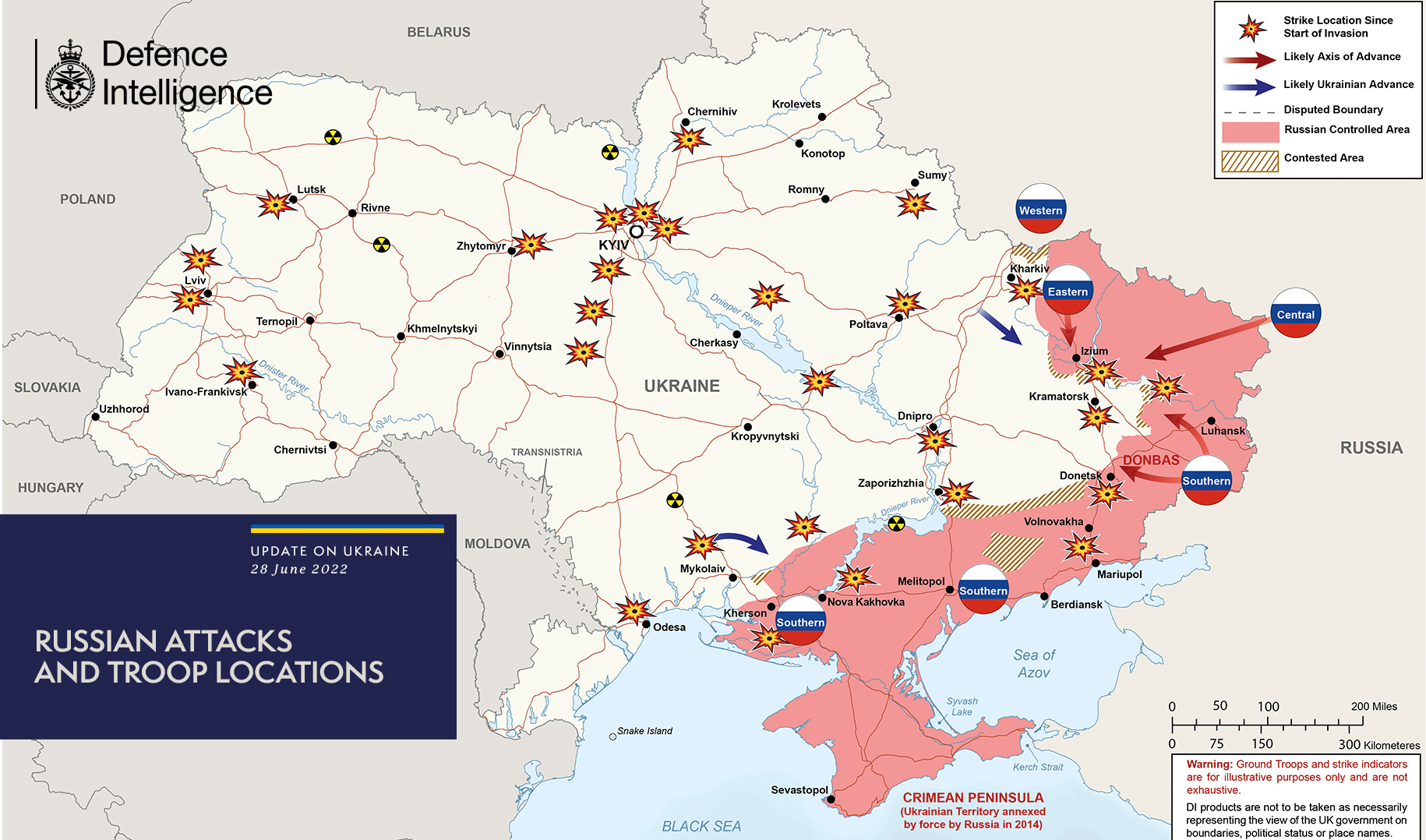 As you can see there's still not a lot of movement at the macro level. In the comments last night YY_Sima Qian asked if we could do some map comparisons over the last couple of weeks. This is a great idea. So you've got today's map above and below we've got from – top to bottom – yesterday's, 22 June, 19 June, 12 June, 8 June, 1 June, and 31 May.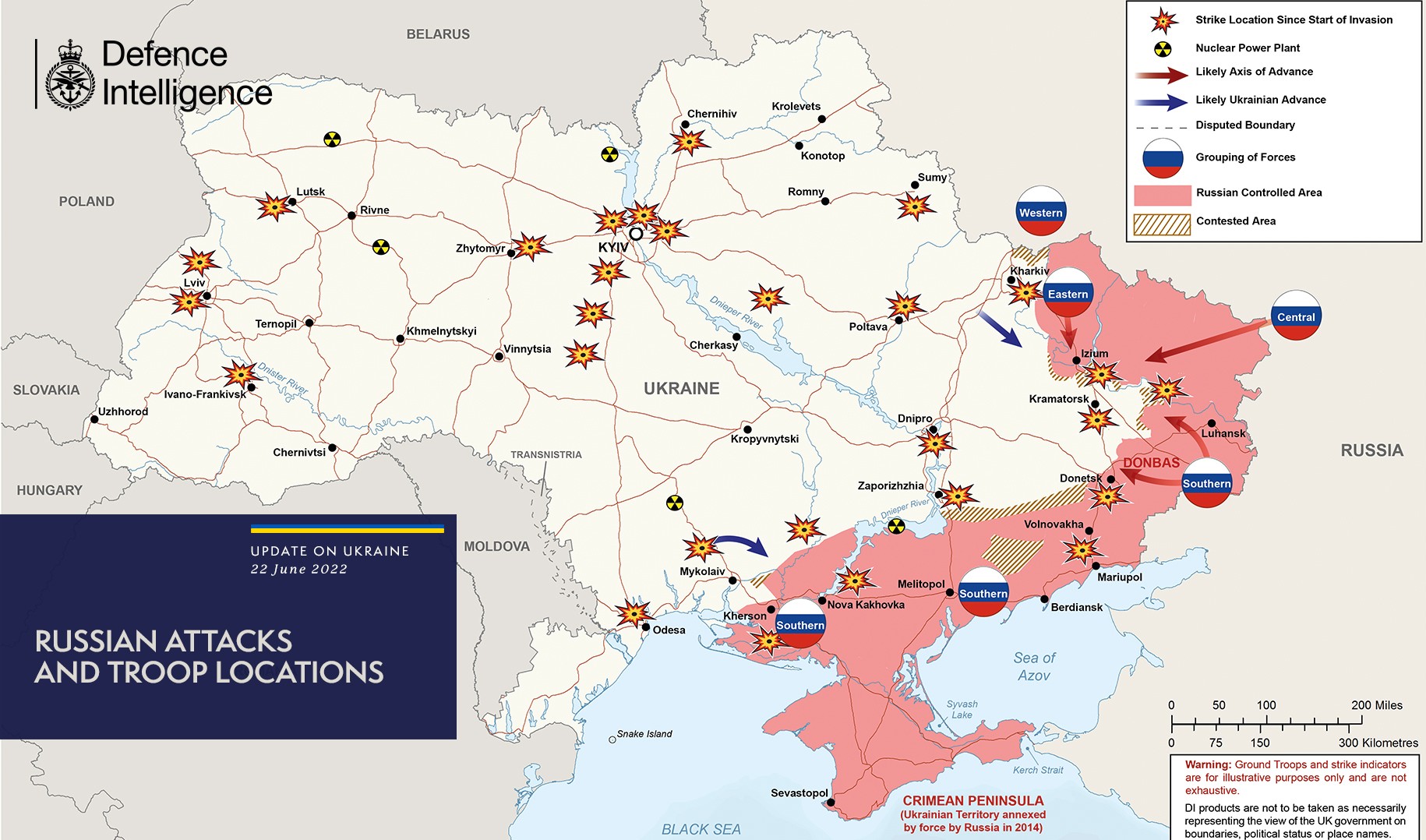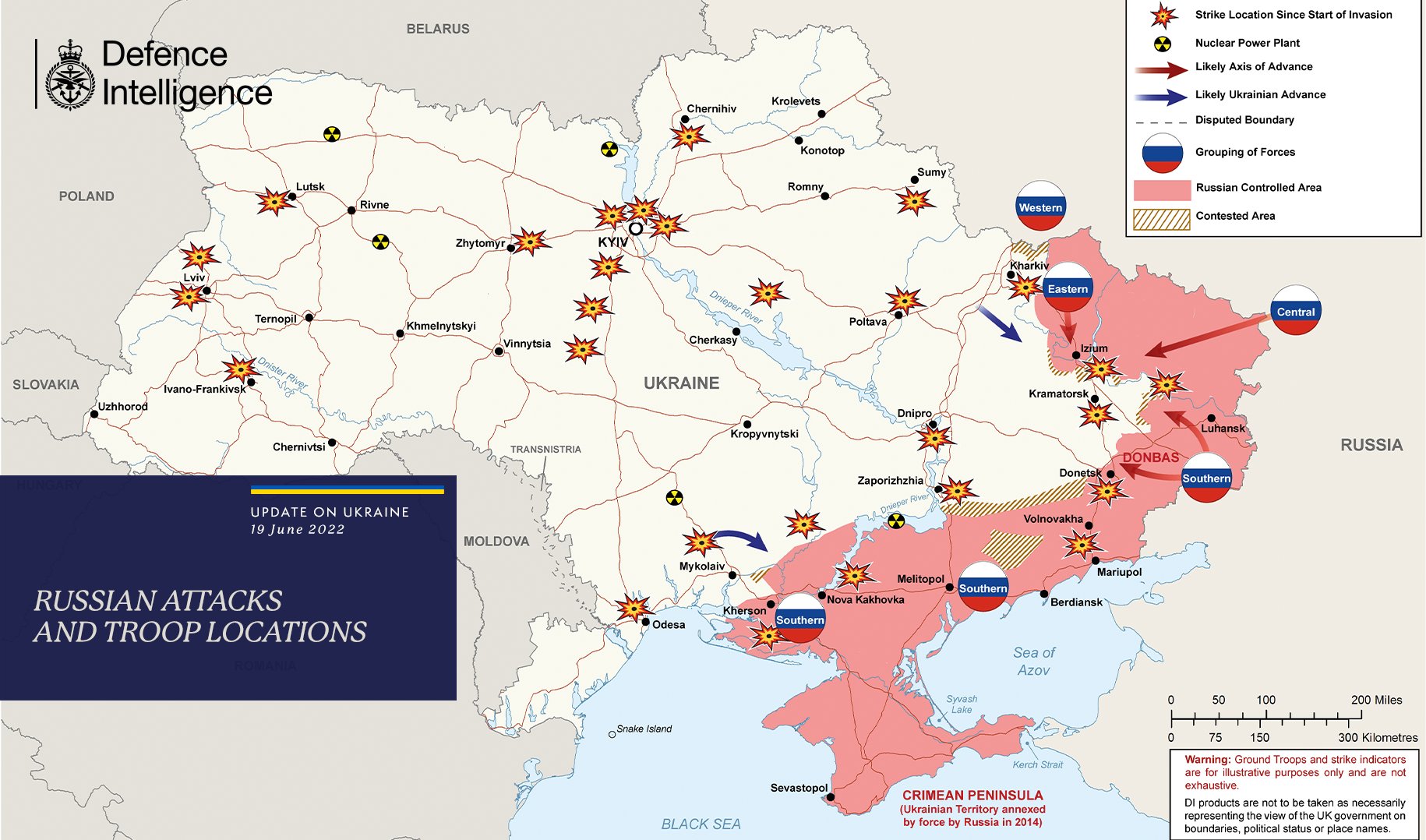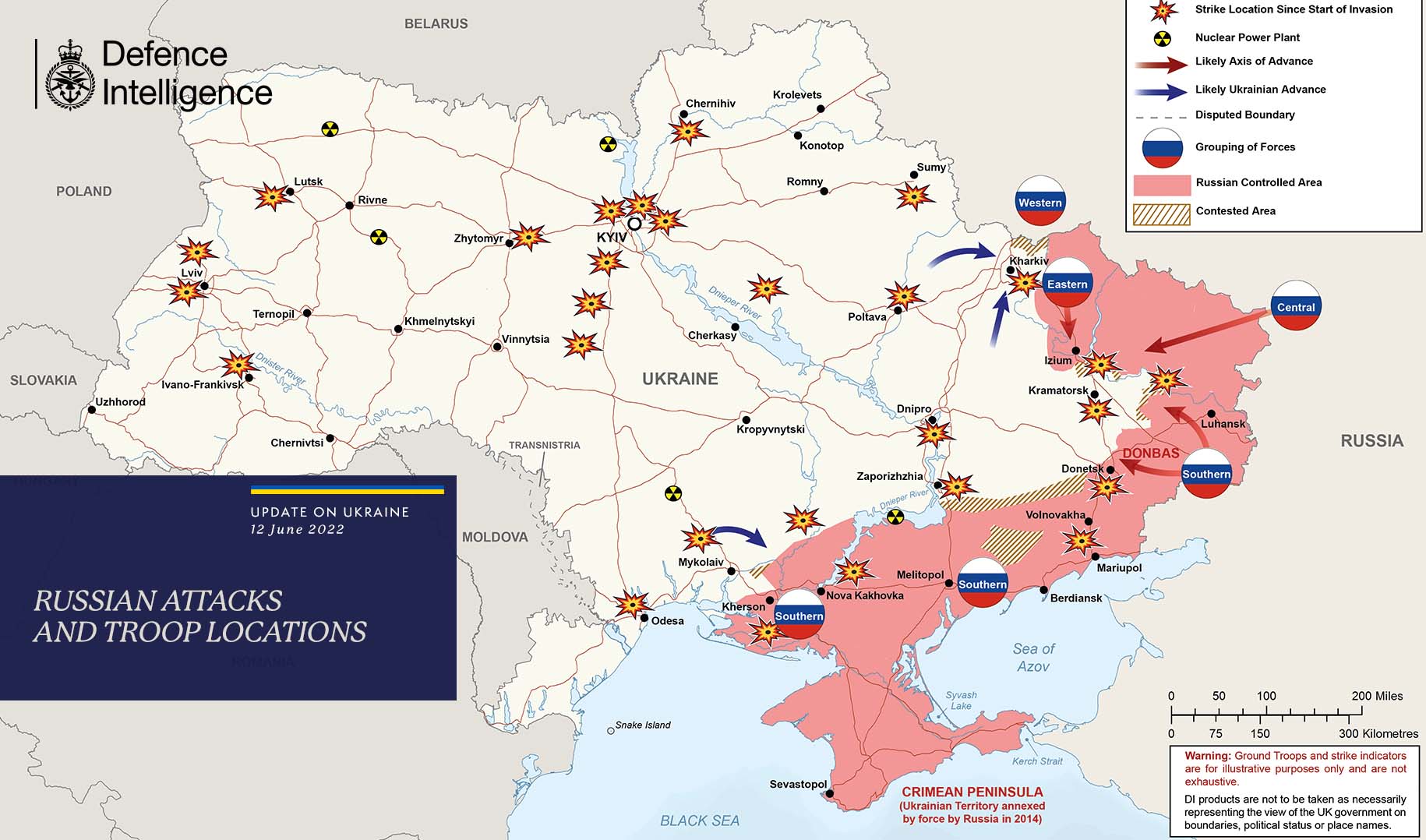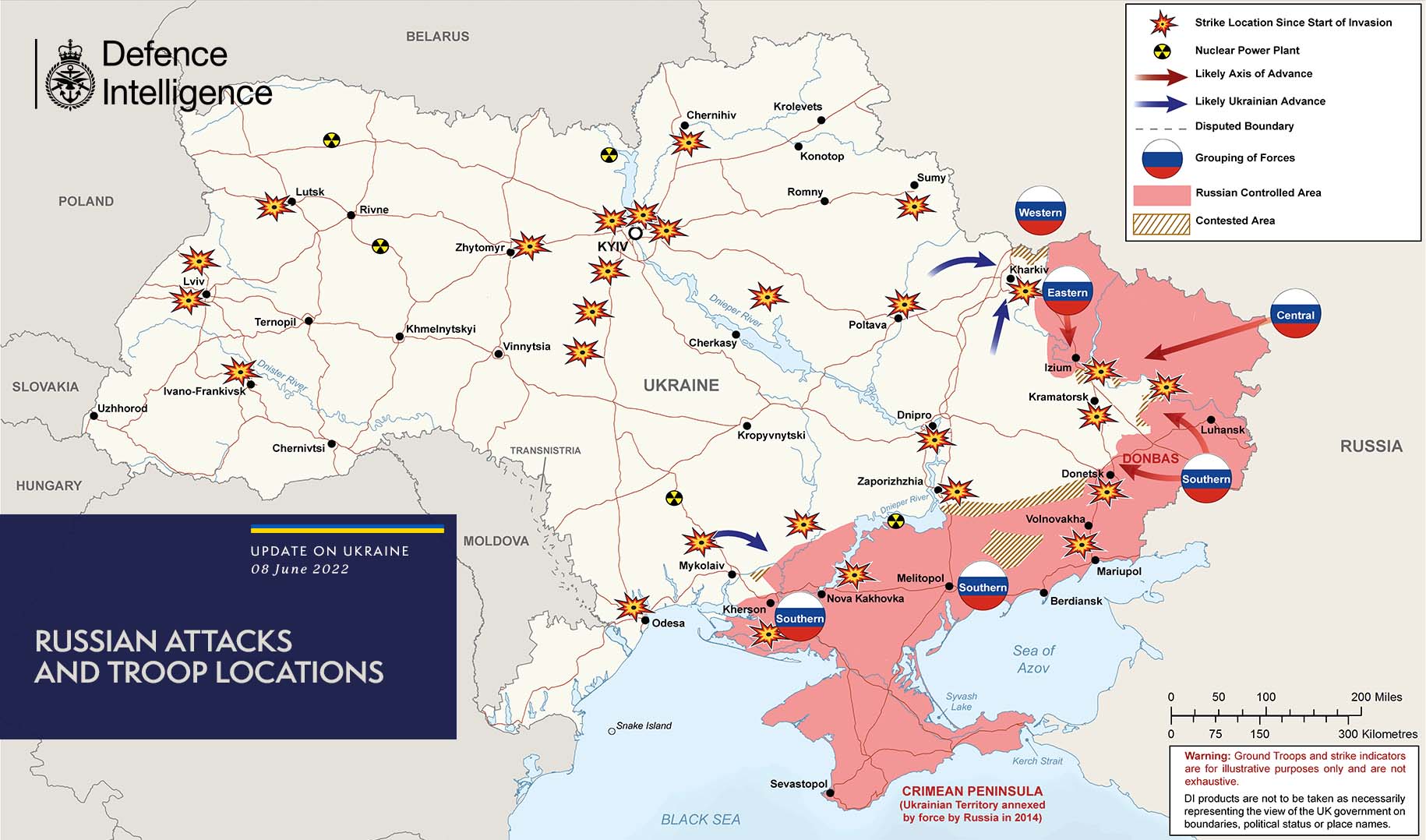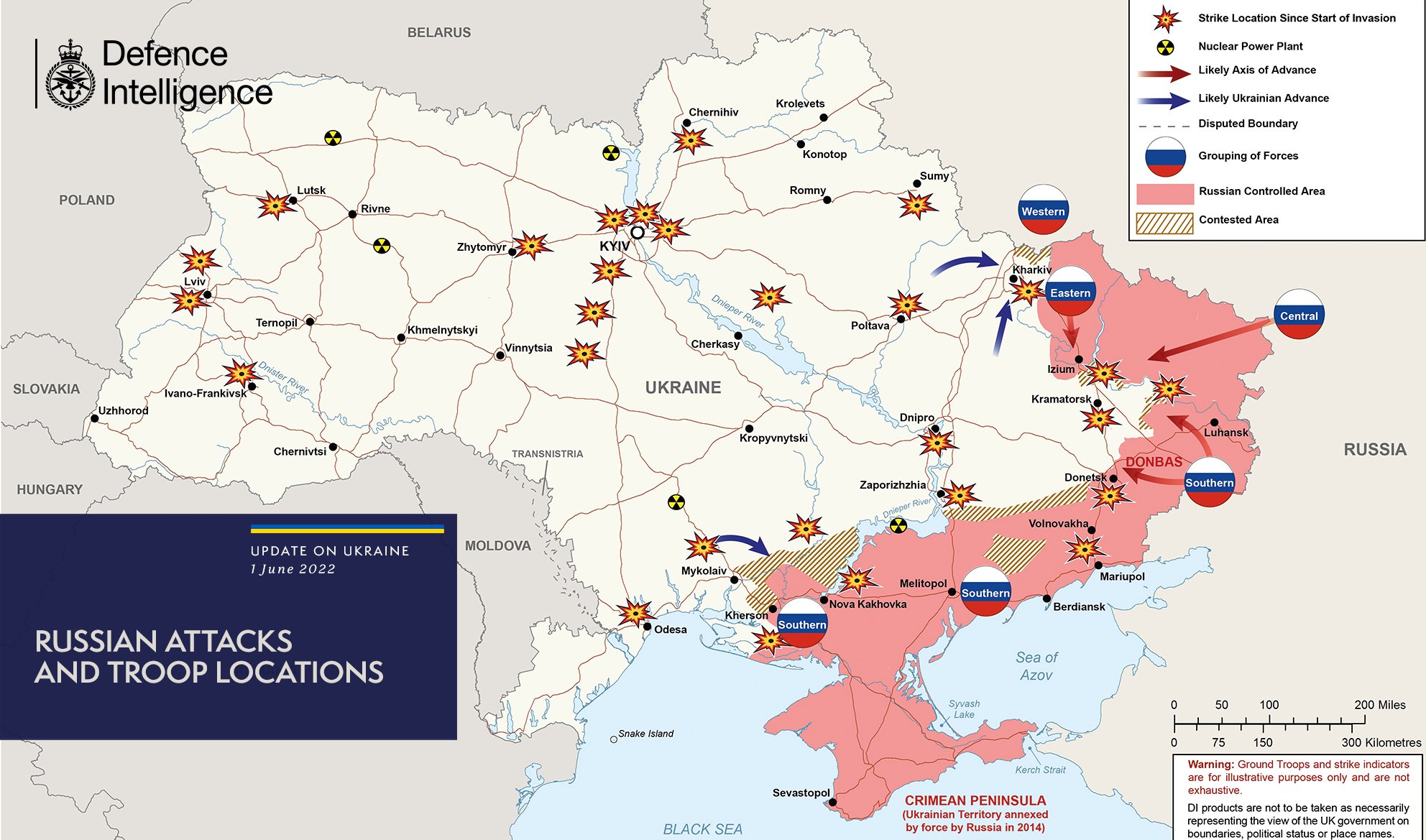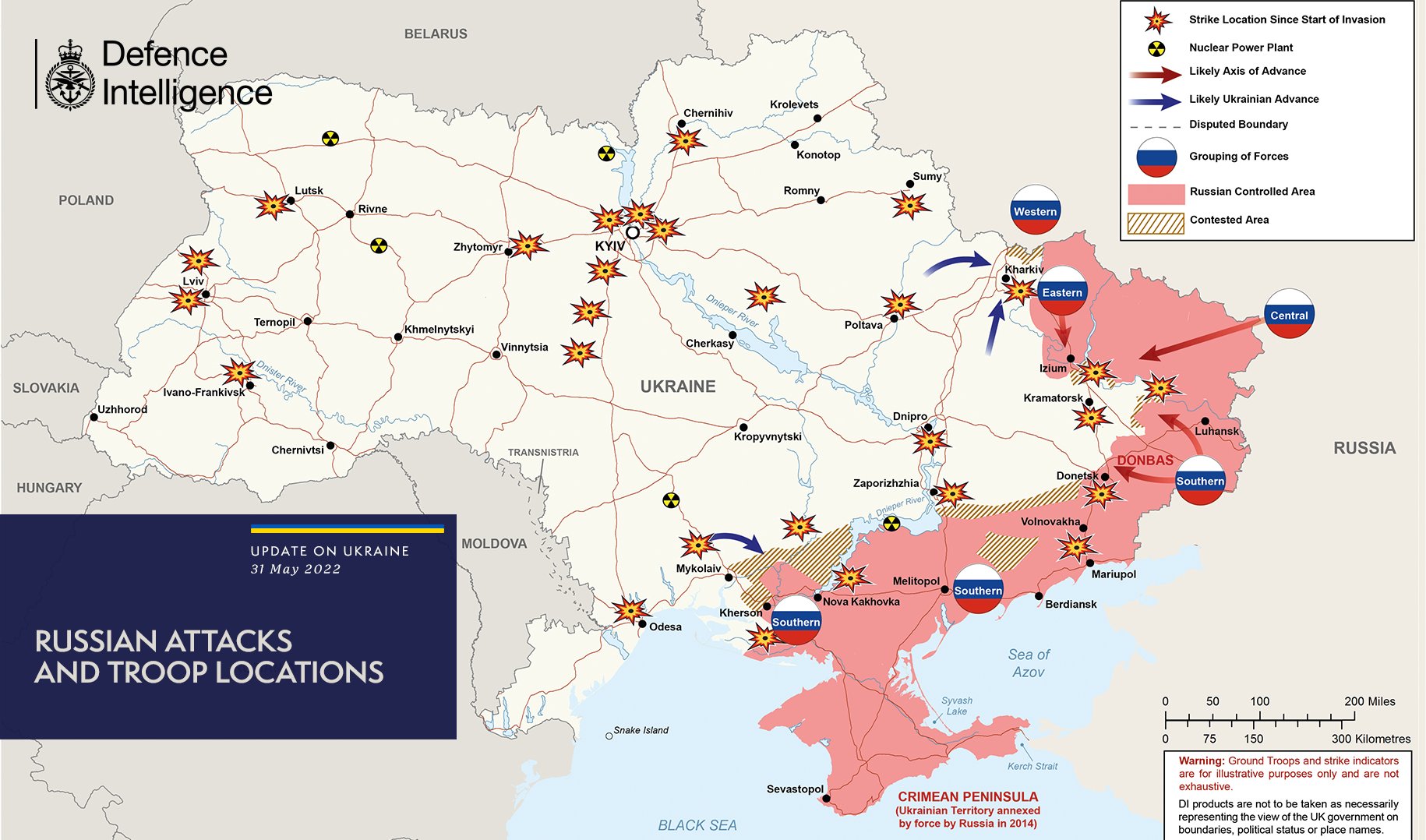 I hope that seeing them one above the next helps you all visualize just how stable the lines are at the macro level over the past month. Where you actually see movement, which is Ukraine attritting the Russians and pushing them back, is in the south around/near/in Kherson, which isn't getting a lot of coverage because all the reporters up near Sievierodonetsk.
We have some additional footage from the strike on the shopping mall yesterday. Here is specifically the clip that President Zelenskyy highlighted in his address:
⚡️Zelensky shows video of deadly missile strike on Kremenchuk shopping mall.

In his nightly address, President Volodymyr Zelensky showed a video of a Russian missile strike on a crowded shopping mall in Ukraine's central city of Kremenchuk. pic.twitter.com/rJik8HpsJz

— The Kyiv Independent (@KyivIndependent) June 28, 2022
And here's multiple different video streams of the effects of the strike from a park adjacent to the Amstor mall in Kremenchuck. As far as I can tell no one in the video is injured. You can, however, actually see the blast wave in several of the clips.
The moment of the explosion after the missile attack on the Amstor mall in Kremenchuk. pic.twitter.com/jwRavuyqtX

— ТРУХА⚡️English (@TpyxaNews) June 28, 2022
And Norway has stepped up with an important addition to Ukraine's arsenal:
THANK NORWAY: The US will transfer to Ukraine the Norwegian Advanced Surface to Air Missile System (NASAMS). This networked SAM complex 'ground launches' state of the art AMRAAM air-to-air missiles– the same ones used by F-22, F-35, F-15 and F-18 fighters. pic.twitter.com/PTPz7Wrpnz

— Chuck Pfarrer (@ChuckPfarrer) June 28, 2022
Apparently Finland and Sweden came to terms with Turkey, which has resulted in Turkey lifting its threat to block their ascension into NATO. The price, as is always the case when dealing with Erdogan, will be paid by the Kurds.
Here are the things Turkey got:
• Sweden/Finland will lift its arms embargo
• Both will support Turkey on PKK, stop support to YPG
• They will amend their laws on terrorism
• They will share Intel with each other
• They will extradite terror suspects 1/

— Ragıp Soylu (@ragipsoylu) June 28, 2022
HERE IS THE JOINT DECLARATION

• Sweden and Finland confirm that there are no arms embargoes against Turkey. pic.twitter.com/gMa0LgQHJO

— Ragıp Soylu (@ragipsoylu) June 28, 2022
All of this was to help Erdogan shore up his standing ahead of his facing reelection.
Your daily Patron!
Ukraine's most famous de-mining dog, Patron, starting his next mission. pic.twitter.com/h54hmnOEWf

— Visegrád 24 (@visegrad24) June 26, 2022
And here's Chapa!
play with the babies and enjoy Parmesan.
She performed her first preventive combat mission before the International Children's Day, where she was responsible for playing with displaced children theirs anti-stress and good mood.

— TwoHappyDachshunds (@TwoHappyDachs) June 28, 2022
And here's a video from Patron's official TikTok page!
Open thread!