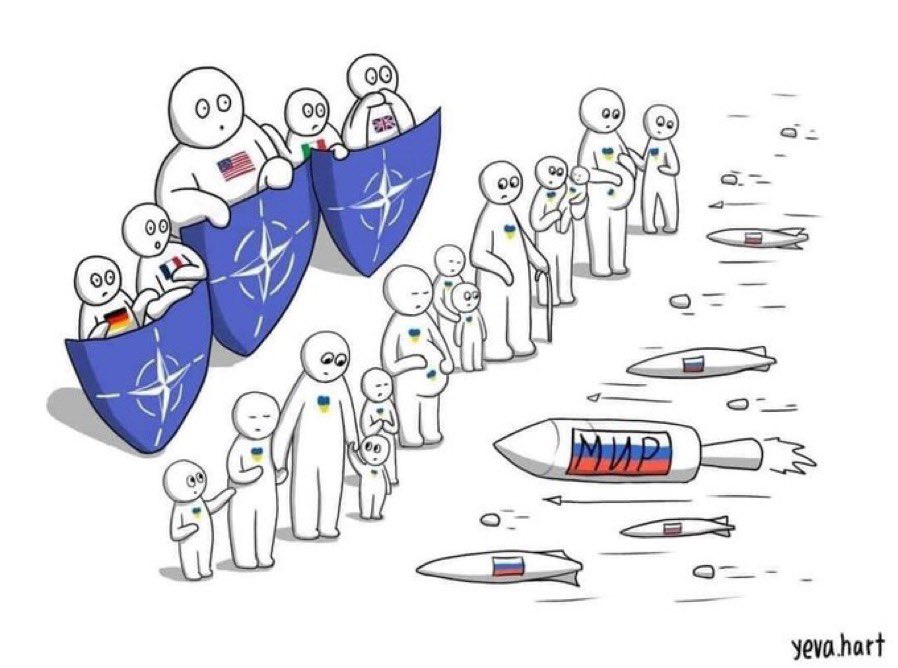 Because President Zelenskyy addressed the NATO summit today, we've got a twofer of his speeches this evening. I'll start with his address to NATO with the video above the jump followed by the English transcript after it (emphasis mine). Unlike his nightly addresses, there are no English subtitles available for his address to NATO.
Dear Mr. Secretary General!

Ladies and Gentlemen!

I am grateful for the opportunity to address you today at the NATO Summit, which will be crucial and groundbreaking.

Today is really the beginning of a new history. Not just for NATO's eastern flank, but for the entire Alliance. For the whole Euro-Atlantic community. In a time of extremely aggressive Kremlin, the world needs an extremely bold Alliance.

And I am sure that the next summit in a year will show the results of this summit and what the future of NATO will be. I am grateful once again for this opportunity, and my address to you at the next NATO summit, next year – with my direct participation, not this online format – will be a testament to our common victory. But next year could be a worse situation – if not only Ukraine, but also several other states, possibly members of the Alliance, come under fire from Russia. And then it will be our common failure – Ukraine and NATO.

You are all well aware of what Russia's goals really are. For many years it has been threatening to start a war. Threatened – if Ukraine joins NATO. But Ukraine is not in NATO, and Russia's full-scale war against our state has been ongoing for 126 days – after 8 years of war in Donbas. So why has everyone believed for decades that it was NATO that could provoke Russia into something by its actions?

Russia's goals are known. They are obvious. The Russian leadership sees the world differently. Not like you. They see Lithuania, for example, not as a member of your Alliance, but as a republic of the Soviet Union. For us, it is an independent state and has long been a former republic of the USSR, for us it is the past, and they see it as a possible future, they want to enslave it again. They consider it that way. They see it that way. And the same goes for every country that is Russia's neighbor. For every state that was once under Moscow's influence.

Only now – at this summit – will you identify Russia as your main threat, but you have been an enemy for them for a really long time already. And the ideology of Russia is based on this, it is reflected one hundred percent in its propaganda, its task is to break you, to put pressure on you. And it is surprising that the work of propagandists, Russian television in some of your countries continues! This is not about freedom of speech. This is a concrete preparation of war against you, within your states.

And please look at our state – what it can lead to in yours! Russia's tactics are very simple. It destroys everything – houses, shopping malls, schools, hospitals. More than 2,800 missiles since February 24, and the vast majority were aimed at civilian targets! What is it for? What are the bombs for? What are total artillery strikes for?

The Russian army is doing everything possible to force as many people as possible to leave their cities. So that there is nothing but ruins. And then the so-called "second army of the world" enters these cities – already empty and already dead. And it does not want to stop in Donbas or somewhere in the south of Ukraine, it wants to absorb city after city, all of us, and then all in Europe, whom the Russian leadership considers its property, not independent states. This is Russia's real goal.

The question is – who is next for it? Moldova? Or the Baltic countries? Or Poland? The answer is – all of them.

The some goes, by the way, with the food crisis – with the blockade of Ukrainian ports, with the famine that Russia is provoking. What is the real target? You! The same! Hunger is a tool, a means. And its real goal is to put pressure on you, and it's chaos, it's new waves of migration to Europe.

Isn't that the case with energy? Why is Russia pulling the gas noose? Why is it putting pressure on Europe? For you to ask. For you to be humiliated. For you to be completely dependent. So that you can be forced to give up your freedom, your democracy and your values – for the sake of certain interests of the Russian leadership.

We need to see the real goals of Russia. And if they were different, now there would be no desire of Finland and Sweden to join the Alliance – to get common security.

Ladies and Gentlemen!

While democracies were calling on the Russian leadership to have reason and morality, Russia was accumulating power and missiles. You, the democratic leaders, have urged it to respect international law, but tyrants understand force. And force only! And this is clearly seen in those areas of Ukraine where the Russian army has been severely rebuffed.

Ukraine commends the decision on the accession of Finland and Sweden to the Alliance. And it is very good that this has happened now – before Russia could start acting against these states as well. But is Russia doing anything against them now given this decision? No, and you see it.

The Russian leadership has publicly stated that the Leningrad streets taught them the rules of life. There, any attempts at dialogue and appeasement are perceived only as weakness and fear. There, you don't make a phone call to anyone to talk when you have to hit back. There, you either hit or lose. This is exactly how the Russian state sees the world right now. And this vision cannot be ignored, its true goals cannot be ignored. You need to answer them. And I'm sure you all know how to respond.

In fact, our goals – the goals of Ukraine – are exactly the same as yours. We are interested in security and stability on the European continent and in the world. It is in our interest that the lives of nations are determined not by the infamous Munich speech of one leader, but by international law. We are interested in the absence of any "gray zones" and territories of total war, where there is nothing left but ruins. You are also interested in this.

Helping Ukraine end this war by winning on the battlefield now – that is, giving a really strong answer to what Russia is doing – is what we and each of your states and the whole Alliance, the whole Euro-Atlantic community need. If you really identify Russia as your threat, your main threat, you must fully support its main – the first – target. This is not a war of Russia only against Ukraine, this is a war for the right to dictate conditions in Europe. For what the future world order will be like. That is why it is absolutely necessary to support Ukraine right now with weapons, finances and political sanctions against Russia that will stop its ability to pay for the war.

Ukraine needs modern missile and air defense – and you have these systems. By providing them to us, you can completely break Russia's tactics to destroy cities and terrorize the civilian population of Ukraine. This is a fundamental thing. The distance from Kyiv to Madrid is less than the range of the missiles used against us today. Can one state respond to such a threat without the help of partners? You can provide this help. And we are grateful for the help you have already given.

Russia relies primarily on artillery on the battlefield. On artillery superiority. Dozens of times more strikes than we currently can respond with. Ukraine has already received modern artillery systems – and I am very grateful to you. But the war continues and it is a war in which artillery is of great importance. The war should not drag on. To prevent this, we need to break the Russian artillery advantage – a significant advantage, we need much more such modern systems, modern artillery.

Financial support for Ukraine is no less important than aid with weapons. Russia still receives billions every day – and spends them on the war. We have a multibillion-dollar deficit – we do not have oil and gas, which could cover it. We need about $ 5 billion a month – you know that, and that's a fundamental thing as well. This is exactly what is needed for defense and protection.

And we need a new understanding of NATO's eastern flank. It is possible to get rid of the "gray zone" and guarantee security only together with Ukraine. Just think about one fact now: today, a non-NATO country, albeit with your support, has been holding back a state that you all officially identify as your main threat for more than four months. We are deterring Russia from destroying us and from destroying you.

Ladies and Gentlemen!

Russia must be isolated. It should not be in those international structures it wants to destroy. There should be no dialogues that don't make sense until it starts looking for that dialogue itself. It must seek dialogue itself, itself, and therefore seek peace. And, for the sake of peace, the understanding of NATO's eastern flank must be revised. Is it a coincidence that all Allies in the east, all our neighbors, stand for Ukraine's membership in NATO? No, this is not a coincidence. This is logic. This is the understanding of life in our region.

NATO's open door policy should not resemble the old Kyiv metro turnstiles: they are open, and when you approach, the turnstiles close until you pay. Hasn't Ukraine paid enough yet? Is our contribution to the defense of Europe and the whole civilization still insufficient? What else is needed then?

I can say what we need: we need security guarantees, and you have to find a place for Ukraine in the common security space.

There will be either urgent help for Ukraine, which is enough to win, or Russia's postponed war with you.

You are now adopting the strategy of the Alliance – and this is first and foremost a strategy for the security of your societies, your states. Strategy for ten years. 126 days of full-scale invasion of Ukraine. Cruise missiles, torture, children murdered, women raped… We do not have 10 years. Do you have them? Are you really sure about that?

Thanks again for the invitation.

Thank you very much for your attention.

Glory to Ukraine!
Before we move on to his nightly address, I want to take a moment to reflect a bit on President Zelenskyy's address to the NATO summit. This is, as far as I remember, the most clear eyed, realistic as opposed to realpolitik, publicly statement by any national or international leader regarding Russia and its behavior. In fact this may be the best speech I've heard on foreign policy, national security policy, and geo-strategy I have heard a national leader give in my lifetime. In his address, President Zelenskyy has clearly delineated the problem, how Russia is politically and socially organized and the negative effects of that organization on the international system, clearly defined what it will take to meet the Russian threat, and then, for good measure, clearly made sure to emphasize to the NATO leaders in attendance that right now their active defense against Russia is being provided not by a NATO member, not by a superpower, not by a regional power, but by Ukraine!
Here's his address to the Ukrainian people from earlier this evening:
And here's the English transcript (emphasis mine):
Ukrainians!

Our defenders!

A week ago, our country received the status of a candidate for membership in the European Union, and today another step has been taken on the path to membership. A very practical step. "Transport visa-free regime" was signed. This is an agreement that removes barriers for Ukrainian carriers. You no longer have to wait for permits for freight transportation. And this will significantly increase the export of Ukrainian goods by road transport.

This is exactly the task of our state now – not to lose a single week in relations with the European Union. Despite this war, despite all the difficulties, we will constantly do what brings us closer to full membership in the European Union.

By the way, yesterday I held a special meeting – a big meeting including 28 participants representing the executive, legislative and judicial branches of government. The state will have a relevant document – a clear map of actions that can be checked by any citizen of Ukraine: what needs to be done by state institutions so that we fulfill our part of the job on the path to the European Union. This document will be presented on July 1.

I took part in the NATO summit this morning. This is a special summit. A summit of transformation. The Alliance is changing its strategy in response to Russia's aggressive anti-European policies and Russia's war against our country. It is obvious that it is impossible to guarantee security in Europe in such conditions without our state. And we will do everything to transform this obvious nature into concrete decisions – for Ukraine, for the Alliance. We need clear security guarantees – we will have them, and today I called on NATO members to find a format of decisions that would allow for Ukraine's full participation in our common European security architecture. I called on NATO countries to speed up the supply of missile defense systems to Ukraine and significantly increase the pressure on the terrorist state.

Today's Russian strike alone at the city of Mykolaiv – 10 missiles at once, and all of them were aimed at civilian targets – proves for absolutely everyone in the world that the pressure on Russia is not enough. One of these missiles, a hypersonic anti-ship missile "Onyx", destroyed an ordinary five-story building. Dismantling of the debris continued over the day. As of now, five people are known to have been killed. There were also strikes at Ochakiv, Dnipro, the Russian shelling of the Kharkiv region, Sumy region, Donbas. Lysychansk, Avdiivka, communities in the Bakhmut direction – the situation there remains extremely brutal, very difficult. We are doing everything we can to provide our military with modern artillery systems to respond properly to the occupiers.

Russia squeezed out the message of Syria about the alleged recognition of the occupation structures in Donbas as alleged states. This is an empty story. And in that case, there will be no more relations between Ukraine and Syria, and the pressure of sanctions against Syria will be even greater.

For the first time in all the years of independence, the President of Indonesia, a very influential state that may suffer significantly from the food crisis provoked by Russia, paid a visit to Kyiv today. Therefore, these were important negotiations that opened for Ukraine another strategic direction of relations with Asia.

One of the most famous businessmen in the world, Richard Branson, also visited Ukraine. He is more than just an entrepreneur. He is a visionary, a man who works for progress and the best technology for all mankind. His arrival in Ukraine right now – and he visited Hostomel, where he discussed, in particular, the possibility of rebuilding the airport and building our "Mriya", the world's largest aircraft – is a very strong signal to everyone in the world that Ukraine will definitely withstand this war. And I am grateful to Mr. Branson for his willingness to join the post-war reconstruction of our country.

And another optimistic and very important news: 144 Ukrainian warriors were returned home from Russian captivity. 59 soldiers of the National Guard, 30 – Navy; 28 – army, 17 border guards, 9 territorial defense soldiers, 1 policeman. The oldest of the liberated is 65 years old, the youngest is 19. In particular, 95 Azovstal defenders return home. I am grateful to the Defense Intelligence of Ukraine and to everyone who worked for this result. But let's talk about this later. We will do everything to bring every Ukrainian man and woman home. Thank you again.

Glory to Ukraine!
Here are the details on the returned prisoners of war:
Ukraine announces biggest POW swap since Feb. 24: 144 Ukrainian troops for 144 Russian forces. Group includes 95 Azovstal defenders, 43 of which are Azov Regiment.

Full breakdown:
59 Nat'l Guard
30 Marines
28 Army
17 Border Guards
9 Territorial defense
1 Nat'l Police officer https://t.co/fd1Aw3G0Mm

— Christopher Miller (@ChristopherJM) June 29, 2022
And here's more on the attack on Mykolaiv:
Russian missile hit the residential building in Mykolayiv. It happened today's morning when the whole families were sleeping in their beds. #ArmUkraineNow pic.twitter.com/s86P7TwcFP

— Oleksandra Matviichuk (@avalaina) June 29, 2022
Here's today's operational update from Ukraine's MOD: (emphasis mine)
The operational update regarding the russian invasion on 18.00 on June 29, 2022

The one hundred twenty sixth (126) day of the heroic resistance of the Ukrainian people to a russian military invasion continues.

A large-scale exchange of prisoners took place, thanks to which 144 Ukrainian defenders returned home. Among them are 95 Azovstal defenders.

In the Volyn and Polissya areas, as part of the exercises, the military commissariats of the republic of belarus are inspecting the assigned composition and the possibility of mobilization in certain regions.

In the Siversky direction, the enemy continues to provide enhanced protection of the Ukrainian-russian border. In addition, the aggressor fired on civilian and military infrastructure in the areas of the settlements of Turya and Luhivka in the Sumy region. Inflicted an air strike on the settlement of Uhroidy.

In the Kharkiv direction, the enemy fired from tanks, mortars, barrel artillery and jet artillery at the settlements of Kharkiv, Bazaliyivka, Pryshyb, Shestakove, Ruska Lozova, Verkhniy Saltiv, Ivanivka, and Zamulivka.

In the Slovyansk direction, the enemy regroups troops and holds previously occupied frontiers. Shelling was recorded in the areas of Dolyna, Bohorodychne, Mykilske, Hrushuvakha and Dovhenke settlements. The occupiers also launched an air strike near Husarivka.

In the Donetsk direction, the enemy, with the support of artillery, tries to block the city of Lysychansk and take control of the section of the highway Lysychansk – Bakhmut. It fired on civilian and military infrastructure in the areas of the settlements of Lysychansk, Verkhnokamyanka, Siversk, and in an air strike on the area of the Lysychansk Oil Refinery. It supported sabotage and reconnaissance groups in the area of Verkhnyokamyanka to support the offensive. Ukrainian soldiers found and neutralized them. The remnants of the occupiers' DRG left.

In the Kramatorsk direction, the enemy did not conduct active hostilities, firing artillery at the Tetyanivka area.

In the Bakhmut direction, the enemy fired at the positions of our troops with artillery of various calibers near Klinove, Rozdolivka, Vyimka and Ivano-Daryivka. It struck an air strike near the village of Vidrodzenna. It tried to improve the tactical situation in the area of the settlement of Spirne by offensive actions, was unsuccessful, and withdrew. Our soldiers neutralized the enemy's sabotage and reconnaissance group near Berestove.

In the Avdiivka, Kurakhiv, Novopavliv and Zaporizhzhia directions, the enemy fired mortars, barrel and jet artillery at our positions in the areas of the settlements of Avdiivka, Vesele, Pavlivka, Bilohirya, Inzhenerne, Olhivske, Preobrazhenka, and Huliaipilske. In addition, the russian occupiers launched airstrikes on civilian infrastructure near Orikhove and Scherbaky.

In the South Buh direction, the enemy carried out systematic shelling of civilian and military infrastructure with barrel artillery and jet artillery, and regrouped troops.

In the temporarily occupied territory of Ukraine, the occupying power continues to carry out measures of the administrative-police regime. The collection of personal information of local residents, compulsory certification and ban on the population to enter the territory controlled by the Ukrainian authorities are underway.

Some units of the Armed Forces of the russian federation, which were withdrawn from the territory of Ukraine to regain combat capability, are not able to replenish their units in time due to the reluctance of personnel to take part in the war against Ukraine. Personnel who refused to take part in the war are released, there are attempts to prosecute such persons.

Our units continue to perform missile and artillery fire tasks in certain areas and beat the occupiers in close combat.

We believe in the Armed Forces of Ukraine! Together to victory!

Glory to Ukraine!
Here's today's assessment from Britain's MOD: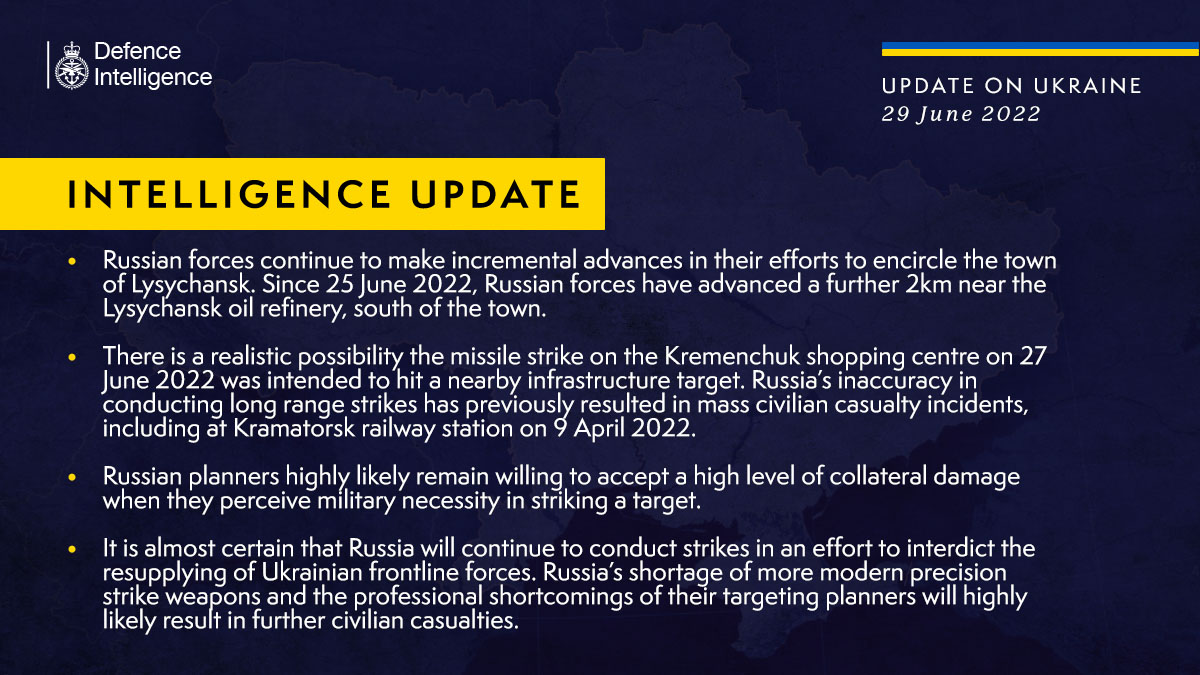 And here's their updated map for today: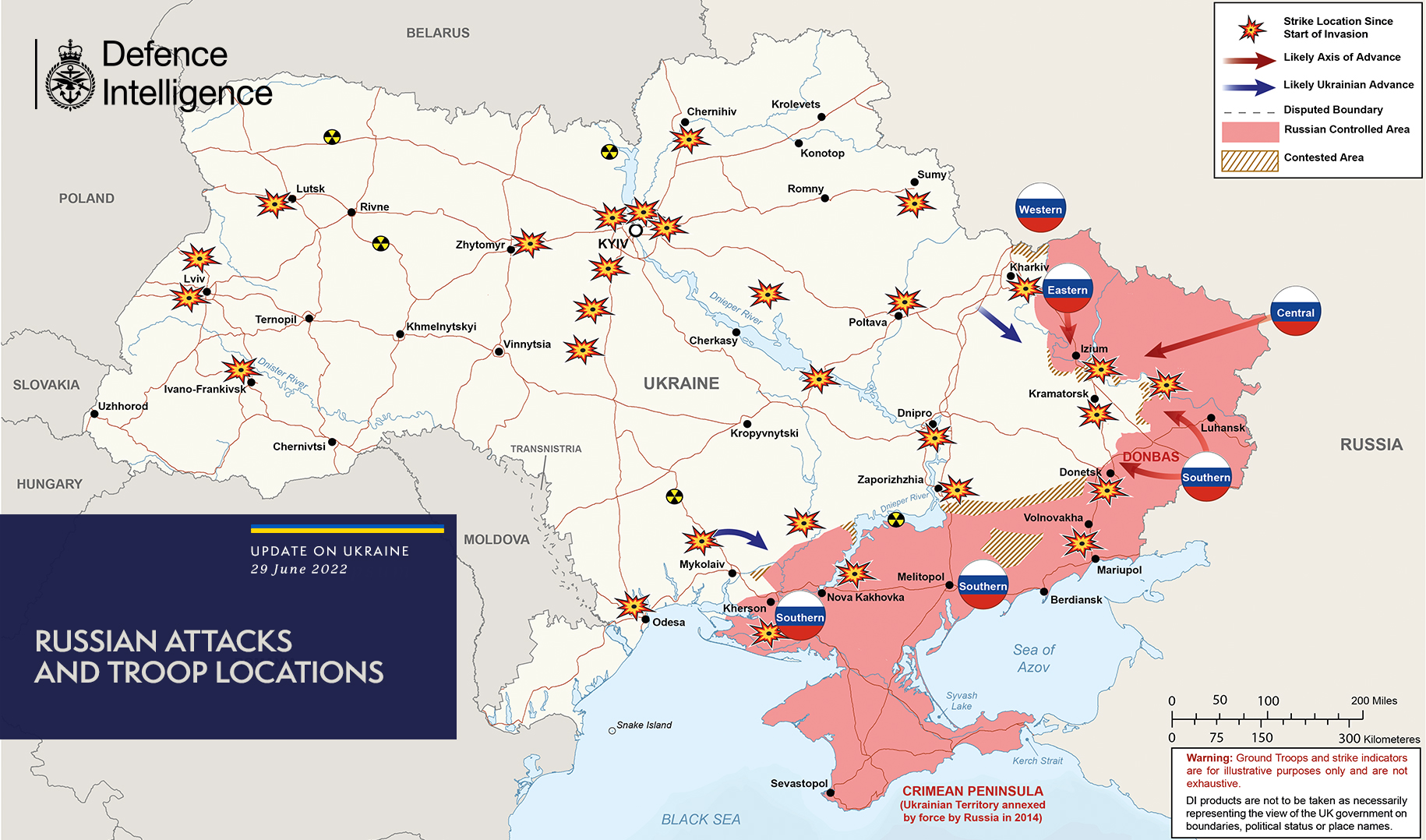 Here's former NAVDEVGRU Squadron Commander Chuck Pfarrer's most recent analysis and updated map of the battle in the Donbas:
SIEVERODONETSK AXIS / 0100 UTC 30 JUN / Note: New Map Projection. UKR forces are likely to fall back under pressure from Lysychansk. It is assessed that RU will continue advancing north on the P-66 HWY axis, further constricting UKR's holdings. pic.twitter.com/pBRD17hVMx

— Chuck Pfarrer (@ChuckPfarrer) June 30, 2022
As was mentioned, NATO debuted their new and updated strategy concept today.
The Strategic Concept is a key document for the Alliance. It reaffirms NATO's values and purpose, and provides a collective assessment of the security environment. It also drives NATO's strategic adaptation and guides its future political and military development.

The Strategic Concept is reviewed and updated regularly. Since the end of the Cold War, it has been updated approximately every 10 years to take account of changes to the global security environment and to make sure the Alliance is prepared for the future.

The world has fundamentally changed in the past decade and strategic competition is rising, so the time has come to update the Strategic Concept. The last Strategic Concept was adopted at the Lisbon Summit in 2010; the new one will build on elements of the 2010 Concept that are still relevant.
The US has also announced a new expeditionary force posture for eastern Europe.
At the summit, Biden said he will increase from four to six the number of U.S. destroyers based at Rota Naval Base, Spain. "In Poland, we're going to establish a permanent headquarters of the U.S. 5th Army Corps and strengthen NATO interoperability across the entire eastern flank," he said.

The Army's V Corps headquarters will be a forward command post, an Army garrison headquarters, and a field support battalion, said DOD officials traveling with Secretary of Defense Lloyd J. Austin III, who is also attending the summit. The forces will improve command and control capabilities, interoperability with NATO, and management of prepositioned equipment.

Poland has been a steadfast ally and enabler of many of the alliance's moves, officials said. The United States will also maintain the substantial rotational force presence in Poland, including an armored brigade combat team, a combat aviation brigade element, and a division headquarters element. This enables DOD to deploy combat forces up and down the eastern flank, officials said.

In Romania, the United States will position a rotational brigade combat team. This additional brigade will also maintain the ability to deploy subordinate elements. The U.S. will also enhance its rotational deployments in the Baltic republics. These include armored, aviation, air defense and special operations forces.

The U.S. military will also maintain a persistent, heel-to-toe presence in the region and will intensify training with Baltic allies to maintain combat-credible capabilities, officials said.

Biden also announced deployment of two additional F-35 squadrons to RAF Lakenheath in the United Kingdom. These fifth-generation fighters will add to the air support for NATO forces throughout Europe.

The president said he will also deploy additional air defense, logistics and engineer assets in Germany and add air defense capabilities to forces in Italy.
Much more at the link!
Your daily Patron!
He recorded his own address to the NATO summit!
The video's caption states:
Do not feed with food, give me a howitzer! #pespatron #patrondsns #slavaukraini
Open thread!