The federal government spends almost a trillion dollars per year on non-elderly healthcare. The Congressional Budget Office released a new report that breaks this spending down for 2022 and projects what it will look like in 2032.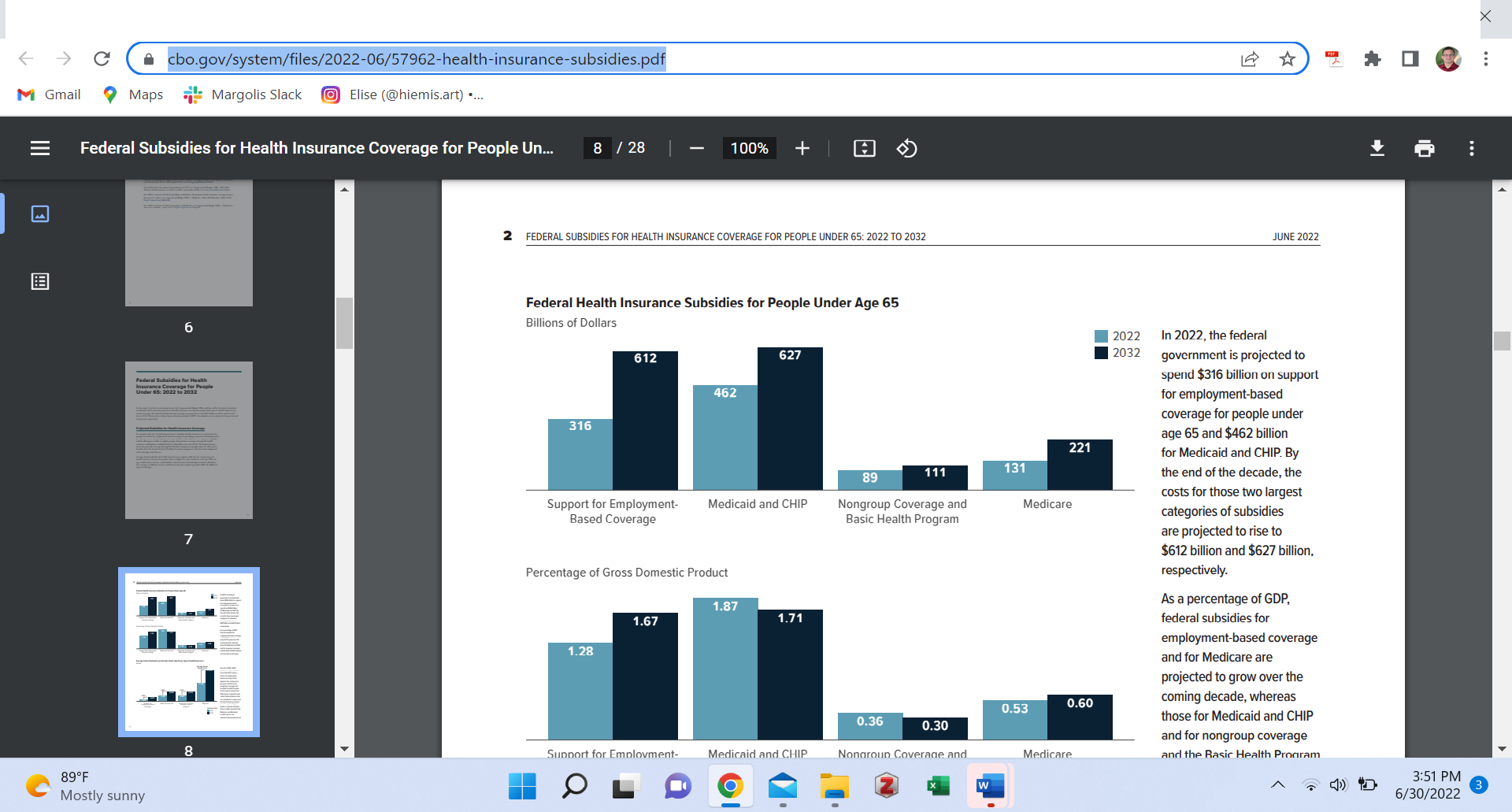 The big story is that the tax exclusion for employer sponsored health insurance is big and growing as a percentage of GDP. These tax expenditures are regressive as higher income folks get bigger tax breaks and likely contributes to increasing medical cost spend growth as this segment of the US healthcare ecosystem has the worst ability to actually negotiate prices.
It is also a nasty political problem to control or reduce. The ACA attempted to slow the growth of this tax expenditure by the Cadillac tax. The Cadillac tax was an excise tax on the increment of premiums that were above a fairly high threshold. The objective was to shift people out of super broad network plans that had no incentive or means to say no, into plans that would at least occassionally say no. The target plans were often the $40,000 per year Goldman Sachs paid for senior executive health insurance in 2009. It also would have hit union plans pretty hard.
It failed. No one, besides a few health and tax economists, loved the policy. Congress kept on voting to extend the start date before finally killing it.
The GOP has the idea of ICHRA, individual contribution health savings accounts, that will sort of chip away at the value of this exclusion by the creation of an annual defined contribution lump sum payment that will encourage people to buy cheaper plans instead of what is offered by their Human Resources Department. The CBO thinks ICHRA will be a small sliver of US health coverage with 2 million people covered in 2032.
The ESI tax exclusion is a huge subsidy to middle and upper class families that no one recognizes that they are getting right now. It distorts our labor and healthcare markets at a significant direct and likely larger indirect costs. And it is only going to get bigger over time.