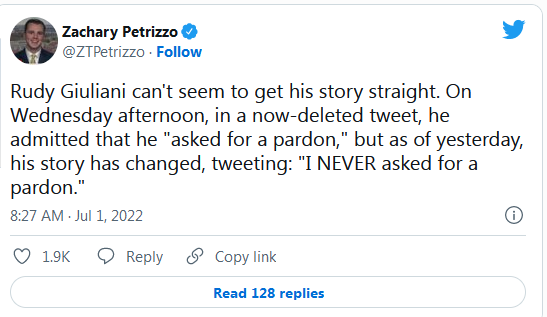 An underrated reason to prosecute coup-plotters like Giuliani is that people of low character, if left unpunished, will continue to cause harm to innocent people, here getting a guy arrested by lying about being assaulted by him https://t.co/dk8JQ1TYun

— Michael Tae Sweeney (@mtsw) June 27, 2022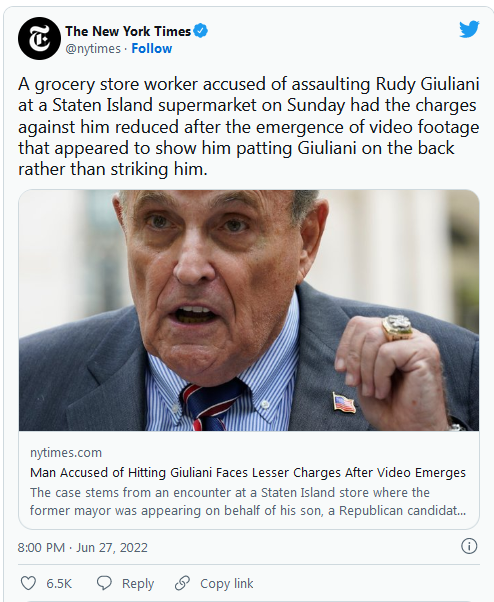 Talk about whiny snowflakes!
… The worker, Daniel Gill, had been charged with second-degree assault, a felony, in the immediate aftermath of the episode. Prosecutors later reduced the charges to third-degree assault, a misdemeanor, third-degree menacing and second-degree harassment.

After a day in custody, Mr. Gill, 39, was arraigned on the lesser charges in Staten Island Criminal Court on Monday. He was released by Judge Gerianne Abriano and ordered to return to court in August…

Mr. Giuliani, 78, fumed during the news conference about the lowering of the charges, saying, "What the hell is this D.A. doing letting him out of jail." He claimed the video footage was "deceptive because it just shows the hand on my back."

"I didn't fall down, Mr. Giuliani said. "I could have. If I fell down, who knows."

"This little punk isn't going to hurt me," he added. "The Mafia threatened to kill me twice."

The Legal Aid Society, which represents Mr. Gill, said in a statement on Monday that the charges against him were "inconsistent with existing law."

"Our client merely patted Mr. Giuliani, who sustained nothing remotely resembling physical injuries, without malice to simply get his attention, as the video footage clearly showed," the statement continued.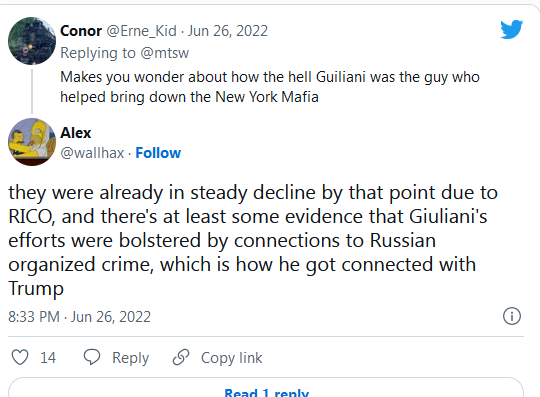 IMO, Rudy just missed the attention from the Media Village Idiots…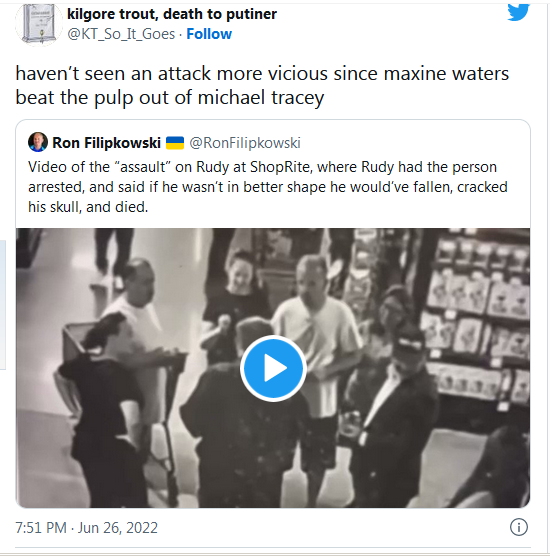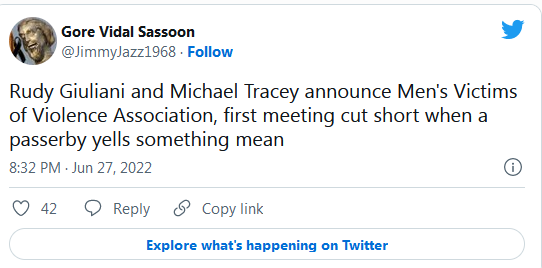 Re-upping this tweet today. The scene below appeared in a book written by two Washington Post reporters. https://t.co/t5uprDgzs3

— Isaac Chotiner (@IChotiner) June 28, 2022
#EverythingTrumpTouches… was pretty moribund already:
Folks there's no downfall here the whole point of being a conservative with name recognition is so you can coast on selling potato flakes to Newsmax shut-ins. This is what's known as Easy Street over there. https://t.co/JMphQRneJZ

— zeddy (@Zeddary) July 1, 2022