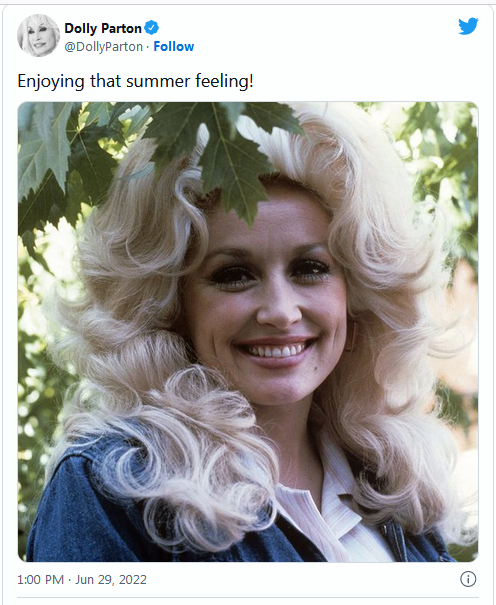 Sound ON:
'Merica pic.twitter.com/csPvYZlYIA

— TG (@TG22110) June 27, 2022


… Even if you *don't* plan on using it for anything else…
#July4th pic.twitter.com/qQBKOs8DCa

— US Consumer Product Safety Commission (@USCPSC) June 30, 2022
President Joe Biden will award the United States' highest civilian honor, the Presidential Medal of Freedom, to gymnast Simone Biles, actor Denzel Washington, the late Sen. John McCain and 14 others at the White House next week. https://t.co/jZ2dH8MBfm

— AP Politics (@AP_Politics) July 1, 2022
Also Sandra Lindsay, "the New York City nurse who rolled up her sleeve on live television in December 2020 to receive the first COVID-19 vaccine dose that was pumped into an arm in the United States"; Khizr Khan; and Richard Trumka. Full list in the article.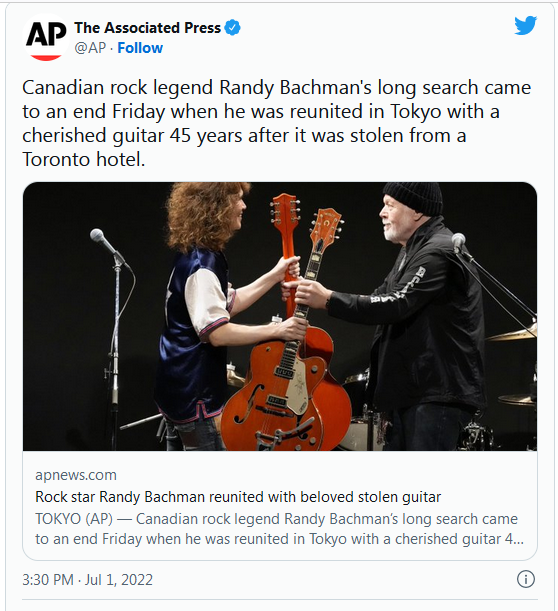 Readership capture:
… "My girlfriend is right there," said Bachman, 78, a former member of The Guess Who and Bachman-Turner Overdrive, as the Gretsch guitar on which he wrote "American Woman" and other hits was handed to him by a Japanese musician who had bought it at a Tokyo store in 2014 without knowing its history.

He said all guitars are special, but the orange 1957 Gretsch 6120 Chet Atkins he bought as a teenager was exceptional. He worked at multiple jobs to save money to buy the $400 guitar, his first purchase of an expensive instrument, he said.

"It made my whole life. It was my hammer and a tool to write songs, make music and make money," Bachman told The Associated Press before the handover at the Canadian Embassy in Tokyo.

When it was stolen from the Toronto hotel in 1977, "I cried for three days. It was part of me," he said. "It was very, very upsetting." He ended up buying about 300 guitars in unsuccessful attempts to replace it, he said…

TAKESHI said he decided to return the guitar because as a guitar player he could imagine how much Bachman missed it.

"I owned it and played it for only eight years and I'm extremely sad to return it now. But he has been feeling sad for 46 years, and it's time for someone else to be sad," TAKESHI said. "I felt sorry for this legend."

He said he felt good after returning the guitar to its rightful owner, but it may take time for him to love his new Gretsch as much as that one…

Bachman said he and TAKESHI are now like brothers who own guitars that are "twin sisters." They are participating in a documentary about the guitar on which they plan to perform a song, "Lost and Found," together.

They also performed several songs at Friday's handover, including "American Woman."

Bachman said he will lock the guitar up in his home so he will never lose it again. "I am never ever going to take it out of my house again," he said.