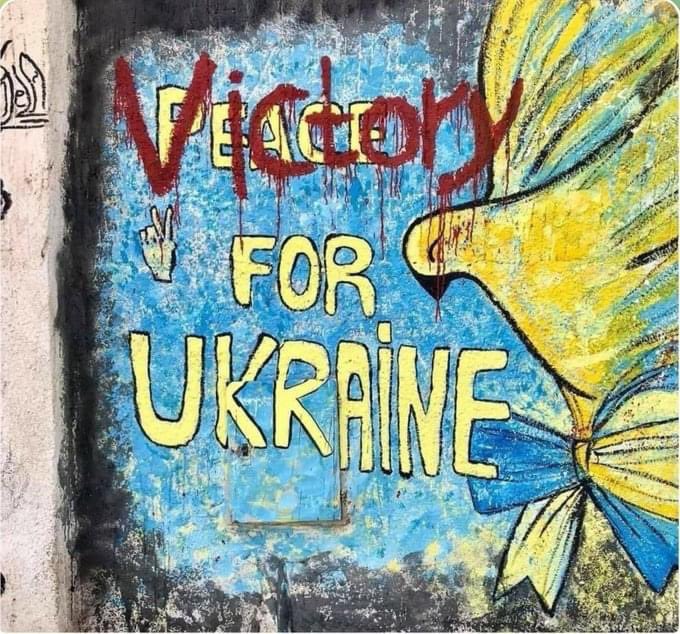 Austria breaks wind!
BREAKING: Austria begins ejecting Gazprom from its Haidach gas storage facility

— Samuel Ramani (@SamRamani2) July 6, 2022
You know you all were thinking it…
Anyhow, and more seriously, tonight, after the basics – President Zelenskyy's address and whatever operational updates and assessments have been posted – I'm going to focus on two questions from last night's comments. And then I'm going to bed!
Here is President Zelenskyy's address from earlier this evening. Video below, English transcript after the jump (emphasis mine):
Ukrainians!

All our defenders!

Today in Kharkiv, the Pedagogical University was destroyed by a Russian missile strike – the main building, lecture halls, university museum, scientific library. This characterizes the Russian invasion with 100% accuracy. When it comes to the definition of barbarism, this strike fits the bill the most. Only an enemy of civilization and humanity can do such things – strike missiles at a university, a pedagogical university.

Already the second object dedicated to Hryhoriy Skovoroda was damaged by this strike – a monument that was on the square in front of the university. It was covered with debris, but still the monument is not broken. And the Skovoroda museum located in the Kharkiv region burned down after Russian shelling back in May. However, paraphrasing the most famous words of Skovoroda, no matter how hard the occupiers try to catch us, they will fail. We will definitely endure. And we will restore everything.

Finally it is felt that the Western artillery – the weapons we received from our partners – started working very powerfully. Its accuracy is exactly as needed. Our defenders inflict very noticeable strikes on depots and other spots that are important for the logistics of the occupiers. And this significantly reduces the offensive potential of the Russian army. The losses of the occupiers will only increase every week, as will the difficulty of supplying them.

Today, the general public became aware that in the south of our country, in the occupied areas, access to social networks, messengers and YouTube was closed. Russian forces have blocked any possibility for people to know the truth about what is happening and about our potential, which we are gradually increasing.

Ukrainian forces are currently advancing in several tactical directions, in particular in the south – in the Kherson region, in the Zaporizhzhia region. We will not give up our land – the entire sovereign territory of Ukraine will be Ukrainian. People should know it. Therefore, if you have an opportunity to speak with people in the south of our country – with Kherson, Henichesk, Berdyansk, Melitopol and other cities and villages – please spread the truth there. Use every opportunity to tell the people in the occupied areas that we remember them and we are fighting for them. We are fighting for our entire south, for the entire Ukrainian Donbas – the most brutal confrontation is currently there, near Slovyansk and Bakhmut. We are fighting for the Kharkiv region. The occupiers should not think that their time on this land is long-lasting and that the superiority of their artillery is eternal.

I held a meeting of the Supreme Commander-in-Chief Staff. As always, I listened to the reports both from the military and from intelligence. We jointly determined the directions of action for the near future.

We are expanding our country's foreign policy vectors. For the first time in the history of Ukrainian-Paraguayan relations, I had a conversation with the President of Paraguay – we appreciate the support from this country, and we will continue to strengthen ties in Latin America. I also spoke with the President of Mozambique today – I congratulated his country on the election to the UN Security Council, and I believe that Africa should get more representation on international platforms and in solving global issues. It is the African countries that are now most threatened by the food crisis provoked by Russia, and we must do everything to force the terrorist state to unblock Ukrainian agricultural exports.

A visit to Kyiv by the Prime Minister of Ireland took place, a country that helps us significantly. Ireland even helped us convince representatives of skeptical states in the European Union that Ukraine deserves candidacy and future membership in the EU. We also remember that the Senate of Ireland recognized the crimes of the Russian occupiers as genocide of the Ukrainian people. This step, as well as Ireland's support for legal efforts to punish Russian war criminals, is very important. The help of partners together with the work of Ukrainian law enforcement officers are the very bricks from which the restoration of justice for Ukraine will be built.

Every Russian murderer, torturer and rapist who came to our land will be held accountable. And it doesn't matter how long it takes to complete this task. There will be no peace for any of the occupiers.

I am grateful to everyone who fights for Ukraine!

Glory to Ukraine!
I just want to take a moment here regarding the the western artillery that President Zelenskyy is referring to. Russia has falsely claimed that they destroyed two of the HIMARS systems we have provided to the Ukrainians. This is a lie! Russia's evidence is a video clip from a video game:
WINNING? The RU Ministry of Defense has dropped a 'video game' clip purporting to show the destruction of a pair of Ukrainian M-142 HIMARS multiple launch rocket systems. Russia's MoD previously released doctored video of a 'hyper-sonic' Zircon missile attack; it was fake too. https://t.co/j6mmycHqbQ

— Chuck Pfarrer (@ChuckPfarrer) July 6, 2022
There was no operational update today from Ukraine's MOD. Nor was there a DOD background briefing.
Here is today's assessment from Britain's MOD: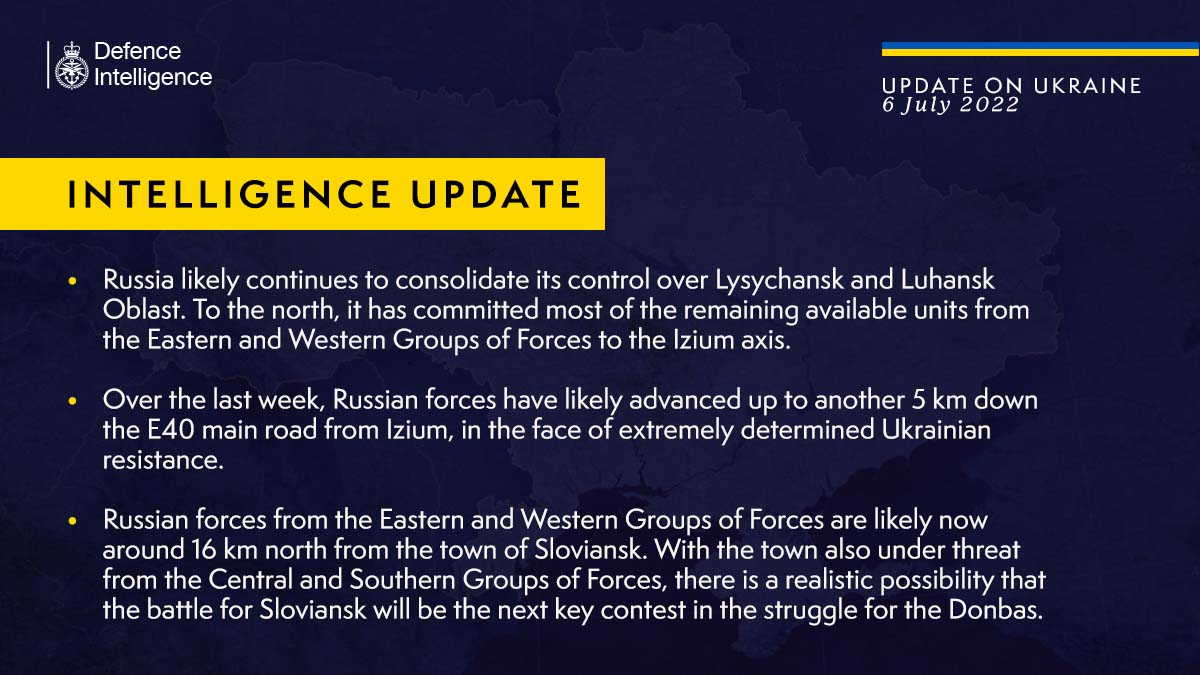 They also posted an updated map: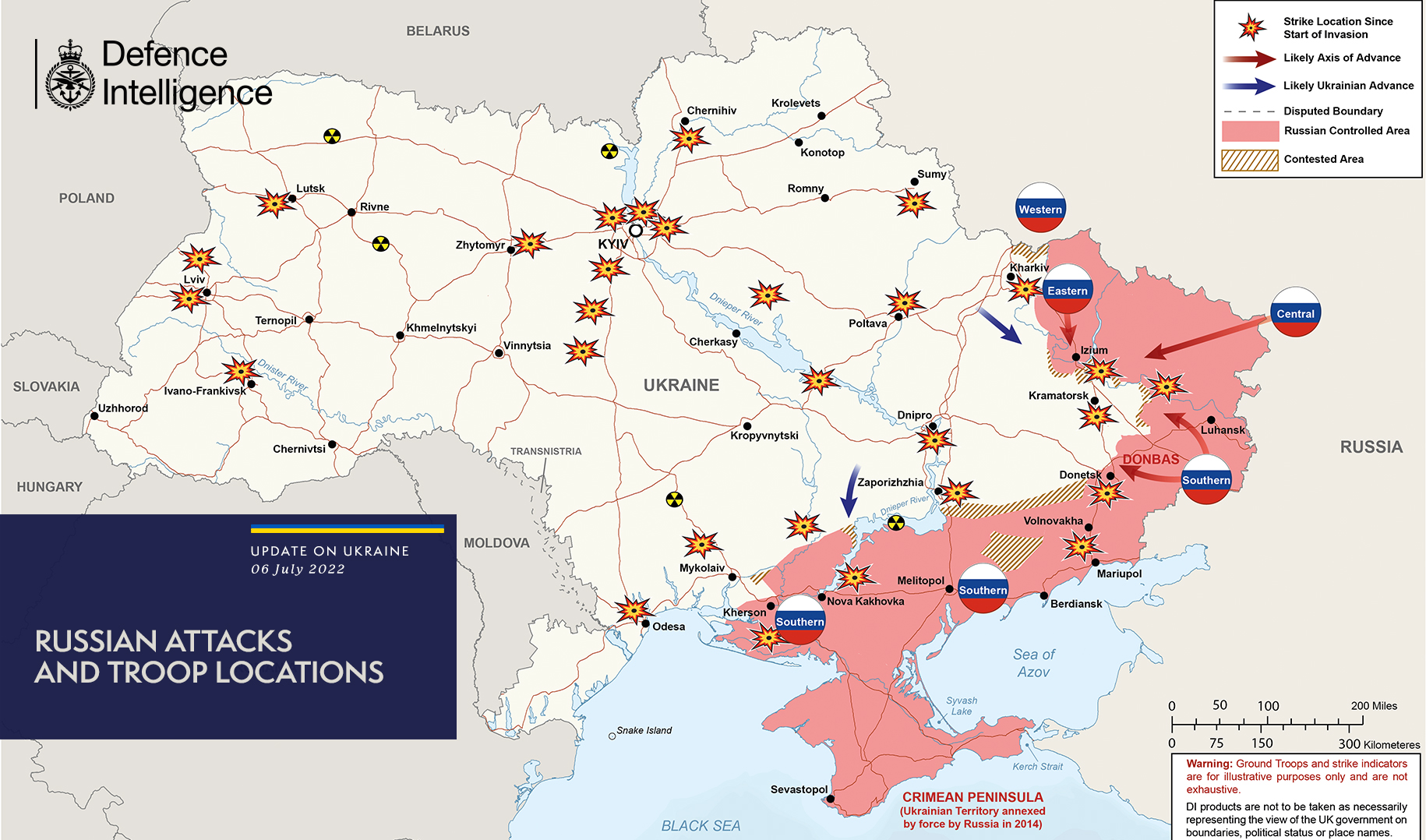 The British are predicting that the next Russian target will be Sloviansk.
Here is former NAVDEVGRU Squadron Commander Chuck Pfarrer's updated analysis and map of the battle in the Donbas:
KRAMATORSK AXIS / 1710 UTC 6 JULY / RU forces now assessed as likely to concentrate forces on the H-20 HWY axis in an attempt to take the city of Sloviansk. Russian units east of Siversk will likely remain static. Upcoming map series will concentrate on Sloviansk urban areas. pic.twitter.com/zjFMbfkoNB

— Chuck Pfarrer (@ChuckPfarrer) July 6, 2022
The Russian occupiers, mistakenly referred to as separatists, in the self declared Donetsk People's Republic have seized – as in STOLEN!!! – two foreign owned ships. Reuters has the details:
LONDON, July 5 (Reuters) – Russian-backed separatists have seized two foreign-flagged ships in the eastern Ukrainian port city of Mariupol, saying they are now "state property", in the first such moves against commercial shipping, letters seen by Reuters showed.

Mariupol, on Ukraine's southern coast, fell under the control of Russian and separatist forces in May after a months-long siege. Russia, which invaded Ukraine on Feb. 24, is fighting to seize the whole of the Donetsk and Luhansk regions.

The self-proclaimed Donetsk People's Republic, via its foreign ministry, informed two shipping companies that their vessels were the subject of "forcible appropriation of movable property with forced conversion into state property", without any compensation to the owners, according to two separate letters.

Donetsk officials did not immediately respond to an emailed request for comment, while others could not be reached by phone.

Liberia registered Smarta Shipping, the owner of the Liberia-flagged Smarta bulk vessel, one of the two vessels taken, said it was informed of the seizure by email on June 30, calling it unlawful and "against all norms of international law".

"Such forced appropriation is in breach of fundamental human rights in so far as property rights are concerned," the company said in a statement.

"Such action is a serious threat to shipping and to maritime safety."

The company said the Smarta arrived in Mariupol on Feb. 21 to load a steel cargo and was hit by shelling on March 20 that seriously damaged its bridge.

It said the 19-member crew had been forcibly taken by the Russian military to Donetsk and released a month later.

The other vessel seized was the Panama-flagged Blue Star I, according to the letter.
This ties directly into the first question from last night. Which was from Andrya:
Second, I want to highlight Ksmiami's post about the russian naval blockade in yesterday's thread.  I thought Ksmiami was right on target.  Here is how I see the problem:

Ukraine's economy depends on agricultural exports through the Black Sea, to the Mediterranean, to the world.  Even though it's now clear that russia cannot occupy the southern Ukrainian coast or the port of Odessa, a few russian submarines lurking north of the Turkish straits can strangle the Ukrainian economy and create famine in the countries that depend on Ukrainian food exports.
The Ukrainians have an effective army, but they do not have a navy.  Missiles from NATO, Finland, and Sweden cannot take out submarines lurking north of the Turkish straits.
I cannot imagine putin/strangelove calling off the submarines, despite his lying statement about a "goodwill gesture".
If I were president, I would "lend" (as in Lend Lease) US anti-submarine technology to Ukraine, but the Biden administration is clearly afraid to do that.  An incoming Republican administration never would.
Is there any way out of this dilemma?

Adding to the problem, russia is not the only totalitarian state that has been challenging traditional "Law of the Sea" rights passage in international waters, etc.  China has been claiming much of the South China Sea as territorial waters, as well as claiming some of the territorial waters of the Philippines as Chinese.

As far as I can see, both russia and China  have no better justification for this than "I can, and I wants it, precious, precious, gollum, gollum".
There's only really three solutions to this. The first is to acquiesce to what the Russians are doing in the areas of Ukraine they're occupying as well as in the Black Sea. This is unacceptable for a variety of reasons.
The second and the third are related. The second is that the US, EU, non-EU, and non-NATO allies supporting Ukraine would need to reflag the ships transiting through the Black Sea and provide escorts for them. The US and our allies have done this before. For instance, in the Arab/Persian Gulf in regard to Iranian attempts to disrupt shipping into and out of the gulf via the Shat al Arab.
The third is for the US and our allies in supporting Ukraine to conduct freedom of movement navigation into, through, and out of the Black Sea. You could even do it as part of a training exercise if you want to put a fig leaf on it. Focus it on a disaster like a major gas or petroleum pipeline breaking and there is a major leak and/or spill. This would center the exercise on the US Coast Guard with US and allied navies in support. The US Coast Guard does these partnering exercises with partner countries all over the world.
I'm not sure there's any appetite in the Biden administration for assuming the strategic risk that doing either of these would entail, but those are basically your three options given that the Russians aren't going to respond to being asked to stop.
The second question was posed by Carlo Graziani and, like Andrya's, needs to be dealt with in the body of a post, not just in a comment. Here's Carlo's question:
Christopher Miller's commentary pointing to "huge casualties" incurred by the Ukrainian armed forces is part of a recent reporting trend on the war. Michael Kofman also singled out this factor as significant on another recent War On The Rocks podcast. The trend among analysts appears to be that Russia and Ukraine are in symmetrical situations with respect to manpower attrition, and that the Donbas death-grapple is certain to leave both of them in exhausted, in need of an operational pause to rest and reset.

I need help understanding this certainty. It seems to me completely out of line with the respective manning policies of the two armies, which could not be more different.

Russia has limited, 1-year conscription, and mainly staffs its army using "contract" (i.e. volunteer) soldiers. It was behind it's recruitment quota at the beginning of the war, and has fallen far behind quota  now that service risk is clearly perceived due to the war. As a consequence, the Russians are resorting to expedients such as rushing untrained recruits to the front, and feeding training formations into the battle that are tantamount to eating their seed corn — they can do this once, but it is disinvestment, and leaves them weaker in the long term. They really are exhausted.

Ukraine, on the other hand, according to Wikipedia has had universal male military conscription since the Soviet era, briefly suspended but immediately reinstated in 2014. All draftees serve 18 months, after which they enter an inactive reserve and are eligible for recall to military service until age 55, or 60 for officers. In principle the Ukrainians ought to have a long rolodex of trained infantrymen, artillerymen, tankers, etc. ages 18-55 available for service, in priority order of necessity.

So, here is my problem: why would the manpower issues of these two armies be reported and discussed by subject matter experts as if they were the same thing, simply because they are engaged in the same high-attrition battle? To me it seems perfectly clear from the above that the situation is not symmetrical at all.

Am I missing something?
You are not and you are. Well that was easy, g'night!
Fine… I'll answer the question!
Carlo's assessment is correct in the sense that the Russians have expended a significant portion of their land forces over the past four months. They've burned through somewhere between 2/3rds and 3/4 of the battalion tactical groups they had/had assembled for the invasion. By burned through I mean used them in combat, have had them seriously attrited, tried to reconstitute them as best they can by combining units, bringing in conscripts, bringing veterans back on contracts, etc. So in that respect when one – Carlo, me, you all, or anyone else – looks at what has happened since the end of February, what we're seeing is a seriously degraded Russian military in terms of personnel and equipment.
However, this isn't the whole story and that's where the "yes, you are missing something" comes in. Russia has far greater strategic depth in terms of its population. It has, as Gin&Tonic indicated in his reply to Carlo last night, something like four times the population of Ukraine. And even without actually declaring his re-invasion of Ukraine an actual war instead of a "special mission", which would allow for a general mobilization, Putin has enough funds coming in from petroleum and natural gas sales, the sale of stolen grain, and other sources of revenues to incentivize potential conscripts, veterans to come back onto active service via contract, etc. Within just the past few weeks I've seen several articles focusing on increased contract soldier mobilization from the ethnic states and enclaves in the north Caucuses.
Faced with a deepening personnel crisis within its military, Russia is scrambling to find fighters for its war in Ukraine and recruiting heavily from its North Caucasus region to form new units along ethnic lines who are then deployed with minimal training.

Regional officials from Daghestan, Ingushetia, and Kalmykia have announced plans to form rifle companies that are each made up of soldiers from a particular Russian republic. According to reporting by Caucasus.Realities, a regional news outlet of RFE/RL's North Caucasus Service, these national units are formed primarily of contract soldiers who have previous military training and have been targeted by local recruitment drives aimed at pressuring and enticing men of military age to join the war in Ukraine.

"It seems that the governors [of these North Caucasus republics] were instructed to form extra forces in addition to official recruitment through the military registration and enlistment offices," Sergei Krivenko, director of the Citizen. Army. Law human rights group, told RFE/RL.
If you recall, and I can't go and pull up the update post and link to it because they're still working out the details of restoring our archives, I spent most of one of these updates a couple of months ago focusing on the ethnic makeup of the Russian army. It relied heavily on an interview with a subject matter expert on these communities. For a lot of the ethnic citizens of the Russian Federation, the only way out of abject poverty and the complete impoverishment and neglect of their states and societies is through joining the Russian military. It brings them stable wages, societal status, etc. Provided they live through it. This is also why there have been so few casualties, both killed and wounded in action, among actual ethnic Russians in Russia proper. They're almost all among the ethnic populations.
As long as Putin can offer these men money for their service, which also brings them social status, he will be able to continue to regenerate his manpower. And since his theater strategy, at least for now, is to consolidate his control over eastern Ukraine, establish it over southern Ukraine, and functionally turn Ukraine into rump state cut off from the Black Sea and the Sea of Azov, solving his manpower problems in this way will be sufficient. Especially as the Ukrainians are also taking a lot of military casualties of their own.
The Russians still have the advantage over Ukrainian forces, who are suffering, too. Ukrainian officials put the number of their soldiers killed in action at as many as 200 a day.
Until or unless Putin decides he needs to try to expand the parts of Ukraine he is either occupying in the east or thinks/feels he needs to occupy in the south, then what Russia is doing to generate new manpower combined with the damage they are inflicting on the Ukrainians will be sufficient to continue the war.
I think that's enough for tonight.
Your daily Patron!
40 mortar and other "arrivals" were in my native Chernihiv region today. I'm not afraid of the sound of explosions because of my work. But a little girl wrote to me at night: "What just exploded?". I asked where she lives now, and find out that it was just thunder. #dogpatron pic.twitter.com/52HYPTXiYy

— Patron (@PatronDsns) July 5, 2022
And a new video from Patron's official TikTok:
Open thread!