Pat Cipollone on Capitol Hill for @January6thCmte closed session. pic.twitter.com/RKR8tcyl5V

— CSPAN (@cspan) July 8, 2022
Cipollone has been doing Big Political Lawyering for many years. He's got a hard-earned reputation (not to mention the income that's helped him raise ten children) to protect, so it was blatantly too much to hope that he'd start babbling like a John Eastman or a Rudy Giuliani.
ABC, this morning:
… His testimony will be videotaped and it's expected that clips of Cipollone's deposition will be presented during the committee's upcoming public hearings, according to sources familiar with the planning.

Cipollone and the committee, according to sources, have agreed he can be asked about what he knows about the actions taken by former top Department of Justice official Jeffrey Clark to use the powers of the Justice Department to attempt to overturn the 2020 presidential election, what Cipollone did during the day of Jan. 6, and interactions he was present for or had with former Trump lawyer John Eastman as well as interactions he was present for or had with members of Congress following the 2020 election.

The questioning on those topics is expected to exclude conversations he had directly with former President Donald Trump.

Sources close to Cipollone told ABC News it is possible he may claim some form of executive privilege, which sources familiar with the negotiations say is not expected to be challenged by committee investigators…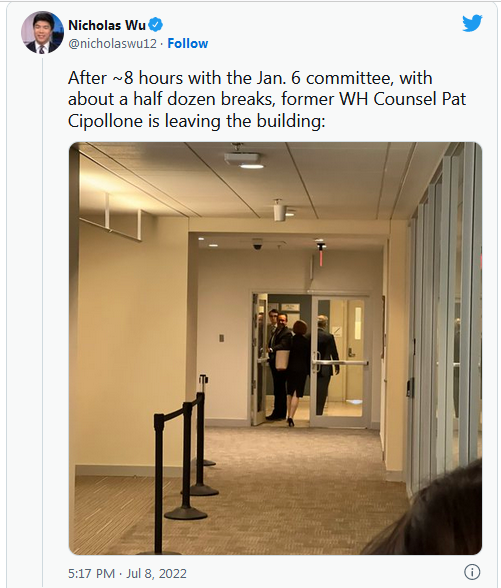 Politico:
… Cipollone huddled with committee investigators in a closed-door conference room of the Tip O'Neill House Office Building, emerging about half a dozen times to hold sidebar conversations with his attorney in a separate room. Each time he declined to comment on the interview or whether he was asserting any privileges.

The former White House counsel sat for an informal interview with the panel in April, though he had resisted previous calls from the select panel to testify. He reached an agreement earlier this week with investigators to sit for a transcribed interview.

The select panel did not immediately respond to a request for comment…

Witnesses have told the panel that Cipollone repeatedly raised legal objections to aspects of Trump's plan — from sending false electors to Congress to a potential march to the Capitol on Jan. 6. Cipollone also threatened to resign on multiple occasions, witnesses told the committee — including when Trump threatened to replace DOJ's leadership days before Jan. 6 and also when Trump sought to name attorney Sidney Powell a special counsel to investigate false allegations election fraud…

It's unclear whether he broached any of these subjects Friday.
FWIW: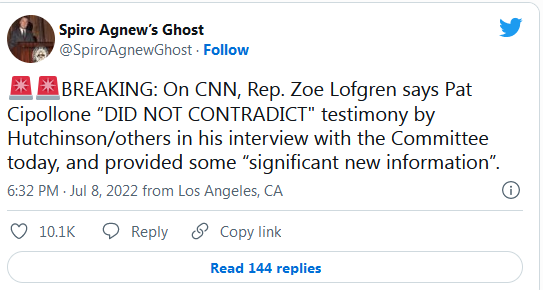 (Lofgren is a member of the Jan6 Committee, and a Democrat.)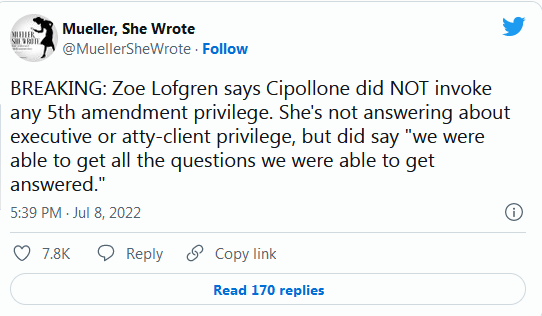 Translation: "Not a total douche — I mean, for a lawyer."https://t.co/bWhpmRqlSK

— GrandchildSharpshooterHat (@Popehat) July 8, 2022