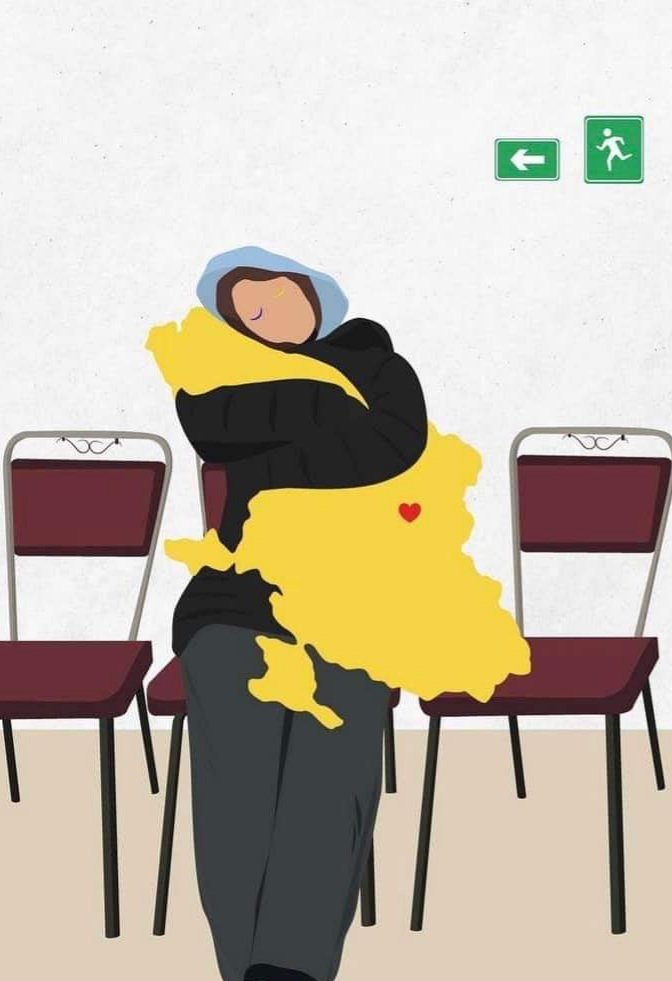 Here's President Zelenskyy's address from earlier this evening. Video below, English transcript after the jump (emphasis mine):
I wish good health to you, dear Ukrainians!

Today, I worked all day in the field – in the city of Dnipro and in the region, in Kryvy Rih. I was on the front lines of our defense in Dnipropetrovsk region. I listened to the reports of the commanders, thanked our boys and girls, who are defending the region, on behalf of all Ukrainians.

I awarded the Golden Star to the Hero of Ukraine, Lieutenant Colonel Oleh Hrudzevych – commander of the tank battalion. Thanks to his personal bravery, his unit got out of the encirclement without casualties and destroyed the Russian sabotage group in a battle. A very strong person, you can feel it.

I visited the famous Mechnikov Hospital in Dnipro to personally thank our special heroes – all the doctors and nurses who have been rescuing our wounded soldiers and civilians every day since February 24 and since 2014. They are extremely successful on their front lines and gave second birthdays, saved the lives of thousands of our people.

I presented state awards to our defenders who are recovering from injuries.

I am really very grateful for all the kind words I heard today in Dnipro, that I heard on the front line. Thank you, first of all.

Today, I addressed the Parliament of Slovenia. Every day and under any circumstances, we work as much as possible on the foreign policy front. And, by the way, this was already the twenty-fourth address to the parliaments of the EU countries and the first that was made near the front line. I hope that the three other EU countries will also feel that these appeals are not about politics, but about the protection of our common freedom, by the way, and therefore, we will come to the point that one day I will be able to say: all 27 parliaments of the European Union hear the struggle for freedom better than any Russian manipulations.

I also held all the necessary meetings with the leaders of Dnipropetrovsk region in general and Kryvy Rih district in particular – both military and civilian. It was about security, economy, social issues. Officials must do not just everything possible, but much more than even possible, to guarantee people a normal standard of living even in such wartime conditions.

I am returning to the capital of Ukraine.

Of course, I want to say two more things.

I congratulated Chief Commissar Zaluzhny on his birthday today. I wished him good health, I wished him and all of us the most important thing – victory. Thank you for your service!

And tomorrow, on July 9, and in fact already after sunset today, the Muslim community begins to celebrate Kurban Bayram. This is a special holiday that teaches sacrifice and guides people to do good deeds. I want to congratulate now all Muslims of Ukraine and the world and wish that the rule of peace is restored, and all kinds of evil always lose the sooner the better. The Crimean Tatar people especially expect this, and I believe that the year will come when we will welcome each other in a free Crimea.

Kurban Bayramınız Hayırlı ve mübarek olsun! Congratulations on the blessed holiday – Kurban Bayram!

Glory to Ukraine!
There's not a lot of new operational information in President Zelenskyy's address from this evening. However, that does not mean it is not important. I highlighted (highlit?) Kryvy Rih because that is President Zelenskyy's home town. So this wasn't just a battlefield circulation by a senior leader. It was a battlefield circulation by a senior leader to his home town, which is now part of the active theater of operations. But there's more here. President Zelenskyy could have stayed in Kyiv, signed off on the awards, and sent them through the commanding general in the theater to those who received them. Instead he traveled from a comparatively safe place in Kyiv, what we would call a semi-permissive to permissive environment, to areas that are seeing active combat, what we would call a non-permissive environment. These actions are themselves a form of strategic communication. Strategic communication that is good for morale. Finally, just as he did for Easter, President Zelenksyy has brought attention to a holiday from a faith not his own. The holiday he's noting, kurban bayrami, may be better known by its original Arabic name: Eid al Adha. Eid al Adha commemorates the Deity's test of Abraham's faith by asking him to sacrifice his son Ishmael. Exact same story as in Judaism, just Ishmael replaces his step brother Isaac in the the Quranic version. But he didn't just reference it, he contextualized it within the struggles of the Crimean Tatars who are overwhelmingly Muslim.
Ukraine's MOD posted an operational update for yesterday at some point after I did last night's update. As they've not yet posted one for today, here's yesterday's update (emphasis mine):
The operational update regarding the russian invasion on 18.00 on July 07, 2022

The one hundred thirty fourth (134) day of the heroic resistance of the Ukrainian people to a russian military invasion continues.

Glory to Ukraine! No changes in the condition, composition and nature of actions of units of the armed forces of the republic of belarus were noted in the Volyn and Polissya directions. There is still a threat of missile and bomb attacks from the territory of this country.

In the Siversky direction, the enemy, in order to demonstrate their presence, shelled the areas of Vovkivka, Kindrativka, and Myropillya of the Sumy region with artillery. In addition, it carried out airstrikes near Esmani and Myropillya.

In the Slobozhansky direction, the enemy continues to concentrate efforts on holding positions and preventing the advancement of units of the Defense Forces of Ukraine deep into the temporarily occupied territory. During the day, tanks, barrel and rocket artillery were used to shell settlements in the Kharkiv oblast along the contact line.

Our soldiers nullified all the enemy's attempts to advance in the direction of Sosnivka. The assault was repulsed, and the occupiers retreated to their previously occupied positions.

In the east of our country, the enemy is still trying to establish complete control over the territory of the Luhansk obkast.

In the Slovyansk direction, the occupiers again unsuccessfully stormed Bohorodichne, trying to capture it completely. Our soldiers harshly suppressed this next attempt.

The enemy carries out fire damage with barrel and rocket artillery in the areas of the settlements of Sulyhivka, Chervone, Nikopol, Novopavlivka, Karnaukhivka, Adamivka, Krasnopillya, Bogorodychne, Mazanivka, Dibrivne and Dolyna. Attack and army aircraft were used for strikes near Dolyna.

In the Kramatorsk direction, the enemy made unsuccessful attempts at assaults in the Hryhorivka and Verkhnokamyansk directions.

The occupiers shelled the areas of Mayaki, Siversk, Serebryanka, Hryhorivka, Verkhnokamianske, Zolotarivka and Zvanivka settlements with barrel and jet artillery. An enemy airstrike was recorded in the Serebryanka area.

In the direction of Bakhmut, Ukrainian soldiers inflicted losses on the enemy when it tried to improve his tactical position near Vershyna and Berestove. The enemy retreated in panic.

The areas of the settlements of Vyimka, Ivanodar'ivka, Spirne, Berestove, Bilohorivka, Pokrovske, Yakovlivka, Soledar, Bakhmutske, Klynove, Vershina, Kodema, Mayorsk, and New York were shelled with barrel artillery and rocket jet systems. Enemy used army aviation near Shumy. It is fixed on the outskirts of the settlement of Spirne.

In the Avdiyivka, Kurakhivka, Novopavlivka and Zaporizhzia directions, mutual shelling from barrel and rocket artillery continues along the contact line.

The enemy attacked with attack aircraft near Kamianske.

The situation in the South Buh direction has not undergone significant changes. Enemy units continue to hold occupied positions and fire at the positions of units of our troops with available weapons.

The statements of the Ministry of Defense of the russian federation about the alleged death of Ukrainian soldiers who were cleaning and installing Ukrainian flags on Zmiiny Island are not true.

In the waters of the Black and Azov seas, the enemy keeps up to six carriers of high-precision weapons ready for use. The total number of sea-based cruise missiles of the "Caliber" type can be up to 40 units.

The enemy continues to suffer significant losses of personnel, weapons and military equipment on the territory of Ukraine. Thus, according to available information, the command of the Central Military District of the Armed Forces of the Russian Federation is forced to withdraw units from the 35th separate motorized rifle brigade. Instead, he is trying to attract unmotivated units of the 74th separate motorized rifle brigade.

Forced mobilization of personnel in the temporarily occupied territory of Luhansk region continues. The mobilized have weak training and unsatisfactory equipment with means of protection. At present, the current shortage of units of the 2nd Army Corps of the 8th Combined Arms Army of the Armed Forces of the Russian Federation is about 8,000 people.

We believe in the Armed Forces of Ukraine! Together to victory!

Glory to Ukraine!
Here is today's assessment from Britain's MOD: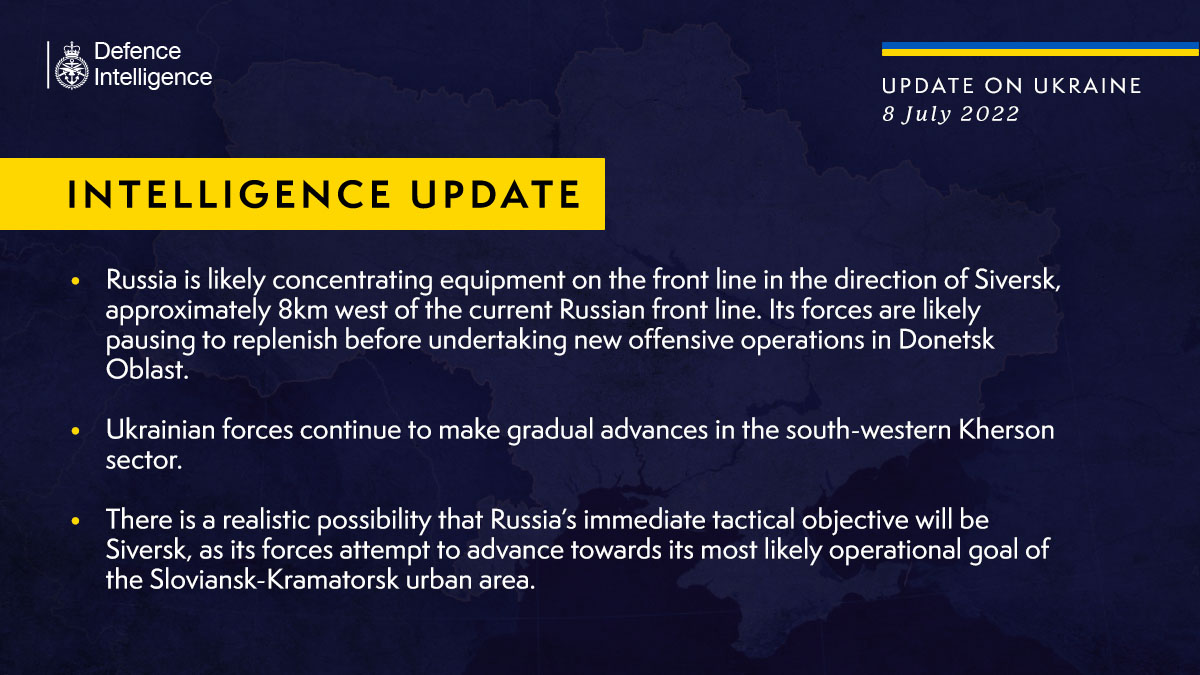 And here's their updated map for today: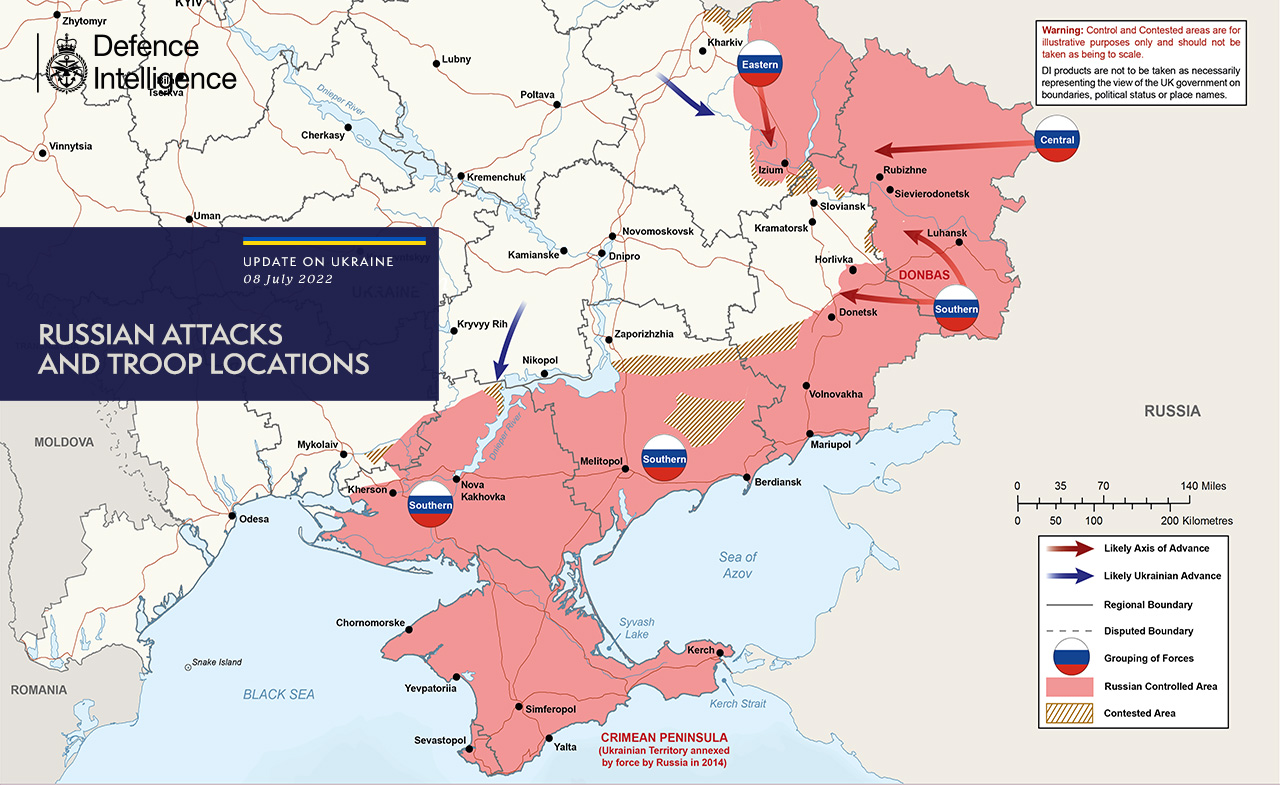 Here's former NAVDEVGRU Squadron Commander Chuck Pfarrer's most recent analysis and updated map:
KRAMATORSK AXIS /1825 8 JULY / RU sources report a crossing has been made of the Donets River near the village of Bilohorivka. UKR reports their pontoon bridge is destroyed: stranded RU units on the south bank are vulnerable to destruction. pic.twitter.com/uy4FqruiIT

— Chuck Pfarrer (@ChuckPfarrer) July 8, 2022
Based on this assessment, I expect the Ukrainians are on the hunt!
There was a DOD background briefing today. Here's the transcript (emphasis mine):
SENIOR DEFENSE OFFICIAL: Great. Thank you. Happy to be with you today. I thought I'd offer a few framing remarks on our approach to Ukrainian security assistance before talking about the specifics that are important for today.

The United States first initiated a training program for Ukraine in 2015 — yes, 2015 — on helping Ukraine with its capacity to man, train, equip, deploy and sustain combat arms units. It is this background that's important for understanding how early in the war, Ukraine was able to face a larger, more capable Russian force, able to stay nimble, empower subordinates, achieve commendable successes, already be trained on certain capabilities that the United States as well as other countries had provided — notably Javelins but not only Javelins — and therefore, Russia was walking into a battle back in February with a far more capable military than it expected and that it — it had frankly faced back in 2014.

And then early in the war, the surge of assistance from the United States and allies and partners ended up proving vital to supplement the training and capability Ukraine had built over those seven years in thwarting Russia's multi-access offensive, which was aimed at overthrowing the legitimate government of Ukraine and that is evidenced in the fact that Kyiv was one of the major priority axes of attack.

And what we saw in Ukraine's successful fighting off of the initial attack was that the years of training, equipping and advising, coupled with the surge of key capabilities such as 11,000 anti-armor and almost 1,500 anti-air weapons just in those first weeks, along with critical intelligence sharing, enabled the Ukrainian Armed Forces to successfully defend Kyiv and force the Russians to pull back and reassess their battlefield objectives and their approach.

And part of this — a main element of this that we're kind of forgetting, I think, as the months have gone on, is that Russia's large scale invasion also was thwarted by Ukraine's very capable use of air defense capabilities, both those that Ukraine owned at the start of the battle — legacy Soviet capabilities — and the surge of assistance that the United States and allies immediately turned to in order to provide Ukraine with additional Soviet era legacy air defense systems, spare parts, repairs, more missiles.

And as a result, Ukraine denied Russia from gaining air superiority. And Russia — and Ukraine continues, to this day, to sustain that capability and to deny Russia air superiority, which has forced Russia to limit its operations to the battle we're seeing today.

Now, coming to the battle today, as Russia's focus shifted to the offensive in eastern Ukraine, our assistance shifted, as well, because it's a different kind of battle, it's a different kind of set of requirements.

At first, Ukraine relied upon, again, its Soviet legacy howitzers, artillery and armored capabilities, but the United States immediately moved to surge over 100 NATO standard 155 millimeter howitzers and over 260,000 155 millimeter artillery rounds from DoD stocks to support what was clear to our military leaders was going to be primarily an artillery battle, and that's what you're seeing play out.

Then, in the next couple of weeks, in the next stage that you will see in this package today, which is the focus on higher capability, precision, further range weapons, and in the case of the United States, that's the provision of the HIMARS system, and the multiple launch rocket systems and the ammunition to enable Ukraine not just to conduct defenses with artillery, which are effective and important but not precision strike capabilities with insufficient range to be able to range Russian C2 nodes, logistics nodes.

And what we've seen now, as the United States surged HIMARS systems and the missiles for those systems, that Ukraine has now been successfully striking Russian locations in Ukraine, deeper behind the front lines, and disrupting Russia's ability to conduct that artillery operation.

SENIOR DEFENSE OFFICIAL: So the President — the White House will be announcing the President has decided to provide another round of presidential drawdown authority the following capabilities: four high-mobility artillery rocket systems, HIMARS, and additional ammunition for those HIMARS. This is the capability I just referred to as being especially important and effective in assisting Ukraine and coping with the Russian artillery battle in the Donbas.

Three tactical vehicles to recover equipment, to support Ukrainian efforts to repair, resupply as this battle continues. 1,000 rounds of 155 millimeter artillery ammunition. This is a new type of 155 millimeter artillery ammunition. It has greater precision. It offers Ukraine precise capability for specific targets. It will save ammunition. It will be more effective due to the precision, so it's a further evolution in our support for Ukraine in this battle in the Donbass.

In addition, the package will include demolition munitions, counter battery systems, and importantly spare parts and other equipment because it's not just the new weapons systems but it's the ability of Ukraine to repair, maintain, and sustain the effectiveness of the systems that we and allies and partners have been providing over the last few months. So that is what you'll be hearing announced from the White House later this afternoon.

SENIOR DEFENSE OFFICIAL: All right, everybody. I'm going to open this up to questions. I'll start with Lita Baldor from the Associated Press.

Q: Thanks a lot. Just one quick thing. What is the total funding value of this package? And then on the HIMARS, are we at about 12 that the U.S. has sent to Ukraine? Do you know of those, are these replacement for any of them that may have been destroyed? Is there any way to give us some sort of assessment about whether they still have all the others and if they're all working in battle right now in Ukraine.

SENIOR DEFENSE OFFICIAL: Great. Yes, thank you. Thanks. I failed to — and so, thank you for asking. I failed to lay out that this PDA package is assistance valued up to $400 million, so that answers I hope the first question. On the second question, yes. This will bring to a total of 12 HIMARS launchers units that the United States has provided to Ukraine, and the ones that have already been provided are fully accounted for, the Ukrainians are still using them in the fight. I know there's been some Russian reports that they have destroyed Ukrainian HIMARS systems. That is not correct. The Ukrainians have those systems and are making use of them. And yes, with this package they will have 12.

SENIOR DEFENSE OFFICIAL: All right. Idrees from Reuters.

Q: Hey, thanks for — thanks for this. Two quick questions. You mentioned the 155 munitions and they're a bit more advanced. Can you give a bit more details on what that is? And just more broadly, do you see Russia now having the momentum in the war or do you still sort of see the battle in terms of momentum?

SENIOR DEFENSE OFFICIAL: Yes, I can't — other than describing the — this new set of 155 munitions, I can't get into details for, you know, operational reasons — but simply to confirm that these are precision capable systems compatible with the 155 howitzers, so that's what I can share on that.

On momentum, I mean, the Russians are making very, very incremental, limited, hard-fought, highly-costly progress in certain, select, small spaces in the Donbas. They're way behind on their timelines. They're far behind on their objectives. The Ukrainians are in localized places launching effective offensives. And now increasingly in the last week what we've seen is the ability of the Ukrainians to use these HIMAR systems to significantly disrupt the ability of the Russians to move forward even where they make that grinding, slow offensive.

So we don't see this at all as, you know, Russia winning this battle. Certainly they're not winning relevant — related to their initial objectives. They've been very much thwarted, but the fighting is hard, and the Ukrainians are having to fight hard to prevent the Russians from achieving their objectives, but they're doing so effectively and we're seeing that in the slowness of the Russian advance.

SENIOR DEFENSE OFFICIAL: Barbara Starr, CNN.

Q: I wanted to just come back on thing and then ask you a follow up question if I may. It's just on the munitions, the precision munitions. You describe it — maybe you could — maybe you can just clarify this one point. You describe it as a new set of munitions. Is it new even for the United States? In other words, is it something newly developed or is it new to supplying it to Ukraine? Can you tell us that?

SENIOR DEFENSE OFFICIAL: Sure. Absolutely. That's a very good question. That's for the opportunity to clarify. No, this is — this is a capability the United States has. New refers to it's a new pack — new element of our security assistance to the Ukraine.

Q: OK. And if I could, can you say — you just mentioned there are places where the Ukrainians are — I think the words you used are significantly disrupting Russia. Where is that happening?

SENIOR DEFENSE OFFICIAL: I can't give you specific locations — as other of my colleagues have said, we don't want to help the Russians do their battle damage assessment or anything like that, but it is — these are locations behind the frontlines of where the Russian forces are concentrated, where you see every day the battle is going on. It is the lines behind C2 logistics nodes, so in the Donbas definitely and in the battle space just further back behind the front lines.

Q: And very quickly, is there any consideration being given to any kind of oversight or monitoring mechanism for the vast amount of weapons and value of the weapons that you're transferring to ensure they don't fall into the wrong hands? Is there anything you're either doing to monitor that or considering monitoring that?

SENIOR DEFENSE OFFICIAL: Yes. We absolutely track the — from the time we send the capabilities to Ukraine, deliver them to Ukraine, they move them to the battlefield. Our military leaders and experts and professionals are in communication with the Ukrainians to understand how they're employing those capabilities, what their usage rate is, what their — I mean, it's a really important element of deciding what goes into our next assistance package is to understand how they're employing those capabilities, what their usage rate is, what their — I mean it's a really important element of deciding what goes into our next assistance package is to understand how they're employing them, at what rate they're employing them and battlefield conditions they are employing them.

So we are tracking that very carefully and we are very mindful of our duties and obligations to maintain awareness of the capabilities we're providing to Ukraine.

STAFF: Thanks, Barb. Jen Griffin, Fox News.

Q: Thanks, can you tell us — you mentioned at the start that you — that the training that was done starting in 2013 was a real changer when the Russians invaded. What are you doing at this moment in time in terms of training in Taiwan? Is there any training going on? Can you outline that for us?

SENIOR DEFENSE OFFICIAL: Can you clarify, I don't understand training in Taiwan.

Q: Yes, is there any U.S. military training taking place or any efforts to — again, as the lessons from Ukraine are being gleamed, is there any taking place right now?

SENIOR DEFENSE OFFICIAL: That is — it's an interesting question. That is out of the scope of my responsibility and readiness to talk with you today. My area of responsibility at DoD focuses on — does not focus on that part of the world.

Q: Excuse me, I thought it was international security assistance.

SENIOR DEFENSE OFFICIAL: No, that's fine.

STAFF: Thanks, Tom. OK, so I've got both Joseph and Nadia from Al Arabiya. I'll let you guys decide who's going to ask the question.

Q: That's a tough decision.

Q: OK, I can start just very quickly and maybe Joe has a different question. But thank you so much for giving us the opportunity. I just wanted to see if you can give us some assessment of where is the Russian intention militarily? In the beginning there was talks that they might extend and go to a Baltic state. Today, the Russian Foreign Minister has warned Lithuanian and the European Union that it could adapt harsh measures, as they call it, against them if they're trying to do some good to and from Russian exclave as you know.

Do you see this as a serious threat militarily towards the Baltic states? And just give us what you think in terms of the assessment that actually it can go further than just Ukraine? Thank you so much.

SENIOR DEFENSE OFFICIAL: Sure. Well I think it's been very clear in President Putin's statements what his objectives are in Ukraine. Which is the subjugation of Ukraine militarily and politically so that Ukraine is not an independent, sovereign country. The specific military objectives were, — as I said at the outset — to move to Kyiv, to overthrow the government and control it.

They've had to — I think the objective remains the same, which is to prevent the existence of a sovereign, independent Ukraine. It's just the specific military objectives have shifted as they failed in that initial take on it and you know, I don't think those political objective have changed, it's the military means or operations have.

On Russia's broader intentions, — I'd answer it in broader terms, that we take very seriously the threats that Russia poses to NATO allies and the NATO alliance, and that is why, at the Madrid Summit last week, the United States announced this set of significant additions to our posture and capability in Europe in order to contribute to an effective defense and deterrence against Russian threats against NATO allies, of which Lithuania is one.

So it's precisely for that reason that President Biden made those decisions and the United States has made that commitment to our NATO allies.
Much, much more at the link!
As we've been covering and discussing, the Ukrainians are very successfully targeting Russian ammunition depots, as well as other facilities, in the areas of Ukraine the Russians are occupying. A lot of this is the result of the new NATO standard artillery systems, like the HIMARS, coming online with the Ukrainian military. But some of it is also partisan activity. The Kyiv Independent has the details:
t is an almost everyday occurrence in the Russian-occupied parts of eastern and southern Ukraine.

Russia's ammunition depots blow up, with large fires erupting as tons of ordnance detonate for hours. Some of these incidents cause giant blasts with a radius of hundreds of meters.

Now that Ukraine has acquired advanced Western artillery and rocket systems, it has gradually begun a campaign to take out Russia's key military infrastructure. Over the last four weeks, nearly 20 Russian ammunition depots in Russian-occupied Donbas and Ukraine's south, including some of the largest, have been hit or completely destroyed.

As Russia continues with its slow but steady advance in Ukraine's eastern region of Donbas, Ukraine's military is working to undermine Russia's overwhelming artillery power and disrupt its logistics deep in occupied territories.

Devastating strikes upon Russian command posts have become increasingly frequent since mid-June when Ukraine began using the first of four M142 High Mobility Artillery Rocket Systems, or HIMARS, provided by the U.S., nearly a week before their arrival in Ukraine was publicly announced.

On June 15, a massive explosion occurred near the city of Khrustalniy (formerly Krasniy Luch) in occupied Luhansk Oblast.

Explosions continued for days. According to satellite images, the blasts created a destruction zone spanning some 500 meters around the epicenter. The site was one of Russia's largest ammunition depots, built after Russian forces occupied the area in 2014. In the Azotniy neighborhood in the northeastern part of Donetsk where Russia established ammunition depots through the city, successful attacks have continued on an almost daily basis.

On July 2, Ukraine's military published a video showing an enormous explosion at another large depot in the city of Popasna in Luhansk Oblast that was being used to supply Russian units near Bakhmut and to the south of the Sievierodonetsk and Lysychansk. Two days later, another devastating blast destroyed a large depot in the city of Snizhne. Three more depots were also hit in Donetsk.

On July 5, another strike hit the Kamaz Center, a large truck repair shop that was being used as a Russian munition base. The Techsnab industrial base in the city of Makiivka was also destroyed on July 6, in which large amounts of stored munitions exploded. Missile strikes have also occurred in Ukraine's occupied south. On June 14, Ukraine destroyed a depot in Nova Kakhovka, one of Russia's key bases in Ukraine's southern Kherson Oblast, occupied by Russia in the early days of the invasion. The same day, another large depot in occupied Kherson, near the city's central railway station, was also hit.

Another attack on June 29 also severely damaged an ammunition depot near Izium in Kharkiv Oblast that was used by Russia's 20th Combined Arms Army in its offensives in the region. And another strike on July 4, reportedly delivered by a HIMARS, destroyed one of four Russian military bases in Melitopol in Zaporizhzhia Oblast, a key Russian logistics center in Ukraine's south.

Ukrainian strikes upon Russian facilities continue on a daily basis.

As a result, by July 7, Russia had lost most of its key ammunition depots, and many of its smaller depots in occupied Donbas. Notably, many key targets as much as 50-80 kilometers into Russian-controlled territory have been successfully destroyed.

This suggests that, along with Western-made rocket systems, Ukraine has also managed to improve its reconnaissance, situational awareness, and target indication, to the point of being able to identify targets even of medium importance deep in Russian-occupied areas.
Much, much more at the link!
Russian ammo depo hit in Shakhtarsk, Donetsk Oblast. Detonation has reportedly been lasting for five hours so far.

Video taken from the Telegram channel of Andriy Tsaplienko, Ukrainian military journalist pic.twitter.com/qfNHax4OkN

— UkraineWorld (@ukraine_world) July 8, 2022
It appears Ukraine also struck the Topaz factory in Donetsk. https://t.co/5gfNzATwjQ pic.twitter.com/J8BynmVPzr

— Rob Lee (@RALee85) July 8, 2022
Yesterday, The Daily Beast reported on Putin's plans given Russia's success in Sievierodonetsk and Lysychansk (emphasis mine):
Russia's success in Luhansk wasn't an accident. While Russian forces have been bogged down by previous missteps in the war for months, Russian forces are getting better at executing their war plans and operating across teams. Putin has likely achieved effective coordination between two major fighting groups in the Donbas, according to the intelligence assessment.

"Unlike in previous phases of the war, Russia has probably achieved reasonably effective coordination between at least two Groupings of Forces, the Central Grouping likely commanded by General-Colonel Alexandr Lapin and the Southern Grouping probably under the recently appointed General Sergei Surovikin," the assessment states.

That's a world of difference from the previous four months of war, during which Russian forces haven't coordinated well, have faltered in their logistics and planning, and have been actively trying to sabotage their own attack plans rather than fight like a well-oiled machine.

It's a particularly alarming development given that Russia likely won't stop in Luhansk. The current U.S. assessment is that Russia still maintains plans to take all of Ukraine, not just eastern Ukrainian territories, a U.S. ambassador told The Daily Beast.
Much more at the link!
The most amazingly frightening part of this war is Putin's seeming inability to actually come to terms with reality. From the ever more bellicose statements and threats directed at the US, the Baltic states, Poland, Finland and Sweden, other EU and NATO member states, etc to the inability to actually accept the reality of what has happened over the past four months, nothing seems to get through Putin's delusions and megalomania.
Last night commenter Sister Inspired Revolver of Freedom asked two questions:
I actually have 2 questions, so take your pick.

First, what does the current political chaos in the UK mean for Ukraine. While it was obvious that BoJo was using Ukraine to burnish his reputation, the results for Ukraine were very, very helpful.

Second question is in regards to the (in)famous Crimean Bridge. It has to be in Ukrainian sights. The Russians certainly think so. They have & are increasing its defences.
To answer the first question, unless something really, really, really weird happens in Britain, I don't see much changing in the UK regarding its Ukraine policy. Other than, perhaps, some of the public tone. For all of his faults – and that's a lot of faults – Boris Johnson has been excellent on Ukraine. His Churchillian delusions of grandeur, which contributed to him being an absolutely terrible prime minister in regard to domestic affairs, have actually helped him to be excellent on Ukraine. But, he seems to be planning to stay on as caretaker prime minister for several more months. Provided that happens, then for the short term nothing is going to change at all. And, of course, he's going to spend that time scheming to find away to actually unresign or be chosen to succeed himself as prime minister. I really am not sure who among the Tories would replace him. Labour's current leader is Sir Keir Starmer, so should the current government actually fall, new elections are called, and Labour manages to take over, unless something weird happens, Starmer would become prime minister. I would not expect him to radically shift Britain's Ukraine policy or strategy.
As to the second question: I would think so. I have no special insight, but the bridge is both a high priority theater strategic and tactical target, so I expect the Ukrainians have plans for it.
That's enough for tonight.
Your daily Patron!
Snack time!
Ommmm (nom-nom) #Patron #PatronDog #dogsoftwitter pic.twitter.com/0aref92Raz

— Patron (@PatronDsns) July 8, 2022
And a new vid from Patron's official TikTok:
@patron__dsns

Хочеш щоб я завжди був поряд з тобою? Тоді замовляй мій офіційний мерч! ❤️
The caption to the video translates into English as:
Do you want me to always be by your side? Then order my official merch!
Apparently, even for Patron, one has to always be selling!
Open thread!