DOJ beefed up its J6 sedition case against the Oath Keepers. New details about post-election military drills and stockpiling of weapons & explosives. One member said: "Tell me who to shoot first and I'm all in!" story from @HBRabinowitz @HolmesLybrand –> https://t.co/UmStLqZIcB pic.twitter.com/E81Ml5MGgL

— Marshall Cohen (@MarshallCohen) July 9, 2022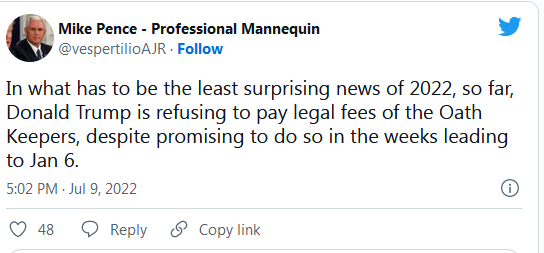 Yesterday: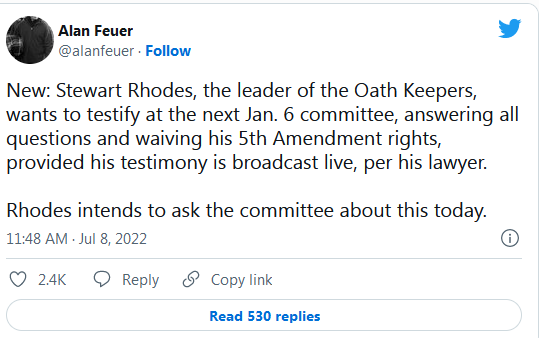 Rhodes' latest cosplay fantasy: Oliver North Mk2, rising from the burning rubble of Iran-contra to a very profitable career at various Wingnut Wurlitzer outlets.
(We all have our dreams, but nothing we've seen from the Jan6 Committee indicates they're dumb enough to permit a showboating try-hard to derail their hearings — fun though it might be for home viewers.)
This morning: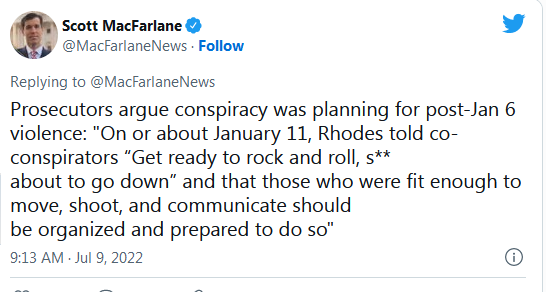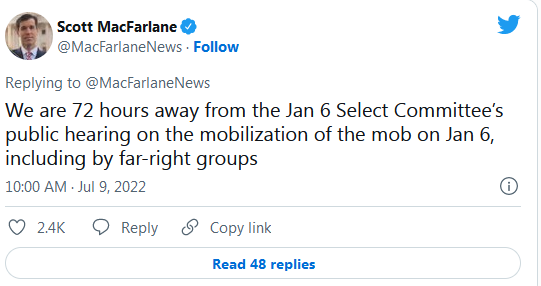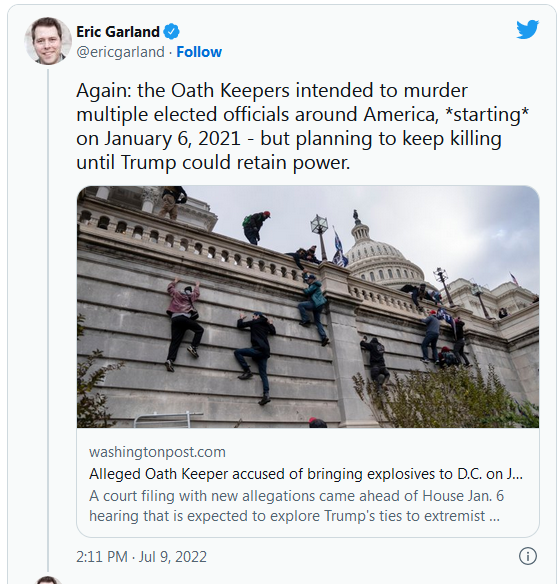 Legal expert @GlennKirschner2 tells @JoyAnnReid Oath Keepers leader Stewart Rhodes is apparently "done" and looking for way out. #reiders https://t.co/0ZQ6kt9cac

— The ReidOut (@thereidout) July 9, 2022
For some reason, this news is making TFG's one-time Chief Medical Advisor Ronny Jackson quite agitated: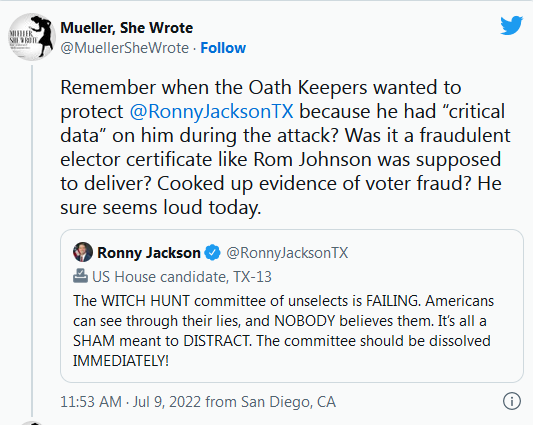 (Or else — seems possible, given the very specific formatting — Jackson's just letting an old crony / employer use his twitter account.)
Oh look Bannon, Ronny Jackson, Oath Keepers Stewart Rhodes, Proud Boys Enrique Tarrio there's going to more, not less. Have a fantastic weekend:) https://t.co/SZvbiBtEPW

— Christopher Michael Fredrickson (@ChrisMikeFred1) July 9, 2022
Seems like Tuesday is gonna be another day of Must-See TV.