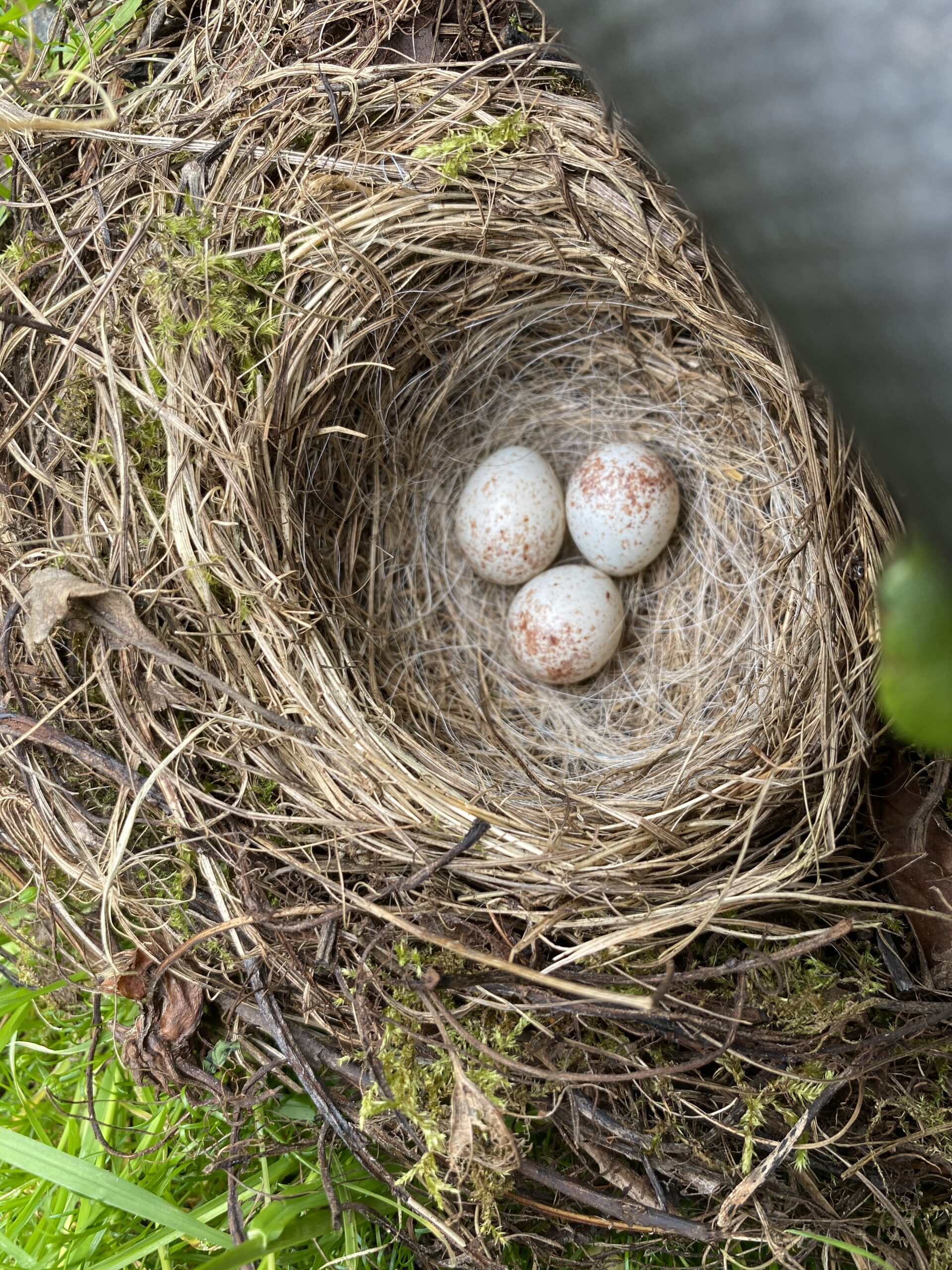 From intrepid gardener / commentor OpieJeanne:
We replaced a wooden raised bed that was too low with two metal watering troughs. I never got around to trimming the excess weed cloth. On June 7th I was hunting slugs in the garden (I imagine them squealing as they see the trowel descending to scoop them up), and discovered that they really like to hide under the edges of that weed cloth because it was cool and damp.

I worked my way around, and when I raised the weed cloth I found a nest on the ground with one egg. My niece figured out that it belonged to a dark-eyed junco. The next day there was another egg, and the next there was a third. I stopped looking under the weed cloth after that because I disturbed the mother sitting on the nest and realized she was finished laying eggs.

It was a little awkward working in the garden around that nest and not frightening the mom. If we got too close she'd emerge from under the weed cloth and run slowly away from us in the classic "chase me instead of messing with my babies".

Dark-eyed junco eggs take about 12 days to hatch once incubation starts, and on June 19th we realized that there was a lot of activity at the nest by two juncos, that the babies were hatching and were being fed.

Juncos are primarily seed-eaters, but their nestlings need protein, so mom and dad diligently foraged for little green worms and other insect pests from the garden above the nest. Our peas, cabbages, and bok choi have very little damage from things that chew on the leaves.

Juncos make a ticking sound when they're alarmed, and we got ticked at a lot. We sat in the shade of a cherry tree at what we thought was a suitable distance, to watch them ferrying little green worms to the nest, and they'd perch right above us, clicking their tongues in disgust until they got bored or decided we weren't a threat.
There was one day when four crows were exploring the tomato bed right next to the nest, a definite threat to the newly hatched chicks, but we sat in the garden until the crows got bored and left. Mama bird sat over us, ticking very quietly because she didn't want to take on four huge crows. That took about an hour, and when the last crow left the perimeter of the property, she swooped back to her nest but she wasn't going to do that while there was a crow perched in any of the trees around the yard.

As the babies got closer to fledging (11-12 days after hatching), the junco parents expanded their turf until it took up the whole garden.

On June 28th they were out of the nest but not yet ready to fly. We checked on them during the day and they had gradually moved away from the nest until on the 30th they were in some tall buttercups, about a yard from the nest. I don't know how they got there, and we only realized where they were when we saw the parents flying into that clump of weeds and knew they were still feeding the babies.

In another day or two they will be able to fly as well as their parents, 25 days from egg to fully fledged and flying. We thought we'd see them perched on the edges of the raised beds, squawking to be fed but maybe not.

What's really amazing to me is that they produced three eggs, hatched all three, and managed to keep them alive.

Addendum — July 4th:

***********
What's going on in your garden(s), this week?