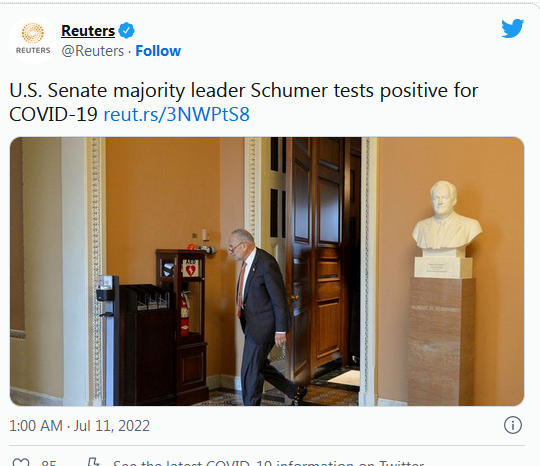 … "The Leader is fully vaccinated and double boosted, and has very mild symptoms," the statement said. "Consistent with the CDC guidance, Leader Schumer will quarantine this week and work remotely."

The Senate, which is split evenly between the Democrats and Republicans with the Vice President casting a tie-breaking vote when needed, is due to return on Monday following a two-week recess.

"Even if he's not physically in the Capitol, through virtual meetings and his trademark flip phone he will continue with his robust schedule and remain in near constant contact with his colleagues," the statement said…
Spousal Unit & I got our second boosters (Moderna, after Pfizer) Sunday afternoon. So if this post seems unusually ragged, blame it on the vaxx!
As the BA.5 subvariant spreads, the risk of #coronavirus reinfection grows. Despite many Americans deciding the pandemic is over, the virus has other ideas. Latest #Omicron offshoot—BA.5—has become dominant & is a master in evading the human immune system https://t.co/LkBNqiztSu

— delthia ricks (@DelthiaRicks) July 10, 2022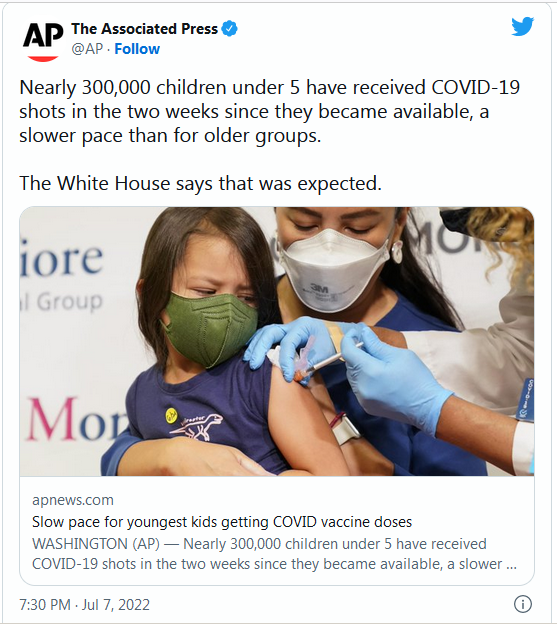 (link)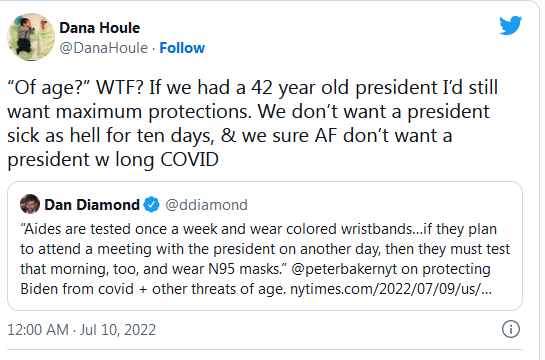 Become ungovernable!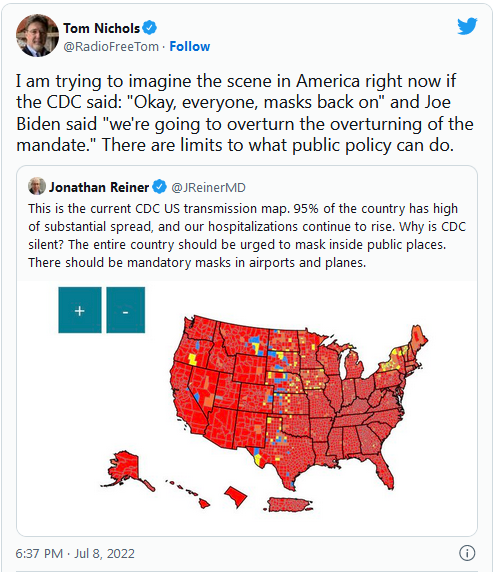 ======
"Close to 30 million people are under some form of movement restrictions as more cities and counties across China seek to quell resurgent Covid-19 outbreaks.

The nation reported 352 new cases for Sunday." https://t.co/15cbgHr9St

— James Griffiths (@jgriffiths) July 11, 2022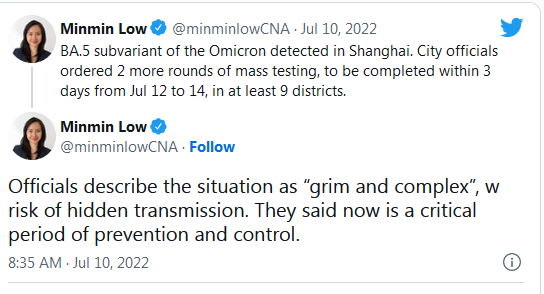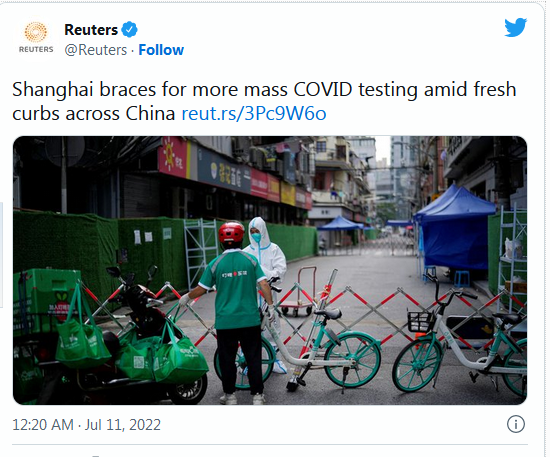 (link)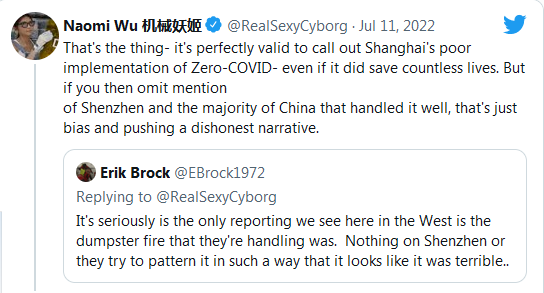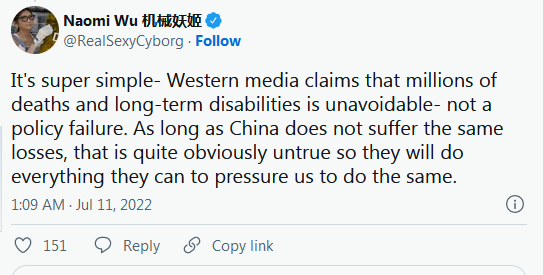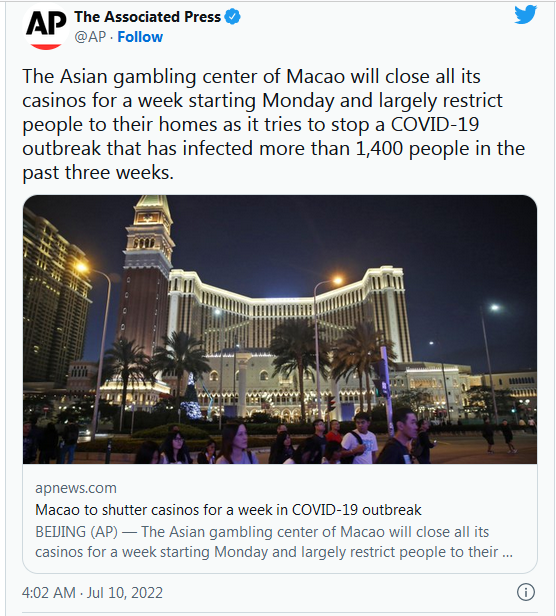 (link)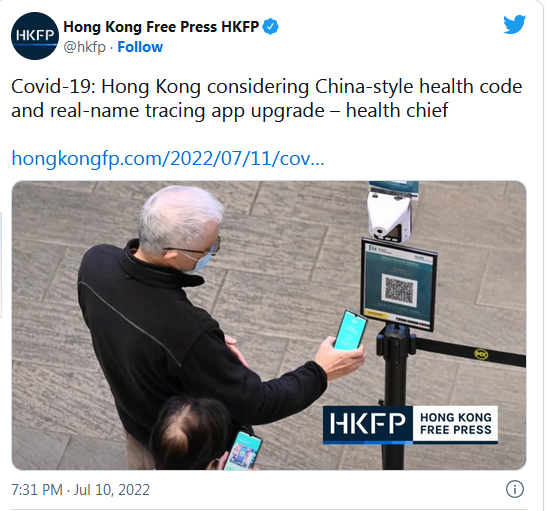 (link)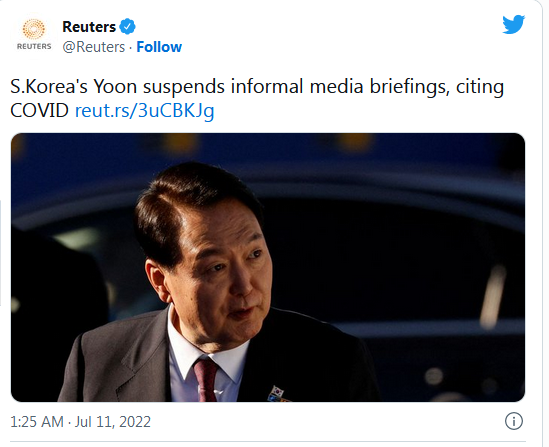 (link)
BA.4 & BA.5 are leading a surge of #coronavirus cases in Europe. Known cases in Europe rose to 57 cases per 100k as of Wednesday from 33 per 100k just 2 weeks earlier. That's the sharpest increase— ~70% — of any region of the world over the same period https://t.co/iHAQGictIK

— delthia ricks (@DelthiaRicks) July 9, 2022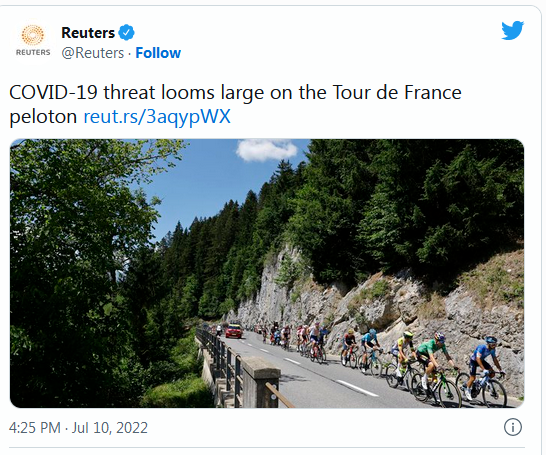 I guess, yeah, it's outdoors, but they're all bunching together & breathing really hard?
… Three riders in two days had to pull out of the race after being infected with the virus and showing symptoms, raising fears that the bunch could be decimated when all the riders will be tested on Sunday night and during the rest day in Morzine on Monday…

At the Tour de Suisse last month, only half of the riders finished the race as the virus spread like wildfire and riders and staff are now fearing it might happen on the world's biggest cycling event…

"The riders have to be protected. This morning we had to go through the crowd, people were touching the riders. It's unbearable," said Total Energies manager Jean-Rene Bernaudeau on Saturday.

Last year, if two members of a team were to test positive for COVID-19, the whole outfit would be sent packing, which is not the case in this edition.

Whether a rider who tested positive can stay in the race will be decided following a meeting between the race doctor, the International Cycling Union (UCI) doctor and the team doctor, depending on the rider's viral load.

While last year, all riders, staff members and Tour followers had to test negative to take the start within a strict bubble, the 2022 Tour started from Denmark without any specific anti-COVID-19 measures.

"We're in a situation that's trickier than in the past two years," Groupama-FDJ manager Marc Madiot told reporters.

"In the last two editions, there was some uncertainty and everyone was being super cautious. Nowadays there's no obligation, for the general population, to be cautious, which is normal.

"But for us there can be big consequences. It's like gangrene. When it's here, it spreads fast."…
======
The quickly changing coronavirus has spawned yet another super contagious omicron mutant that's worrying scientists as it gains ground in India and pops up in numerous other countries, including the U.S. https://t.co/ev9EWJ5NCV

— The Associated Press (@AP) July 11, 2022

(link)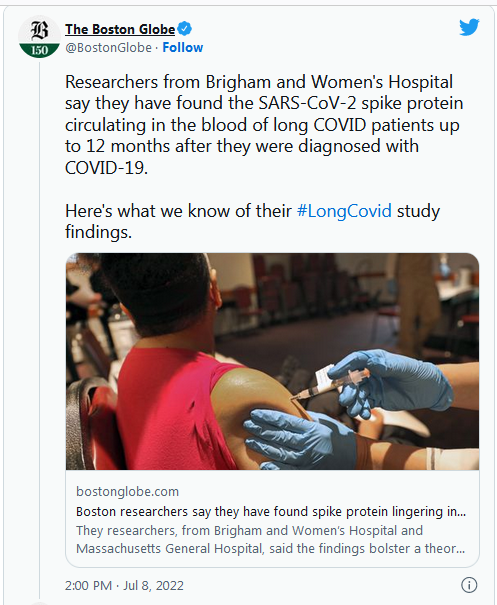 (link)
Some experts are urging caution in the rush to define #LongCovid. Specific definitions may overemphasize certain symptoms, harming those who don't fit a specific checklist https://t.co/DzeniD8T7w pic.twitter.com/IBx1Mh5dLq

— delthia ricks ?? (@DelthiaRicks) July 8, 2022

(link)
======
Houston area: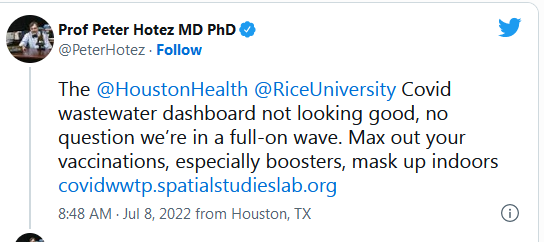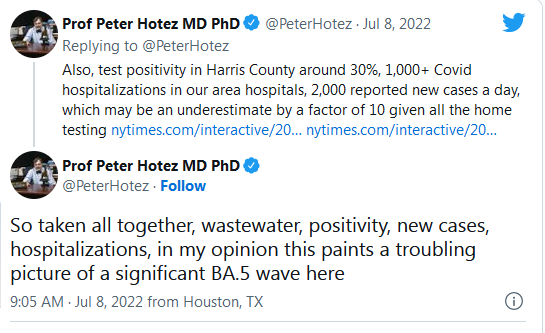 (link)
Also Texas, *sigh*…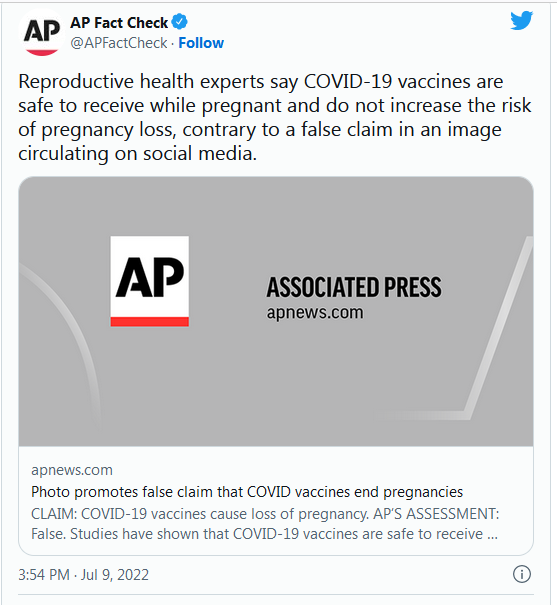 … As the country reacts to the overturning of Roe v. Wade and tightening abortion restrictions in several states, some social media users are spreading a photo of a sign that falsely suggests COVID-19 vaccines induce abortion.

The photo shows a person waving a Texas flag behind a banner hanging on an overpass that reads, "Need an abortion? Try the COVID vaccine." The photo was posted to Twitter on Wednesday and has since garnered more than 29,000 likes.

However, medical experts say the vaccines do not cause loss of pregnancy…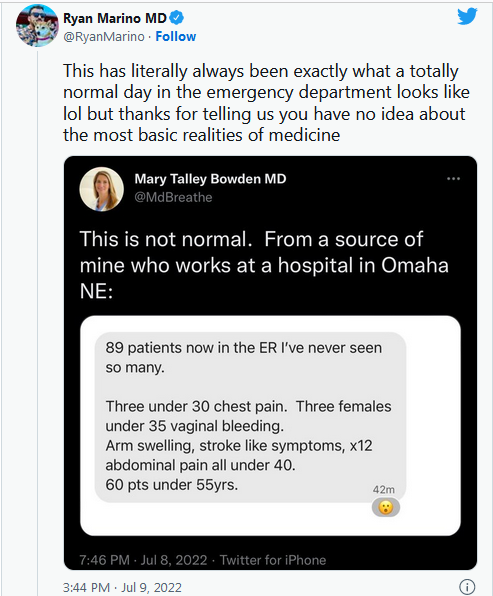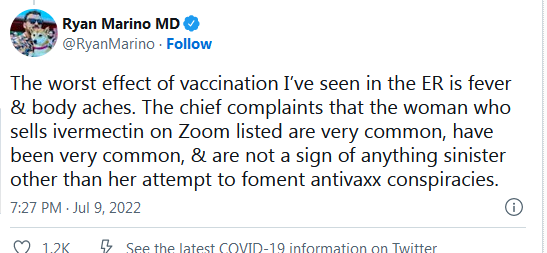 Thanks for nothing, Gov. DeathSantis: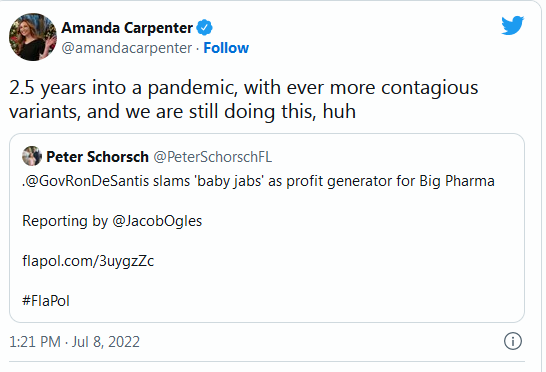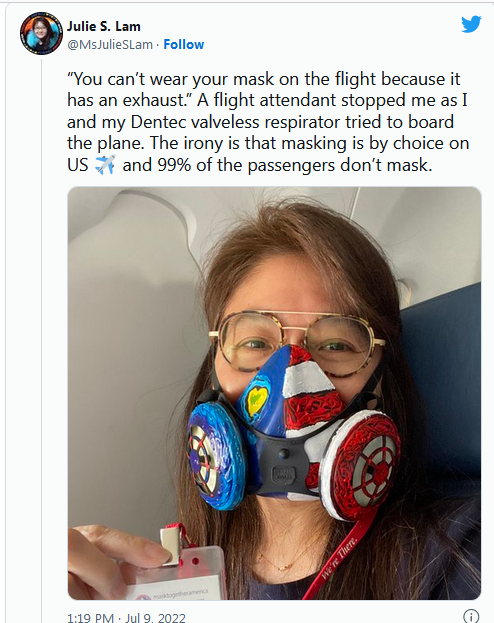 NYC: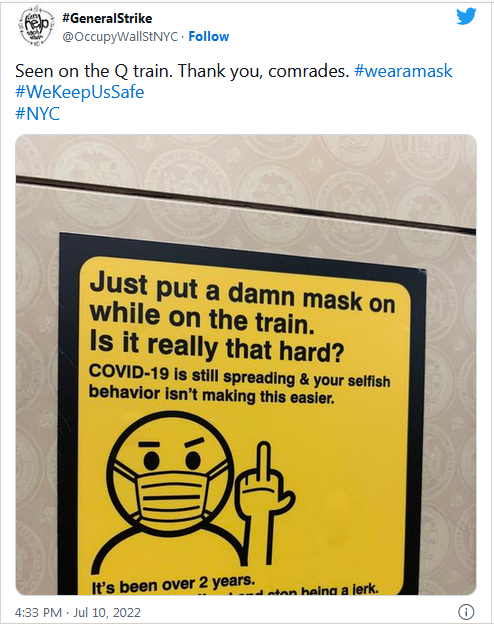 Reader Interactions