Seeing a weird amount of people bashing the Twitter board for … accepting a wildly high valuation of their company under terms that guaranteed they would make a lot of money from an oligarch's rash move.

— Prof. Paul Musgrave, Ph.D. (@profmusgrave) July 9, 2022
I was briefly startled by the news that Musk's latest (admitted) babymomma is the CEO for Neurolink. But then I realized that even someone impulsive enough to procreate with Elon Musk should be able to understand that a governmental infrastructure which dings your company for torturing monkeys is not gonna take a 'let's just do it and be legends' attitude about implanting experimental hardware into a newborn's skull. Not even if it's a newborn created (along with its matched control specimen) entirely by one's own genius!
Bloomberg's Matt Levine has a hard-earned reputation as an honest 'Musk whisperer', and even he's had enough of this sh*tshow:
I think it is helpful to start with the big picture. Elon Musk is the richest person in the world, and, like many other rich people, he has some unusual and expensive hobbies. One of his hobbies is that he sometimes likes to pretend that he will acquire public companies. He seems to find this fun, and why not? When he pretends that he'll buy a public company, it creates a big drama with him at the center of it. He gets to boss people around, mobilize legions of bankers and lawyers and financing sources and random hangers-on hoping to get the deal done, and then when he gets bored he can tell all those people to go home. "Haha got you," he can say, and they can all have a good laugh, or he can anyway.

This is an expensive hobby! When Musk pretended in 2018 that he was going to take Tesla Inc. private, he had to pay the US Securities and Exchange Commission a $20 million fine and stop being the chairman of Tesla's board. You're not really supposed to go around pretending that you will buy a public company; the SEC sometimes considers that securities fraud. But Musk is very rich and he can easily afford to pay $20 million for his little joke. His appetite for pretending to buy public companies was, apparently, undiminished.

So this April, Musk announced that he wanted to buy Twitter Inc. Why not? Musk seems to get a lot of joy out of using Twitter, and pretending to buy Twitter is a good way to create drama on Twitter. At the time, I assumed that, as with Tesla, he was doing a bit. "Ordinarily," I wrote, "if a billionaire chief executive officer of a public company offers to buy a company, the odds that he is kidding are quite low. When it's Elon Musk, the historical odds are, like, 50/50." …

I like Twitter's odds — its odds of getting specific performance and making Musk close the deal — in court, but I don't think anything is a certainty at this point. And obviously Musk will make this fight as unpleasant as possible; already the attorney general of Texas has opened an investigation of Twitter's bot numbers in order to harass Twitter and capitalize on Musk's popularity with Republican voters. I have suggested in the past that Twitter's best weapon in this dispute would be banning Musk from Twitter, because he is such an addict, but in fact he recently stayed off Twitter voluntarily for nine days, which I assume he did just to prove to Twitter the company that he can survive without Twitter the product. It is all going to be pretty awful and stupid…
Is it fun for him? If he manages to walk away having spent only millions in financing fees, millions in legal fees and say $1 billion in termination fees, was it worth it? What did he get out of this? The guy really seems to like being on Twitter, and he did make himself the main character in Twitter's drama for months on end. That's nice for him I guess. Also he made the lives of Twitter's executives and employees pretty miserable; as a fellow Twitter addict I can kind of see the appeal of that? I always assume that "everyone who works at Twitter hates the product and its users," and I suppose this is a case of the richest and weirdest user getting some revenge on the employees. He also gave himself an excuse to sell a bunch of Tesla stock near the highs. He maybe got an edit button too? Maybe that's worth a billion dollars to him?

I tell you what though. *I* have learned my lesson. The next time Elon Musk announces that he is going to buy a public company — and he will do it again! — I will know not to believe him. I will definitely know not to write about it.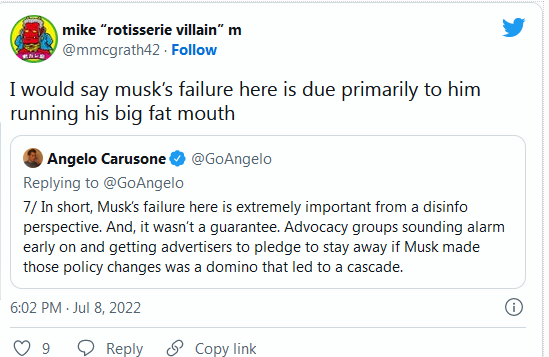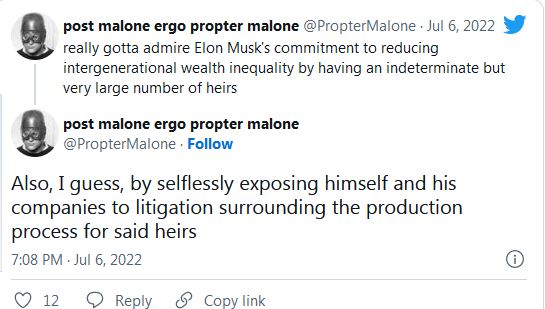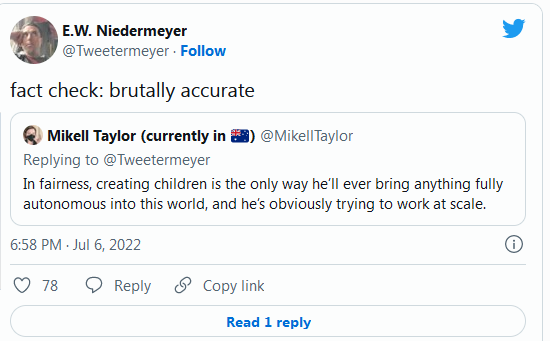 he still makes other people do the labor though

— eve 6 journalist (@Eve6) July 7, 2022
This website lolll pic.twitter.com/4tk1ABhycf

— Alex Kantrowitz (@Kantrowitz) July 9, 2022