Republicans from Kristi Noem to Jim Jordan ruthlessly shamed this girl on the national stage, attacking her story as completely fabricated and "too good to be true"

Eat crow, misogynist dipshits https://t.co/taf33Cn3qO

— Lindy Li (@lindyli) July 13, 2022

Per the IndyStar, "Ohio man charged in rape of 10-year-old that led to Indiana abortion":
… Gershon Fuentes, 27, whose last known address was an apartment in Columbus, Ohio, was arrested Tuesday after police say he admitted to raping the child on at least two occasions. He's since been charged with rape and is being held on a $2 million bond.

Columbus police were made aware of the girl's pregnancy through a referral by Franklin County Children Services that was made by her mother on June 22, Det. Jeffrey Huhn testified Wednesday morning at Fuentes' arraignment. On June 30, the girl underwent a medical abortion in Indianapolis, Huhn said in court Wednesday, according to the Columbus Dispatch, a Gannett sister paper that has been working on the story with IndyStar…

The criminal charges and testimony from the Columbus detective confirm the disturbing story that has become a key flash point in the national furor over the U.S. Supreme Court's decision to overturn Roe v. Wade.

IndyStar first reported earlier this month that a 10-year-old rape victim traveled from Ohio to Indiana for abortion services after most abortions became illegal in her home state…

But in recent days, some abortion opponents and news outlets have criticized the story as unproven.

Ohio Attorney General Dave Yost also questioned the validity of the account during an appearance on Fox News this week.

Yost, a Republican, told Fox News host Jesse Watters that his office had not heard "a whisper" of a report being filed for the 10-year-old victim.

"We have regular contact with prosecutors and local police and sheriffs — not a whisper anywhere," Yost said on the show.

Yost doubled down on that in an interview with the USA TODAY Network Ohio bureau on Tuesday, saying that the more time passed before confirmation made it "more likely that this is a fabrication."…

On Wednesday, once news of the arraignment came, Yost issued a single sentence statement:

"We rejoice anytime a child rapist is taken off the streets."…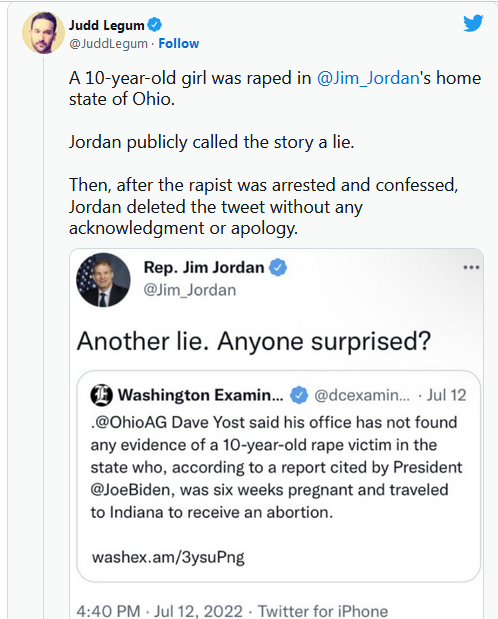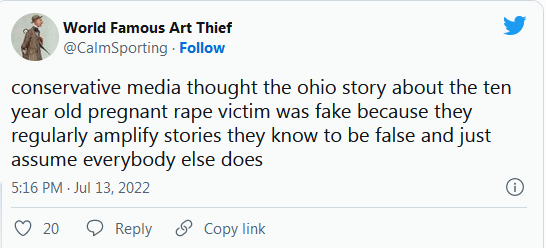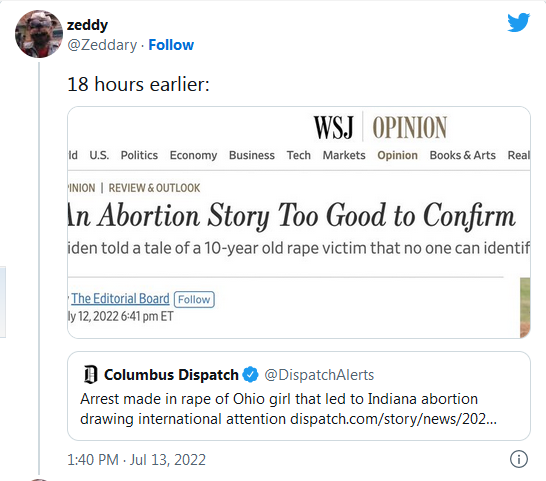 The whole Murdoch empire went in on this one. pic.twitter.com/Wq08HLVkqy

— Matthew Gertz (@MattGertz) July 13, 2022
The Wall Street Journal has added an editor's note to their column titled: An Abortion Story Too Good to Confirm

It says that while police were made aware of the rape last month, "no public confirmation of the referral or arrest was reported until the Dispatch story on July 13." pic.twitter.com/lZ98o6trqm

— Justin Baragona (@justinbaragona) July 13, 2022
ETA: H/t, Scout211:
Unimaginable abortion stories will become more common. Is American journalism ready? (No.)

I wrote about the 10-year-old and the fact-checking. https://t.co/VOUyQHaRMv

— Laura Hazard Owen (@laurahazardowen) July 13, 2022
… In America after the end of Roe v. Wade, one brave source on the record in the final story will often be the best we can get. Obviously, reporters and editors must make sure that their reporting is accurate and true! But those who believe that the end of legal abortion in many states is newsworthy will need to figure out how to report and publish these stories with a few more constraints than they'd prefer. If performing or receiving an abortion now counts as activism, well, then journalists will need to be okay quoting "activists," unless they only want to tell the anti-abortion movement's side.

Countless abortion stories will never be told at all. It won't be because they're lies. It will be because telling them is too risky, because patients and doctors and staffers and volunteers will face arrest for coming forward.

The facts will live on in the shadows. The women and children's real lives will continue. Even if their stories seem "too good" to be true. Even if you wish they weren't.