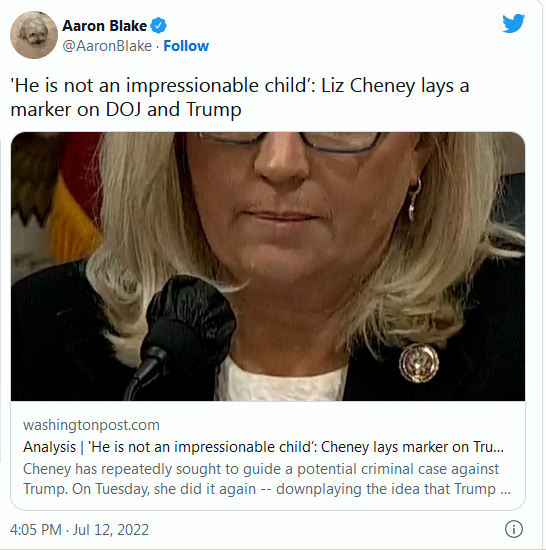 Excellent summary, IMO. Rep. Cheney is not gonna settle for less than a Red Wedding reenactment:
If there's one member of the Jan. 6 committee most focused on guiding the Justice Department to charge former president Donald Trump, it's Rep. Liz Cheney (R-Wyo.). Cheney was the first, back in December, to preview the crime that the committee would ultimately focus on: obstruction of an official proceeding of Congress. Cheney later objected when Jan. 6 committee Chairman Bennie G. Thompson (D-Miss.) said the committee wouldn't be making a criminal referral to the Justice Department. Cheney said last week that, in fact, multiple criminal referrals could be on the way…

"Now, the argument seems to be that President Trump was manipulated by others outside the administration, that he was persuaded to ignore his closest advisers and that he was incapable of telling right from wrong," Cheney said.

She added: "The strategy is to blame people his advisers called, quote, 'the crazies' for what Donald Trump did. This, of course, is nonsense. President Trump is a 76-year-old man. He is not an impressionable child."

She said the record, in fact, showed quite the opposite — that he was told over and over again that he had in fact lost his reelection. The committee has shared lots of evidence that he had been told this, and it would play new evidence to that effect Tuesday.

Then came the key line from Cheney: "No rational or sane man in his position could disregard that information and reach the opposite conclusion. And Donald Trump cannot escape responsibility by being willfully blind."…

But some close to the situation continue to push the idea that ne'er-do-wells were whispering in Trump's ear and manipulating him — a view that's consistent with how aides have long talked anonymously about how Trump's worst impulses came to be. Cheney laid down a marker, asserting that the committee won't settle for that, even if it could conceivably be used to prove Trump broke the law.
Encrypted communications obtained by the committee show that the leader of the Florida Oath Keepers spoke directly with Roger Stone about security on January 5 and 6 pic.twitter.com/HHp0sBud9Z

— Aaron Rupar (@atrupar) July 12, 2022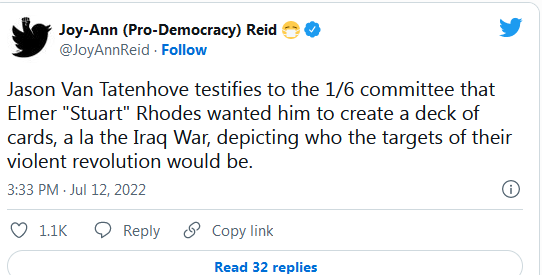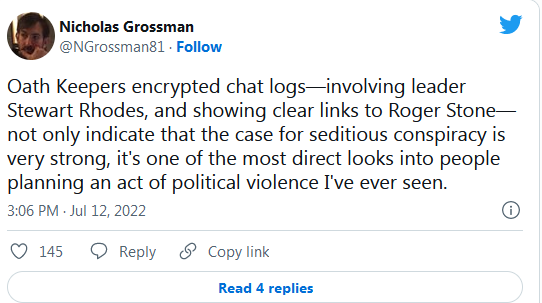 Raskin shows posts from https://t.co/xTQUUymOxm organizing violence on January 6 following Trump's December 19 tweet pic.twitter.com/nQadIVsIRc

— Aaron Rupar (@atrupar) July 12, 2022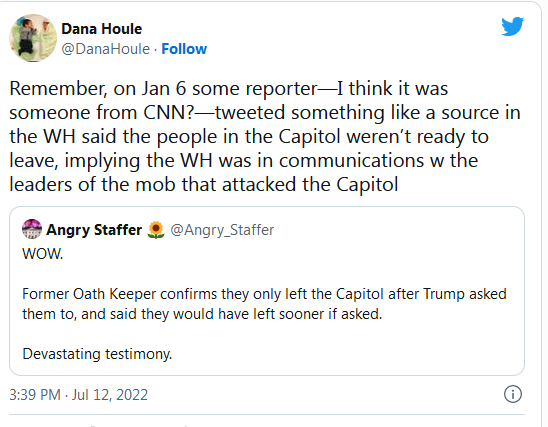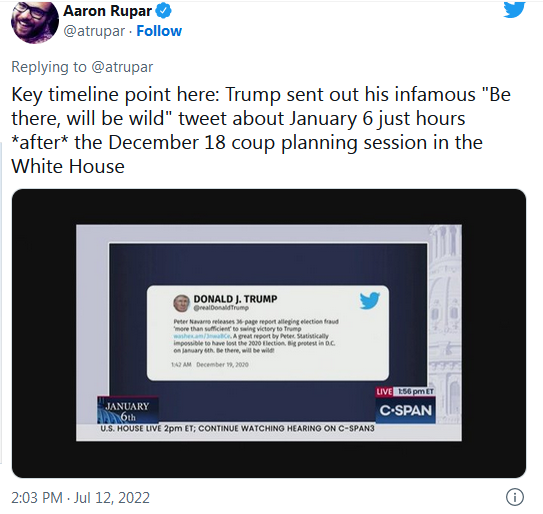 the irony of this line being used to explain why someone turned on Trump is rich https://t.co/p40lJd9Q5i

— Aaron Rupar (@atrupar) July 12, 2022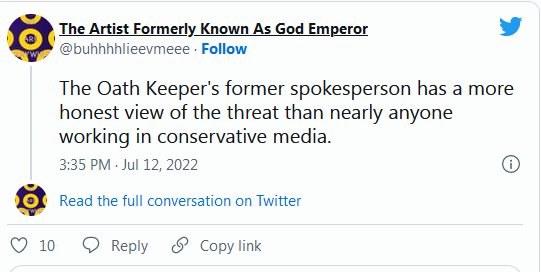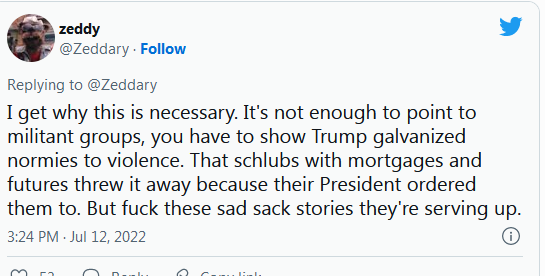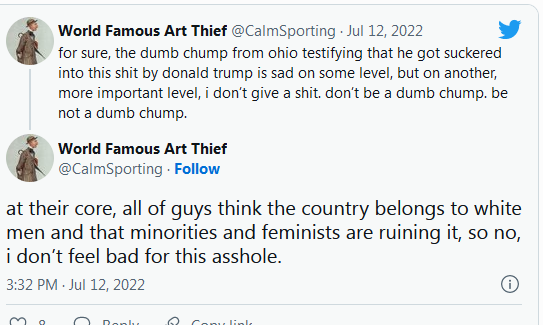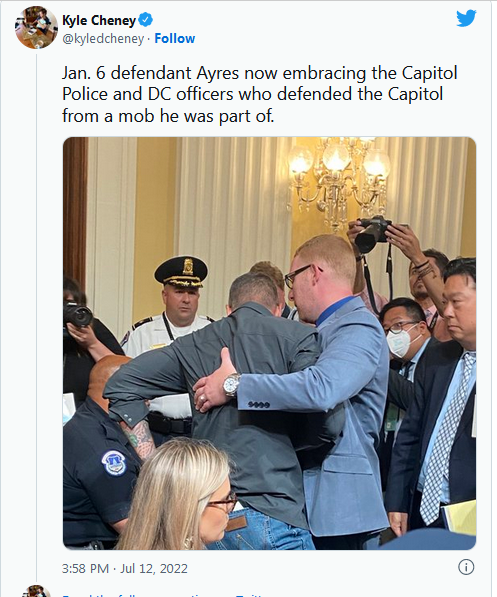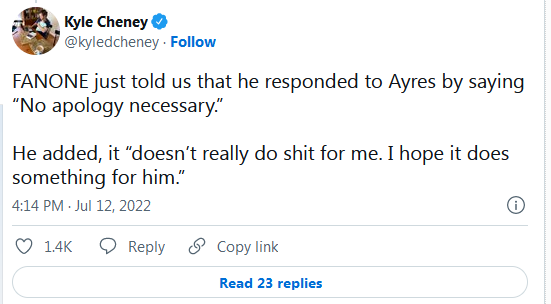 "Thank you, but f?ck you for being there." – D.C. police officer Michael Fanone on his response to the few rioters who helped when others were trying to kill him pic.twitter.com/sObht9raY7

— Jason E. Dunlap, Valeyard (@Red_eyedjedi) July 12, 2022
=====
Sidebar: Mehdi Hasan and his DO SOMETHING!! besties can now shut up, forever: