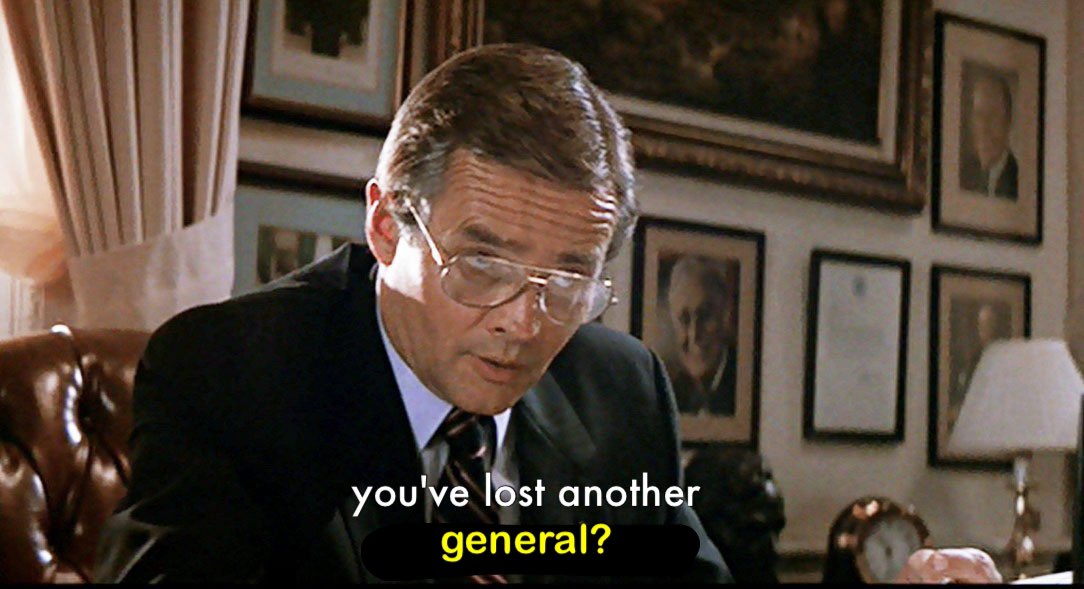 Here is President Zelenskyy's address this evening. Video below, English transcript after the jump (emphasis mine):
Good health to you, fellow Ukrainians!

Today I would like to highlight one decision that looks like a technical one, but there is a lot of symbolism and meaningful political work behind it. Ukraine became an associate member of NATO's special multilateral program on technological interoperability. To put it more simply, it is about Alliance's standards. Now Ukraine not only implements NATO standards, but also can participate in the development of new standards.

The experience of our military, the capabilities of Ukrainian institutions, the IT potential of our country – all this will now be the Ukrainian contribution to the development of collective security in Europe.

And when does it happen? On the 139th day of a full-scale war, with which Russia planned to destroy us in a week. And the Ukrainian state not only survived, not only defends itself, but also develops and will help the development of its partners. Such success is worth noting.

Every day we receive and experience a lot of painful news. The war continues, Russian shelling does not stop for a single day. Today there were regular strikes at Mykolaiv – missiles, artillery. The occupiers once again hit Kharkiv and the communities of the region – Staryi Saltiv, Zolochiv, Bayrak and others. There are victims – wounded and killed. In Donbas, offensive attempts do not stop, the situation there does not get easier, and the losses do not get smaller. We must remember this. We must see this, draw attention to this.

And it should also be remembered that even in such conditions, the state takes steps forward – in cooperation with partners – in institutional development. And, of course, on the frontline.

The occupiers have already felt very well what modern artillery is, and they will not have a safe rear anywhere on our land, which they occupied. They have felt that the operations of our reconnaissance officers to protect their Homeland are much more powerful than any of their "special operations". Russian soldiers – and we know this from interceptions of their conversations – are truly afraid of our Armed Forces.

139 days of such a war, almost 20 weeks… The so-called second army of the world is afraid of Ukrainians and is able to do something only on the basis of bottomless stocks of old Soviet weapons.

They no longer have strategic strength, character, or understanding of what they are doing here on our land. They also don't have even an iota of courage to admit defeat and withdraw troops from Ukrainian territory.

Today in Kyiv, I held talks with Mariusz Błaszczak, Deputy Prime Minister and Minister of Defense of Poland. And he brought us "Krabs" – those that will powerfully feed our enemy with fire.

Of course, the key topic of our negotiations was further defense cooperation. But it is important not only what we talked about, but also how we talked. With absolute confidence in the Ukrainian future. In the Ukrainian European future.

The same goes for all my other negotiations. It is always felt.

A really difficult road is ahead. Unfortunately, it is impossible to do otherwise when you are protecting your home from a terrorist assault. But it is also clear that what lies ahead is the success of our state. Ukraine will be able to defend itself. Ukraine will be able to rebuild itself. Ukraine will be able to fulfill all its foreign policy goals.

When millions of people work sincerely for this – each and every one at their own level – the result will be inevitable.

And you know, for some reason I rarely thanked ordinary people who work in Ukraine. Who stay here no matter what. Who do their job every day. With faith in Ukraine, with faith in victory. Now I want to thank you all. Thank you for having you. Thank you for being with Ukraine.

In the evening, as always, I signed the decree awarding our heroes. 156 warriors were awarded state awards. 56 of them – posthumously.

Eternal glory to all those who gave their lives for Ukraine!

Eternal glory to all those who fight for the future of our people!

Glory to Ukraine!
I want to take a moment and focus on something from President Zelenskyy's address. Specifically, this part:
Every day we receive and experience a lot of painful news. The war continues, Russian shelling does not stop for a single day. Today there were regular strikes at Mykolaiv – missiles, artillery. The occupiers once again hit Kharkiv and the communities of the region – Staryi Saltiv, Zolochiv, Bayrak and others. There are victims – wounded and killed. In Donbas, offensive attempts do not stop, the situation there does not get easier, and the losses do not get smaller. We must remember this. We must see this, draw attention to this.
There has been a lot of discussion on nat-sec, mil, and mil-vet social media, especially Twitter, that Russia has once again culminated and is entering a strategic pause to consolidate, regroup, and prepare for whatever it is Putin is going to do next in his re-invasion of Ukraine. Apparently a lot of this is being driven by a recent report from the Institute for the Study of War (ISW) that was published last week. As I've indicated before, I'm not a big fan of ISW and there's no need to take space and go back over that here, but in this case I think they've simply made a category error. Or, perhaps, a conceptualization error. Given the nature of the re-invasion, which has combined a lot of unsuccessful Russian land warfare, ineffective applications of Air Power that has failed to establish air supremacy over Ukraine, and very successful use of artillery and aviation based short, medium, and long range fires, Russia is really attempting three different campaigns in its Ukrainian re-invasion at once rather than a coordinated campaign that includes Air Power and Land Power, including fires.
Normally, we'd expect to see a lot better coordination between the use of Air Power and the use of Land Power, including what we call Joint Fires, but that really hasn't happened with Russia's re-invasion. Rather we see a disjointed air campaign, a dysfunctional and largely ineffective ground campaign, and a very effective use of artillery and aviation based fires to just pound everything within reach of the guns and the planes into dust. As a result, why we may be seeing a slowdown in what was the pocket/salient in Donetsk as the Russians try to work out how much farther forward they can push with the troops and the equipment they have available, we are most definitely not seeing any slowdown at all in the use of fires to just pound the Ukrainians wherever the guns can reach. And that's the reality that President Zelenskyy is describing. That because of Russian uses of artillery and aviation based fires there is no let up, there is no pause, the war simply grinds on.
There was no operational update today from Ukraine's MOD. Nor was their a DOD backgrounder.
Here is today's assessment from Britain's MOD: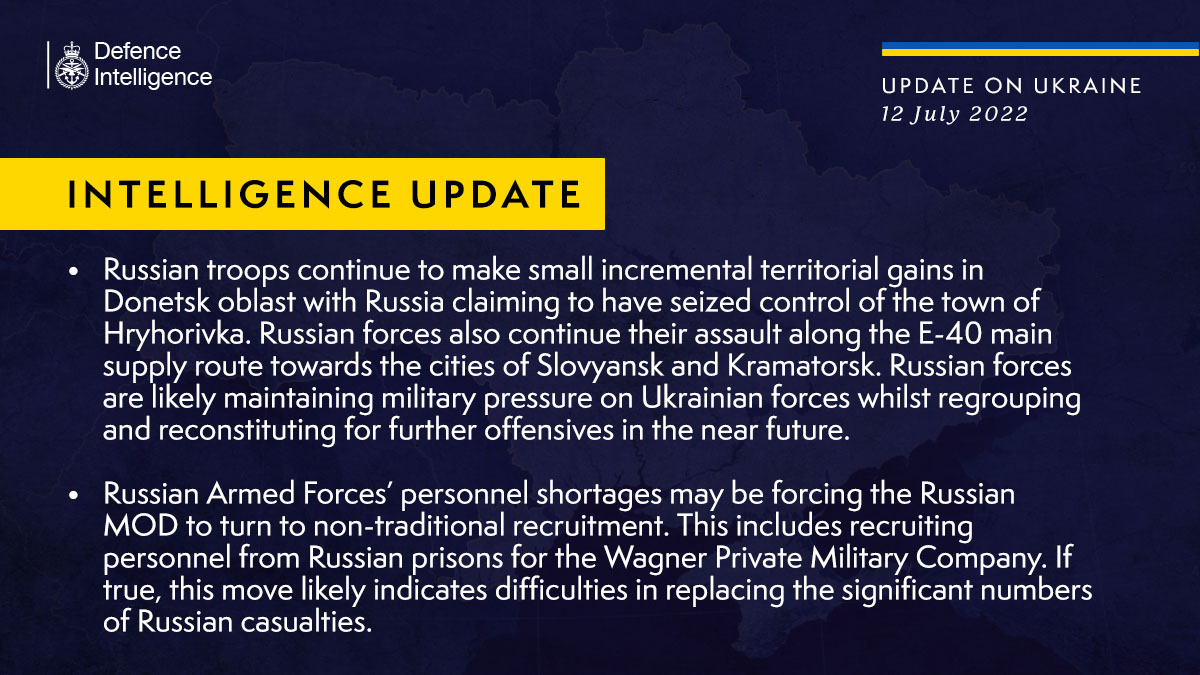 Here's their updated macro level map for today: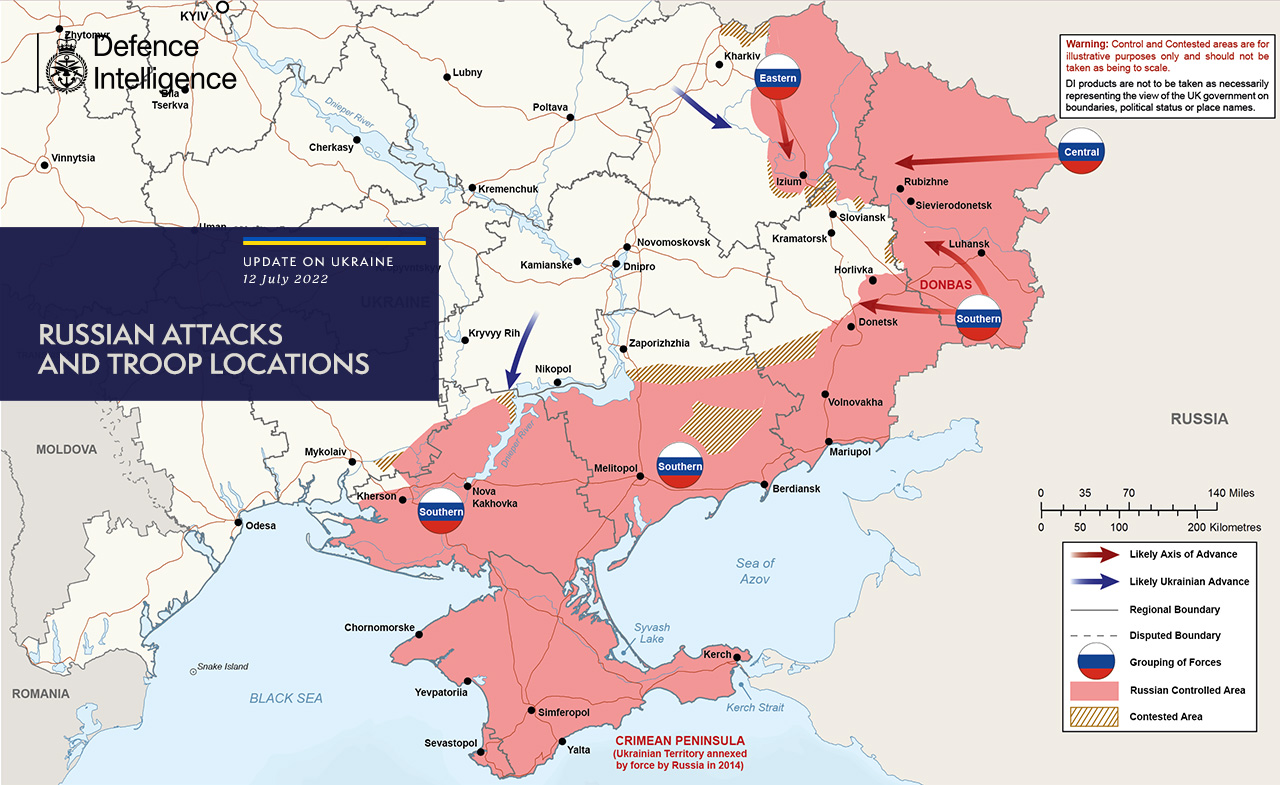 And here is former NAVDEVGRU Squadron Commander Chuck Pfarrer's most recent assessment and updated map of the battle for Kherson from yesterday:
CONTACT REPORT/ KHERSON 2040 UTC 11 JUL/ On 10 JUL, UKR HIMARs targeted a HQ element at Kherson airport, killing a RU general and several staff of the Russian 22nd Army. Today, 11 JUL, UKR announced 2 addition ammo depots were destroyed near the city. pic.twitter.com/hxT7ziXdST

— Chuck Pfarrer (@ChuckPfarrer) July 11, 2022
As we've been following, Ukraine's Southern Command has been increasing its operational tempo as part of the counteroffensive to push Russia out of Kherson Oblast. This includes using its new artillery to target both ammo depots and operational headquarters.
As always, we should be skeptical, but Russian sources have said that Colonel Kens, the reported Chief of Staff of the 20th MRD, was killed, and Russian correspondents have been posting about the effectiveness of HIMARS against Russian command posts. 2/https://t.co/2knz7gdjw6

— Rob Lee (@RALee85) July 11, 2022
We now have confirmation of the kills:
A general and five Russian military officers were killed in a Ukrainian strike on Russian headquarters using the U.S.-supplied M142 High Mobility Artillery Rocket Systems (HIMARs), according to Serhiy Bratchuk, a representative of the Odesa regional military administration.

"After a strike by HIMARS on the headquarters in the Kherson region, Major General [Artyom] Nasbulin, the head of the 22nd Army Corps of the Russian Armed Forces (military unit 73954, Simferopol), was killed. Colonel Kens, whose death we announced yesterday, died there as well. And apart from him, the commander of the 20th motorized rifle division (military unit 22220, Volgograd) Colonel Andrei Gorobyets, the head of the operational department of the headquarters of the 20th MRD, Colonel Koval, the head of artillery of the 20th MRD, Colonel Gordeev. In total more than 150 died, including 5 officers," Bratchuk said in a statement posted on Telegram.

Russian-installed authorities in the occupied Nova Kakhovka confirmed a Ukrainian strike on the area but made no mention of the Russian general and officers killed, claiming instead that Ukrainian forces had used "American HIMARS" to strike a warehouse storing a chemical compound that caused a massive explosion.

Russia's RIA Novosti, citing local Kremlin-backed authorities, said at least five people were killed, seven were missing, and up to 80 were injured.
Much more at the link.
The Ukrainians have also been targeting the Russian ammo depots in Kherson, just as they have in Donetsk.
There was a big explosion in Kherson Oblast.https://t.co/weTiiCcOjo pic.twitter.com/BQyT4Sqwod

— Rob Lee (@RALee85) July 11, 2022
Photos from the aftermath of yesterday's strike in Nova Kakhovka. https://t.co/jpU4cPxNHI pic.twitter.com/vmQc5y2Yre

— Rob Lee (@RALee85) July 12, 2022
Part of the reason that Ukraine has suddenly become very successful is that the Russians don't have a defense against the HIMARS. Because, like everything else in Russia, lots of people were skimming the contracts to create one while telling their superiors that everything was fine.
Russian C400 anti-aircraft defense systems aren't able to intercept HIMARS rockets – which Almaz-Antey corporation promised and charged billions for.

Russian Armed Forces, their ammunition and fuel warehouses are completely unprotected from the power of American weapons. pic.twitter.com/ANMPozhoS1

— Anton Gerashchenko (@Gerashchenko_en) July 11, 2022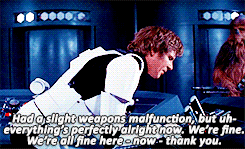 The Ukrainians are also continuing their partisan campaign against Russian occupation officials and collaborators. Al Jazeera has the details:
The Russian-appointed administrator of a small town in the Russian-occupied east of Ukraine's Kharkiv region has been killed by a car bomb presumed to be the work of Ukrainian saboteurs, the regional occupation authorities have said.

The pro-Moscow military-civilian administration said Yevgeny Yunakov, chief administrator of Velikyi Burluk, had been killed by a Ukrainian sabotage and reconnaissance group, Russia's TASS news agency reported on Monday.
More at the link.
There has been some discussion about what we know or don't know about Ukrainian force structure after four months of war. And the answer is not much because the Ukrainians have done a good job locking down how they've been organizing, reorganizing, and especially recruiting since the re-invasion began. This is excellent Operational and Informational Security. What I did note yesterday is we're now getting reporting from reliable Ukrainian news media sources, both with The Kyiv Independent, on Ukraine's military losses to date:
Some 10,000 Ukrainian servicemembers KIA (this says roughly 30,000 wounded), some 7,200 missing in action, most of them POWs now.
That's the price.

— Illia Ponomarenko 🇺🇦 (@IAPonomarenko) July 11, 2022
7200 Ukrainian servicemen are registered as missing, said Oleg Kotenko, govenment's representative for missing people. Among those the majority have been taken by Russia as POWs. The number includes members of the 🇺🇦 Armed forces, National guard, border guard and special services

— Olga Tokariuk (@olgatokariuk) July 11, 2022
We also have some news about backfilling and topping up Ukraine's Air Force. From The Drive's The Warzone:
In a debate aired on national television, Czech Prime Minister Petr Fiala announced that the Czech Air Force would soon be carrying out patrol and air policing duties from within Slovakia's airspace. The proposed partnership between the neighboring NATO countries could kick start the transfer of MiG-29 fighter jets to Ukraine, which has been in the works since the early days of the Ukrainian-Russian conflict.

Fiala disclosed the details of the agreement on July 3, stating that beginning in September, the country would deploy SAAB JAS-39C Gripen fighters to conduct air-defense operations in Slovakian skies. Slovakian Prime Minister Eduard Heger was also present for the discussion and went on to add that the budding agreement may last for up to a year but is still in the process of being negotiated. The most noteworthy outcomes, though, could be the chance to streamline Slovakia's pending delivery of Lockheed Martin-made F-16 Fighting Falcons as well as the opportunity to donate the Slovakian Air Force's remaining MiG-29 Fulcrum fighter jets to Ukraine.

Slovakia has long been in the process of ending the country's dependence on its fleet of Cold War-era MiG-29 fighter jets. The aircraft first entered service in 1982, making it so the MiG-29's Soviet Union origins have prompted Slovakia to preserve at least some level of relations with Russia in order to maintain the fleet and its weapon systems. In an effort to both cut those lingering ties and upgrade the country's fighters, Slovakia has since largely grounded its fleet of MiG-29s in preparation for its 2018 order of 14 F-16 Block 70 aircraft to be delivered.

The Slovakian MiG-29 fleet includes roughly 11 aircraft — a mix of MiG-29AS single-seaters and MiG-29UBS two-seaters. The aircraft received upgrades that made them NATO compliant, including the installation of special radios and Identification Friend-or-Foe (IFF) equipment, as well as a multi-function display, among other enhancements, during the mid-2000s.
Much more at the link!
I've seen reporting on a few sites that this is a done deal and also that Bulgaria is going to get on board and provide their MiGs to Ukraine as well. I've seen no confirmation from any legitimate source, so this is all something to watch and I'll update when I see things confirmed by reputable reporters.
I think that's enough for tonight.
Your daily Patron!
Being Ukrainian doesn't mean just having a passport of Ukraine.
This means having Ukraine in your heart: wherever you are and whatever you do. #Ukraine️ #DogPatron #Patron pic.twitter.com/L8eARTEEaw

— Patron (@PatronDsns) July 12, 2022
And a video from Patron's official TikTok:
The caption translates as:
I received the information, I am passing it on to my followers! Voiceover: @by Duck #pespatron #patrondsns #SlavaUkraine original sound – Patron_official
Open thread!