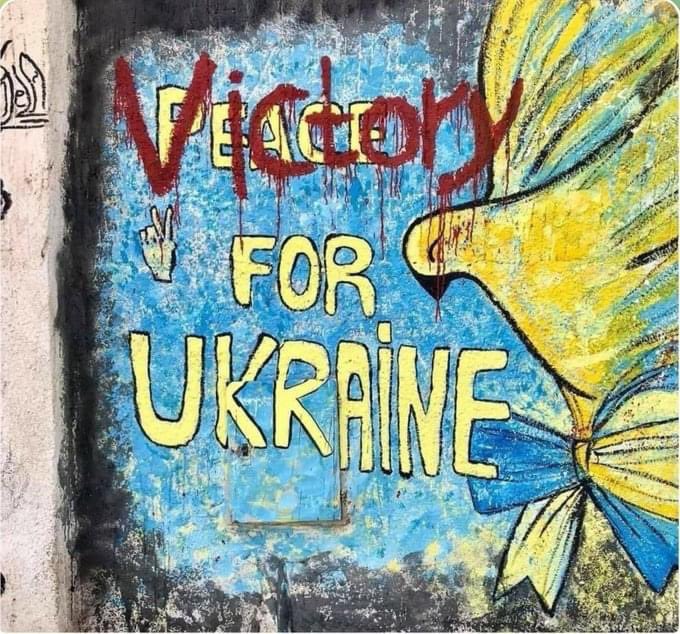 Here is President Zelenskyy's address from earlier this evening. Video below, English transcript after the jump (emphasis mine):
Good health to you, fellow Ukrainians!

Today I signed a decree awarding the Order of Merit of the 1st degree to Maryna Viazovska, a Ukrainian mathematician who became a laureate of the Fields Medal this year.

This is a very important and prestigious award – it is called the Nobel Prize in Mathematics.

Ukrainian Mrs. Viazovska became the second woman in the entire history of the award since 1936 to win this medal. She managed to solve the problem of packing spheres in eight-dimensional space. As scientists note, Maryna Viazovska offered very powerful ideas and helped solve related problems.

Today I want to thank Mrs. Maryna. Not only for her work, for a very powerful mathematical result, but also for the fact that she helps all of us, all Ukrainians, protect our freedom and independence. In particular, during the ceremony of awarding the Fields Medal at the International Congress of Mathematicians, in her speech Mrs. Maryna spoke about Ukraine, about Russia's war against our country, about the crimes of the Russian occupiers.

Mrs. Maryna studied in Ukraine, in Kyiv, she works in Switzerland, in Lausanne, heads the department of number theory. And I believe that the day will come when Maryna Viazovska will be able to return to Ukraine and teach here.

I took part in the work of the "Asian Leadership" conference, which takes place every year in Seoul, the capital of the Republic of Korea. This is one of those platforms that attracts the attention of the entire region. And it is important for Ukraine that our interests and values are heard and perceived in all parts of the world, especially in the leading countries of Asia. I thanked them for their support and called for more active opposition to Russian terror tactics.

And what an evil irony: today the representatives of the occupation structures in Donetsk announced that they were, as they say, recognized by the DPRK. Of course, we will react in a very tough manner at all levels. But this is the news that does not even need additional comments. Everything is obvious. The path we are taking and the path the occupiers can lead to.

Debris clearance continues after the Russian attack on the city of Chasiv Yar. As of this time, the list of the dead includes 48 people, including one child. Unfortunately, the number of those rescued has not changed – 9 people. Rescuers will work on site until all debris is cleared. It was one of the most brutal Russian strikes during the entire war – so many victims… My condolences to the relatives and friends of the victims.

I am preparing to address the participants of the forum in The Hague in the Netherlands, which will be held tomorrow and dedicated to the prosecution of Russian war criminals. World democracies are willing to do everything necessary to make every Russian terrorist responsible for evil against Ukrainians. And we must coordinate our efforts in such a way that all the guilty receive fair sentences. There will be a tribunal.

Today in the news there are many references to the meeting in Turkey regarding the unblocking of agricultural exports from our country through the Black Sea. We are indeed making significant efforts to restore the supply of food to the world market. And I am grateful to the United Nations and Turkey for their respective efforts. The success of this story is needed not only by our state, but also, without exaggeration, by the whole world. If we manage to remove the Russian threat to navigation in the Black Sea, it will remove the severity of the world food crisis. The Ukrainian delegation informed me that there is some progress. We will agree on the details with the UN Secretary General in the coming days.

In the evening, as usual, I signed the decree awarding our warriors. 136 combatants were awarded state awards, 25 of them posthumously.

Eternal memory to all those who gave their lives for Ukraine!

Eternal gratitude to everyone who protects our country!

Glory to Ukraine!
As of my typing this, the Ukrainian MOD has not posted an operational update for today. There was also not a DOD backgrounder today.
Here is today's British MOD assessment: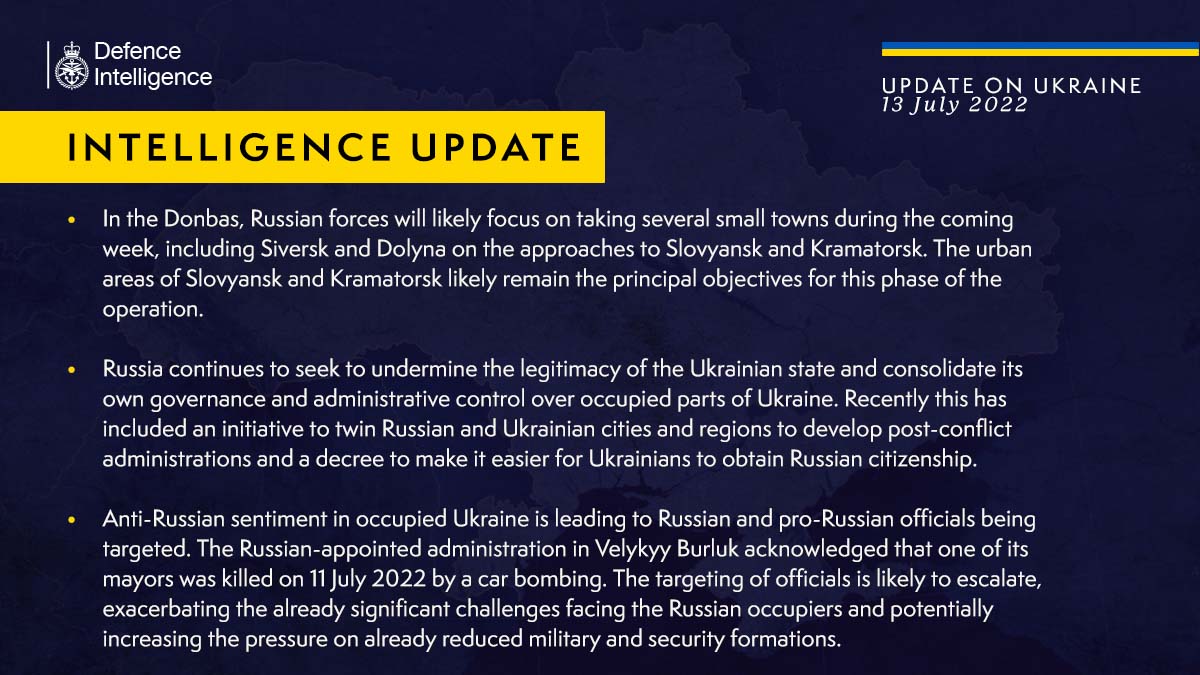 And here is there updated macro level map for today: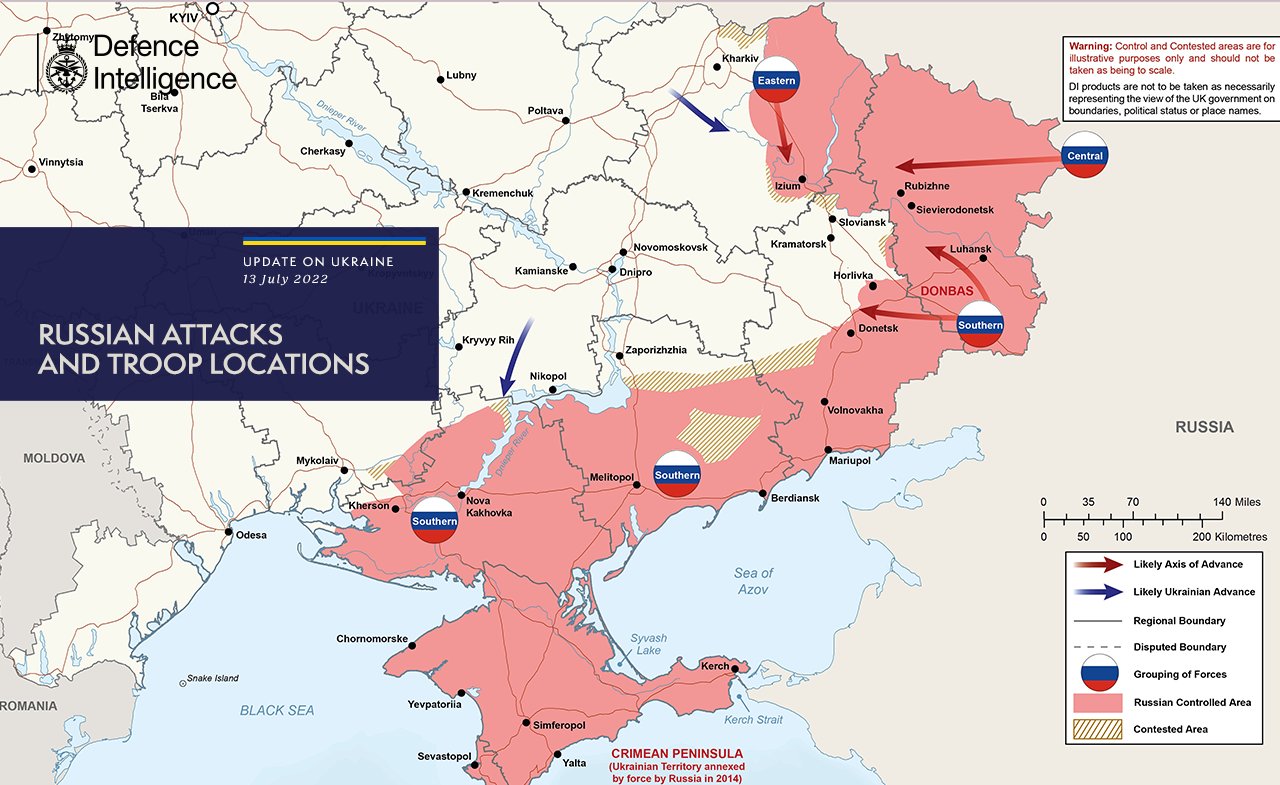 Here is former NAVDEVGRU Squadron Commander Chuck Pfarrer's updated analysis and map for the battle of Kherson:
KHERSON AXIS / 1830 UTC 13 JUL / Kherson is assessed as a likely 'first objective' of the coming UKR offensive. UKR partisan and SOF activity has provided targeting data and conducted personnel interdiction missions against RU collaborators. pic.twitter.com/TsKj5UnAJx

— Chuck Pfarrer (@ChuckPfarrer) July 13, 2022
If you're seeing social media posts from the "hard core left" calling for the US to stop providing military aid for Ukraine to defend itself against Russia, which is overlapping with the extreme right in the US and its allies in Congress  – Senator Paul and Congressman Massie are leading that effort – it is Russia using the Democratic Socialists of America as useful idiots.
INFORMATION OPERATION: During the Cold War, the Soviet Union used 'active measures' to agitate for 'international peace' and nuclear rearmament. Now, the Kremlin attempting to 'astro-turf' a 'grass roots' anti-Ukraine war movement in the US. https://t.co/AzTIvsWpUE

— Chuck Pfarrer (@ChuckPfarrer) July 13, 2022
This pretty well sums up this Information Operation: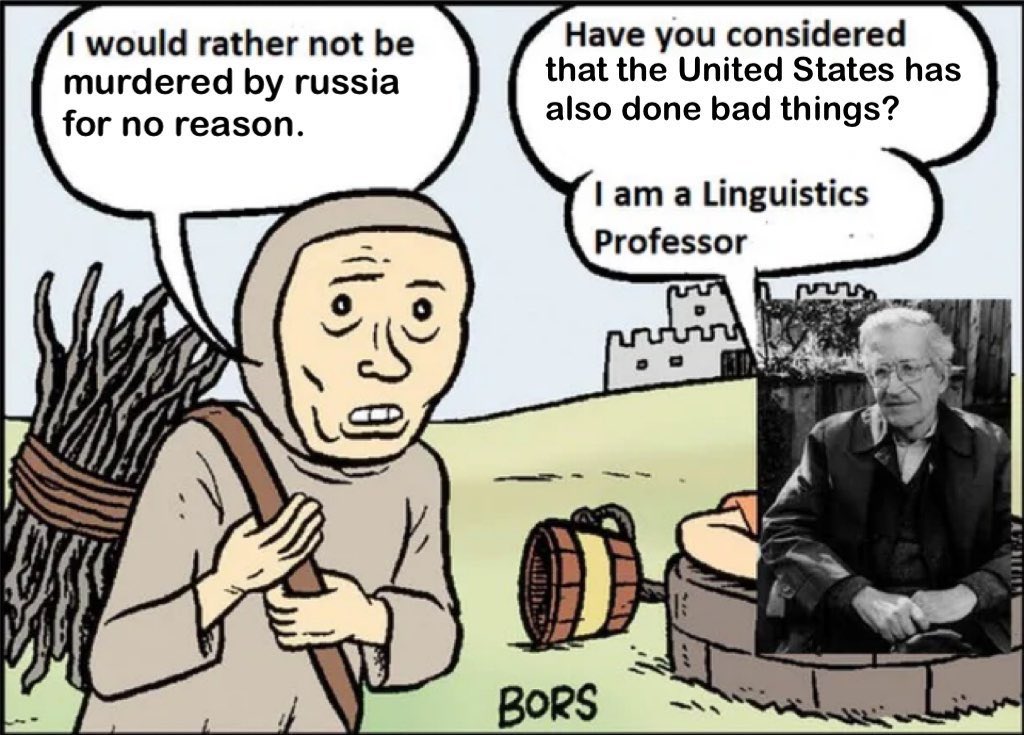 (Image found here)
The Ukrainians are continuing there assault on Russian ammunition depots!
On July 13, the Armed Forces of Ukraine destroyed 5 Russian ammunition depots in the following towns:
▪️ Luhansk
▪️ Chernobaivka
▪️ Makiivka, Donetsk region
▪️ Chaplinka (district), Kherson region
▪️ Horlivka, Donetsk region pic.twitter.com/PfEEIwWBb7

— UkraineWorld (@ukraine_world) July 13, 2022
Russian-occupied Luhansk tonight pic.twitter.com/jWIG9Ja4WB

— Illia Ponomarenko 🇺🇦 (@IAPonomarenko) July 12, 2022
Russia's response was to reduce Bakhmut:
Bakhmut.
Just insane. pic.twitter.com/lL5ZZJNbZD

— Illia Ponomarenko 🇺🇦 (@IAPonomarenko) July 12, 2022
The Russians have transferred approximately 2 million Ukrainian citizens into either Russian occupied Ukraine or Russia itself as part of their efforts to ethnically cleans Ukraine with their genocidal re-invasion. This is what some of the Russian filtration process looks like:
One of examples how local residents in occupied #Mariupol pass "filtration" by #Russian occupiers. The invaders don't hesitate to check the whole body, be it a man or a women. They often do it with jokes, comments, rudeness, hatred#StopRussianAggression #StandWithUkraine️ pic.twitter.com/BxWXcMOAMe

— Emine Dzheppar (@EmineDzheppar) July 12, 2022
Ukraine's agricultural sector is still being targeted by the Russians.
(CNN)Across Ukraine, in the shimmering heat, one sight is becoming familiar this summer: Combine harvesters sweeping across fields of grain in a race against fast-spreading fires.

The conflict's front lines straddle some of Ukraine's richest farmland. Whether caused by accident or intention, the fires darkening the summer sky are eating into a harvest that was always going to be tough to collect and even tougher to export.

Pavlo Serhienko is in the crosshairs of this battle. The 24-year-old is the third generation of his family to run a farm in the Vasylivka district of Zaporizhzhia. Since his father died from coronavirus, Serhienko is managing the 3,000-hectare farm on his own.

But nearly half the land is now too dangerous to cultivate, he told CNN on Saturday.

"We can't even get there. It is either mined or near the occupied territories, literally the front line. We had occupiers on part of the fields."

Serhienko has literally seen his family's business go up in smoke.

"For the last four days, all our knees are covered in blood, we are extinguishing [fires in] the fields. They [the Russians] especially hit the fields — fields with wheat and barley — every day."

He said in the past few days he had lost 30 hectares of wheat, and 55 hectares of barley. And "those 1,200 hectares I can't reach are also burning. But what can I do? I won't even go there."

The sowing season was just as dangerous. "We sowed a field of 40 hectares. We had to leave the field four times to finish it. Every time we left, they shelled the place instantly. Once there were 23 mortar hits."
Much more at the link.
The Guardian reports on the effects of the Russian blockade in the Black Sea:
A traffic jam of more than 130 cargo ships loaded with Ukrainian grain is waiting in the Black Sea to pass into the Danube as negotiators from Moscow, Kyiv, the UN and Turkey hailed progress at talks in Istanbul on easing Ukrainian agricultural exports.

The ships are waiting to access exit routes through the Sulina and Bystre estuary canals to reach a series of ports and terminals in Romania from where the grain can be transported on around the world, amid mounting global concern about the Russian blockade on Ukrainian exports through the Black Sea.

Maritime tracking services showed a logjam of ships waiting to pass into the Danube since a second route through the Bystre estuary was opened after the recent Russian retreat from the nearby Snake Island.

Previously, ships had been able to pass into the Danube only via the Sulina canal, whose passage is one-way, with cargo vessels having to wait weeks to pass through.

Although large carriers cannot pass through the Bystre estuary, limiting the amount of grain that can be exported, Ukrainian officials said on Wednesday that already 16 ships had transited the Bystre route in the four days since it reopened.

With mined ports and a Russian blockade on Ukraine's south coast limiting maritime traffic, the northern branch of the Danube delta, which follows Ukraine's southern border, and small riverine ports have taken on global importance amid warnings of famine in parts of Africa as Ukraine's grain has been kept from the international market and prices have rocketed.

Until recently, the Bystre estuary route had been closed, but that has changed with the removal of Russian forces from Snake Island.

"Given the liberation of Zmiinyi [Snake] Island from Russian troops and the buildup of a large number of ships waiting to proceed through the Sulina canal, it is possible to use the channel of the Bystry estuary of the Danube-Black Sea waterway for the entry/exit of ships transporting agricultural produce," the Administration of Sea Ports of Ukraine said in a statement at the weekend.

Ukrainian officials hope that the new route for grain exports will allow an additional 500,000 tons to be exported, although that will still be far short of the amount of grain that was exported before the Russian invasion.

The capacity of the new routes is "currently insufficient to replace seaports fully", Ukrainian officials noted. In June Ukraine exported about 2.5m metric tons of goods, far short of the 8m metric tons it had hoped to export, the infrastructure ministry said.

Ukraine is the world's leading wheat exporter, accounting for 9% of the global market. It also accounts for 42% of the sunflower oil market and 16% of world corn production.

Owing to Russia's blockade of Black Sea ports and a plethora of mines along the coast, 20m to 25m tons of wheat are stuck in Ukraine, pushing up world grain prices.

Russia and Ukraine met UN and Turkish officials on Wednesday in an attempt to break the months-long impasse over grain exports. Russia's invasion of Ukraine shows no signs of abating and the sides remain locked in a furious long-range shooting battle that is destroying towns and leaving people with nothing.

The Istanbul negotiations – the first face-to-face talks between Russian and Ukrainian delegations since 29 March – are being complicated by growing suspicions that Russia is trying to export grain it has stolen from Ukrainian farmers in regions under its control.

Turkey's defence minister Hulusi Akar said an agreement would be signed next week. He said Ankara will ensure the safety of shipments in transit and the parties will jointly check grain cargoes in ports. But the UN secretary-general António Guterres said more work was needed before a deal was signed.
Much more at the link. We'll have to wait and see whether these negotiations in Istanbul and any actual agreement actually do anything or, as I expect, they're just more of Putin weaponizing diplomacy.
Before someone asks, as I wrote a couple of week's ago, there are only two real effective options for getting the Black Sea reopened to transnational shipping, including moving grain from Ukraine. The first is for the US, its EU and NATO, and non-EU and non-NATO allies to re-flag the grain ships and then provide escorts for them as they transit through the Black Sea. The second is for the US, its EU and NATO, and non-EU and non-NATO allies to perform freedom of navigation operations along the Sea Lines of Commerce and Communication (SLOCC) in the Black Sea. This could be accompanied by an exercise, say for responding to a disaster like a major oil spill, which would put the Coast Guard in the lead for the exercise. And both options are complimentary, they're not either/or. Finally, I don't think either will happen because I don't think the Biden administration is willing to assume that much risk.
The last thing I want to cover tonight is partially related to the agricultural issue. Specifically that Ukraine needs more cash aid! The Financial Times has the details:
Oleg Ustenko, an economic adviser to Ukraine's president Volodymyr Zelenskyy, said the country now needed $9bn a month from its western backers to plug the budgetary shortfall, almost double its previous request.

The finance ministry said its assessment of the gap was still $5bn a month but even that was way more than western capitals had so far provided.

But Ustenko said Ukraine needed an extra $4bn a month for the next three months to cover the cost of emergency accommodation and housing repairs for millions of people and to fund a basic minimum income for people who have lost their jobs.

"We will try to survive in any case, but without financial support from our allies it will not only be difficult to do so, it will be next to impossible."
Much, much, much more at the link!
Given that Russia is still raking in huge profits for its energy exports, this is not just a big problem, but an asymmetrical one as well.
Russia's oil exports rose back above $20 billion in June despite lower shipments abroad because of a rally in energy prices, according to the International Energy Agency.

That was an increase by $700 million from a month earlier, even as Russia's daily exports of crude-oil and products fell by 250,000 barrels to 7.4 million barrels, the lowest since August, the IEA estimated in its monthly report published on Wednesday.

Benchmark Brent averaged more than $117 a barrel last month as the global oil market remained tight. High international prices helped to partially offset the discount for Urals crude, which deepened amid the European Union's preparations to gradually phase out seaborne oil imports from Russia in response to the invasion of Ukraine.

In June, the Urals price rose 10.7% from previous month and averaged $87.25 a barrel, according to Russia's Finance Ministry. Still, a stronger ruble meant Russia's budget, over a third of which comes from oil and gas, didn't reap the full benefits from higher crude. The ruble gained more than 15% against the dollar in June amid a flood of export revenue and lower imports.
Much more at the link!
Russia can still bring in funding through its energy sales, even if they have to discount it, and then count on third party states – India, Iran, the PRC – to sell it at least some of the materials it needs for its war effort and its domestic economy. As a result the economic sanctions regime is still not making a major dent.
That's enough for tonight.
Your daily Patron!
Oh, thank you! 😊 https://t.co/3wHUbOrr0w

— Patron (@PatronDsns) July 13, 2022
Me and @Denys_Shmyhal , PM of #Ukraine. Some say it is your first smiling photo at work. My pleasure, come again 🤭 pic.twitter.com/Oju2kukv4Z

— Patron (@PatronDsns) July 13, 2022
For those of you Patron addicts, and you know who you are and so do the rest of us, if the daily Patron parts of the updates are not enough, he now has a Patreon where you can pay to get all the Patron content your hearts' desire! All the proceeds go to support Ukraine's sappers.
And here's a new video from Patron's official TikTok:
The caption translates as:
When you try to say something smart not in your company #pespatron #patrondsns #slavaukraine
Open thread!