Here is President Zelenskyy's address from earlier this evening. Video below followed by English transcript after the jump (emphasis mine):
Ukrainians! Ukrainian men and women!

Today, the European Union announced the first details of the new, seventh sanctions package being prepared against the Russian Federation, and the task of Ukrainian diplomats is to do everything to strengthen this package.

After an attack on Vinnytsia and other terrorist attacks by the Russian army, the occupiers must feel what a fair response to terror means. In particular, it will be felt thanks to sanctions. Of course, the Armed Forces of Ukraine will certainly provide their part of the answer. The occupiers will have no restful nights.

The identification of all those guilty in the attack on the city of Vinnytsia has already begun. Both at the national level and at the international level, we will do everything to make absolutely all Russian murderers responsible for what they have done.

The Minister of Internal Affairs of Ukraine reported to me today full information about the rescue operation that was run in the city. In total, almost two hundred people applied for medical help. Four people are currently in critical condition, unfortunately. Four citizens are still missing in the list. Everything is being done on the ground to clarify their fate. The death toll has not changed at this time – 23 people.

The minister also briefed me on the attack of the Russian army on the city of Mykolaiv this morning. The buildings of two institutes – pedagogical and shipbuilding – have been destroyed.

There are no such words in normal human language that can describe the state to which the Russian state has degraded. It is a double crime – to destroy particularly pedagogical institutes, so that there is no educational institution, and new educators cannot be trained…

But let the terrorists not hope that this will give them something. We will definitely restore everything they destroyed. Each of the more than two thousand educational institutions – all kindergartens, all schools, institutes, universities. And most importantly, we will preserve our humanity and our civility. But Russian society with so many murderers and executioners will remain crippled for generations, and through its own fault.

The United States of America is preparing a defense budget for the new fiscal year – with supplemental assistance to Ukraine. In particular, it is about expanding the capabilities of our military aviation. This and other US assistance to our country will significantly strengthen our defense potential. It is important.

I want to once again express my gratitude to the American people, President Biden, the US Congress for all the support we receive. By the way, only in the last two weeks, $3 billion were transferred to the Ukrainian budget from the United States of America, and this enables us to ensure the current social needs of Ukrainians today. America is truly a leader in the global defense of freedom.

Right now, as I am writing this address, the air alert is over almost the entire territory of our state. There is preliminary information about strikes – Dnipro, Kremenchuk, Kyiv region. The occupiers realize that we are gradually becoming stronger, and the goal of their terror is very simple – to put pressure on you and me, on our society, to intimidate people, to cause as much as possible damage to Ukrainian cities, while Russian terrorists are still able to do it.

So I'm begging you, once again: please don't ignore the air alert signals now. Appropriate rules of conduct must be followed at all times, especially at public objects. Of course, we will come to the day when Russian terror will become impossible. But it still needs time. We still have to fight. And we will fight.

Today, I signed a new decree on awarding our soldiers. A total of 242 combatants were honored by state awards.

Eternal memory to all those who gave their lives for you and me, for Ukraine!

Eternal gratitude to all who defend our state!

Glory to Ukraine!
After another air raid in many regions of Ukraine, eyewitnesses and authorities report explosions in Kremenchuh, Poltava region, and Dnipro.

— Iuliia Mendel (@IuliiaMendel) July 15, 2022
Ukraine defense spokesperson says an estimated 70% of Russian attacks are on non-military targets – CNN

— Iuliia Mendel (@IuliiaMendel) July 15, 2022
Dnipro:
Dnipro right now. That's a burning truck in that hole in the street. Rescuers are trying to determine if anyone is inside. pic.twitter.com/NRaDcnRswb

— Michael Schwirtz (@mschwirtz) July 15, 2022
Kramatorsk:
Missile attack on the center of Kramatorsk.

Source: Ukrainian military correspondent Andriy Tsaplienko. pic.twitter.com/qsmVpdDw0t

— UkraineWorld (@ukraine_world) July 15, 2022
Mykolaiv:
#Ukraine Vitaly Kim, the head of Mykolaiv region, reported that missiles hit two universities in the regional center. In the morning, around 10 explosions were heard in the city pic.twitter.com/fCydv7CuP0

— Hanna Liubakova (@HannaLiubakova) July 15, 2022
There was no operational update posted today by Ukraine's MOD.
Here is today's British MOD assessment: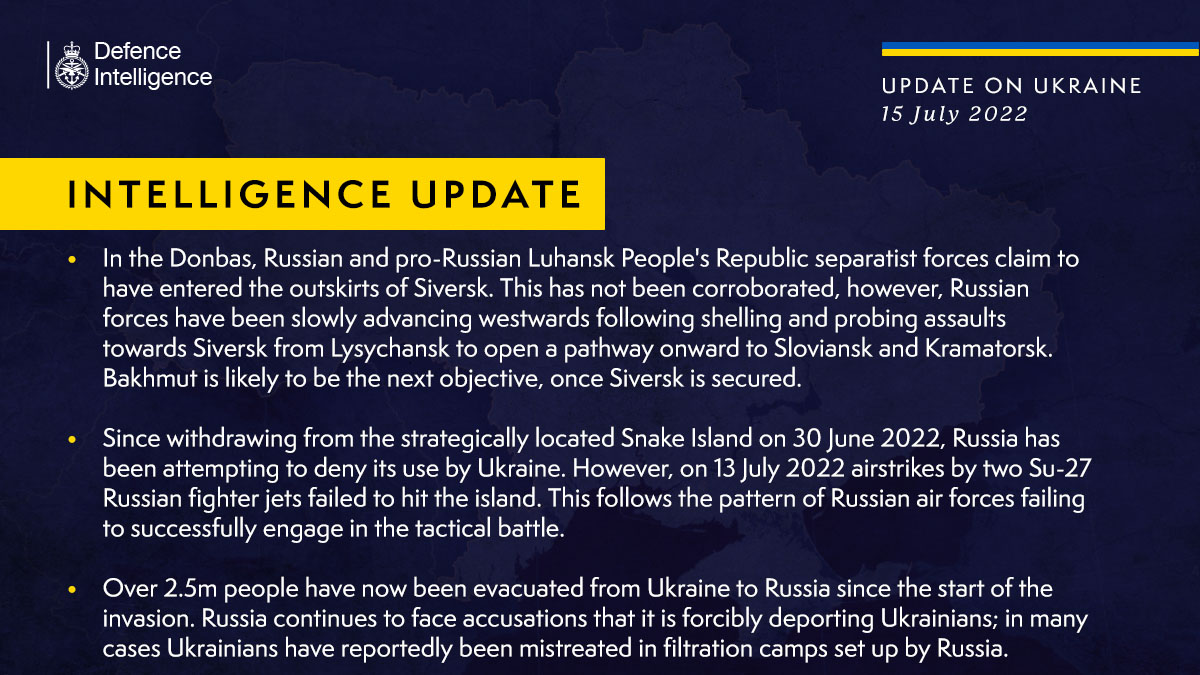 The Brits did not post an updated map for today.
Here is former NAVDEVGRU Squadron Commander Chuck Pfarrer's latest assessment with updated map of the Kramatorsk axis:
KRAMATORSK AXIS / 1930 UTC 15 JUL / Russian maneuver elements continue their 'operational pause'. FEBA static as RU continues shelling and rocket attacks on a wide swath of country between Siversk and Sloviansk. UKR forces continue to improve defensive positions. pic.twitter.com/xlxnoQpnlR

— Chuck Pfarrer (@ChuckPfarrer) July 15, 2022
The DOD did hold a backgrounder with a Senior Defense Official today. Here is the transcript (emphasis mine):
SENIOR MILITARY OFFICIAL: Hi, everybody, (inaudible). Again, good to be back with you. And I look forward to our conversation today, and hopefully some helpful conversation.

As mentioned the 142nd day of Russia's unprovoked large-scale invasion of Ukraine. We assess that Russian forces are limited to incremental, if any, gains around the northern Donbas, held off by Ukrainian defenses. Russian forces continue to deploy indiscrimate artillery bombardment, along with air missile strikes. I'll give you a just kind of around the battlefield of what we're seeing on the ground. Near Kharkiv, we assess that the Ukrainians are continuing to defeat Russian attempts to gain ground. In the vicinity of Izium, and Slovyansk, it's generally the same.

So you know, pretty strong defenses from the Ukrainians, and the Russians have stated publicly that they want to move on Slovyansk, but still have not been able to do so. And then we certainly assess that they continue to employ artillery attacks around Seversk. You — a number of you have reported on that over last week. We absolutely agree with that. And then down in the south in Mykolaiv and Kherson, nothing really to update you with on the ground, as both sides are continuing to defend or really, no real progress there.

On the maritime domain, I think a number of you have reported that we did see the Vinnytsia missile attack yesterday came from what we believe, or has been reported and we believe there's no reason to suggest otherwise– was submarine-launched missiles from the Russians. What we know for a fact is that they hit and killed a number of civilians. And I think all told over the week, again, through your reporting, I think we're looking at between 100, 150, somewhere in there, civilian casualties, civilian deaths, this week in Ukraine as a result of Russian strikes.

In terms of HIMARS, I know there's continuing to be a lot of interest about how the HIMARS are performing. You know, needless to say, the Russians are really important in that information. I like to make them work for it, honestly, and I — but to be quite honest, I'll let the battlefield videos and the Ukrainian reports speak for themselves. They are having an effect, and I think, again, you all have reported on that quite extensively.

And then we continue to train Ukrainians. We continue to provide aid, as you know, with our continued flow.

And I will hold there pending any questions. Thank you.

STAFF: (inaudible) all right. First is Lita Baldor from A.P.

QUESTION: Hi. Thanks so much for doing this. Two things. Number one, can you just confirm at all the death of the British aid worker, Paul Urey? And then second, just a little bit more on the cruise missile strike. The Russians are claiming they hit a military facility, whereas other sort of Ukrainian reports are calling it a concert hall, et cetera. Can you provide any clarity on what it was that they hit, and whether or not there were any military facilities either in the area or whatever that they could have been targeting?

SENIOR MILITARY OFFICIAL: Yeah, Lita, thanks. Nice to talk to you again.

First of all, on the first one, I don't know. I can't — I just don't have any knowledge on that.

And then in terms of the missile strike, I mean, I saw the same videos that you all saw. I didn't see anything there and — you know, that looked anything close to military. That looked like an apartment building. So no, I have no indication that there was a military target anywhere near that. Over.

STAFF: David Martin from CBS?

QUESTION: Can you describe for us any impact the use of HIMARS is having on the front lines? The HIMARS is being used against targets in the rear, but you want it to have an impact on the front lines, and has it had an impact yet?

SENIOR MILITARY OFFICIAL: I think, you know, Dave, that's a good question. I think there has been significant impact on what's going on on the front lines. If you think about the fact that the Ukrainians have been talking about a number of the targets they're hitting, you know, they're spending a lot of time striking targets like ammunition supplies, other logistical supplies, command-and-control. All those things have a direct impact on the ability to conduct operations on the front line. So I would say yes, although they're not shooting the HIMARS at the front lines, they're having a very, very significant effect on that.

QUESTION: But have you seen it have an effect? I mean, obviously in theory, that's the whole purpose. But have you seen it have an effect on the ability of the Russians to conduct front line operations?

SENIOR MILITARY OFFICIAL: Yeah, I — that's a great question too. I don't know. And this will — you know, I shouldn't speculate, right? That's not what I'm supposed to do. like you, I mean, we've all seen the Russians slow their movements and advances.

It's hard for me to believe that can't be somehow related to the loss of ammunition or the loss of somebody to tell them where to go. You know, I am told where to go a lot, and when someone doesn't do it, I tend to just sit at my desk. Honestly, I like that, but anyway.

STAFF: All right. Thanks, David. Courtney Kube, NBC?

Q: Thanks. I just want to re-up the question that Lita asked cause I don't think we got an answer to it about whether you can confirm the death of the British aid worker. And then I have a — my own question.

SENIOR MILITARY OFFICIAL: Yeah, no, I answered her, Courtney. I don't know — I don't know anything about it.

And then I'll standby for your next question.

Q: Sorry about that. The — then — can you expand a little bit on the — what you said — there were between 100 to 150 Ukrainian civilian deaths this week as a result of Russian strikes. So you're talking about more than just the strikes that were — the missile strikes yesterday? You're talking about across — I don't know if you can provide any more visibility on that, cause we don't normally hear from these backgrounders about Ukrainian civilian deaths, numbers. So I'm just — how do you have numbers this week? Where were those — most of those deaths? Were they mostly the submarine missile launches or anything more on that?

SENIOR MILITARY OFFICIAL: I — yeah, so that certainly was the largest one I've seen, but all — all my numbers are coming from the things that you all are writing. And that's — that's over the last seven to 14 days, you know, since I was on here — I don't know when it was — I think last Friday. But yeah, all open-source.

And again, that range depends on the open source we're looking at. Somewhere between 100 and 150.

Q: So that's — it's not just this week, that you're saying that the 100 to 150 is over the last one to two weeks, you would say then?

SENIOR MILITARY OFFICIAL: Yeah, that's correct.

Q: OK, thank you.

STAFF: Thanks, Courtney. Oren Liebermann, CNN?

Q: You had mentioned hitting ammunition dumps, the using — the Ukrainians using the HIMARS there. I was wondering if you have any estimate on whether that's truly made a dent in Russian ammunition supplies, a percentage estimate, or just, you know — we've seen them fire artillery almost without end. Have you seen this truly make a dent in their supply of ammo? And if so, is there a number estimate on that?

SENIOR MILITARY OFFICIAL: I don't have a number estimate. I mean, I would tell you, if you're the person that's supposed to get the ammunition, it's all of it. If — but, you know, as you know very well, I mean, Russia it's a well-stocked country, but I don't have a percentage.

Q: OK. Thank you, sir.

STAFF: Thanks, Liz. Dan, Washington Post?

Q: Yes, thanks. Good afternoon. There has been reports of, I think, somewhere in the neighborhood of 30 or 40 settlements in the Kherson area that have apparently been retaken by Ukrainian forces. One, do you have any assessment that's like that?

And two, if so, can you maybe flesh that out a bit in terms of, you know, how big these settlements are? Are we talking neighborhoods, are we talking villages? I guess just trying to get a sense for scope here. Thank you.

SENIOR MILITARY OFFICIAL: Yeah, thanks, Dan. I don't. I do know that the Ukrainians have made small gains in pockets in the south. I'd hesitate to put a number on that or to give you an idea of what they would consider a settlement but I know they've made some small gains in the south.
Much more Q&A at the link.
One quick point of clarification to ensure everyone is tracking regarding the SDO's remarks and answers. Paul Urey was a British humanitarian aid worker in Ukraine. He was scarfed up by the Russians and the Russian backed separatists going through a checkpoint with another British colleague, Dylan Healy. Urey has now been reported as dying in Russian captivity while Healy has been sentenced to death. The BBC has the details:
Briton Paul Urey, who was captured by Russian-backed separatists in Ukraine, has died in detention, reports say.

The 45-year-old's family, who was contacted by the UK Foreign Office about the reports, told the BBC they had "begged" him not to go abroad.

The UK's Foreign Secretary Liz Truss said Russia must bear full responsibility for his death.

The UK is seeking urgent clarification from Ukraine and Russia about the reports.

The Foreign, Commonwealth and Development Office (FCDO) said it had summoned the Russian ambassador, Andrey Kelin, to express its "deep concern".

Mr Urey, from Warrington, Cheshire, was detained at a checkpoint near the south-eastern city of Zaporizhzhia in April and accused of being a mercenary.

He was held captive in the self-proclaimed Donetsk People's Republic (DPR) along with another man, Dylan Healy, while reportedly trying to rescue a woman and her family trapped by the fighting.

At the time, Mr Urey's mother, Linda Urey, had said she was extremely worried for his welfare, because he had type 1 diabetes and needed insulin.

Speaking to the BBC after the reports of his death, she said she had been "so upset" when she heard of her son's plans to go to Ukraine.

The Presidium Network's Dominic Byrne told the BBC that Mr Urey had insulin on him when he was captured so his captors would have been aware of his condition.

Officials from the DPR said he died in captivity on 10 July from underlying health conditions and "stress".

"He died of acute coronary insufficiency aggravated by pulmonary and brain edema," Russian state news agency Tass quoted one official, Natalya Nikonorova, as saying.

According to the DPR's Daria Morozova, during Mr Urey's first medical examination in the DPR, he was found to have insulin-dependant diabetes, damage to the respiratory system and kidneys, and a number of diseases of the cardiovascular system.

Mr Urey's family, however, blames the Russian government and his captors for his death.

"They let him die there, and I want to know why they let him die," Ms Urey said.

The captive had been denied visits from agencies like the Red Cross by the Donetsk and Russian authorities, according to Mr Byrne.

"Because of that it was really showing that he wasn't looked after properly and was never allowed to be seen," Mr Byrne said.
More at the link!
Reuters has reported on the expansion of Russia's Information Warfare campaign:
WASHINGTON (AP) — As bullets and bombs fall in Ukraine, Russia is waging an expanding information war throughout Eastern Europe, using fake accounts and propaganda to spread fears about refugees and rising fuel prices while calling the West an untrustworthy ally.

In Bulgaria, the Kremlin paid journalists, political analysts and other influential citizens 2,000 euros a month to post pro-Russian content online, a senior Bulgarian official revealed this month. Researchers also have uncovered sophisticated networks of fake accounts, bots and trolls in an escalating spread of disinformation and propaganda in the country.

Similar efforts are playing out in other nations in the region as Russia looks to shift the blame for its invasion of Ukraine, the ensuing refugee crisis and rising prices for food and fuel.

For Russia's leaders, expansive propaganda and disinformation campaigns are a highly cost-effective alternative to traditional tools of war or diplomacy, according to Graham Brookie, senior director at the Atlantic Council's Digital Forensic Research Lab, which has been tracking Russian disinformation for years.

"Stirring up these reactions is the low-hanging fruit for Russian information operations," Brookie said. "Their state media does audience analysis better than most of the media companies in the world. Where these narratives have succeeded are countries where there is more weaponization of domestic discourse or more polarized media markets."

Bulgaria was long counted a stalwart Russian ally, though the country of 7 million residents has turned its attention westward in recent decades, joining NATO in 2004 and the European Union three years later.

When Bulgaria, Poland and other former Warsaw Pact nations sided with their NATO allies in support of Ukraine, Russia responded with a wave of disinformation and propaganda that sought to exploit public debates over globalization and westernization.

For Poland, that took the form of anti-Western propaganda and conspiracy theories. One, spread by a Russian-allied hacking group in an apparent effort to divide Ukraine and Poland, suggested that Polish gangs were harvesting the organs of Ukrainian refugees.

Russia's onslaught comes as Eastern European governments, like others around the world, grapple with dissatisfaction and unrest caused by rising prices for fuel and food.

Bulgaria is in a particularly vulnerable position. Pro-Western Prime Minister Kiril Petkov lost a no confidence vote last month. Concerns about the economy and fuel prices only increased when Russia cut off Bulgaria's supply of natural gas last spring. The upheaval prompted President Rumen Radev to say his country was entering a "political, economic and social crisis."
Much more at the link!
Notice the patterns delineated in Reuters reporting. Russia foments a crisis – in this case cutting off fuel supplies to Bulgaria and other parts of Europe- and when this is coupled with the rise in food prices, as well as those for other goods, they then use their Information Warfare assets to leverage the crisis to Russia's advantage. Specifically by leveraging the problems Russia's actions have created to destabilize other states and societies.
The last thing for tonight is I want to answer two questions from commenter YY_Sima Qian. The first one was:
@ Adam, You have written several times that the CCP regime is gaining access to Russia's network for influencing US & EU politics, via the right wing. I certainly understand the logic, but is there actual evidence? At least in the GOP, the prevailing opinion (including Steve Bannon's) remains implacably hostile to China in general & the CCP regime specifically, tinged w/ both "Yellow Peril" racism & "anti-Communist" anachronism. That prevailing opinion is in marked contrast to their relatively subdued stance on Russia. There is a confluence of values between GOP & Putinism, that I think is absent w/ the CCP Regime. Sure, they all have authoritarian inclinations, but the CCP is avowedly atheist, while the GOP is Christian Fundamentalist; the CCP is pro-science & recognizes & engages w/ reality, the GOP is anti-science & prefers to live in their own imagined reality; the CCP is pro-state intervention in the economy, while the GOP is anti-state (other than the national security state, & prefers the state to promote conditions for kleptocracy & crony capitalism); the CCP is extremely paternalistic & does not hesitate to sacrifice individual rights & desires (or those of small minorities) for the perceived betterment of the whole, the GOP is nihilist that only seeks to advance the parochial interests of the "in-group" while suppress that of everyone else.
This is a great question. There's some additional context and explanation at the link, but I don't think that needs to be pasted here to make sense of the question. I think there are two things going on. The first is that by entering into the strategic framework with Putin, Xi gets access to influence networks that the PRC does not currently have. I don't think that the PRC is going to use them to try to reorient the GOP and the conservative movement in the US away from its current position where Republicans and conservatives cannot even bring themselves to say China or the PRC, but instead use the Chinese Communist Party or CCP. Rather I think the point of gaining access to, in order to leverage, these informational influence networks is to reinforce and amplify the xenophobic, isolationist, nativist, and neo-nationalist portions of the now prevailing Republican and conservative* ideologies that Bannon and Trump and others have pulled from the extremes into the mainstream of party and movement. As for where do I see evidence, I see it in the PRC's leveraging controlled opposition figures, like Guo, to influence the current iteration of the GOP and conservative movement it serves.
YY_Sima Qian's second question was more of an observation, but I want to respond to it:
I tend to think that both the Left's (including parts of the DSA's) critique of foreign policy convention wisdom (the "Blob"), & everyone else's critique of the myopia on part so the Left, are often (not always) valid.

The Left is right to gaping holes in DC's foreign policy conventional wisdom over the past 2 decades: the increased militarization of foreign policy & atrophy of traditional statecraft, the habitual reach for punitive tools to address foreign policy challenges (predilection for military strikes & sanctions), the overspending (& wasteful spending) on national defense, the failure to recognize the changing balance of power, the instinctive claim to moral superiority that is no longer accepted in the rest of the world w/o question, the general neglect & patronizing condescension toward the Global South, & general failure to truly reckon w/ the damage that the US & the West have visited upon the Global South. OTOH, critics of the Left's espoused foreign policy, & certainly Adam here, are quite correct about parts of the Left's determined myopia in focusing on the agency of the US & the West, & only the US & the West, & make excuses for all other parties. It is impossible to justify the reckless way Putin sowed chaos around the world, & the genocidal way Putin has prosecuted the invasion of Ukraine. The parts of the Left that refuse to acknowledge & forcefully  denounce Putin are indeed acting as useful idiots (at least unwittingly), & discrediting themselves. It is not just parts of the Left that have discredited themselves, but some of the so called foreign policy "Restrainers" (who occupy a broad ideological spectrum, mainly gathered at the Quincy Institute) have done the same.

This is tragic, since I believe the foreign policy conventional wisdom in DC needs to be challenged, that the increased militarization of US foreign policy will ultimately prove ineffective w/ parts of world whose primary concern is not security but development, cause unnecessary suffering in the parts of the world the US employs force, unnecessarily entangle the US into foreign military adventures & make unnecessary enemies, constrain needed domestic social spending & investment, & continue to feed the revanchist rightwing internally.
I am in complete agreement that the US has a major national security, defense, and foreign policy problem. That problem results from there being artificially narrow limits on the policy and strategy discussion and debate on almost every major issue. A lot of this has to be how the national security, defense, and foreign policy communities – from academic scholars and researchers to think tankers to those who go back and forth into and out of them, into government and back – developed in the post WW II and Cold War period. This includes those who do the same thing with the corporate world. We have artificially limited our conceptualizations of almost every major policy problem and, as a result, of our strategic options to solve, shape, manage, and/or mitigate them. There's a club, its very small, its members are formidable gate keepers, and if you're not a member it is almost impossible to break into it. And even when people do, the club works to limit them if not drive them back out. This same problem, of course, also plagues our domestic policy and strategy discussions. It is also a problem both of and exacerbated by the news media, which keeps the gates on both information and how it is framed. The news media's gatekeepers are bracketed by The New York Times for the mainstream and Fox News for the right wing, which we've repeatedly seen to be as dysfunctional and destructive for American society and state. Eventually this reality will be recognized as the wicked problem that it is.
That's enough for tonight.
Your daily Patron!
Ladies and gentlemen, please meet my cat. His name is Tom. Feel free to show your animals in the tweets below ⬇️ pic.twitter.com/3Fa3nJxlJa

— Patron (@PatronDsns) July 15, 2022
Here's a video from Patron's official TikTok:
The English translation of the caption is:
I'm not kidding! #glory to Ukraine #pespatron #patrondsns

Batko Nash Bandera – Rebel National Patriotic Song
All that ferocity really tuckers a doggo out. Sleep well Patron!
This pose is called "Silent Paw Mode". Good night people 👅 #patron #dog #dogpatron #dogsoftwitter pic.twitter.com/4M8JwqJa9Z

— Patron (@PatronDsns) July 15, 2022
Open thread!
* Whatever the conservative movement is in July 2022 it is no longer conservative in any way that political scientists or historians have defined the term over time. However, as there is not an agreed upon replacement terminology, we are stuck with it even if the label is devoid of any real meaning.