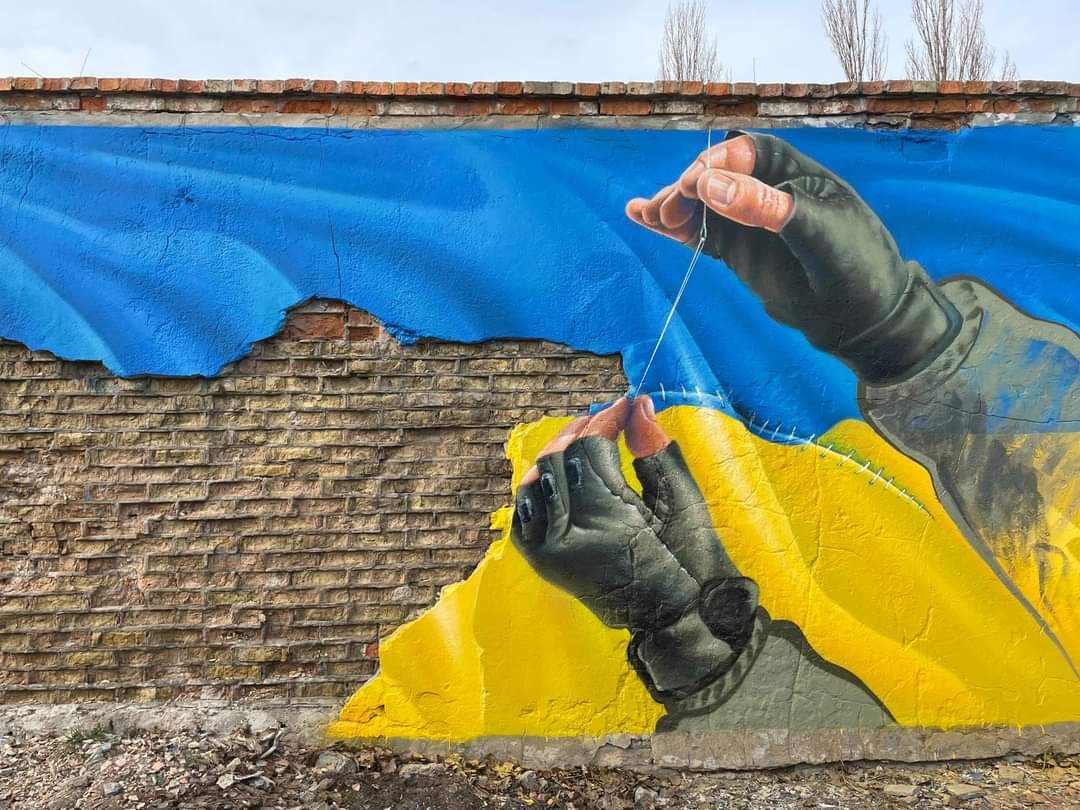 Here's President Zelenskyy's address to Ukraine from earlier this evening. Video below, English transcript after the jump (emphasis mine):
Dear Ukrainians! Ukrainian men and women!

On this day, 32 years ago, the Declaration of State Sovereignty of Ukraine was endorsed. It was the first document of this kind after many years, which confirmed the right of our people to live independently. Independently and in a democratic way. The specific points of the Declaration reflected the realities of that time and the hopes that prevailed in our society. 32 years later, after eight years of war in Donbas and on the 143rd day of the full-scale war against Russia, it may seem that the text of the Declaration could be different, particularly from a security point of view. But at that time this text was also of a revolutionary character. The Declaration restored the tradition of Ukrainian state-establishing, and it was on its basis that the Act of Declaration of Independence of Ukraine was later adopted. And today, when our people are fighting for independence, we have our right in every sense of the word – historically, politically, culturally and, what is very important – legally. In particular, our people's confidence in victory is based on this.

Ukraine has withstood Russia's brutal blows. We have already managed to liberate part of the territory that was occupied after February 24. We will gradually liberate other regions of our state that are currently under the occupation. During such a war, we were able to obtain the status of the EU candidate. We have maintained the stability of public institutions. The power system was rebuilt to work in the power grid of the European continent. All logistical processes in the state – military and economic – were rechanneled. And most importantly, we maintain internal unity, having overcome conflicts and contradictions that had hindered us in the past.

We must all remember the cost of mistakes and discord that made it difficult for previous generations to achieve the results we have today. We must remember how much our people had to go through until it became possible to restore Ukraine's sovereignty and independence. But our time has added one more thing to everything that path strewn teaches. It's very important. This did not happen before. Never in the past, as much as now, it did not depend on the ability of Ukrainians to be very careful and circumspect in the information field. Even today showed how important it is that we take care of Ukraine and each other in what we say and how we experience this time. How many people were scared today by a fake about a massive Russian missile attack on Ukraine? After everything that happened in the previous weeks. After the Dnipro, Vinnytsia, Chasiv Yar… How many headaches are given every day by the production of horror stories from Russian propagandists and officials… How many problems Ukrainians create for themselves by trusting any anonymous source… This sometimes takes on simply unhealthy forms when social networks and websites deliberately stuff fake information from Russia, the purpose of which is only one – to add media terror to the missile and artillery terror against our country.

Therefore, we also need a kind of emotional sovereignty so that we do not depend on what the enemy constantly launches against you and me. In order not to play along with the media game against Ukraine. To have the power to consciously perceive any information, any messages, no matter who they come from. And to see who needs them and for what, and whether Ukraine needs them in particular, whether they make the path to victory easier for you and me.

Sometimes media weapons can do more than conventional weapons. It is obvious that any missiles and artillery of Russia will not succeed in breaking our unity and knocking us off our path. And it should be equally obvious that Ukrainian unity cannot be broken by lies or intimidation, fake information or conspiracy theories.

We will stand. We will win. We will win back our, rebuild our lives. We will do it together – that's the only way it can be done. This can be done only without mutual competition. This is our obligation to all generations of our people who fought for our freedom and sovereignty of Ukraine.

I am grateful to everyone who is fighting for the state of Ukraine, who is working for victory and who is defending our people.

Let's hold on. Only together!
Glory to Ukraine!
There was no operational update from Ukraine's MOD posted today.
Here is the British MOD's assessment for today: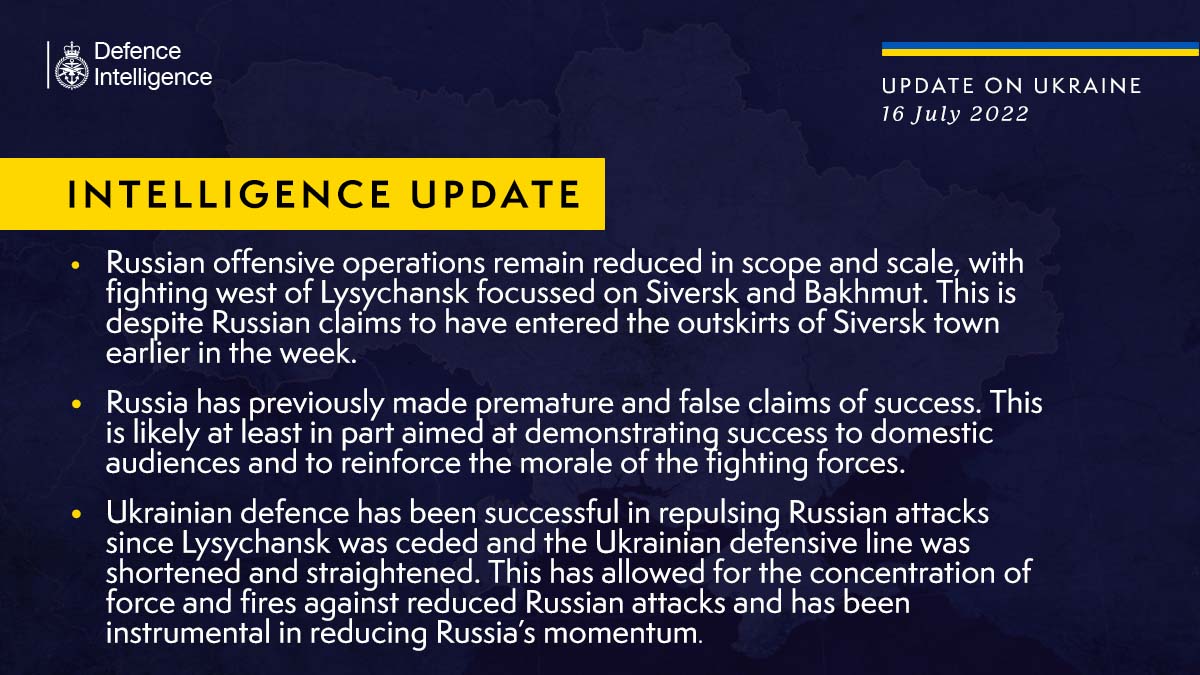 They did not post an updated map for today.
Russia is bombarding Kharkiv with vicious consistency. First attacks begin at 10 pm, followed by rocket strikes on civilian targets at 3 am. Listen to the dreadful sound. pic.twitter.com/1WftX5bgpV

— Maria Avdeeva (@maria_avdv) July 16, 2022
BBC Ukrainian has published an interview with Ukrainian Minister of Defense Reznikov. The video, in Ukrainian with no subtitles, is below followed by a machine translation of the interview:
BBC: After the recent strikes on Chasovoy Yar and Vinnytsia, many Ukrainians are asking the question: can Ukrainian air defenses do anything against such attacks?

Oleksiy Reznikov: Let's be realistic. If our air defense did not work, then, believe me, there would be many times more horror and fear. When I say "many times more", I mean that 50% of the missiles that fly into our cities are shot down by our air defense.

Israeli experts, for example, will say that they guarantee 80% protection. But not a hundred. Today, there is no 100% protection against cruise and ballistic missiles of a certain type, for example, from the same "Calibers". Israel's "Iron Dome", a very famous defense system, also shoots down a certain type of missile, but not cruise missiles.

Therefore, I would not dare to talk about the fact that it is possible to close the sky one hundred percent. But we are obliged to improve the anti-aircraft and anti-missile defense systems, and this has already been approved: regardless of when the victory parade of Ukraine over Russia will be, we still need to develop our own anti-missile and anti-aircraft defense systems, as the state of Israel did.

I do not want to compare us with Israel or South Korea, or with other countries that live surrounded by unfriendly neighbors. We will have our own Ukrainian experience.

We thank our partners, they seriously help us. In particular, the announced aid package from the United States refers to two NASAMS air defense systems. But this does not mean that two systems will be able to protect the entire sky of Ukraine…

BBC: What part of Ukraine will these two systems be able to protect?

OR: I am not ready to answer. I am not a rocket engineer, I am a lawyer, a lawyer in the position of Minister of Defense. So I'm not ready to tell you right now.

But I'm a quick learner. I can tell you about other types of weapons that I had no idea about before. And today, for example, I distinguish between MLRS and HIMARS.

And I will learn all about NASAMS in detail. But now I know for sure that this is another important step in helping Ukraine to arm itself and raise the level of our defense.

So imagine for a second that last November the chance of getting a Stinger was zero.

I was personally told during a visit to Washington: "Stinger is impossible, Oleksiy." Me: "How is it impossible?". They say: "The law prohibits" – "So change the law" – "Impossible." This was told to me in November. And already in January, we received the first hundred "Stingers" from our friends from Lithuania with the consent, of course, of the United States.

Today, you and I already have the 155th caliber artillery, we have HIMARS, we already have MLRS, we have different types of armored vehicles.

BBC: Will they provide planes?

OR: I am convinced that it is. It just goes step by step.

All the time I dreamed and communicated with my partners: "Give me anti-ship complexes." – "Aleksius, this is impossible." That's it, the Harpoons are fighting great now. "Give MLRS" – "Alexey, you will be helped to search for (only) Tornadoes, Hailstorms and Hurricanes." And now – we have the first MLRS, we have HIMARS.

There are two things I still fight for – modern tanks and planes. So far we have not broken through this point. But I am convinced that we will succeed. For me today, the answer "it is impossible" means that it is possible only in the future.

And there will be planes. What are the questions? Because if anyone thinks that F-16s are the solution, then they are deeply mistaken. Our airfields are not ready for F-16, there are nuances. So maybe we need other planes. Not only the F-16 is good. There are other modern standard planes. For example, Swedish-made Gripen.

BBC: In an interview with Time, you stated that President Zelenskyi gave the order to retake the occupied coastal regions of Ukraine, which are vital for the Ukrainian economy, and for this Kyiv is gathering a million-strong army. Could you be more specific about what you meant?

O.R.: Let's put it this way, there was a little misunderstanding. I did not say that we are gathering a million-strong army. Please excuse my English, it is not my native language.

(Now) let me make it clear: we have a million people under the bayonet in one form or another in the security and defense sector today. I mean the Armed Forces, including territorial defense units, the National Guard, the border service, the national police, the State Emergency Service, the Security Service of Ukraine, as well as the force units of the NABU and so on.

(They make up this) million I'm talking about, not us collecting another million.

BBC: OK, let's break this statement down piece by piece. Is there a specific order to win back the southern regions?

O.R.: There is a specific order from the president to the general staff to prepare plans for the de-occupation of all of Ukraine, including the territories occupied since 2014. A specific order. And then, from the point of view of prioritization of plans – the military, based on the possibilities, should propose this (plan)…

BBC: So we are not talking about a specific offensive operation, which will begin now?

OR: And we cannot talk about a specific offensive operation, because I am not a general. We agreed with Mr. Zaluzhny that I will not teach him to fight. And the president, by the way, does not teach how to fight. The president sets political tasks, and the military expertly prepares this or that campaign.

BBC: Because there is an opinion that this statement was somewhat political in nature. It was voiced immediately after Putin's "we haven't started anything yet."

O.R.: I never reflect on anyone, and even more so on Kremlin quotes. I say what I think is necessary to convey to society. And when someone there shouts: "Oh, the plans have been revealed!" – why hide the plan that we plan to de-occupy all our occupied lands? We do not hide it. We will reach the internationally recognized borders as of 1991. Point.

BBC: That is, including Crimea, Donetsk, Luhansk?

OR: Absolutely. The question is the sequence of campaigns and the resource we need for this. And we discuss it with our partners without hiding it at all. They know our plans. And they help us, understanding what and when we need for this or that promotion.

BBC: You say that Ukraine has a security and defense sector of a million people. But literally the week before last, when the whole country was living in a scandal with the alleged ban on men moving without the permission of the military commander, the comments were reduced to the fact that this step is probably due to the fact that Ukraine is experiencing a severe lack of human resources for war…

OR: It was really a communication problem. Lack of communication leads to lack of understanding, and lack of understanding leads to conflict…

There, military lawyers simply did not work enough, and this, let's say, moment came out. It was taken away, calmly explained, and it is definitely not related to the fact that we lack something. Today, we have a sufficient number of people in the security and defense sector.

What we do not hide – to be as effective as possible, to plan serious counterattacks, we need more modern weapons.

BBC: If there are enough people in the Armed Forces, then why, reading social networks, talking to acquaintances, do you hear that summonses are now being served to a man who went out to smoke under his porch, went to a shopping center or exceeded the speed limit on the road?

O.R.: In law, there is such a concept as executor's excess. It's like the proverb about a fool who was forced to pray to God. Each fulfillment center has its own plan. Replenishment takes place in any case. Not on a huge scale, but we have both dead and wounded. Today, we have units that need to rest, restore their combat capability. Accordingly, fresh forces should be brought in. Therefore, of course, there is a certain set.

You have heard, there is a program from the British: 10 thousand of our boys will be trained (before the war – Ed.) in modern conditions and so on. And we are looking for, choosing those who want and who are included in the concept of reserve. Therefore, of course, summonses are still given for specific specialties…

But what is a subpoena? A summons does not mean that you have been drafted into the army. This means: please come to the assembly center. Are you not registered? Let's check. Maybe you are needed just now – then they have the right to call you up during martial law. Or they will say: "Go, you are in the reserve." Or: "Friend, why didn't you sign up?"

There is an obligation, according to the law, if you went from Kyiv to Odesa, you must come there and be registered. Some did not. Someone did not know, and someone specifically did not do this so that they could not find him.

That's why a person goes – "Good afternoon! Here's a summons for you. Come – and we'll check further."

Sometimes it is done as a punishment for something – for example, breaking the speed limit – I am definitely against that. I think this is complete nonsense, because serving the country and defending the country – this should definitely not be a punishment.

BBC: You mentioned the losses that the Ukrainian army is currently suffering. At the beginning of June, Mykhailo Podolyak said that it was about 100-200 dead a day, Volodymyr Zelenskyi said about a hundred dead a day. Do you have data on the scale of the losses of the Armed Forces?

OR: I have the data, but I cannot make it public so as not to give details to the enemy. I can say that they are significantly different from the huge losses of the enemy.

The biggest peak of our losses was in May. When Mykhailo Podolyak and the president spoke in June, it was they who were meant.

Then the advantage of the enemy was the greatest, especially in the Donbas direction – they used up to a thousand artillery shells per hour. It was intense pressure, and we didn't have the opportunity to respond to them: we didn't have that many shots. In the month of May, unfortunately, up to a hundred boys and girls were killed, and up to 300-400 were injured.

Fortunately, after we gradually began to change the picture thanks to the 155-caliber weapons… First went the "Triple Seven", or "Three Axes" as they are called (M777 howitzers), then went the M109, "Caesars", Panzerhaubitze and so on – and this specifically changed the situation.

Counter-battery fighting immediately reduced the intensity of the fire.

And when the well-known HIMARS arrived – you know, when we definitely, very clearly get into their warehouses and command centers – it begins to change the picture of the battle very significantly. And I have hope for additional HIMARS, additional M-270 MLRS, three of which have already arrived and more will come from our partners.

I am not talking about the Black Sea. The de-occupation of Zmiiny Island is by no means an act of goodwill, they were on their heels from there.

BBC: Even now, when you say that the picture on the battlefield has changed, is Ukraine ready for long, long years of war?

OR: This is a good difficult question. And it's not for me. This is a question for every Ukrainian. Are each of us ready for long, long years. I will tell you honestly: for the first three weeks after the invasion, I don't remember where I slept and how much. I (remember) constantly changing my location due to security measures: sometimes in the bunker, sometimes not in the bunker, sometimes in the study, sometimes not in the study.

But somewhere on the 21st day I felt that I might expire, that I am exhausted mentally, emotionally, that I do not sleep, there is no recovery of my batteries. Then I spent two days of psychotherapy with myself. I'm a Gemini, it was easy for me to split. And I said to myself: my friend, this is not a sprint or even a steeplechase, this is a real marathon.

I realized: every time I woke up, the first thought was "what's on the phone?", and the second – "when will it all end?" That is, the psyche said: it will not be long, two or three days, and everything will be over, we will return to the state of hybrid war, which we are used to. To the state in which we have lived for the last eight years: when there is a war in Donbas, and everything else is like a peaceful life.

But I said to myself: "No, friend, accept that it will never be the way it was. It will be somehow different. And we have to be winners in this "different" way. Therefore, accept that this is a marathon, and that you have enough time to run the last 195 meters, you have to stretch your energy resources for 42 km." And from that moment on, I forced myself to sleep at least four hours a day. And today I live in marathon mode.

Ukraine must understand that the war is not over. And even the now deoccupied Kyiv region, Chernihiv region, Sumy region, and Vinnytsia, to which Kramatorsk, Mykolaiv, and Odesa were flown in today – we live in a state of serious war. And those who joined the party of "those who ended the war" are absolutely wrong. We must learn to restore our economic resources, pay taxes, work in a state of war.

BBC: At the same time, Volodymyr Zelenskyi said at the "Big Seven" summit that the end of the war by the end of this year is real…

OR: It is real, if our partners will continue to help us, having absolutely no doubt that they are helping the winner. They used to believe that we would end up in defeat, that we would surrender Kyiv in three days, and that is why they did not help us much, only supported us.

But when they believed that the victory of Ukraine is an absolutely realistic plan, they wanted to become accomplices of this victory. Therefore, it is now important that we synchronize our plans for a counteroffensive with their help, not only with weapons, but also with the continuation of even more serious sanctions (against Russia). This is a serious global project.

BBC: So the end of the war by the end of this year is not a figure of speech? OR: It is absolutely possible. I can say this, even though I am a lawyer, but who already communicates a little with the military. Even from a military point of view, this is an absolutely realistic plan – the liberation of at least our territories as of February 23, 2022.

BBC: One of the aspects of the conflict that is currently unfolding in connection with the letter of Ms. Victoria Spartz to the White House is her statement that Ukraine does not have a system that would allow tracking the fate of the weapons that America allocates to Ukraine to fight Russian aggression…

OR: I don't think there is any conflict. This is the personal opinion of one person who, unfortunately, does not quite have the facts.

BBC: Well, if only Spartz, which really may not be quite in the material. But the Financial Times also wrote the other day that there are suspicions of smuggling (weapons supplied to Ukraine)…

OR: I read this article carefully. Everything is very simple there. As a lawyer, I did not find any facts, concrete accusations with clear examples there. Not only that – there is not even a link to any clear source there.

As the Minister of Defense of Ukraine, I will tell you that this is not the first time I have encountered the so-called IPSO, which is launched by our Russian enemies, a terrorist country.

For the first time, this was done on the CNN channel, when a former classmate of Putin's, and now an "oppositionist" who lives somewhere in Washington (meaning Yuriy Shvets – Ed.), says that there are some doubts about the use of (Ukraine's) weapons, humanitarian aid and so on. After that, an interview is conducted with some American military man in Lviv, who says: "Well, I heard something about a humanitarian, but I deal with turnstiles. Well, maybe you can buy turnstiles somewhere." That is, they mixed weapons with turnstiles and humanitarian aid, which the Ministry of Defense does not deal with at all. The first throws were like this.

I'll tell you what the next step is. One NLAW that got to the Russians – and this is a war, our guys could have been captured, somewhere some NLAW or something else could have gotten to the Russians – will be shown tomorrow, the day after tomorrow or a week later in some (European) capital, and they will say: "See, Ukrainians are smuggling weapons!"

But this is stupid. I will explain why. First of all, I did not receive any request from any (foreign) official body as the Minister of Defense. Minister of Internal Affairs Denys Monastyrskyi did not receive any such request. The Minister of Justice and the Prosecutor General did not report anything similar.

Is smuggling from Ukraine to Europe possible? It is possible. They carry cigarettes. If our craftsmen in the Carpathians even take out a Kalashnikov assault rifle – I believe that it is possible. But, forgive me, (that) they will take out the M777 artillery installation, which weighs tens of tons, or the forty-ton "Crab" – that's stupid. In addition, this is a modern weapon that has GPS trackers that our partners can easily track.

Secondly, as the Minister of Defense in Ramstein, I say: "Dear colleagues, I am asking you to send your emissaries for control and monitoring. Wherever you want – at least directly to the "front", see where your installations are working. I will tell you in secret , some representatives of our partners have already done it – looked, and they have no questions."

The third story. In 2019, we received LOGFAS – the NATO logistics accounting and control system. We have it, albeit in a limited (functional) way. Our universities teach how to use this system.

And now I wrote a letter to NATO through our representation in Brussels: give me more licenses, expand this system, give me more terminals. Except that if we want to bring it to the level of a brigade, we should make its Ukrainian version. That is, we are open to our partners. We suggest using their NATO system together.

Therefore, if suddenly you really see that military equipment is traveling in the opposite direction across the border with Poland, Romania or Slovakia, then it can only be two cases.

Or they are taking something for repair, which they cannot do in Ukraine. Or are these the remains of Russian tanks, "Buks", "Pantsirs", which I am taking to an exhibition in Warsaw, Prague, Berlin, or in The Hague, where I want to put the "Buk" installation that we took from the Russians near the International (Criminal) Court.

BBC: Before the war, Ukraine spent approximately 5% of GDP on the defense security sector. What plan will you submit this year?

O.R.: The situation is as follows – and it is absolutely no secret. Today, I spend the annual budget of the Ministry of Defense in a month. There are two main cost lines. The first is monetary support for the military and, unfortunately, payments for injury or loss of a breadwinner. The second is for use. Not all material and technical support comes to us (free of charge), I still buy a lot.

BBC: So what percentage of GDP will you ask for next year?

OR: This is a difficult story, because I will not ask for GDP. I will give a real need. We will sit down with Minister of Finance Serhiy Marchenko and Prime Minister Denys Shmygal and brainstorm what to do about it. Because in reality, money is a very difficult challenge.

BBC: The other day, Fedir Venislavskyi, a deputy from "Servant of the People", said that Ukraine is negotiating to supply Ukraine with ammunition for HIMARS with a range of 300-500 km. Previously, it was believed that the USA does not transfer them to Ukraine due to a principled political position. Has something changed now, or did Venislavsky come up with something?

O.R.: How would it be correct to say it? You know, when people's deputies comment (on issues of security and defense), I always wonder: where do they get all this? Deputies of the Verkhovna Rada, with all my personal respect for them, by their status are not participants in the negotiations and are not privy to what is actually happening.

But we do not hide this. When we talked about high-precision weapons, we really said that in order to save the lives of Ukrainian soldiers, they should have a different range of damage. Of course, we sent all these requests a long time ago, the conversation is ongoing. But definitely, believe me, not at the parliamentary level. This is addressed elsewhere.

BBC: Is Ukraine asking for these missiles?

O.R.: We asked for everything we needed a long time ago. But our partners are assessing the situation – and I repeat: they also hear us…

BBC: Is it true that when HIMARS systems were supplied to Ukraine, they set a condition that the Armed Forces of Ukraine would not attack Russia with them?

OR: It's true, I don't hide it. We undertook that we will not use high-precision weapons against Russian objects on the territory of the Russian Federation. We have confirmed this everywhere, even I personally did so in a letter addressed to my colleague – the head of the Pentagon – that we will use American weapons to deter the enemy and de-occupy temporarily occupied lands only on the territory of Ukraine.

BBC: Does this ban extend to Crimea?

OR: He asked me exactly that. I said that we have enough strategic facilities in the Ukrainian territories occupied by the Russians. To which he replied: we understood you.

BBC: How likely do you think a ground offensive from the territory of Belarus is?

OR: I already made a prediction that I did not believe that there could be a bombing by the Russians, and, unfortunately, I was wrong. Therefore, everything is possible, there is such a risk. But I hope that in this period of time – no, there is no such risk.

BBC: You are also called a possible next prime minister…

OR: Nonsense! There is nothing even close. No conversations. We will not let Denis Anatoliyovych Shmygal go. He is an absolutely balanced manager, he has passed the test of covid, now he is (passing) the test of the Russian war.

In general, I dream of a project that will be trusted and that will not be related to public service. This is my dream.
I think that is more than enough for tonight!
Your daily Patron!
Find the sapper in the photo 😝 #dogs #DogsofTwittter #Patron #Патрон #песпатрон pic.twitter.com/t8LW9l46C5

— Patron (@PatronDsns) July 16, 2022
And a new video from Patron's official TikTok:
@patron__dsns

Дякую вам за такі прекрасні малюнки! Усіх лизьнув! 🐶💓
The caption translates as:
Thank you for such beautiful pictures! He licked everyone!
I'm guessing thats supposed to say like not licked, but Patron is a dog, so…
Open thread!