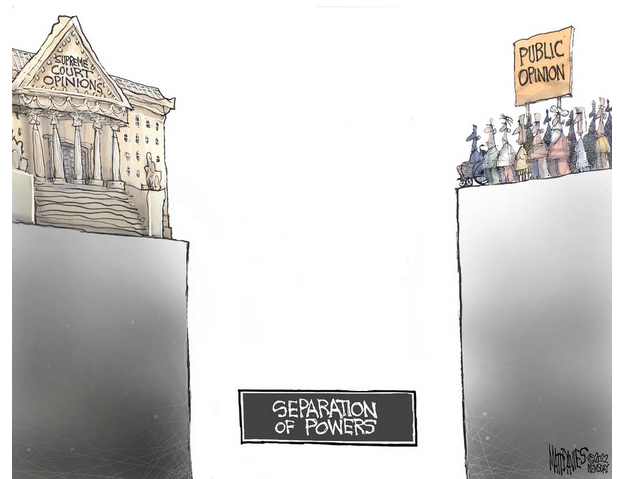 reading about the lead up to the civil war and it's insane about how it's all the same shit, all over again. a party of petty tyrants openly disdainful of democracy that threw a massive fit over merely being tolerated rather than actively indulged by the rest of the country.

— William B. Fuckley (@opinonhaver) July 6, 2022
English expat, now living in DC: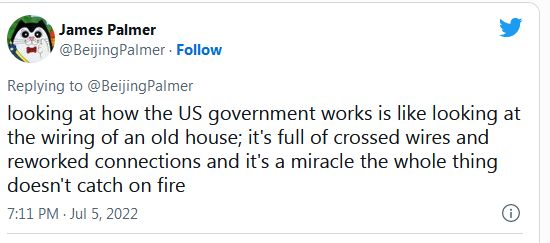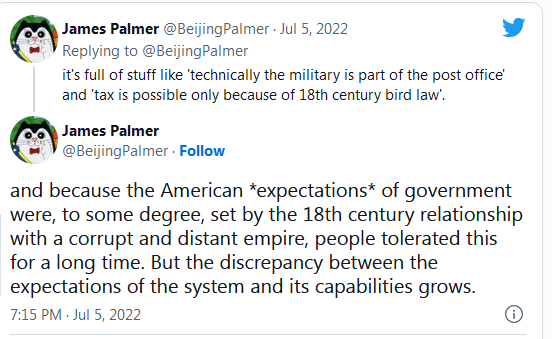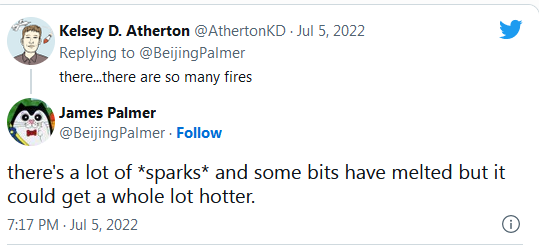 Canadian journalist:
Americans have never been as liberal, tolerant, nonviolent and worldly-minded as they are today, and an ever-larger majority is growing measurably more so year by year.

This is in stark contrast to their institutions. We're witnessing a chronic mismatchhttps://t.co/ANe9XJFba5

— Doug Saunders (@DougSaunders) July 3, 2022
… Throughout this century, a growing majority of Americans have become dramatically more liberal in their views and politics, more tolerant, less distrustful of outsiders and difference, and less prone to crime and violence.

As recently as 2016, according to surveys by the Pew Research Center, a majority said that in order to be "truly American," it was necessary to be a Christian and be born in the United States. Today, for the first time, a majority of Americans – 65 per cent – feel that foreign-born or non-Christian neighbours are just as American as anyone else.

Likewise, in the 1990s, 65 per cent of Americans felt immigration should be decreased, according to the Cato Institute; today, it's only 33 per cent, and only 9 per cent feel there should be none. A majority now believe that immigrants come to America to improve things, and that their ability to immigrate should be a human right.

The belief that people of the same sex should be allowed to marry – a good indicator of wider tolerance – was held by only 27 per cent of Americans at the end of the 20th century, according to annual Gallup polls; today, it has hit 70 per cent, including a majority of Republican Party voters and of seniors…

Here we see the problem Americans face: As a big majority of them have become more tolerant, their governing and legal institutions have been captured by a fringe minority who are very much not so. It's as if the overall climate has improved, but today's weather is terrible.
Even though most voting Americans say they lean toward the Democratic Party, and the Republicans have not had enough voter support to win a presidential majority since 2004, the Supreme Court has become packed with a majority of justices, from a fringe circle rarely recognized by mainstream legal scholarship, who were appointed by Republicans…

It's led to a Congress, held by a Democratic majority, that's unable to respond by passing laws, because too much geography – rather than population – has been captured by this minority.

This growing disjunction cannot hold. The collision will more likely happen peacefully: The majority will soon be large enough to prevent that fringe from capturing appointments and seats.

But as we saw in this week's congressional hearings into the Jan. 6, 2021, coup attempt on Capitol Hill, it does not take much for members of that fringe to turn to violent ends – especially at moments when they realize that the American people are not remotely on their side.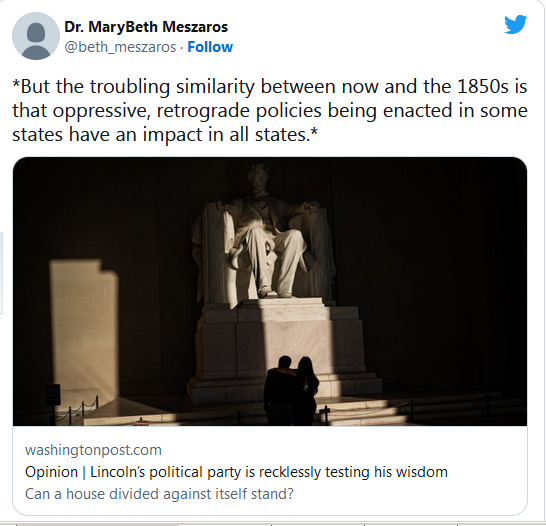 Eugene Robinson (American journalist of color), at the Washington Post:
… It is comforting to believe there is still more that unites us as Americans than divides us. I can allow myself to hope that is true. But it is hard even for me, an optimist by nature, to deny that the trend line is heading in the wrong direction, toward sharper division and greater strife.

And it is impossible for me to pretend that this conflict is anything but asymmetrical. The Republican Party is trying to realize a revanchist vision of America in which much of the progress toward a fairer, more equitable society that we've seen over the past half-century is rolled back. The Democratic Party is mostly trying — and failing, thanks to a Supreme Court painstakingly packed by the GOP — to hold on to an increasingly diverse nation's hard-won gains.

The court's recent rulings on abortion, guns and the environment all come in defiance of public opinion, according to polls. House Speaker Nancy Pelosi (D-Calif.) is fond of citing another Lincoln quote: "With public sentiment, nothing can fail; without it nothing can succeed. Consequently he who moulds public sentiment goes deeper than he who enacts statutes or pronounces decisions. He makes statutes and decisions possible or impossible to be executed."…

Many conservatives who are antiabortion and pro-gun, I realize, see what the Supreme Court and Republican-run state legislatures are doing as a necessary corrective to the direction the country has been heading. But there is an asymmetry. The history of the United States has been a long, hard struggle to make the stirring words of the Declaration of Independence and the Constitution apply to all of us — Black people, women, the LGBTQ community, Latinos and others who have been marginalized. Freedoms that originally applied only to White men who owned property have been made universal, at least in theory. Laws and rulings that attempt to claw back some of those freedoms are ahistorical attempts to un-ring a still-resounding bell.

Americans who want to live in a nation where women have autonomy over their own bodies, where appalling levels of gun violence are not seen as the price of freedom, where science is valued over superstition and where faith is a matter of personal belief rather than public imposition are no less passionate in our views than those who disagree. And we have numbers and history on our side. A minority that wants to take the nation backward cannot, in the end, prevail. But the coming months and years of struggle over the soul of this nation will be arduous and angst-ridden. One thing Lincoln never said was that the American experiment would be easy.
Who says TV isn't educational?
This makes me think of the Great Partition in India, which is being shown currently in Ms. Marvel, and how it displaced 15 million people, 1 million were killed, and the legacy of it is still felt to this day, 75 years later. I think we should just work hard to save our country. https://t.co/4GtJF2Nhce

— Mandice Aiston, a dude, a bro, an actual man (@CandiceAiston) July 2, 2022